Bull Moose
Record store Bull Moose, 80 Elm Plaza, Waterville, ME 04901, United States:
220 reviews
of users and employees, detailed information about the address, opening hours, location on the map, attendance, photos, menus, phone number and a huge amount of other detailed and useful information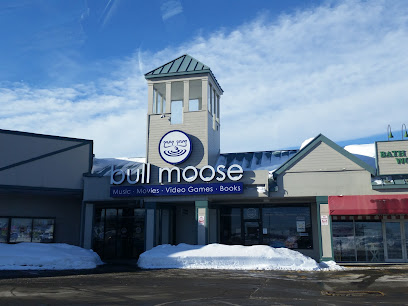 Address:
80 Elm Plaza, Waterville, ME 04901, United States
GPS coordinates
Latitude:
44.5674647
Longitude:
-69.6405117
Location on the map
Reviews Jeannie Shay
Such a great store! The employee are very friendly and happy to help you find whatever you need. They showed me right to the movie I was looking for and offered different purchase options.
9 months ago Shreyas Pai
The best selection of music and movies in the area. Friendly, knowledgeable staff. I'll be a regular customer there for as long as they're open!
5 months ago Elijah Sweets
Bull Moose Music, Movies, Books, Gaming, and used and new. What more could you want when shopping for fun and educational items, along with some pretty random funny items. Every section is a must browse area when I visit. I went to 2 yesterday alone. Bangor and Waterville. Even if I don't buy anything its always a nice stop to browse just in case.
8 months ago Paul Furman
Bull Moose is always worth taking some time to check out and this one is no exception! I was very impressed by the huge selection of dvds/blu-rays! They also have a nice selection of books and games of all types.
10 months ago Anthony Gonzalez
Great selection, as always. Nice environment and very relaxed. Customer service is on point.
6 months ago Christain Vincent
Always helpful and will search for and order things not in stock. Waterville store is my favorite one. Clean and neat.
7 months ago Zach Fried
Great prices and lots of cool stuff! The staff was amazing and very helpful.
6 months ago Md Iqbal
Awesome selections of whatever you may be looking for. The staff is always friendly and willing to help
7 months ago Christa P
It has all the movies you could want! And the graphic novel selection... Is GREAT!!! Also the employees are sooo nice, if you can't find something they will stop what they're doing to help you and if they don't have what you need they will get it from another store super fast! This store is no doubt amazing.
2 weeks ago Chase Andersen
My family and I love this place. There is something for everyone! And the staff is super friendly.
9 months ago Trent Bontly
They had everything i was looking for. A clean, well managed store!
7 months ago Derrick Freeman
first time visit. sold them a bunch of old CDs but found they are more than a music store. wide selection of books, videos, and video games too. really cool place and staff was super friendly
10 months ago Alexis Miettinen
I love bull moose, it's so cool. Crazy story. I once walked to this bull moose in the rain for 50 minutes. Along the way I almost stepped on this huuuge possum. For most of the journey I couldn't feel my hands. When I got in the store I didn't really do anything cuz I didn't have any money then I tried to go back out the entrance door because in order to get to the exit door you had to pass all the registers. THE ENTRANCE DOOR IS A ONE WAY DOOR, HOW DOES THAT WORK????????? I escaped in the worst possible way. I waited for new customers to come in and I sprinted out the door. No body followed me but it looked like I had just robbed the place. I like bull moose.
10 months ago Samir Montenegro
Super friendly and helpful staff! Great prices and selection. This is my go to for most card and table top games!
11 months ago Tracy Davis
It's my favorite store. It has books, movies, games and toys.
5 months ago Ryan Bonnette
Such a mixed variety of products. All types of media sold here. Great place to find kpop albums too. Used video games available here plus Pokemon/Magic/Yu Gi Oh cards. Staff is friendly and helpful
8 months ago Gatsy Dulin
Friendly staff prices r good too
6 months ago Marcio Rodrigues
Took A Friend there...She likes the Place Ordered story on tapes...
8 months ago Emily Andrews
Great place to shop for your DVDs CDs books and even VHS tapes the employees are extremely friendly and ready to help you find anything you need Plus they have a rewards account if you join you can accumulate points on your purchases and use them towards future purchases
10 months ago James Symonds
Great selection of goodies and courteous staff! Always say Hello to me.????
5 months ago Bobby Sciortino
Always helpful very friendly staff.
5 months ago Robert LaFleche
This location was (stangely) too open. It was kind of overwhelming to see the vastness of media that looked like nothing but a sea of stuff amd more stuff. That being said, they obviously had lots of collectibles and neat gift stuff, they had some of those cool board games that your hip friends play and you never heard of but it was totally fun to play... you know the ones. So anyway, if you get anxious and overwhelmed then I suggest the one over by Bath but otherwise this is probably a worthwhile shop.
11 months ago Katie Palm
I haven't been here, but grandkids like it.
5 months ago Mingze Wang
Great prices, friendly staff and a great selection of everything. I highly recommend anybody check out Bullmoose at least once.
2 weeks ago William Storey
Great place for movies etc always a good shopping adventure
8 months ago Chan Long
Wow! They have really transformed themselves. Worth checking out just for the selection of books and eclectic toys.
8 months ago Barbie Crabtree
Always fun and great service!
5 months ago Yousuf Faroqi
Can always find what you are looking for.. great prices
5 days ago Kerrie Gollaher
I always enjoy coming here to look around and see what they have
9 months ago Felix Caraballo
I was able to get a playstation one risk game. Less than $8
2 months ago Maria Ayala
Very friendly and helpful! ????
5 months ago Indy Liu
Very helpful staff and full of items you won't easily find anywhere else
9 months ago John Lester
I love going to Bull Moose,employees very friendly, and helpful! Will definitely go there again, and recommend to my friends and family!
11 months ago Adam Beilfuss
This store has friendly staff, plenty of options whether book, comics, vidoe games or movies they have it all great place to visit
11 months ago Zheco Nol
Best place for DVDs, music, books, games and many other items. The friendliest staff of any retail bussiness. Highly recommend.
1 month ago Outkast
Always a great time and low prices
5 months ago Gemma Chadwick
Didn't have what I wanted this time
5 months ago Jay Lee
Folks here are always upbeat, friendly and helpful and there is a great mix of products. Definitely a go-to place for unique gifts. I order frequently, and they handle returns kindly and with such ease. It's a safe place to shop during the pandemic, too. I love this place.
10 months ago Casey McNally
well clean and organized place. Bought sum cheap 97 cent vinyl records. mans behin the counter was polite great place finna go there again, wish they had more modern hip hop stuff tho
1 month ago Mark Dawursk
I called the store Thursday night and asked for them to save me two movies and stated I would be in Friday to pick them up. I talked with two different employees that night and both had stated they had the movies and would hold them for me. I left them with my current number and explained I needed to update my account. I got into the store on Friday they only had one of the movies and all I got for a reason was they tried to call my old number and couldn't let me know. I'm very disappointed with them. They obviously have communication problems between staff members and they are not willing to make it right. I will do my business in windham from now on. At least they make it right when they screw up!!!!!
3 months ago Ken Barnett
Nice place, staff willing to help out.
8 months ago Brian Roskamp
They are very friendly and helpful and if your looking for something specific if they don't have they will order if they can and when they order it shows up pretty quickly
1 month ago Rooz beh
Very helpful crew and very polite.
9 months ago Anthony Orre
Amazing items to choose from and great service if you're looking for anything special
11 months ago SinHuat Tan
I ve been shopping here as long as BM has been in the waterville area. Always have a good experience. Bought a lot of music over the years. Tod is a great manager.
3 months ago Gigi LEBRUN
Got super smash bros for the Nintendo switch loved to look at the games and gard games
11 months ago Rebecca Norris
Fun place to find books and the staff are always friendly.
5 days ago Tami Nichols
Great customer service! Thank you.
9 months ago Kaylee Stork
Great place to buy cds, DVD's, games, etc....
11 months ago Luke Gervais
This place is awesome. I can spend all day here. The people are so nice and helpful too. Such an excellent selection of stuff.
5 months ago
Popular places from the category Record store