Michael Kors
Fashion accessories store Michael Kors, 4747 Broadway Blvd, Kansas City, MO 64112, United States:
25 reviews
of users and employees, detailed information about the address, opening hours, location on the map, attendance, photos, menus, phone number and a huge amount of other detailed and useful information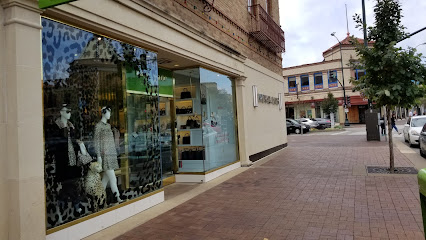 Address:
4747 Broadway Blvd, Kansas City, MO 64112, United States
GPS coordinates
Latitude:
39.0410724
Longitude:
-94.5914062
Location on the map
Reviews Simone Brooks
Annalee, the store manager is so sweet. She is very cheerful, personable, friendly and made excellent honest recommendations to help me narrow my choices. She made my experience at this store a very positive one! Thank you Annalee!
6 months ago Lynn Reed
Sales person was very nice got my new watch sized and bought some perfume ????
9 months ago Joyce Collins
Super friendly and very knowledgeable staff! I love this place!
6 months ago Eduardo Rodriguez
Bought a purse/wallet from a store location about six months ago and absolutely loved them! The cashier told me to make sure to keep my receipt since they both came with a one year warranty, so I did. A week ago, my wallet started coming apart at the seams. I didn't think it would be an issue since it was still covered under the warranty. I called and spoke with a representative who helped me file a claim to get it replaced. Unfortunately, that was the end of my positive experience with this company. Today I received an email stating that I would NOT receive a replacement wallet. I called back and requested to speak with a supervisor and was told only one supervisor was on duty, so it would be over a 30-40 minute wait. I said that was fine and I would wait. While waiting, the rep also advised the supervisor wouldn't be able to do anything, specifically saying they wouldn't even give me a coupon for my next purchase (which wasn't something I asked for...all I wanted was a replacement as promised by the warranty). Sure enough, the supervisor didn't do anything, she actually had a huge attitude and argued with me versus listening to my concerns. Overall, I'm incredibly disappointed with the poor service, terrible product quality, and shoddy warranty replacement program. I will no longer be shopping from Michael Kors and will encourage my family/friends to avoid this company at all costs!!
7 months ago Ritesh Verma
Great store, very professional and helpful. I was aapproachedas soon as I walked in to see what my needs were. I will definitely be back and refer all my family and friends!!!!
7 months ago Bim Freid
I went to this location because sadly I had a Christmas present fall victim to the dog. It being very sentimental to me being from my parents, the manager at this location (Jenny I believe was her name) was very helpful and saw how much this purse meant to me. She was able to send it off and made a not so great day better.
4 months ago kavi dhawan
Stephanie Maxwell provided great service and helped me find the right tote for my girlfriend. Just in time for the holidays!
5 months ago Rodney Fleurime
This store is friendly, attentive and well managed. I will be back to shop for more gifts.
10 months ago Ahsan Rajper
What is there to say about Michael Kors. We all know he creates what we want, with the quality we require! It's done with great imagination and integrity. Handbags, shoes, and fashion . MICHAEL KORS does his job and forever wows us with his classic creations. The experience in his store is very elegant. The staff are friendly, the staff is knowledgeable and truthful. Looks good on you, they let you know. More importantly if the style or color does not compliment or enhance our look, they know how to use diplomacy to guide us toward a better choice . MICHAEL KORS is on the Plaza here in Kansas City Missouri. Easy to find, handicapp accessible , calming atmosphere. Google for hours, and directions. Then go have some shop Therapy. Enjoy????
7 months ago Elisha Shamblin
Salesperson Garrett is fake... rude..... and judgmental right when you walk through their doors. Even with the bad experience I did leave with a purchase, only because I knew exactly what I wanted. WILL NOT BE RETURNING HERE. Try to avoid this location if you can, there is also a shop in Legends KC outlets.
8 months ago Cindy Dreams
Quality of products is bad, customer service is even worse. They will not honor reasonable warranties on manufacturing defects if the item was a gift and you have no receipt. I wish I could give them zero stars.
9 months ago Janet
Teiara is awesome she always shows me the good deals and the best purses and shoes...
4 months ago Macy M
Love the store and the staff is very personable and knowledgeable about the products.
10 months ago Ron Barrings
Horrible customer service . Garrett never got back with me . He could of left the information I needed with another associate.
6 months ago Tait Darby
When me and my twin sister went in the lady kept on watching us as if we were going to steal I felt discriminated won't be back!!!!. However a okay place to shop!!!.
6 months ago Matt Porter
Love the merchandise and staff is friendly
6 months ago Courtney Wagler
Very rude sales lady
6 months ago Mao Mao
friendly staff. nice place good sales
9 months ago Brody Buchanan
Great products presentation and surprisingly large clearance section. I personally felt a little overwhelmed by the large number of store associates in the store.
2 weeks ago Teresa Ann
Very professional service.
9 months ago Pon Dablo
Love it!
6 months ago Christina Yarnell
Good collections
10 months ago Maureen Dunn
Guard your wallet
3 weeks ago Jim Scott
Women on the phone was kinda rude!
4 months ago Isaac Addai
Muy bonitos diseños
2 months ago
Popular places from the category Fashion accessories store