Used car dealer Bob Ridings Decatur
Used car dealer Bob Ridings Decatur, 3103 N 22nd St, Decatur, IL 62526, United States:
220 reviews
of users and employees, detailed information about the address, opening hours, location on the map, attendance, photos, menus, phone number and a huge amount of other detailed and useful information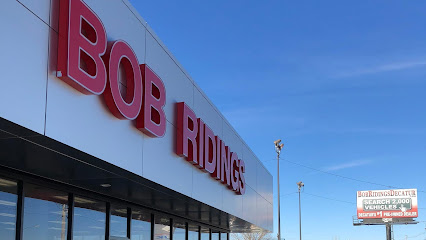 Address:
3103 N 22nd St, Decatur, IL 62526, United States
Website:
bobridingsdecatur.com
GPS coordinates
Latitude:
39.8792611
Longitude:
-88.9245856
Location on the map
Reviews Brandon Malone
My experience purchasing my Ford Escape at Bob RIDINGS in Decatur was amazing! My sales associate Megan made this process so easy! Would Highley recommend.
9 months ago Francisca Cochran
We called to look at a mini van. They had the van ready and waiting for us. They where friendly and accommodating. Thanks Bob Ridings and Kristina Langford.
4 weeks ago AHMAD GERXAN
Just bought a 2019 Hyundai Tucson and everything went smooth and painless. Stephanie was amazing at answering any questions I had and help me with insurance and Tyler was very informative with the finance part of the deal! If you are in need of a car. I would go to them!
3 months ago peter gibb
Kristina was very helpful and kind in the whole experience of purchasing my new car. professionalism and gratitude was very high! I would recommend Kristina and Bob Ridings for your next car!
11 months ago Steven Leon
The staff here was so awesome and wonderful! I do not have the best credit, but they did not make me feel like it. They took care of me and were very very nice! I'm going to refer them to everyone. Aaron Rench was such an awesome sales person.
7 months ago Anupreet Mahrok
Excellent sales experience nice young lady always gets back with you asap thanks for the great services.
11 months ago Shaun Powell
Karah Pritchett was very helpful with all our needs and wants. Everyone was very kind at Bob Ridinds in Decatur. If you are looking to buy a car go see Karah.
8 months ago Casandra Lewis
Had a great experience with Kristina. She is very personable, easy to converse with and provided great customer service.
9 months ago Tony Macaroni
Bought 3 vehicles from this location. Just bought a 2020 Ram a few months back. Friendly, have no problem haggling details and payments to get the best deal you want. And really never had any problems with the vehicles at all. You really cant beat their prices vs mileage. Most of the new models have extremely low mileage 10K to 35K and a very low price compared to the local competition. Will always have my business if this state doesn't chase me away.
3 months ago Kathy Goerlitz
Kristina was very great to work with and made the decision to purchase at Bob Ridings easy. She did a wonderful job answering questions and getting the info I asked for.
9 months ago Mark Leblanc
We had a great experience purchasing from Bob ridings in Decatur! Thank you Karah Pritchett for all of your help!
8 months ago Marcos Caro
Kristina was very patient, got exactly what I needed. Did excellent.
8 months ago Patrick Theroux
Amazing service with Stephanie and Megan, would definitely recommend! They help with all credit situations!
7 months ago Bill Dee
The time at bobridings was great Stephanie answered all my questions and made my first experience great
9 months ago Bini R
Everything was great!! Fast, friendly service! Aaron was great!
8 months ago Chandrasekharan K
Stephanie made the experience of buying a car very smooth! She reached out after I inquired and we're leaving with a new car!!
9 months ago Zhi Li
Stephanie and Jason were great to work with. Very friendly with an amazing deal! Thank you!
4 months ago Charles Colfax
Stephanie is wonderful! Very professional! We got through the car buying process quickly and she answered all my questions, worked around my crazy work schedule. Would highly recommend her! ☺️
3 months ago anime watts
Kristina made this a wonderful car buying experience. Bob Ridings website was easy to navigate. The lot had great selection. Kristina was knowledgeable on the products. We were treated with kindness, respect and our needs were well taken care of. The service was fast and friendly.
5 months ago jadyn medrano
We enjoyed our experience buying with Kristina. She was helpful and knowledgeable.
11 months ago Stefan Scherperel
Karah Pritchett was great she got everything done in one sit down, which I wasn't expecting! If you need anything please go into bob ridings in Decatur and ask for Karah Pritchett she will get you done right!
10 months ago Israel Roberts
I had very good experience stephanie was very friendly and helpful
9 months ago Neal Cannon
The only place I will buy a vehicle! The employees and sales manager are top notch!
8 months ago Wemerson Silva
Courteous staff, a rear hometown feel.
6 months ago Kelsey Connor
Loveeee Kristina she work with me for over a year going back n forth due to me not having great credit she check back with me every few months I finally I made the decision she help me get the van I wanted thank you Kristina langford
10 months ago Harom Tran
They sold us a stolen car
4 days ago Sirnetra Scott
Quick and reasonably priced services , especially from a dealer
9 months ago Tom Spall
I bought my first car with Bob Ridings and they made it such a great experience! Evan helped make the process smooth and easy! During my test drive a brake light went out, and there was some paint across the trunk that needed touched up and they fixed both of those for me for FREE! Recommend going to Bob Ridings to purchase your next vehicle! Ask for Evan!
4 months ago Sandy Valyou
I was able to make a purchase today that I really wanted. Kristina was very helpful on the information about the car. I would recommend Kristina to family and friend if they were interested in purchasing a new vehicle.
4 months ago Jake Peterson
Kristina Langford did a Great job. Sold us a Ford Escape from Bob Ridings Dealership in Decatur. Great Job Kristina
6 months ago Chloe Chen
Stephanie at Bob Ridings got us a great deal an a nice van. Shop there and be happy.
4 weeks ago Cristal Castillo
Staff was friendly and patient. Stephanie was great at answering all my questions.
10 months ago Suvi Kangaspuoskari
I've bought several cars from Bob Ridings in the last 10 years. That stands for something. They always work with me and find me a great deal. I just currently bought a car and Stephanie was amazing! She was friendly and very thorough! Definitely give her a call if you're looking for your next car!
4 months ago Mariana
i was referred to Stephanie Helphrey by a friend. she has done a great job with any questions i had & very knowledgeable & patient. i had a very good experience with her. i would recommend her.
4 months ago Lili Morillo
Great experience, Kristina did a great job with working out issues and giving information!
2 months ago Rich
Evin Faught is the best. I purchased a 2015 Taurus from him and he went the extra mile to make us happy. Free oil change and a free car wash, he even put gas in it for us. Great job Evin!
4 months ago Anna Lane
Stephanie Helphrey was able to get us into a car way above our expectations while remaining in our financial comfort zone! Need a car? Call Stephanie! You won't be disappointed!
7 months ago Melanie Lawrence
Stephanie made my car buying experience fast and easy. She went the extra mile making sure I could get exactly what i wanted.
10 months ago Gaye Medlock
Seen an ad on Facebook, responded to it that I needed a car, and Olivia responded to me immediately, went in and met with her and looked at a few and decided on this 2015 Lincoln. Love it! Olivia doesn't work there anymore. The one thing I noticed is all the cars for sale were filthy and not really taken care of and cleaned and being by the factory they get this bumpy film on them, we paid the extra money to have it all cleaned and all those little bumps taken off..but it was several hundred dollars to do that. I love my SUV. But I highly doubt if I will go back and ever buy a car from them again , just do to the fact that they were all just so dirty on the outside.
1 month ago Rachel Merchant
Got a great deal on a 2017 Ford Escape and we're loving it already! Worked with Karah and everything happened so quickly and seamlessly. Everyone we spoke with was very kind- will definitely be back for future purchases and maintenance ????
6 months ago Christopher Abrams
Kristina has been very helpful with buying our first cars. She is very confident in her job and loves what she does. I highly recommend Kristina when looking for a car at Bob Ridings.
6 months ago TALHA AHMED
I had been looking for a car everywhere. It had been hard lucky I was able to apply at bob ridding where my sales associate Kristina Langford was great. She explained everything and left me and happy excited customer.
4 months ago Nami
They did great and the service was pretty good!
10 months ago Kaylee Milligan
Highly recommend Bob Ridings Decatur. Karah Pritchett was amazing and went above and beyond to work within my budget to get me a car that fit my family. I can't thank them enough.
5 months ago teamhex
Evan our salesman was very knowledgeable about his different automobile. Heck was very respectful. Yes we bought a car
9 months ago Katie Anderson
Purchase #5.????
4 months ago Rivky Zucker
I know I don't have great credit but someone else came in with better credit and all the ladies were swooning over him and we're trying their hardest to please this guy so he would make the sale and ignored me completely.
4 weeks ago Maura Sharp
My experience was great working with Stephanie!!! She was very knowledgeable and helpful. Such a kind lady! I had a million questions along the way and she answered every one of them! Jason made me smile during the process! Thank you both!
7 months ago Ro HopelesS
This experience was quick and easy as Kristina Langford helped us through the process of buying our new vehicle. Thankful for everyone's support from beginning to end.
3 months ago Emily Lee
Karah was amazing and everyone is super friendly ???? I got the exact car I wanted with a lower payment then expected. Highly recommend.
3 months ago
Popular places from the category Used car dealer