Used car dealer Bob Ridings Decatur
Used car dealer Bob Ridings Decatur, 3103 N 22nd St, Decatur, IL 62526, United States:
220 reviews
of users and employees, detailed information about the address, opening hours, location on the map, attendance, photos, menus, phone number and a huge amount of other detailed and useful information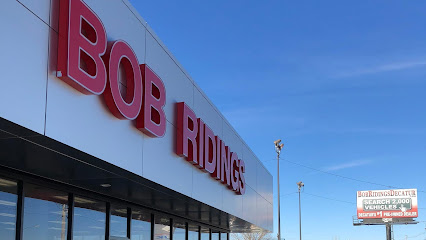 Address:
3103 N 22nd St, Decatur, IL 62526, United States
Website:
bobridingsdecatur.com
GPS coordinates
Latitude:
39.8792611
Longitude:
-88.9245856
Location on the map
Reviews Magdi Dahab
Great place to get a vehicle you will not be disappointed glad I picked bob ridings for a second time! Staff very friendly and professional! Ask for Stephanie
5 months ago Calvin Payne
Kristina was a wonderful sales rep. Everything ran smoothly and I was very satisfied.
5 months ago Ashley Skenandore
A great first time car buying experience at Bob Ridings Decatur! They were easy to work with—got us the vehicle we wanted for the price we needed, without being pushy! Go see Kristina the next time you're looking for a quality pre-owned vehicle :)
9 months ago Mel Wilson
Stephanie was awesome to work with! I very easy and painless process! Thank you for your help!
3 weeks ago Anne Herrmann
Kristina was very polite and helped me find a great car.
3 days ago Kevin Cozart
Kristian was very social and helped me feel very comfortable while we worked on sealing my car deal. Answered all my questions professionally, too!
4 months ago Alma Torres
Kristina did a great job and was very helpful!
10 months ago Ashley Todd
Stephanie at Bob Ridings is a phenomenal sales women! I couldn't have gotten the right car for my family and I without her help!
7 months ago Em dontask
Stephanie was such an amazing person to work with. Easy to talk to on the phone and even better in person. She helped us find a second vehicle and didn't let us waste a trip! Very happy and thankful for Stephanie! She is awesome!
4 months ago Lalito Villanueva
Stephanie was a great sales person , she helped us find a great reliable car that fit all of our needs. Highly recommend
3 months ago Krista Parsons
Aaron is an amazing sales consultant and I recommend him for anyone who is wanting to find a new car.
5 months ago Brian Ambrose
Lovely people just got a new car and you get your first oil change for free here.
3 weeks ago Nate Crump
We were by far very happy with our overall experience. Karah was so incredibly helpful and we ended up with an amazing vehicle. We will be back for sure.
4 months ago Iquana Peck
Stephanie is a lifesaver. I couldn't be happier with the process. She brought humor and compassion to an otherwise stressful situation as a first-time car buyer. I'm very pleased with the outcome.
5 months ago Dale Smith
Very nice group of people to work with and very knowledgeable on what they're selling thanks again
5 months ago K Attebery
Kara Pritchett is a wonderful sales woman that works at Bob Ridings. I'd recommend their company and her personally to anyone . She was quick and efficient. They went above and beyond what we thought could be possible and gave us an amazing deal we absolutely could not refuse! Friendly staff A+ business . Need a great deal and someone who's knows how to give you the best deal see Kara Pritchett at bob ridings !
4 months ago Daniela Castro
I worked with Karah and she was fantastic. It was the quickest and most amazing experience for me when I've ever gotten a car. They are willing to work with you and are just wonderful.
5 months ago Charles Lindsay
Was very pleased with the service of the sales staff. Made trading my car a relatively easy experience. Eric Davis
4 months ago John Bruce
Our salesman David Stukins was very nice and helped us get into a vehicle we needed for our family. The process was fast and easy! We are very happy with our new vehicle and will definitely be returning in the future for our next vehicle purchase! Also, thank you Tyler Snyder for all the helpful answers and recommendations throughout our journey!
4 months ago Darrell Spaulding
Kristina was so kind and wonderful at making sure all my needs were met with a smile. I will always buy my vehicles from Bob Ridings. They have a GREAT TEAM, GREAT PEOPLE! Great cars at a fantastic prices!!! ????????????❤
5 months ago Kristin Steinmetz
Stephanie was great! She explained everything in detail and had really great customer service! My financial help was amazing as well and also explained everything to me in detail! ( I can't recall his name at the moment) Everyone was nice and I am very satisfied with my experience! Thank you so much!
7 months ago Peter McGoldrick
The team at Bob Ridings Decatur were amazing! From the moment I was in contact with Stephanie the team went above and beyond to ensure I left with a vehicle that I loved. Tyler and Stephanie made the entire process so easy and fun! They made sure that all of my questions were answered and they went above and beyond to find me a vehicle that had amazing features! I couldn't be more satisfied with my experience and the customer service that the team provided me while shopping for my new SUV. I would definitely recommend that anyone who needs a new vehicle visit Bob Ridings Decatur and ask for Stephanie. Thank you everyone! I absolutely love my new Escape!
9 months ago Olivia Hernandez
Kristina was very professional. I came in looking for vehicle and matched me with I needed for my family.
11 months ago Denise Pettingill
Karah did an outstanding job and was very helpful with information. She was able to assist us very effectively with finding a vehicle within our price range. Throughout the process she kept us informed on what was going on and what all we needed.
4 months ago Chris W
Kristina was amazing to work with. she was very knowledgeable on questions we had. Not only that she was super polite and friendly. I give her props for putting up with My Gussie all afternoon
9 months ago Lynn Starkey
Thank you to Stephanie Helphrey for all the help finding and buying a new car! She was very friendly and understanding. If anyone is looking for a new vehicle, you should ask for her!
5 months ago Chelsea Robertson
My wife and I are not car people. Bob Ridings in Decatur made our car buying experience super easy. Kristina and Evin were so hospitable and knowledgeable to help us find a car that was a good fit and price for us: we will definitely come back in the future when we buy another car. Thank you guys!
9 months ago Amie Warren
Stephanie was awesome very friendly and accommodating to me worked with me on everything. Even went out of her way to deliver the vehicle to me at seven at night which is something she didn't have to do. Just want to give a huge shout out to her and say thank you for everything you did above and beyond for me.
5 months ago Brandon A
I bought my new vehicle here 6 months ago and it was so quick and painless, and now my boyfriend is buying a truck here and it's going the same way! Kara is amazing!
4 months ago Taara Bholananuth
Kristina was amazing! Awesome deal on a car with 19,000 miles. Very informative and helpful with the whole process. Made the car buying process and smooth as possible
3 months ago Tammy Croson
Kristina Langford was amazing. From the first hello to the last goodbye she was great. She made sure I was happy and that I got into a vehicle. Thank you.
5 months ago Carlee chumney
David was awesome, went above and beyond to put me in a nice vehicle that I could afford. Will recommend to anyone looking for a car. Has my business from now on.
6 months ago Debbie T
Stephanie has been very helpful, every step of the process answering questions for a first-time car buyer!
4 months ago Judy Venner
Kristina was amazing to us and made our car buying experience quick and easy. She was very informative and answered all questions we had. She was very patient! I will definitely choose bob ridings the next time we purchase a vehicle!
4 months ago Brad Nelson
David stukins was great. He helped me find a vehicle that worked for my family in my price range. Came in on his day off for basically a cold call sale. Great salesman great staff.
6 months ago Ian Moreno
Aaron went above & beyond to make sure that he got me in the vehicle that i wanted & that i was truly satisfied with it! very helpful with the prices & keeping me with the payment i could afford!!! this is my 3rd vehicle with them & i highly recommend them to anyone! got me in a new vehicle in no time!
4 months ago Josh Noe
Stephanie was patient, quick & accurate. would recommend !
5 months ago Kim Gallegos
Bob ridings is the place to go if your wanting a new vehicle! Kara Pritchett was our saleswoman and was a great help to my wife and I. She was straight to the point , friendly and fast. She gave us one heck of a deal we absolutely could not refuse . I'd be glad to refer any of my closest friends or family to them. Head out if your needing a car and see Kara Pritchett and Or Jason grashow .
4 months ago Matthew Richardson
Everyone was easy to work with! Great price and Aaron personally drove the car so that I could look and purchase it! Great dealership!
5 months ago ALAIN THETIOT
Karah did an excellent job getting us a new car.
7 months ago Roland Bourre
Had a great experience at Ridings. David was great to work with and would highly recommend him when looking for your next car. Thanks so much David Stukins!
4 months ago Luke Haruki
After trying for the last several months to buy a couple vehicles. I called to simply get a vehicle brought to the Decatur location from another store. Followed by asking if I was paying cash for it. My trade would have covered the purchase. I was told they needed to appraise to see if they even wanted my truck. That they haven't had luck with high mileage diesels. Mine is a 2009 with 124,000 far from high mileage and in great condition. Keeping in mind they have recently traded for some with nearly 200k and huge rust holes everywhere. The sales manager seemingly refusing to even get the $13,000 SUV for us to look at and our trade if we used it for trade is worth $22,000 to dealers. Although have been offered more at other local dealerships. Ridings has gone down hill a ton! Choose wisely on where you buy and don't get taken to the cleaners
9 months ago Meeka Monique
Kristina was great! We stopped by a couple times to look and she was always friendly. She made the buying process so easy! She was great to work with!!
4 months ago Caleb Hawk
Great service. Easy to deal with. Very friendly. Kristina is Awesome, would recommend to everyone
7 months ago Matt Stearns
I just purchased my first "new" used car from Bob Ridings. Stephanie was great and got me a great deal with things right where i needed them to be, even with low credit!! I see lots of family trips in our future :)
4 months ago Jesse Riley
Quick and efficient service. Friendly faces and got a great deal. Aaron Rench was a friendly and very accommodating with our schedule and working with our budget and needs.
5 months ago Leticia Lopez
Stephanie Helphrey did a great job helping through the process of buying my first car. I would definitely recommend Bob Ridings Decatur and Stephanie as well.
5 months ago Juan Reyes
Kristina was very knowledgeable on the car, functionalities, engine, and features. Any question that she was unable to answer directly, she researched and then returned with an answer promptly. She was personable, yet professional.
6 months ago Joshua Adams
Great information and service by Kristina Langford at Bob Ridings. Purchased my perfect car! Well informed & taken care of by finance staff, & introduced to Service Dept staff.
4 months ago PeachieBunBun
Friendly helpful staff! Everyone we encountered there was great!
4 months ago
Popular places from the category Used car dealer