Sherman Dodge
Jeep dealer Sherman Dodge, 7601 Skokie Blvd, Skokie, IL 60077, United States:
220 reviews
of users and employees, detailed information about the address, opening hours, location on the map, attendance, photos, menus, phone number and a huge amount of other detailed and useful information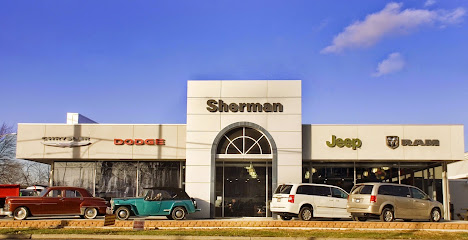 Address:
7601 Skokie Blvd, Skokie, IL 60077, United States
GPS coordinates
Latitude:
42.0193040
Longitude:
-87.7467299
Location on the map
Reviews Janie Caine
Staff was helpful and courteous. Reviewed my requests when asked to look at specific things. Gonna keep my keep for a few days due to some part delivery but overall I feel like they are attempting to address known issues in a reasonable manor.
9 months ago Mike Patin
Kristoff and Jason S. did an outstanding job while I purchase my 2018 Dodge Challenger "''John Wick "Special". This was a out of state purchase that required great communication and coordination on a daily bases. Kristoff always answer my calls and provided updated information on the process of each step of the process/deal. Jason S. was very fast in providing overnight paperwork that needed to be completed. Thank You LM
4 months ago Joy McBrien
I worked with Sam and Reggie who were both amazing to work with. They were both incredibly attentive, straightforward, and went the extra mile at every opportunity to make sure my experience was top notch! I would absolutely recommend Sherman Dodge to those looking for a pleasant car buying experience.
4 months ago Callahan Bryer
I had a great experience at this dealership. Sam was very accommodating to help me get the car I wanted and very willing to help. They also filled my gas and cleaned the car before I drove off. I will be coming back to this dealership for my next car.
4 months ago Michael Patrick
Absolutely wonderful experience. I loved that I could stand at the manager's desk and work a deal real time. I had just come from Fields Jeep in Glenview. They tried to scare me into not going and told me to read the reviews before I came over to Sherman. Boy, were they wrong. Now I'm writing just the opposite review. Tony and all crew were amazing. Highly recommend!
5 months ago Tracy Miller
I came in to Sherman dodge and had no problem getting the car that I had wanted. Great service it was fast affordable and Jay even help me with my insurance. One of my best experiences walking in a lot and walking out with a car.
4 months ago Spencer Zielke
I came to this dealer with several issues in my truck.One of them was not working rear defogger/defroster After inspection and approval dealer ordered a new glass and all the work was covered with the warranty that's the good part. To replace glass the back seats were removed. Truck was ready for pick up Wednesday. I came about 7 PM Wednesday night and decided to look in the back and do a quick inspection. Unfortunately I found many Issues. One of a bolt that holds back seat in place not tight ,other bolt missing,one lose screw on floor,a lot of mud on the back carpet and floor mats and missing bolt under back floor mat. I made several videos during the inspection being still on the dealers parking lot without moving vehicle at all. Next morning (Thursday) i sent videos to the service advisor and I ask for a service manager to call me trying to solve the problem. I left a message for Chris service manager at the same day and I waited till the end of the day. No one called me back. So I called service advisor Fraz and I left him a message to call me back. Today it's almost end of Friday and no one called me back and condition of my truck is unacceptable. Not only from a safety perspective but also aesthetic. I guess the dealer has different work ethic standards so if you're looking for Service go see another dealer
9 months ago K G
Brought my brand new jeep wrangler with less than 1000 miles on it because check engine light went on. They run the diagnostic and told me a sensor related to 4*4 is bad and they need to order one and will call me. Didn't heard back from dealer for a week. Called couple of times and left a voicemail for my service rep. but no one bothered to return my call and update me. Anyways after few days called and got hold of someone who told me the part has already been there for few days now. Got an appointment week and half after to get the part installed. Even though it was a brand new Jeep they didn't provide a loaner. I needed the car back because I needed to go to work so I scheduled an afternoon appointment hoping to get my car back in the morning. So dropped the Jeep for repair and by now first service was due as well. So asked them to take care of that as well. However didn't get my Jeep back for next 3 days because they couldn't figure out what was wrong. Anyways got my Jeep back and everything seems to be working but not a very good experience with this dealership.
4 months ago Mark C
This was definitely one of our top experiences getting a new car. Xavier was great, listened to our needs, found us an amazing car, and the team worked with us to be able to drive away extremely satisfied (and not broke). Abe (Sales Manager) was wonderful and extremely pleasant to work this. Erick (Finance) got us in and out quickly - much appreciated! We absolutely love the car that Xavier found for us and will continue to go back in appreciation of the excellent service and appreciation for this team.
5 months ago ryan lamontagne
This two stars for two people only! If we are in 2021, we have not respected honest trade.There is nothing wrong with antiquity and their ignorance..The important thing is to be prepared in this place for any disappointments. Only two people were special.The magic of trade starts from the honest word. In this place, some are here smiling, but there is no credibility. there was ancient wisdom..Where a lot of people work you see more errors.The work does not depend on more people, but rather on a greater measure of honesty..Who is ready? here to wait for 8 to 9 hours and at the end you leave the place angry. It took many people here hours and some couldn't stand the wait. Started complain. After all this trouble with difficult time Of Covid stress, by the way, this place no one wears a mask at all. Another planet. The important thing is that if you enter the circle, be ready to waste your time. Please be responsible first so others can approve your work second. Im not surprised. illinois never been correct anyway. city of mess
4 months ago saradominization
Great customer service! I loved that they had a wide selection of cars available. I would highly recommend Sherman in skokie
4 months ago James Edwards
I took in my car because I was hearing weird noises from my suspension The staff were friendly, well organized and went to work immediately. The lounge was comfortable. They answered any of my concerns when they had finished. I was very happy with the service.
5 months ago Asif Alam
The men were friendly, well organized and went to work immediately. The lounge was clean and comfortable. They answered any of my concerns when they had finished. I was very happy with the service.
6 months ago Jay Silverman
Huzma is the man! I worked exclusively with him during my car buying experience at Sherman Dodge. He was very patient, knowledgeable and extremely laid back throughout the entire process. I was very upfront with him about what I was looking for in the vehicle and in price. He gave me different options about financing in order to find something that made sense for me. I would highly recommend him to anyone looking to purchase a vehicle. His knowledge, skill and approach to the process was seamless and enjoyable.
5 months ago Maureen Brown
Bill in service provided top notch customer service. He was thorough and answered questions without hesitation. When bringing my car in to be serviced I will gladly request Bill as my service guy and refer him to anyone that needs service on their vehicle! Thanks again BILL!
5 months ago Kyle Rider
We had an excellent experience at Sherman Dodge today. We worked with Robert and he was knowledgeable, personable and worked within the parameters we set. The sales manager, Abe, was wonderful and helped find me the vehicle I wanted at the price point that worked for my budget. Best of all it was a quick and painless experience. Thank you Robert and Abe…I'll be back in three years!
6 months ago Timmy Putz
wow... I actually had an enjoyable experience with a car dealership. My time at sherman was as great as it could be expected. I definetly will be back in the future for financing a car and doing a trade in.
4 months ago Kookie DeMonster
Sam was amazing, he noticed me immediately when I arrived and was with me every step of the way through my new purchase, even after I purchased my vehicle. He was very attentive and patient with every question I had and with my all concerns. Super excited about my JEEP, I'd definitely recommend friends and family to see Sam before making any final decisions. Thanks Sam ????
5 months ago Melody Clayton
Angel was a great help! My car was serviced within two days and he was able to keep good communication. Please remember to take all personal items out of your car though as I had something taken and when I called the dealership to speak about it my complaint was not taken seriously. Other than that good service.
6 months ago Harry Sheldon
Martin was very thorough and helpful during the shopping/buying process. I explained to him what I was looking for and the manner in which I like to conduct business. I shared with him other vehicles that I was considering and explained what I needed to consummate a deal. He worked with me in constructing a deal that I thought was fair and I drove off the lot happy with a badass new Jeep.
5 months ago usha sharma
Jay helped me out in my buying process and was understanding of my needs he made sure I left happy in a vehicle Id like now I'm a happy owner of a Nissan rogue thank you Sherman dodge and the UR approved department and Jay for getting me into my new SUV!
5 months ago DHolly
First time buying a car wasn't the best experience at this place. Now, second time purchasing a car was better thanks to Ricardo I found exactly what I was looking for. Great trade in value offer and amazing SUV.
6 months ago Nelson Basden
I was able to buy my very first car at this dealership. Everyone I talked with was very nice to me and was very helpful in making sure my car was ready to be driven home on the same day.
4 months ago Peter Redmond
Nice staff. Friendly and helpful. The buying process was smooth and easy. No heavy sales pitch for extras and add-ons. Fair deal. Top-notch Salesman. Trustworthy and Knowledgeable. Will recommend to friends and family.
5 months ago TechWith Todd
Great place , wide selection and friendly staff great environment and well kept up and clean , absolutely recommended
4 months ago Debbi Kubicky
I had a wonderful experience buy my car today. Jorge and Reggie were excellent. I highly recommend checking them out for your car buying needs. The service department has great customer service.
6 months ago Jihane Rachel
Danny K is the best! Was super easy. He came to my office for entire process didn't have to sit there for hours. He Even delivered my car! Fantastic service!
5 months ago Angela Patman
They are There to Serve you not to tip you! Unlike Toyota Dealer or others that hypnotize you with their Elite Maneuvers. I hate that. In Dodge you feel your human and you're dealing with human too. I wish them all the best! Keep on that service attitude. Salute!!!????????????
5 months ago Lauren McGill
Bought a vehicle from them while living out of state. I was told this wouldn't be an issue for paperwork or plates. Now their temp tag has been expired for almost a month and a half. When I call in to see what can be done, I get told that I can't have another temp tag and that they use a 3rd party to get the plates and it's not their problem. This isn't what was said when selling. They won't do anything, and use the excuse that things take longer now. I also bought a truck out of state 3 weeks after this one and got plates in less than 3 weeks. They are responsible for the paperwork on the vehicle, that's what they get paid for. It shouldn't be my problem that they hired a third party to do it
5 months ago Angelo Bodini
Have been taking my car to this dealer ever since I bought it and the service has been always great. Easy online schedule, nice waiting area and professional service agents. So far so good and totally recommend Sherman dodge skokie for your jeep services.
5 months ago Hemanshu Solanki
We were in The Market for a new Wrangler and had contacted several dealerships close to our Home. After not finding what we wanted as far as the right Jeep and Price I contacted Sherman Dodge in Skokie which is over an hour away from our home and spoke with Armando the salesman. He was Fantastic very attentive to our needs and the managers were also. We Got the Jeep we wanted at the price and payment we wanted and couldn't be Happier!! If your in the Market for a Jeep or a Dodge Chrysler Product Contact Armando at Sherman Dodge you won't be disappointed!! Thank you Sherman Dodge and Armando we will be recommending you to all our friends and Family Great Experience!!
7 months ago joel Ferreira
Had a fantastic experience here! As a first time car buyer, I expected the worst, however thanks to the thoughtful and accommodating staff (shoutout to Jimmy and Robert!) it was a smooth and easy experience. The staff really has your best interest in mind and will find you your perfect car.
5 months ago Jungyoon Moon
I'd like to give Sherman CDJR, and my salesman Luis 5 stars for outstanding service. Luis went above the call of duty to make sure I understood everything about my new Jeep. I really appreciate the great customer service I received from everyone there, as well as the great deal on my new Jeep Grand Cherokee. Thanks
5 months ago J KH
Jimmy P. is the reason you should go to Sherman Dodge in Skokie. Ask for him when you are in the market to buy or sell your car. He is patient, will answer all your questions and if he doesn't know he'll find out for you. He is responsive to your calls and texts and understands buying a car (new or used) is an important decision and is there to help you out.
5 months ago Susan Mark
I worked with the sales manager Abe to buy my 2020 Grand Cherokee and he was the most honest and helpful sales person I've ever had for a vehicle. I shopped around five different dealerships and not only did Abe give me the best price I didn't have to haggle with him. I drove 215 miles from my house, past at least a dozen other dealerships to buy from him. Couldn't recommend this dealership enough. No matter your distance check with them first. You'll probably save money even if you have to add on shipping costs.
3 months ago Meredith Briscoe
Horrible experience. Went to look for a mobility van. Was going to pay cash and they made me do a credit check for financing, with an excellent credit score, had me at almost 7%. Forcing me to finance. And kept changing the price significantly. Wouldn't work with me. They take advantage of disabled people that need this type of van. I told them that I will not be buying from them!!! And walked out!!! They falsely advertise on their website, no where near the price they want to gouge you with. Worst customer service from Huzma/salesman. He kept treating us like we weren't serious, kept walking away from us every chance he got. Plus wouldn't explain features in vans, I would ask about certain vans and he would say they were the same, even though there was a $5,000 difference. We were looking at 2020 vans. Don't get scammed!!! Don't recommend!!!
5 months ago robert church
Very sloppy and disorganized. The lack of direction was completely disrespectful. This was the worst car buying experience ever. I was there for several hours before I was shown a vehicle and each time, it was a long process to get the keys for each vehicle. When I asked the price and other info, the person who was showing me the vehicles was not knowledgeable.I'm glad to have a car but I will never patronize this dealership again and I'd advise others avoid this place as well
5 months ago Katie Slaymaker
Bait and Switch and bad sales tactics - do NOT go in until you have numbers in writing. We were in the store to PICKUP our new car today. Have had 3 separate discussion on the trade-in and out the door number. Even put deposit down 3 days ago on a WHITE one with "SAME spec and sticker price". Last night was told white was sold, so we agreed to pick up a Blue. I get in, it's now $2k more than we agreed. Robert was the sales guy who could not talk numbers and didn't know sticker were different. Reggie was the sales manager who worked out the out the door pricing with me on the car we drove (Only car I test drove). Robin was the person who took my deposit on a WHITE car with same feature and sticker price (or so I was told). Abe, Reggie's boss, also agreed to the number, but this morning said that was a different car. I walked out!!!! This is why you never want to go in there without numbers in writing. 2 times in 3 years I wanted to buy a car at this dealership - both times wasted my time. Never again!!!
5 months ago Amy Sandy
Joe was instrumental in securing my loan without any headaches! Janelle G was very quick and thorough with my paperwork. Thanks for the professional service.
5 months ago Dean Oliver
I had a great experience! Bill was thorough and kept me up to date with what was going on with the issue at hand. I will refer them to Bill for service every time!
5 months ago Steven Verburg
They were fast, professional, and extra helpful—especially when I couldn't detach a baby seat! My car was ready exactly when they said it would be!! Terrific customer service!
5 months ago judi gregory
If you're looking for a new or used vehicle, look into Sherman Dodge. You need the rite person to talk and listen to what you want, Tasha Mac is the person to see. When I say she listenesd to everything I said, she was on point! Her vibe and energy was definitely needed. She was very helpful and I appreciate her so very much for that!! She didnt give me anything, she listened! If you are looking to buy, trade or etc., just know IT DOES TAKE SOME HRS!!! Thank you again Tasha for your generosity!
5 months ago Carla Castaldo
Sherman Dodge is an amazing dealership! They offer quick AND personalized service. Mr. Reggie & Mr. Charlie are amazing members of the team who put you in any car you want without hassle. I have purchased two cars from this dealership and I don't want to work with any other team or dealership. You can't go wrong with working with Sherman Dodge.
10 months ago Amber Parkin
Buyer beware. I want to warn people of few things that happened so hopefully someone can avoid an issue. First. Apparently all cars come with additional SWAT equipment which is not factory installed. It is a service they are upselling, but the trick is they don't let you know about it during the sales part of transaction. The line item was described to me as a fee for certification of the car to give it additional warranty. It came up during financing, after I already paid a down-payment, that certification was built in to the price and the line item was for SWAT service. When I wanted it removed I was told I already signed and agreed to a deal, and when I wanted to cancel the sale I was told I won't be able to get my down-payment back since I already agreed to a deal and I'm breaching it. I had no choice but to get it. I called SWAT customer service and they said their service is cancellable but dealership has to submit the request, which obviously they don't want to do. Second. Go apply for your own financing if you get a car from here. I found out after that dealers get kickbacks from finance companies to set up a deal between customer and the bank. So it is not in their best interest to present the best deal for you but try to convince you to get a deal that benefits dealer the most. The best they could do apparently is 12% APR for me. When I got home and applied for refinancing with 3 different institutions I received offers for 5%, 7%, and 8.5%. I'm refinancing and lowering my payment by almost $70.
5 months ago Jen Trempe
Ask for Mary! I just bought my 2020 Wrangler Rubicon from Mary. She was awesome! I live in Colorado and had it shipped out here. Mary did a full video walk around and was super responsive. I had a little bit of a snafu with the financing department, but It got resolved she smart was on it. Also, Abe, the manager, gave me a smokin' deal! Thanks again!
5 months ago Virginia Wright
safe environment to be at , no hassle and super clean very highly recommended
4 months ago preet dhillon
I just purchased a vehicle with sales rep Arnas. His professionalism is something to live up to because I've found it lacking in current times. He was knowledgeable & very helpful to find a vehicle within my budget & helped me get approved working with sales manager Reggie. Thank you guys so much for everything!
5 months ago Wesley Cardone
Jimmy and Abe is sales are stand outs in the auto sales industry. I had never been to Sherman Dodge and their professionalism and honesty made me a loyal customer. They made the sales portion easy and painless and their follow up was top notch. I bought a used car that needed a few things taken care of, where at other dealerships, this could be a point of acrimony, they didn't hesitate to take care of everything quickly. I live two miles from Fields Chrysler, but won't hesitate to take all of my vehicles to Sherman from here on out.
8 months ago Jeana
Such a great experience. I'm so glad to have worked with Robert and Abe. Their teamwork made the process seamless. There was no pressure, all respect. I will be referring my family, friends and colleagues to them! Don't forget ask for Robert and Abe!!!
6 months ago Perish Shaffer
Krystoff is a great sales person and very helpful and straight forward. He was quick in responding my questions. I would high recommend Krystoff at the dealership for next vehicle purchase. Dealership itself has a great vibe inside. I liked the flags of the countries hanging from the ceiling in the showroom area. My 5 stars go to this dealership.
5 months ago
Popular places from the category Jeep dealer