Bay Wrap
Sandwich shop Bay Wrap, 20 Beaver St, Belfast, ME 04915, United States:
76 reviews
of users and employees, detailed information about the address, opening hours, location on the map, attendance, photos, menus, phone number and a huge amount of other detailed and useful information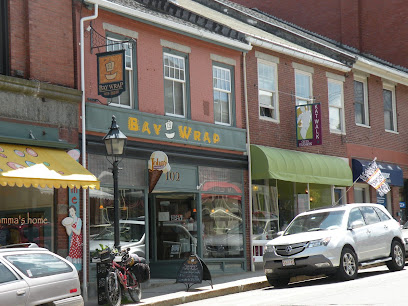 Address:
20 Beaver St, Belfast, ME 04915, United States
GPS coordinates
Latitude:
44.4257867
Longitude:
-69.0069488
Location on the map
Reviews Jeanne Shaw
If you like paying $15 and up for a tortilla filled with rice or some other filler, and don't care much about customer service, then this is the place for you! Not me though. And I love rice and accept pretty unpleasant behavior from people! I have lived in Belfast for over 25 years and the first 5 years or so this place was open I was there several times a week. Unfortunately, the prices kept getting higher and the quality of the wraps and attitudes of employees kept going in the other direction. I still didn't give up. For years. I tried ordering extra meat, extra sauce,(all extra charges of course) to try to get the wraps I once loved from Bay Wrap, but it just wasn't happening. Also if they say you can omit certain items from certain wraps, it's probably a 50% chance it will happen. And if it doesn't happen and you mention it, politely of course, no one is perfect, it's probably not going to improve the situation. I used to really love this place. I have fond memories of the old Bay Wrap and I still crave the wrap I used to get many years ago when they were becoming rooted in Belfast, but after too many disappointments and embarrassing, unpleasant experiences apologizing to guests from out of town for recommending this place, I finally gave up. There are just too many other delicious options in Belfast whose prices seem reasonable for what you get and the people working there make you feel glad that you came in.
5 months ago Damien Butler
Yeah, the wraps are pricey, but you get what you pay for. The ingredients are fresh daily, the sauces are spot on, and the portions are LARGE. This cook tastes what he's selling before he sells it. Ask to add avocado to the vegetarian Texas Nightmare, and you are in heaven, if you like a nod to Tex-Mex flavors. My favorite is the Yah'Mon, chicken, mango, sweet red peppers, lime rice and chopped spices with jerk sauce. TO DIE FOR. They're all good. Long list of cheerfully named choices. If you like spicy, ASK! Old time Mainers don't like anything spicier than mac & cheese. Nobody in town starts with a 5 out of 10 on the heat scale, so as not to drive off winter business.
6 months ago Tina Sullivan
Consistently good coffee. The pastry and wraps are pretty good as well. Good service.
4 months ago Xiupeng Zhang
So after a hike in the town of Liberty I was in need of a sandwich. So I did what millions of Americans do, searched Google!! Which gave me three choices in Belfast, Subway, another local place to remain unnamed and Bay Wrap. So I make my way to Bay Wrap where I discover due to the Covid you need to phone you order in, pay over the phone than make your way to a window on the backside of the building where you will be rewarded with an amazing bounty of nutritious nutrients! I order the To Thai For, which according to the menu is grilled chicken, in a thai red curry peanut sauce, jasmine rice, carrots, sprouts, cucumber, fresh cilantro, "thai-d" up in a chili tortilla. Let's just say I was more than satisfied and will probably be stopping by again the next time I find myself in Belfast Maine in need of a sandwich.
3 months ago Mindy Drobnick
Delicious wraps!! Perfect quick lunch - creative menu!
4 months ago Syed Ahsan
Great selection, easy ordering on line, and nice people!
4 months ago Jeff Fecteau
It's was okay... Some wraps were bland and others just had heat without real flavor..
3 months ago Gary Rand
Really cute place. Tons of seating.
7 months ago Rosa Guzman
This was like my second home while I worked in Belfast. Excellent customer service and healthy food. Charlie is the best!
9 months ago Delia Hunt
Best breakfast wrap ever!
5 months ago Angelo Sousa
Never disappointed !! Always fresh always delicious! Great service awesome staff! Worth every penny.
2 weeks ago Kristen Wozniak
Delightful place with great food! I love the homemade tomato soup!!!!
5 months ago Ernie Gray
Carnitas way on a winter day! The best way to warm up. Thank you Bay Wrap
3 months ago Timothy Johnson
Philly steak wrap with rice, cheese, sauteed peppers & onions Even if you aren't normally into wraps, this is a * Must try
7 months ago Stefanie Turner
Comfortable inside. Basic espresso and drip coffee setup. Coffee By Design beans. Nice downtown Belfast feel.
11 months ago Jacob Mitton
We got the to thai for, oh my cod, carnitas way, and yeh mon. They were all so good!
1 month ago Jedi Master
Only reason I cannot give Baywrap 5 stars is their pricing. The food is SUPER tasty, and the burrito is VERY good size (comparable to Chipotle) the downside however is for 1 burrito with no drink will run you almost $14. Not friendly pricing for locals who don't earn those types of wages
9 months ago Robert Lowe
Their cafe puts out tasty coffee drinks and the kitchen puts out some awesome jumbo burritos!!! The "To Thai For" is my favorite.
9 months ago Donna Fulcher
Excellent food. Lots of options. I wanted 6 different ones. So now I need to make 6 visits to try each. Lol
4 months ago Winston Jones
The incredibly friendly staff are great. The food is a bit expensive, but you get a MASSIVE burrito filled with top notch ingredients. Make sure you let them know if you don't like spicy food, or if you want it extra spicy, tell them to spike it!
5 months ago Rohan Oberoi
Very disappointing. Very expensive for lunch. Used to be much better.
11 months ago Kitty Kat
If I could give this place 10 stars, I would. We stopped in on a tour from Bar Harbor to Boston, and the owner was the best host, offering us guidance for what to do in the area. The breakfast wrap was out of this world. Loved it!
6 months ago Gabrielle Arnold
This is one of my favorite places to eat in Belfast. Family owned by the kindest people, fast service, and the best food in town! You definitely get your money's worth here. Highly suggest!
1 week ago Zooma Gcookies
Well, I was told by a friend their portion sizes were good. That was the only thing they got right. Not only do they have a very limited menu, but when my wife and I asked for specific things to just not be on their wraps, they couldn't even bother to take them off. Such as cucumbers and carrots on the BBQ wrap. My wife ordered the Philly and asked for no Pepper or Mushrooms. The associate who took our order even asked if we were allergic to any of the items, because it was pre-mixed, and they would have to take them off. They didn't take any of the requested items off. They also took my order for a large wrap and switched it with the small my Wife wanted. The food was bland, and unseasoned. It almost seemed as if they just microwaved it. Very unpleasant experience, and you will not see me there again.
9 months ago Juan Conde
Really good wraps right in downtown Belfast. Some very tasty choices. And don't forget the espresso drinks. Great vibe too.
3 months ago chris pyon
Very good wraps, the small ones are a good lunch. Great choices and friendly staff
6 months ago vilma roxburgh
Strongest coffee in town! Wraps are fat and delicious. Charley is a great host!
6 months ago Sarah Mullis
Bad day maybe? White rice crunchy in Salmon wrap and wrap split in two (while driving...not fun). Teriyaki wrap was covered in sauce (on outside) and spilled all over car. Not very impressed as the purpose of the wrap is eating on the go.
6 months ago Chastidy Collums
High $$ for a wrap....also ordered a Philly Wrap & the beef was partially red!!.Not what I anticipated....very disappointed....
4 months ago Erika Thibodeau
Every time I go back here the wraps get smaller and more expensive. This used to be one of my favorite places in Belfast but I will no longer be paying ~$15 for a damn burrito
7 months ago Nikita Udod
The food is delicious and the coffee is out of this world.
6 months ago Barbie Rodriguez
Always friendly and great food but not as affordable anymore. .. use to go once a month, now it's really like once a year as a treat
6 months ago Randy Evarts
My go to lunch spot when in Belfast. Super fresh ingredients. Huge variety of wraps all done in a soft flour tortilla. The To Thai For wrap is to die for!
1 month ago Kelly Malson
It has nice Relaxing atmosphere and Nice Sized area InSide an Have Some Snakes With aLittle type bakery inside but The Store With The Wraps Are Ordered at the Back of the store that's in Belfast on 105 Maine Street. Interesting Choices and In Wraps & beverage's and Friendly Staff and Customers as Well.
6 months ago Erwin A
Super friendly staff and a great environment to hangout and relax. Great food and great coffee, would definitely recommend to anyone looking for a casual place to chill
7 months ago dench morales
A delightful it casual coffee shop and wrap shop. The coffee is delicious and the wrap portions are generous.
5 months ago Tammy Murphy
One of my favorite places to eat.
6 months ago Lisa Nagy
Wonderful, unique hand made wraps. The creativity and tastiness boggles the mind & gustatory palette!
5 months ago Sylvia Whitford
Food is delicious and always fresh.
4 months ago Mili Larrea
Can't speak to the wraps, but the espresso is truly horrible. Friend and I asked for a shot each. Barista asked if we wanted doubles. "Yes," but ristretto, or short and strong, please." So we watch in disbelief as he pulls a normal shot into two cups. I ask as politely as possible, "you're not splitting that shot, are you?" "No," he replies, and then serves the split , over-drawn shots to us. I complain that he did exactly what he asked him NOT to do, but does he offer to re-pull or give our money back? Nope, he doesn't care, and isn't really listening to anything we said anyway. Why bother even offering espresso, or investing in the equipment, if you care absolutely nothing about the product or how it's served? If this is how they serve espresso, I can only imagine how wretched the wraps could be.
6 months ago Lukman Alaho
The Thai burrito was tasty. One burrito + one water >16$.
7 months ago Genise Gilyard
Always quick and delicious
3 months ago Nabila zuraik
It just tasted like wet rice...
5 months ago Kathy K
Focused on excellent service, tasty wraps, and quality coffee -- a great choice for a quick stop.
9 months ago Jeremy Plasse
Expensive but always delicious
9 months ago Paul McCarthy
Only coffee (open) place we found, not the best but it saved my morning! Latté oat milk was very light.
4 months ago Andrea K
Best wraps around! I can't get enough!
11 months ago Kelly Ankawi
Excellent food and the service and hospitality was outstanding. My friends and I are so glad we stopped in!
3 months ago JENNIFER LENGERICH
Chipotle mayo on any wrap. Truly phenomenal wrap selection!
8 months ago Edward Streiff
Love the wraps and the ice cream!
3 months ago
Popular places from the category Sandwich shop