Rolando's Car Care, Inc.
Auto repair shop Rolando's Car Care, Inc., 1700 Busse Rd, Elk Grove Village, IL 60007, United States:
131 review
of users and employees, detailed information about the address, opening hours, location on the map, attendance, photos, menus, phone number and a huge amount of other detailed and useful information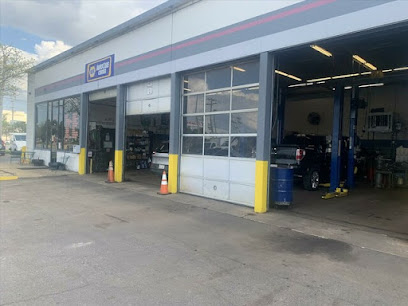 Address:
1700 Busse Rd, Elk Grove Village, IL 60007, United States
GPS coordinates
Latitude:
42.0015631
Longitude:
-87.9607012
reviews Renatka DB
Excellent job on my 2014 Chevy Sonic rear bumper worked with Steve Franklin spoke with him last week Wednesday got me a quote with in a couple hours dropped it off Sunday night they began work Monday and they were done by Tuesday afternoon. Fair price excellent work and a pleasure to work with and great communication! I highly recommend for any body work needs they even detailed the inside of my car and trunk as well!
2 months ago Cristina Tosi
They took great care of my sons Honda. Good price too.
2 months ago Shelby Harksell
They are the best! I have been bringing my car to them for years. They are honest, trustworthy and fairly priced. They have always done great work on my car. I highly recommend Rolando's!
5 months ago trudy hodson
Great auto mechanic/car care! Everyone there is great! Honest, helpful, & very friendly! Have been going to them for years and will continue to refer them to friends & family.
5 months ago Stephanie Cesar
I was charged a very fair price for labor and parts, the work was done quickly and everyone was friendly and knowledgeable. I love taking my car here for repairs and would recommend this shop to my friends and family.
5 months ago ecatania kelsey
These guys always figure out what is wrong and do a perfect job. They are very professional, friendly, reliable. Highly recommended.
5 months ago Basem Bassar
Kind and honest mechanics. They checked out a break squeak I was hearing and told me what it was but it didn't really require work at the time. I'll definitely be back when I need something done!
8 months ago Jonas Jones
I stopped with AC not working properly and they take care of it right away, thaaaaaaank you guys ????
3 months ago Karthik GR
Great mechanics. They have serviced my families vehicles for years. Always spot on with repairs and service
7 months ago Al Aholloman
Went in an hour before close for a flat - they had me plugged up and out of there in 30 minutes, even though they had a good flow of cars going in and out. Both the guy at the front and the guy who fixed me up were super nice. I wish I got their names. They wasted no time - silky smooth experience. Recommend highly.
3 weeks ago Thom Wubbenhorst
Wanted our car detailed since we are expecting a baby any day now. The technician had already left for the day but the dispatcher asked him to come back and he turned around to do the job for us. Our car came out great and we really appreciated the extra mile that they went to take care of us. Thank you!
6 months ago Joseph Tuccio
This shop was fair priced and honest. The shop even came and picked me up and drove me back to the shop after fixing my car in the same day. I'm very happy with this shop and will return if i need any repairs in the future. thank you.
2 months ago Mark Fowler
They did a great job replacing the front bumper on my car. They perfectly matched the paint to the 20 year old paint on the rest of the car.
3 weeks ago Dominick Pellicane
The only car place I bring my car, and I trust them , there good to me and my cars. The best family owned business
11 months ago Daniel Barr
Rolando's is second to none. I had a family emergency and had to go out of town. They picked up my car from my house and took it in to service it. They called me and let me know of the repairs needed. Once I gave them the go ahead they completed all the repairs and returned the car to my house. Now I feel safe taking the car out of town. Thank you Ricky for the great service.
4 months ago Clarissa Ali
Excellent honest service with competitive pricing to boot! I've been here twice now and plan to continue coming back as well. Highly recommended!!
3 weeks ago Mark Franusiak
Fast and easy, always take the time to explain exactly what is happening as well.
9 months ago B D
Very thorough inspection and speedy fix. Car runs great. I would definitely recommend Rolando's Car Care for all auto work.
3 months ago Timothy Mansfield
RJ and crew are great. Honest, fair price, stand behind their work.
11 months ago Adam Lofton
Wonderful service. Recommend highly.
10 months ago Mary Carnes
AMAZING! Car service.
2 months ago Kaitlin Giuglianotti
Good and fast service awesome customer service very informational inform you of prices up front
1 month ago Josh Thompson
This was the fastest, most professional, and pleasant experience I have ever had with an auto body shop. RIcky made he process seamless. I have never had such a great experience! I will definitely be letting everyone i know to come here for car matentience& collision repair!! Thanks again guys!
2 months ago Daniel B
I have been coming here for many years and wouldn't take my car anywhere else. They do excellent work and are very honest. I would highly recommend!
3 months ago William Grimaldi
These guys are much more than a car care center they work on antique vehicles in late model cars they do paint front end alignment Bumper to Bumper build cars everything you can think of on a car
6 months ago oli khan
Had some issues with my car that went away after restarting, but the engine light stayed on. They read it for free without an appointment, and let me know exactly what to do moving forward. The employees there are wonderful and kind.
2 months ago Tonya Fowler
Great location. Highly recommended
2 months ago Wendy Westbrooks
Awesome and trustworthy.
2 months ago Galina Rediy
These guys know their stuff, do it at a reasonable price and never oversell you!
1 month ago Mark Roberts
Great place. Highly recommended
10 months ago Michelle Cantimbuhan
I've been going to Rolando's for four years now and I've always had positive experiences there. I love that they are owned by a local family. Everyone has always been friendly and honest and I feel like I'm dealing with friends. The first time I went in, it was because I failed the emissions test. They were able to take me right away and fix the problem without costing a fortune. Recently, I brought my poor old mini-van in for a once over, as I knew I had a few problems. They did find the multiple issues, but clearly explained what were safety concerns and should be fixed and what could wait. They understood that I was concerned about price and was prepared to drive the van until its last breath. I appreciated their honesty and willingness to do the most important work but also give me options for the future, all while keeping my safety in mind. I recommend calling ahead to make an appointment and let them know if you are in a hurry. It can sometimes take a bit longer than expected. I will definitely continue to bring any future cars to them. It's worth my peace of mind, even if I may have to wait a bit longer.
4 months ago Audrey VanAtta
Great and honest service!
4 months ago Jason Sides
Friendly, caring, and fast. Highly recommend this shop to everyone.
6 hours ago Michael Crocker
Well trained staff, very clean waiting room, large screen TV, charge stations, reasonable rates, short lines.
2 months ago Dawmella Fortier
The best service I ever received in my life They've worked on my Mercedes Benz CLA 250 like its their car Experienced guys Very welcoming staff Very intelligent people Really loved this place
2 months ago Gail Lauermann
Rolamdo's are awesome. Replaced my clutch fan on my F550 in record time from drive in on a saturday morning and at a great great price. Helped with rental amd ride to my hotel. I WOULD RECOMMEND THEM ANY DAY AMD TWICE ON SUNDAY.
3 weeks ago Pete Pashko
These guys are awesome! Professional and honest what more can you ask from your mechanic. Highly recommend them
2 months ago Card Man
Courteous and fast repair quote.
7 months ago Anita Canerdy
Very nice and respectful staff, I'm impressed of their service.
3 weeks ago Andrew Miliaresis
Very informative. If they don't know what they're doing, u will feel like they do. Customer service is A1. U are In good hands with Rolandos car care!!!
3 months ago Achiraf Abibou
Nice place owners very helpful. They fixed my alternator so I could get back to work quickly. Thank you
4 months ago Deruginizscp
Had TPMS on and my "falcon" eyes saw that front driver side tire was a little bit flat. Rushed to Rolando's Car Care because my kids were also in car and I didn't want to risk with TPMS on. Professional crew at Rolando's Car Care took care of everything. Turns out it was the front passenger side tire overinflated. Everything was balanced in very short time. Thank you Rolando's Car Care team for your professionalism. One of the best Car Care shops in Illinois. Recommend to everyone.
3 months ago Henger Ydrogo
The gentleman that work here are truly gentlemen!!!! Respectful and kind. During these uncertain times it really helps to know that when you take your car in you are getting not only excellent service but exceptional precautions for your health and safety. You are not allowed to enter without a mask, the workers all wear them too. If you use a pen there is a different cup to put your used pens in. They clean the car inside and out. (I'm a busy mom who used to always be on the go,lol) my car looks better now than when I bought it form Carmax if you can believe it!!! And, it smells amazing. Being a healthcare worker and having an asthmatic daughter has made me extremely careful. It really put my mind at ease at the great lengths Rolandos does through to make sure everyone is safe during these scary times. Thank you everyone at Rolandos!!!!!!!!!! P.S. my girls are stunned at how amazing the interior looks!!!!!!!
2 months ago Kelly Crawford
I'm so very pleased with the customer service and professional
11 months ago Mohamed Hassan
My car had some body work done. It looks like new and Parth and his crew did a great job. I would highly recommend Rolandos. Perfectly clean and the car smelled like new also. Thanks to all.
3 months ago Nishfa Us
I work 3rd shift and Rolando's is always able to squeeze my car in to get work done. Competitively priced and extremely quick to get the job done. I'm always very skeptical of shops but Rolando's is definitely trustworthy. Thanks for all the work you've all done, relieved to know that I'll always be taken care of.
4 months ago Angela Woodland
Good servis, professional staff
7 months ago Christopher Andrews
Ronaldo's Car Care is top notch. I brought my Tesla Model 3 to replace 2 rims that were damaged. They were professional, friendly, on time and reasonably priced. I would highly recommend them.
3 weeks ago Suraj Bala
Took 2 of my cars for engine cleaning and they did a phenomenal job highly recommend them. Staff is also friendly and look happy to be working there
6 months ago Alex Bagnasco
I woke up one morning to the WORST news ever! My car got side swiped and and the person left no info... so of course now I have to get it fixed. Looked on yelp and stumbled upon this little gem.
1 month ago
Popular places from the category Auto repair shop