Thorntons Fuel Station
Gas station Thorntons Fuel Station, 3450 S California Ave, Chicago, IL 60632, United States:
220 reviews
of users and employees, detailed information about the address, opening hours, location on the map, attendance, photos, menus, phone number and a huge amount of other detailed and useful information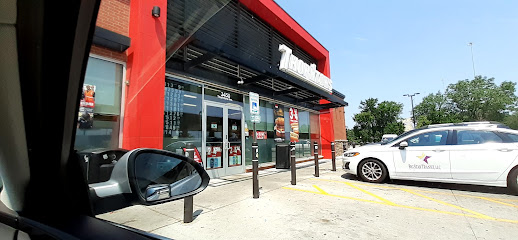 Address:
3450 S California Ave, Chicago, IL 60632, United States
GPS coordinates
Latitude:
41.8303971
Longitude:
-87.6961747
reviews AJ Laster
Busy lot!! Food kinda pricey, but its a good parking spot for truckers in Chicago. Prolly fits 25ish ???? trucks. I will come back for sure
9 months ago Carly Bower
Did a quick fill up good prices.
11 months ago David Stubbs
The service from the gas station is excellent- I get prompt answers even on weekends and holidays. I'm very pleased with the level of service that they offer. I am happy with the cost of the service and consider it to be one of the best on the market. Just keep it up!
6 months ago Deborah Granados
Yesterday, when I had to fill my car with fuel, I went to that gas station. The petrol kid was very nice and very respectful. He greeted me and replied quickly to my needs. I love their service!
5 months ago Michael Gibson
They were all welcoming in this gas station. They practiced social isolation and wore a mask to ensure the wellbeing of each client and workers. It was a fantastic service from this station, and I'm going to recommend it to my friends and family. Thank you very much for that.
6 months ago Bogdan Sydorov
Super dirty, nothing to clean your windows diesel pumps in bad shape,
3 months ago Maikel Mora
Good place for a fuel stop, clean and good choice of food and drinks
1 month ago Kaitlyn Raterman
Trying to be like their Mega-truckstop competitors: over priced on almost everything and like to spout off about "Driver Appreciation"... JUST STOP THAT, WILL YOU PLEASE...
2 months ago Ryan Kennedy
Love it! Amazing staff always helpful
1 month ago holly Bruso
This place went downhill. Diesel always clogged we fuel a whole fleet but we are thinking of changing provider
2 months ago Kelley Padgitt
One of the worst place to be, there are diesel spill on all the pumps, there is a very strong discussed smell in store and the men's bathroom was the worst it is not clean, water is running continuously and not enough toilet roll, and it seems that staff's don't care. I will never go to the Thornton on I 55 and California Avenue, Illinois.
4 months ago Glenn Gilson
The staff here are welcoming and friendly. My favorite thing about this gas station is the options for beverages and food it's always a good place for a stop and go!
5 months ago Amanda Holtzinger
Best place For Everything You Need while traveling
2 months ago Dillon Corbridge
Favorite place to stop when I am on the go!
2 months ago Kori Dobbins
Best gas price in town
2 weeks ago Shane Richard
Clean- well stocked -friendly workers -nice size washrooms & clean - also has self service check counter 3
9 months ago Tyler Hook
Always stop for ice and drink great price for drinks.
8 months ago Kay Zindani
Everything here is extremely expensive! The staff are slow and seem to have no manner for customer service. Its a very clean gas station and in good condition. The staff just needs to be taught on how to properly deal with customers and customer issues. Was overcharged $47 on my link card because the lady at the desk scanned my one bag of fritos 9 times too many. When I got home and realized I went back only yo have the woman who was responsible tell me that she could not refund her mistake and to come back the next day. The next day I called and a different lady said that she was told to only refund me one bag of fritos not nine! I told her how in the heck would I walk out carrying ten huge bags of chips without any bags and to check the cameras. After a long dispute I was refunded a week later. Another gas station with careless employees...shame.
11 months ago Kim Hartzog
Good food and good service.
3 months ago Jess Robinson
Nasty men restroom no toilet paper a day long employees don't do nothing about it
3 months ago David Rayis
You really need to give your employees a secure register area complete with bullet proof glass and maintain 24 hour security staff at the Thorton Gas Station located at 3450 S California Avenue, Chicago, IL 60632. It's a bad neighborhood and I've seen way too many people go behind the counter attempting to attack your employees.
11 months ago Chase Martin
Terrible service. Do not recommend
4 months ago Brittanie Campbell
Great prices for fuel clean comfortable staff friendly and polite. Food variety is large from hotdogs to a sandwich
10 months ago paul matako
Always dirty...employees are always rude and ignore your questions...soda machine never works...and toilets are DISGUSTING always out of toilet paper...toilet papers always on the floor and hand washing area. Never any tornado tacos or hotdogs...as well always a mess. I just went today August 5,2020 and I guess the general or district manager Was there and saw they were talking to all the employees and surprisingly most of all was in order and not messy.
11 months ago mary flores
This is a small truck stop right off the turnpike the highway it's great if you need fuel to get in and get out but as far as truck parking they only got about 9 spots does not really a truck stop it's a fuel stop.
8 months ago Band Mann
Gotta love thorntons!
3 months ago Christina Vaughn
Thortons is my go to gas station. Competitive gas prices. Always my first choice gas station
10 months ago Krystal Melton
I enjoy coming here, I work right around the corner. So it's really convenient to run in for a quick snack run, and for gas as well
11 months ago Michael Khan
Always clean, could use more cashiers at times.
9 months ago Dan Tyburski
It's up and down here with the employees some are nice some want you to die you never know... The cleanliness of the gas station has really kind of gone down they dont have the different size cups sometimes. the ice cream machines has been broken forever . I only reason I still go there is cause its the closest one before the 55 ...it use to be really nice when it first open.
2 months ago Paul Morrison
I get gas here all the time and one of the only places that you can get both Tribune and Sun-Times newspaper!?
8 months ago Courtney Wright
This place is clean and is a, what I call a small grocery stop. Gallon of milk, bread and such. Right on California so as your driving home, or going to work, quick gas stop, and you're right back on the road. Close to the Stevenson.
11 months ago Nicki Howe
Bathrooms don't get cleaned as often as they should and theres only one working sink in the men's room (husband told.me this), there are rarely paper towels in the barhrooms. You have to use the air dryer which spreads whatever bacteria is in there. Store isn't cleaned or sanitized EVER. There's no sign indicating you need to use one of.their. ups as refillable cups are not allowed. Was told 'it's a given'. It's not 'a given ' if you don't know about it. I can only go by what I read. If I use my refillable cup and get reprimanded for it, that's not good.
11 months ago Amanda Parker
Love Thornton's gas but didn't like your customer service. Your employee James that was their 7/1/2019 at around 1:50 and 2pm call our kids savages for getting a big cup of icee. Wondering if the gas station is a kid friendly place??? Also wonder if James was ever a kid??? On top of him calling our kids savages as we where paying he didn't ask about rewards just gave us a total and "I told him I have a rewards card can I put my number. He had a irritate face expression. Wonder if he getting payed or is he in the wrong field??? Also trying brushing the drinks off the counter so we could move. Also want to state that store had long line. Maybe he can't work under pressure??? Is he the right candidate for your gas station??? Don't know but actually I will try not to visit that Thornton's.
1 month ago John Dodge
There is no overnight parking, it seems like all local bobtail trucks took over, this is the 3rd time I tried staying there with no luck...........need management s attention.
9 months ago Pete Larson
Everything you need staff is super friendly. That's why its my daily trip to stock up for work. And I like weed, and they have really good slushes. Lol
4 months ago Jail Annex
I love to go to there when my dad need gas for a car or whatever. Because I like those donuts & everything. It's nice place ????
11 months ago naeeme mohammadi
Love this gas station
2 months ago Sarah Irene
Rude 2 faced people work here.
5 months ago John D
Worst service ever provide by terena, she ignored me passing few guys in front of me, and the act really rude, I fuel my truck fleet at this location but honestly after this and with the bad service ( no towels or windshield fluid at diesel pumps) I will go across the street
7 months ago Sam Kaminski
Get my gas at Thorntons and they have go0d breakfast sandwiches
5 months ago Sergey Gavrilin
Undertrained slow employees that allow peopy without facemasks to enter 5-20-20, 2:35pm
11 months ago Jill Sperling
I always come here. They are the best. I left my debit card on the counter. The clerk kept it safe for me.
1 month ago Manish Khanal
Best gas station in the neighborhood. Newly constructed and opened and the prices are competitive to the nearby gas stations. Very large and several pumps, so you never have to wait for gas.
3 months ago Whitley Moguel
ended up here by accident one night, slept a few hours in the lot, had trouble finding parking dt Chicago for my rig......everyone was very nice here...breakfast burritos were actually very good, gas was priced competitively, coffee was fresh and hot, employees were attentive and friendly, restrooms very clean.........i was quite impressed actually......i saw alot of trucks in the back lot....seems to be a good place...thx a lot thorntons....keep up the good work....ill be back someday:)
11 months ago james morgan
Iesha was very nice. She got our weights 3x for us.
11 months ago Rohit Grover
Love the donuts, love the coffee, the soda deals are unbeatable, and SLUSHIES for everyone!! Great selection too. Everything else is also awesome, clean bathrooms friendly service. Why isn't there more thorntons in chicago???
11 months ago Sajit Vartak
This is my go to spot.
4 months ago Bruce Forbes
Aside from the fact that it's in a god awful city, I enjoyed my frequent visits here. Good gas and food beverage sales.
6 days ago Pompilio Pavon
Horrible service one of the cashier even turned her name tag around so I wouldn't read her name never will I purchase gas there again I also would like to know the headquarters for this establishment
10 months ago
Popular places from the category Gas station