Bliss Beauty
Pharmacy Bliss Beauty, 72 E 167th St, Bronx, NY 10452, United States:
220 reviews
of users and employees, detailed information about the address, opening hours, location on the map, attendance, photos, menus, phone number and a huge amount of other detailed and useful information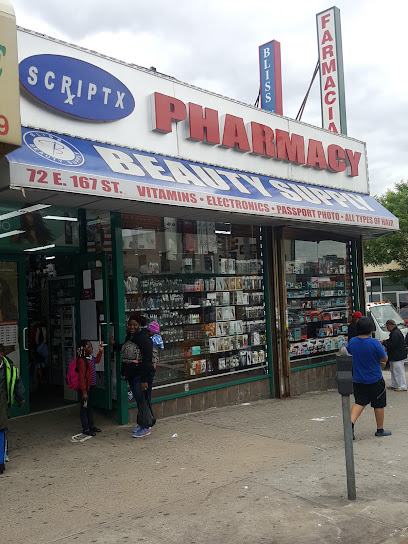 Address:
72 E 167th St, Bronx, NY 10452, United States
GPS coordinates
Latitude:
40.8352470
Longitude:
-73.9202279
reviews Michael Micalizzi
I've been shopping here for 2yrs now. The employees are very efficient and helpful. They have quality products! I will Absolutely recommend this store????!
4 months ago Omatillo Khojiev
Johnson is awesome. He is one with the community and always has a pleasant attitude. He always ready and available to assist customers. I always enjoy my experience there. Great job! He is definitely an asset to this business. We need more people who treat people with respect when you are a consumer entering into their business. Thanks for the great customer service.
3 weeks ago mario bellavia
Best beauty supply. I went searching for a highlight and one of the workers think her name is Anarys very kindly ask me for help. I ended up leaving the store with more than I expected to buy. This store has many unique products... Definitely would be coming back !!!
6 months ago Rachael Touchet
Amazing renovation to the store. Things are easy to find. The staff at this store are warm and friendly! If you haven't been here you should shop here.
10 months ago Siddhartha Shakya
Very nice staff... The manager the best. I do like the store so much. Will surely come back.
10 months ago Simone Arora
Amazing selection. Best prices. Came in looking for something very specific for a film shoot and my friend Laura saved me!! Thanks Bliss Beauty Supply in the Bronx!
7 months ago Ernie Gray
This place has changed hands over the years, but is ever improving for the better. This is my go-to spot for hair care products. Wonderful staff! keep up the good work!!!
6 months ago MAURICIO PAZTOR
Lovely place to shop. They are always keeping up with the trends and have things in stock. The employees are polite an helpful ????
4 months ago Tolis mpakis
Been buying stuff from here 2004 from this location or something along those lines . Forever have what I need and if they don't, they make an attempt to find it for me. Shout out to Johnson and my favorite cashier lady that's been holding this store done for years now ! Y'all rock !
4 months ago Jason Brownlee
Love this location! It's clear to home and they always carry just what I need. They've also started carrying a lot more products that I frequently use. Always great customer service as well!
10 months ago richi rich
I love this beauty store ! They have everything I need. And the employee Jenny helped me a lot. They have very nice products for natural hair .
4 months ago Gustavo Figueiredo
Ive been looking for a clear eye lash and was never able to find it. I went to this store for the first time and i found what i was looking for about 4 months. Great store! Has everything you need!
4 months ago Amr Shennawi
Been coming to this supply since I was a little kid. The customer service is extremely amazing and they have all of the essentials I need. I would definitely recommend this store to anyone
3 weeks ago Thalia Davies
I loved the fact that I found everything I needed for my hair, face and everything else????????????????????????at a good price. Jeni really helped make my day thanks to her.
3 weeks ago Wally Laskowski
Great customer service. Very helpful and respectful. Always has what I need for my nails hair and other things
6 months ago Angel Hoagland
The customer service was superb. They were clean and very helpful. Everything was neat and well organized.
3 weeks ago Frank Vennix
This store has a lot of products. First time here and it has everything you could be looking for including baby stuff. Will definitely be back
7 months ago Karen Starnes
Awesome service. These guys have just about anything you need in product and equipment. Reasonable pricing trust me.
4 months ago Bob Camp
One of the best beauty supply I ever visit. Johnson, the manager is awesome????. You won't regret ever visiting this store.
8 months ago SCOTT PADGETT
Anariys at the store in 167 street was very sweet and Friendly, she provided the best customer service I have every seeing. The store was clean and organized. Thank you Anariys for your wonderful service.
3 weeks ago Matthew Christian
I love the customer services, they are very welcome and patience with the customers. And they sell the best hair ever!
3 weeks ago tara blackston
I love this beauty store They have everything I need. and at good price rums up
8 months ago Al R
I love this place. I find everything I need here!!! The staff are very nice. I don't go anywhere else.
6 months ago Dee Jackson
I really appreciate how welcoming you guys are. Very nice employees, very sweet and helpful.
3 weeks ago Robin Greene
This is the best beauty supply ever,they have everything you could ever think of.The employees are friendly well mannered especially Johnson he takes his time to help you find exactly you looking for.
5 months ago gigi vazquez
Pretty good store, very nice and helpful.. they got all good quality stuff.
3 weeks ago Kett Cosmetics
They always have my beauty beeds. The prices are great and the staff friendly and very helpful!!
10 months ago Mike Payne
They have everything you need here! Super helpful staff! Love it ????????
6 months ago Ryan Terhune
In love with this store always has what I need. Staff is always helpful! :)
3 weeks ago Elizabeth Love
Great store, lots of variety and great customer service. I go to this store often due to accessibility and the amount of product available
5 months ago Jonathan Pecina
I love this store has all the products I need. Anairys is very helpful
6 months ago Raffi Lakhdar
I've been coming for years and by for the best hair spot in the bx they have everything and staff is very helpful for different hair need!
6 months ago Sunny
Coming here for years...staff are very knowledgeable and always know where to find my products...love the new upgrades and will continue coming here!
8 months ago Jamie Greenberg
Excellent customer service. Very welcoming. Love it
4 months ago Halie Williams
Johnson is the best, he always helps me and my family out. All the staff here are great !
6 months ago Brittany Willis
It is amazing to find a store that has all the hair and face products I need and with such good customer service the girls in this store are amazing
5 months ago Shelly Carpenter
Best beauty supply ever! Mr. Johnson is really helpful and ????????
6 months ago Taber Bain
Customer service is very nice, specially Rina, she knows everything which one is good, i definitely come back here again
6 months ago TheOGJosiah
Best beauty supply store! They literally have everything and the staff is extremely helpful.
3 weeks ago Tim Philpot
Great customer service...Manager was very patient and took time to explain different products to me...very knowledgeable about products carried in store...
10 months ago DanikNEMESIS
This store has all the natural products that i need to slay my hair and the workers in this store are extremely helpful and very caring. Definietly will continue shopping here.
6 months ago Maria Windham
Johnson was very helpful and has great customer service thank you for all your help
4 months ago Scott L
Products are amazing fantastic service and the staff are very polite
5 months ago Moonshine Witten
This beaty supply store is my favorite and it's the only beauty supply store I go to , I've been coming to this store fore years and have never have any problems.
7 months ago Joshua Kinzie
Best Beauty supply ever! The staff is really friendly, helpful and professional, especially Anairys who greeted me upon entering and helped me out with all my inquires.
5 months ago elakiya R
Love it because they. Have all I need and a good costumer service
5 months ago Hubert Carnet
I Had A Great Experience With The Staff They Were Very Patience With Me
6 months ago Roy Dowty
They was very helpful I will would recommend my friends to come here
3 weeks ago carol elam
i get my hair from here and it's amassing and great quality. Anairys is amazing helping get the best hair product to keep my hair moisturizing and on fleek
3 weeks ago Chris Gardiner
Hey guys I really love this beauty they are so great and nice costumer service
6 months ago
Popular places from the category Pharmacy