Ruby Tuesday
American restaurant Ruby Tuesday, 20 Waterville Commons Drive, Waterville, ME 04901, United States:
220 reviews
of users and employees, detailed information about the address, opening hours, location on the map, attendance, photos, menus, phone number and a huge amount of other detailed and useful information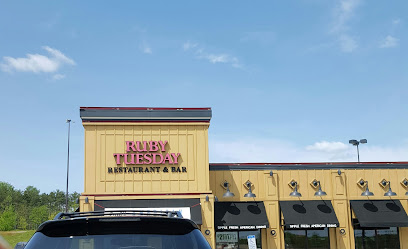 Address:
20 Waterville Commons Drive, Waterville, ME 04901, United States
GPS coordinates
Latitude:
44.5706100
Longitude:
-69.6436979
Location on the map
Reviews Somja Claudine
They brought the noodle and broccoli dishes back to the salad bar!! I'm not sure why they ever got rid of them in the first place. But anyway, great place!! Food and service is always excellent.
4 months ago Nenad Perkez
Had a very tasty meal along with much sought after, strawberry lemonade! The staff was very friendly and attentive and the atmosphere calm. It made for a nice break in a very busy day.
8 months ago Leshawnda Underwood
Worst place I've ever been. Waited an almost an hour for food, on a slow, Wednesday evening. Save your money and go to five guys.
4 months ago Dan Bosn
Tried the new crispy honey chicken burger very tasty!!!
4 months ago Jonathan Vu
Good food great salad bar! My waiter was awesome♡ he was very helpful due to my dairy allergy. I will definitely go back!
7 months ago Robert Davis
I always loved the RT salad bar. I would sit at the bar and order potstickers and add the salad bar for $1.99. Yesterday, after 2 years, I returned to my favorite RT and found that the salad bar offered maybe 30% of the previous items and was now a $4.99 add on! Alone the price was $11.99! I settled for an awful quesadilla appetizer for $10.99. Sad experience.
5 months ago AVERY CARWILE
It was okay, the salad bar has declined since the last time we were there . Good for a quick meal.
5 months ago Lamarre jerome
Food was barely warm when we got it. The service was horrible. Our appetizers came after our meal and the breadstick were too salty and sauce was horrible. I will never go back.
5 months ago Jake Curtis
Waited a bit to get seated but hostess was apologetic and kind. Server on the other hand was abrupt and standoff-ish. Didn't speak a word to my mother and I but was chatty with the 2 guys next to us. Food was good but wasn't as appealing as it was described in the menu. Overall experience makes me never want to visit there again.
6 months ago John Durkan
Always excellent food and good atmosphere. Im a big fam of the new orleans seafood!! Great flavor!! And the people were great!
6 months ago Tina Warnock
Food good waiter not so much. Had to get his attention several times forgot to bring us items. Made a trip from Westbrook just so I didn't lose $50.00 in giftcards since main office never replied back as if could be cashed in.
8 months ago Jake
Great service nice atmosphere. Waitress very good
6 months ago John Schmidt
Waiter, Jacques S. kept forgetting us. When our food came he asked if we wanted salt and pepper he only heard pepper and he threw it onto table from about 3-4 feet away. When we reminded him we had asked for salt also he again threw it onto the table. When we got a coffee refill he brought it in a dirty cup. When that was pointed out to him. He said he had poured it quickly and slopped it over edges. Very unprofessional.
7 months ago Lynn Snively
50 item salad bar for less than $11. Clean and fresh. Good travel stop.
7 months ago Anjali Kant
Food was ok looked like it spent alot of time under a heat lamp. The tater totchos were great.
6 months ago Alexander Bozek
really busy on fridays for takeout but they are working hard and i appreciate it
5 months ago Brianna J
The food was great the waitress was fabulous. Hostess was not very friendly but everything else made up for that. Cocktails were awesome. Would do it again.
8 months ago Antonio Malena
Service is good and like the food choices. Hope to keep them in our town. Prices are fair and good.
5 months ago Maria Pantelaros
Very slow service. I have even been given the complete wrong order before while dining in. The ribs are the only reason I go back.
5 months ago Charlie Wright
Great food. Great staff! We stop here for supper, on our way to Madison.
7 months ago Sss Wyremm
Great service and.food. wish the portions were just a bit more.
6 months ago Sarah Froberg
Awesome Services And Food
9 months ago Tom Foolery
The service/ waitress was awesome. We ordered two hamburgers and asked for them to be cooked medium. They where still walking. I could see if it was busy but maybe 16 people in the whole place. Not very good. The wait staff was awesome like I said earlier.
1 week ago Donnie Fite
Salad ???? bar is back great food and waitress
5 months ago Sharon Storie
Took my mother to get the chicken salad with BBQ sauce. It was very skimpy for the price and had to pick half the romaine lettuce out of it because it was pink. If the lettuce is pink their it out!!!!! It is old! For any price no one wants old lettuce!
10 months ago Mary Lyle
Clean, good service, good food, high prices for what you get.
7 months ago Carin Croker
Great food.. great service..great atmosphere. Our server was a one.
9 months ago Darlene Peters
Felt bad for the waitress. Didn't have enough help. But she did an excellent job.
8 months ago christine rigali
Burger was alittile greasy, beer was at end of keg so was flat. Service was fine!
2 weeks ago Nicolle Grassl
We have visited here often and though understaffed the servers break their backs to make our visit enjoyable. Excellent foods so far.
7 months ago TALHA AHMED
Good quick meal, the staff was very friendly.
7 months ago Dwight Garland
Service was great, food was good but it could be cleaner. Lamp shades over table and window shades need cleaning. need dusting.
10 months ago Nathan Jacobus
Overly mediocre, food not great but the staff were all very accommodating. In no rush to return though.
10 months ago andrea scaramuzza
Absolutely horrible food, great service though.
6 months ago sarah lenoir
Food was fresh and tasted wonderful. Staff was very nice
1 month ago Adrian Perez
Service was prompt and pleasant. Server was friendly and knowledgeable. Food was delicious and cook exactly as ordered. Recently got a flat tire in the middle of a snow storm and pulled into their parking lot to change it. An employee came outside and shoveled around my tire for me, gave me a free coffee, and laid cardboard boxes on the ground for me to kneel on. These are awesome people.
10 months ago Abu Musleh
2 of the hostesses were rude,asked 3 different times for the order and each time was ignored, food was plain,absolutely no flavor,small portions for the price we paid.if I could I would give no stars.
10 months ago Rachel Waghchoure
The food at Ruby Tuesday's was very good and the service was excellent I give them five stars
1 week ago Dreamweaver John
Server was fantastic but the food was not good at all. Chicken and penne was clearly precooked and microwaved. The noodles were tough, my daughter's chicken tenders were hard as a rock and fries were cold. Waste of $60 for 4 people to eat crummy food.
1 month ago Andrew Henthorne
Food is great can't beat it
6 months ago Valdemar totsamiy
Love it at Ruby Tuesday!
5 months ago M MACRI
I don't feel like we give this place enough credit but every time we've ordered recently the food has just been wonderful and better and better. I'm a huge fan of the ribs and their salads.
2 months ago Olivia Raya
The manager was very nice he greeted us very friendly and nice waitress staff is fantastic but they need a new chef the food was horrible 4 of us all didnt like anything we got except the bread sticks sorry guys but you gotta change the cook should be about the food its a food place!
5 months ago Shayla Bondarchuk
We had not been out to eat since May. We decided to go to Ruby Tuesday in Waterville. The waitress was great! The food took for ever ,it was cold , tasted terrible!! How do you screw up Nachos !!! The dessert was great! Ninety dollars later, we won't be going back????
4 months ago Kathryn Black
Waitress was awesome. The restaurant suffers from high prices versus small portions. Side dishes like rice and fries where the portions could be a lot larger and negligible to the owner's food costs could go a LONG way to bringing customers back to this otherwise wonderful restaurant. The salad bar can't be beat and is worth the add-on cost or can stand alone as a meal.
6 months ago NICOLE Gallegos
Great drinks good food
6 months ago Magnus Evans
The service was exceptional, but the food was not up to par.
1 month ago Lee Gustin
I absolutely love going here. The staff is great and so is their food. My all time fave is their taco tater tots. ???? the flavored lemonade is also delicious. I highly recommend.
5 months ago Diana Taylor
Our Server Jacque S. was really great & So was the Food & Desert, He made The Desert really Special for Us. Thank You & Highly Appreciated especially in this time.
3 months ago Mahima Keshari
Our drinks arrived after our entrees, after having waited. The chicken "tenders" in the photo were served after the entree because they forgot them and they are definitely not tender sized. Very unpleased.
4 months ago
Popular places from the category American restaurant