Purple Cow House of Pancakes
Breakfast restaurant Purple Cow House of Pancakes, 6 Skowhegan Rd Route 201, Fairfield, ME 04937, United States:
220 reviews
of users and employees, detailed information about the address, opening hours, location on the map, attendance, photos, menus, phone number and a huge amount of other detailed and useful information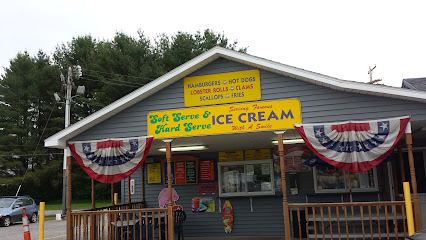 Address:
6 Skowhegan Rd Route 201, Fairfield, ME 04937, United States
GPS coordinates
Latitude:
44.5948494
Longitude:
-69.5950649
Location on the map
Reviews DIANA JEFFRIES
Breakfast was great, portions were good size too! Our blueberry pancakes were dry and a little well done but definitely edible, they were huge too! Good value for the food. Our waitress was very nice and attentive. If we're ever in the area, we'll definitely stop in again.
4 months ago Akram BINZAYED
Great service, very friendly staff and excellent food. This restaurant is a quick stop off the I95 and easily accessible. All our food was very tasty especially the home made corned beef hash. The pancakes were delicious and are the size of a large dinner plate. Homemade muffins and biscuits were very good as well.
5 months ago Zaro Dimitrov
The corned beef hash and pancakes are delicious! The pancakes weren't dry at all, and they are dinner plate sized. If you order more than one, be ready to take it home. Unfortunately had to take two stars off because the service was excruciatingly slow... We waited 45 minutes to get our food. 2 people that came in 20 minutes after us and got similar meals to what we ordered got theirs before us. I don't think it was our waitress's fault, she said they were training someone in the kitchen, but I still don't think that's a good reason for other patrons to be served first. We would go again purely for the great food, just probably not on a busy Sunday again.
8 months ago Dawn Moulton
Food was OK. Pancakes are huge. Scrambled eggs were flat not fluffy but still good. I gave 4 stars cause server was not very attentive.
8 months ago Krystal Melton
A new favorite for us! Waitress was very nice and even got us some corned beef hash to try. It was delicious and fresh. The pancakes were huge and fluffy. Our waitress was very accommodating and attentive. We will definitely be back.
5 months ago Ey M
The food was exactly what I needed. I was driving down the highway and didn't want some fast food. Instead I got a delicious breakfast that tasted like homemade. The wheat bread that came with my breakfast was exceptionally good for a diner type place.
5 months ago Nick Leal
Food was ok at best.. Sausage in the Sausage gravy was more of pizza type Sausage. Flavor wasn't very breakfast like. Service wasn't much better, regulars/locals got plenty of attention, waited for coffee refill and to get my check...
5 months ago Christine Roger
Absolute best pancakes I've ever had in my life. Our waitress was welcoming, and a great story teller. This place as a great respite from a long road trip :)
5 months ago Shailesh Kumar
Stopped here for a quick breakfast, and to echo other reviewers the pancakes are fantastic. Large but very fluffy. The interior is nice too, and my daughter kept pointing out all the different things she saw.
6 months ago Sheldon Strout
Absolutely amazing food was very busy but the staff still was welcoming and able to talk with you, the food even came hot and delicious. It was our first time there and would go back in a heart beat!! Highly recommend it wish it was closer to bangor.
5 months ago Nanette Jaco
Dont sleep on the Purple Cow, They have great food, at really great prices. Its a breakfast and lunch spot, really chill..
4 months ago Michael Graham
I have been eating at the Purple Cow in the summers, since they were only in Canaan. I have only ever eaten their chocolate chip pancakes!! I swear to God. In 35 years they have always tasted exactly like they did when I was 6. My Mom would canoe us over from our camp at Sibley, and we would have pancakes *"So big they we too big for the plate!"* I would be able to eat half which we would take back with another, for desert. <3 :) Since they closed their Canaan location, I became more of an annual visitor. NOW: The menu is *so ASTRONOMICALLY HUMONGOUS I FEEL BAD FOR THE KITCHEN* When did that happen? Almost as if whomever created it does not care about the ones who have to make that menu. When it's busy. And it's available 24/7!! Thank God the pancakes are the same!
7 months ago Larry acree
Our table of 4 waited an hour and 15 minutes and only received our drink order. Food never came, no one spoke to us or explained why our food was delayed. We watched as others were served who showed up after us. Another table next to us had the same experience and we all ended up walking out together, giving up. As we left and told them why, no one apologized to us. It was the worst service I have ever experienced. Don't bother.
5 months ago Ariel Anderson
I met my cousin Mike and his friend Doug for breakfast. I had never been here before. The service was excellent the helping was huge and the food was amazing. I had the corned beef hash and loved it. I highly recommend the Purple Cow
7 months ago Lisa McNeil
Very busy on a weekend morning, but great food as usual. Gotta have the pancakes and corned beef hash.
5 months ago Melissa Spencer
When I lived near the Purple Cow my wife was wrapping up college and money was tight. We really appreciated being able to eat good food at a reasonable price at the Purple Cow. Bonus points for the waitress who worked the late shift. You had to smile at this girl because she was always covered in hickies. LOL.
6 months ago Lisa Sparks
Decent food with good service. VERY large portions. I couldn't eat all my breakfast and that's a rarity. Our waitress was very nice and super accommodating. She seemed to know a lot of the patrons which is always a cool thing to see. For a breakfast of 5/three the food was super cheap. Our coffees were always full. There's two separate seating areas and seemed to be seat yourself.
6 months ago Jared Ahmed
Great spot for breakfast any time of the day. The decor and atmosphere is fun!
5 months ago Billy Kemp
Best hash ever. Prices and portions are very agreeable. I got the large hash. I'll be eating it for dinner lol. That's how generous the portions are. Let's not forget that the home fries were thoroughly cooked and not mush. Hats off to the purple cow
9 months ago Mike Andrew
Purple cow is one of the best places to get corned beef hash homemade not canned! Wait staff is great and friendly! Just a really great place to go and get to chat on!
7 months ago Isaac Osborne
Good service and excellent food They're not shy about portions Wife had 2 eggs, bacon and a raspberry muffin. I had Biscuits sausage gravy, 2 eggs and potatoes All this food was had for $21
5 months ago Felice Elva
We stopped here on a road trip around New England. We were enticed by the massive pancakes we saw in photos but I dont regret getting a traditional breakfast here. The home fries were my favorite ever.
4 months ago Henry Zhu
Either bring hungry friends or a king sized appetite! The blueberry sausage pancake I had was unbelievably delicious and unfinishably large! Quirky decor, wonderful and friendly staff, delicious food, love this place
1 month ago Frank Ruggiero
These are the biggest pancakes I've ever had. Wish I had just ordered one. My daughter had scrambled eggs with broccoli. Said it was delicious. Great service. Clean bathrooms. If you're hungry for pancakes. This is your place !! They even have drive thru.
5 months ago Cooper Nana
Quite possibly the largest pancakes you will see. Had two blueberry ones but could only manage one. They have a good range of typical breakfast items. Large diner but can get busy. Only about half a mile off I95 so a good stopping point to get something decent. We'll return there again.
5 months ago james tacker
Best breakfast I've had in Maine, hands down. The best strawberry pancake and corned beef hash I've ever had!
11 months ago Madeline Root
It is ok but Saturday morning is not the day to go; too disorganized. The lines of people is a normal thing but they don't keep a good "who's next" list and a host person should be more active in that plus wiping down tables to keep things moving better. Noisy lady barking out info but just wasn't fun. Sorry. I will go back though.
8 months ago Melissa Lafond
Clean, good food, average service, average prices. Diner! Cant complain!
6 months ago Sherryann Hutchinson
Huge pancakes of all kinds: Apple, blueberry, chocolate chip that compliment the eggs and bacon and sausage. The lunch and dinner menu looked fine as well. This is such a towny place with colorful vintage signs and plenty of hot coffee. Great prices.
8 months ago Eric Redegeld
Great breakfast. They know how to cook eggs and corn beef hash. One of very few diners that make corn muffins.
8 months ago Kuer Ji
Service always good. No seafood platter on menu. Had haddock was very good.
6 months ago Evgeny Golubev
I love the food and atmosphere here!
7 months ago Margaret Pomeroy
Good food friendly staff I have been there many times and never had a bad experience
6 months ago Micheal Feldpausch
It was a super cute small restaurant with pancakes bigger than one's face. Tasty fare and great price. The only issue I had was two of the waitresses were very sharp in their commands to the rest of the staff. Our waitress, however, was a young lady with a very sweet and funny demeanor. I wish I had gotten her name. I would go again.
4 months ago Lavonne Danenhauer
Best pancakes/ breakfast I think I've ever had
5 months ago Craig Kellem
Been here many times and always good food and good service. And good portions for a good price as well.
7 months ago Taha Ekinci
Love this place. Homey atmosphere and great food. They give you alot of food for your money!
9 months ago Donna Collins
My family of 5 and I stopped here for quick breakfast. Our waitress, Jess, I believe her name was, served us quickly and attentively. NO she did not give us attitude, or was nasty about anything, maybe the reviews are about one of the other employees because our service was great, answered our questions fully and happily. When we called an hour before our arrival she sounded so cheerful, and I'm truly glad she was the one to serve us. Come in and ask for Jess, that's who you want to get your service from. :) Ps. If I come back to Maine this is definitely going to be a stop for me.
5 months ago Anna Rebekah
Food was okay not the greatest, homemade toast was amazing. The service wasn't that good.
3 months ago Robin Parady
French toast and strawberries were awesome, great customer service today.
7 months ago Eileen Radzwion
Service here has rapidly declined. Every single time we go we are ignored for 15+ minutes as soon as we sit down. Food takes forever to come out but it is delicious and I can understand the small kitchen. My review is mostly about the wait staff. If you want to be ignored eat here.
1 week ago Kimberly Doyle
Be aware, the portion sizes are very generous and everything is delicious! The pancakes are massive and so good, but so are the muffins and all of the more savory breakfast food. My wife and I stopped here while road tripping and it made for an excellent start to our day! And there was so much food that we had snacks later on our drive. Very conveniently located as well.
3 months ago John Baker
Had a great breakfast. Good service and huge, delicious pancakes.
10 months ago Oxinia Oxi
Great breakfast, great specials each week and it's always been amazing quality home food cooking. My go-to for my home away from home dining
4 months ago Abimael Gonzalez
I want to move to Maine after eating here. Like literally, it makes me want to change my 5 star ratings on other restaurants to 4 stars, because this is what should get 5 stars! Its not 5 star like in a Michelin Star, but for a diner, this is what I want. Best Hash Ever. Bar none. Like $10 for more than I should eat all day. (They do have a smaller size, but your eyes will love you for ordering the large.) The only issue is it was so good, I didn't want to stop eating.
8 months ago Mike Foley
I loved it food is good waitress was amazing especially with me being mute and the wife being deaf.
8 months ago Charles Trejo
A recent discovery for me, I love this place. The food is fresh and home cooked with large portion sizes at an affordable price. Their corned beef hash is outstanding. I will definitely be back.
4 months ago Eric Ryder
This has to be the hidden gem of Breakfast Restaurants Fantastic food great service and friendly atmosphere Worth the trip
5 months ago Hendry Ye
They have a larger selection of breakfast to pick from but pancakes and French toast definitely are unbeatable . Little busy to get seated over the weekends but truly worth it :)
11 months ago Ygot Nepthale
Fast & friendly service, delicious breakfast with generous portions, and a fun retro atmosphere.
9 months ago
Popular places from the category Breakfast restaurant