Lincare
Oxygen equipment supplier Lincare, 1613 Commerce Pkwy C, Bloomington, IL 61704, United States:
24 reviews
of users and employees, detailed information about the address, opening hours, location on the map, attendance, photos, menus, phone number and a huge amount of other detailed and useful information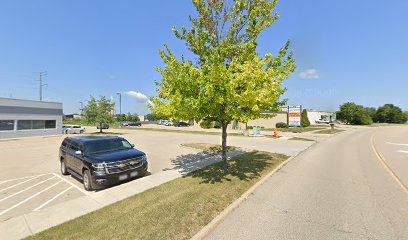 Address:
1613 Commerce Pkwy C, Bloomington, IL 61704, United States
GPS coordinates
Latitude:
40.4565969
Longitude:
-88.9755709
Location on the map
Reviews Jason Allen
Had trouble getting a new mask ordered and one that fit differently. Tara was great helping find a better mask and offering to help when I stopped in last week. Shout out to Tara for the great service.
4 months ago Jennifer Deluhery
Trying to replace cpap. Said Dr didn't send right orders. Waited didn't hear anythingTurns out the had everything they needed to fill my order. Just put me off till there convenient. Very unprofessional staff. Acted like it was all a big joke. Company needs to take a good look at staff and do some replacing. Plenty of other companies to use.
4 months ago Kenneth Collins
Love Lincare! Special shout-out to Tara!! I was having trouble getting CPAP supplies from my current supplier, the representatives seemed unwilling to tangle with my new insurance to get the ball rolling. By pure coincidence I was contracted out to Lincare for a service, and through talking to Tara about the issue I was there to fix she mentioned what they did and that they would love to be my new medical equipment supplier. And man did she deliver, she got on the phone with my insurance right away, got multiple balls rolling and gave me expert advice on how to get set up for a new order. Tara and the other workers at Lincare gave A+ customer service. They're phenomenal at their jobs and care deeply about providing their customers with wonderful service. Would highly recommend.
7 months ago Alvin Nickey
I was so nervous about starting my CPAP therapy journey and my worries were left at the door. The entire staff is consistently friendly and helpful, but my equipment tech Krista went above and beyond to make me feel welcomed and comfortable; she listened to my concerns and tailored her recommendations just for me. As a CPAP user herself, her empathy and care were so reassuring. And when my first mask didn't feel quite right, she was only a phone call away to get me right back on track. Very happy and grateful - thank you, Lincare!
6 months ago Mel mama
Amanda the manager was very helpful and explained everything. I could say she takes her job very serious and Lincare is lucky to have her.
7 months ago BISHOP SORONKO
The staff was incredibly knowledgeable and thorough in the initial training and introduction. They took an intimidating process and made it very easy. Months later I had some issues and they went to great lengths to find a perfect headset and materials that makes me more comfortable than I thought possible. Highly recommend Lincare.
2 months ago Mahmoud Tanana
Tara at Lincare in Bloomington is AMAZING. I haven't had new supplies for quite awhile and had to switch to Lincare due to new insurance. Tara did everything in her power to get the supplies to me as soon as she could. EXCELLENT service.
3 months ago Gary LaPalombara
Horrible. horrible. horrible! This company has NO customer service! If you are looking for a good place to get CPAP supplies or equipment, THIS IS NOT IT!! You can't speak with anyone without trying for days and hours! Then when you do they are not able to provide accurate billing or answers to questions. They ship you stuff when you don't ask for it and then bill you for it and then don't answer the phone when you try to get it resolved. HORRIBLE TO WORK WITH!!!
3 months ago Jessica Frank
It has been a going 2 since I received my oxygen equipment. I did receive 3 calls about being late before they arrived. Since then I have heard nothing, no follow up and to see about new tubing. The 1st of this year after trying several times to reach them with no return calls I wrote to the main office in Florida. That is when Amanda from local office called. She stated she would bring out to me anything I wanted. I have not heard from her since. I asked that literature be sent out to me and I have received nothing to date even with recent request. They did call once after my Advocate contacted them. I was not well enough to talk and said I would get back with them. There have been 3 calls made in the last 3 weeks with no requested return call. My husband has also called several times recently with no return calls . Terrible customer service. The medical community here locally will also agree. They say they hear this all the time. It is past being sad knowing your health is in jeopardy. Only wish there were another company here to get supplies. I will be writing to Florida again about this situation and also calling a supplier in Peoria to see if they can service this area. -0- stars...
6 months ago Diana Conley
Very nice and helpful! My mom was able to get her walker right away.
8 months ago rahi arora
I have been doing business with these guys ever since I was put on a CPAP in 2011. They have always been professional and courteous and very helpful in preparing my downloads for my DOT physical. Tara is wonderful and a valuable asset to the team there.
5 months ago Gael palen
Shari was amazing and quick, got me out the door quickly. Took care of all questions. All the ladies up front are kind.
6 months ago Cathy Raymond
They set up appointments and don't call you. I had to call them after they had not called 25 minutes after first appointment was suppose to be. Second appointment I did not waste my time calling them. Will return equipment and go with another company. Very rude and disrespectful of other people's time.
8 months ago Francois Pienoel
Have been trying to call all day today. Phones constantly busy. This is very unusual. Their affiliate Relient Pharmacy, their lines also nothing but busy. Can't contact no one.
9 months ago Josh Silvia
Wow, cannot believe the lack of courtesy on the phone when calling. Tara was rude numerous times throughout my call. Do not recommend if you are able to avoid this company.
7 months ago Alexey Kukharskiy
Girls in office have been nothing but polite, courteous and helpful. Kristi the tech was super to work with, so far no complaints.
8 months ago Katy Howe
Tera was very nice and extremely helpful. Lincare is a great place to go.
10 months ago sam felts
Unethical; Impractical! The charge insurance far more for equipment than the cost, then bill the patient for the same amount a patient would pay if they bought directly online from a cpap company! Transfers run through so much red tape between states they drag it out for weeks, meanwhile you can't purchase equipment that is needed without waiting. I've tried to deal with them off & on for 15 years and they have remained consistently difficult.
8 months ago Larry U
I have a Respironic cpap machine that started acting oddly. I called Lincare to see about getting it looked at and repaired. The women I spoke with said they had parts for my machine and they could assess it, but they would not repair it. I asked why, if you will assess , wont you fix it? Her answer was we wont repair your machine if you did not buy it here. The place I purchased my machine has gone out of business. So I asked her how do people who move here for work etc get their machines repaired and she said well they dont by us. This place is apparently too busy to need your business.
6 months ago Pj Fallon
Have been to the Bloomington location to pick up CPAP, signed all paperwork. They did not call me about any supplies for 8 months. Then when they called they did not have my correct address and told me to contact billing to have it updated.
6 months ago Jessica West
Seriously, the worst customer service. I have the CPAP machine since October and need parts to be replaced, no one can give me the right answer, and people at customer service don't know what certain items are called, my call is switched between several speakers and then its back to square one. Inefficent and unprofessional, I wish I can trade companies. Its frustrating, I can clearly see black mildew on my filter, they are interested in billing only and dont have the paitence to understand customer needs. I have asked for a nasal application device and they still have not sent me the right item! The company should be rated 0 star.
4 months ago Theresa Paul
Seriously the worst customer service. You call and try to talk to a person and it is impossible. You go from robot to robot. Your needs are not addressed at all. Worst company I have ever tried to work with.
9 months ago Sharline Richards
Waste of time and money and they owe me money!!
7 months ago Jill Hackney
overpriced, unresponsive, horrible billing, must leave!
6 months ago
Popular places from the category Oxygen equipment supplier