Carle Orthopedics and Sports Medicine
Sports medicine clinic Carle Orthopedics and Sports Medicine, 2300 S 1st St, Champaign, IL 61820, United States:
18 reviews
of users and employees, detailed information about the address, opening hours, location on the map, attendance, photos, menus, phone number and a huge amount of other detailed and useful information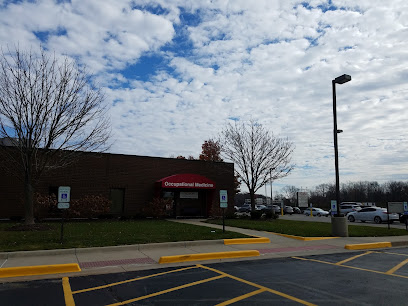 Address:
2300 S 1st St, Champaign, IL 61820, United States
GPS coordinates
Latitude:
40.0844177
Longitude:
-88.2373041
Location on the map
Reviews Daniel Larson
its a drs office w the best rehab place ever
3 months ago Anne Pinkerton
This sports medicine facility has a great team. The athletic trainer I worked with was very knowledgeable and eager to help. The receptionist is a kind, friendly person who remembers your name. She makes the business feel comfortable and welcoming. The athletic equipment is well taken care of, but its getting older. The facility actually houses three departments; sports medicine, occupational medicine, and orthopedics. I removed one star because there are three entrances to the building, one for each service. It's easy to go in the wrong door the first time you go.
8 months ago Jim Scott
My friend had surgery on her broken index finger and Carles was nice & clean with polite staff who efficiently took care of my friend.. In and out in 45 mins.
4 months ago Anish Roy
Dr Zeman and his staff were pleasant and professional. They explained everything without seeming rushed. No wait time at all.
7 months ago Andrew Talenda
Every time I've been here it's been at least a 30 min wait!!!! The last 2x were for a cast change....we didn't even see a doctor! The waiting room is packed and the receptionist are moody!!!!! Id go somewhere else if my insurance allowed me to!!! This place is ridiculous!!!! Today we waiting 45 min....so far!!!!! Which gave me time to submit a review!!! You can do better then this Carle!!!!!
9 months ago Richard Simons
Just amazing. Carle as an organization is hit or miss, but the team here is an exception. Every person I came in contact with was friendly, intelligent, and trustworthy. They show genuine empathy and really care about improving your health. I felt completely comfortable in their hands for both orthopedics and for sports therapy.
3 months ago Jim Black
Nice and fast staff are nice and sweet. Thanks to everyone. 100%
4 months ago Sarah Strong
Dr. Gurtler and his staff are awesome. They take the time to talk to you and encourage you to ask questions.
4 months ago Kristie Mero
First impressions are not promising. Not many parking spots, tons of handicap spots not being used. Then when I came in, there was a woman that insisted on being right behind me telling me how to operate the self check-in. I didn't appreciate it at all. I'm capable of reading and don't want to be rushed through reading documents and instructions just because you've decided check ins need to go faster. BACK OFF MY PERSONAL SPACE AND INFO!! thanks Waiting about an hour past appointment time to see the doctor... hopefully he comes in soon. I'm now convinced that Carle IS just a giant insurance fraud scheme. I was told my son had to come in today for his broken arm. We waited over an hour to be told he could just use a sling... Are you kidding me?
6 months ago R W
The best physical therapy I have ever had. They never give up and genuinely care about your recovery and well-being.
3 months ago Ron Martin
The walk in clinic is great! The new facility is great and has a good array of machinery. The staff are very friendly and are excellent at their jobs.
11 months ago Liz Koether
They gave me the wrong results for my mri and they extended my recovery time by a month I thought they where qualified nurses and doctors not people that make that big of a mistake
4 months ago Jose Almendarez
The physical therapists are the very best. The helped me with a new knee and will be helping me with my next one. There is just no place better! Thanks
3 months ago Chris Reed
Bart W. Gastwirth, DPM is AMAZING! He was super kind, understanding, patient, and knowledgeable!! He did an OUTSTANDING job with my severely autistic, nonverbal, 19 year old nephew. Super impressed and definitely grateful!
9 months ago Souvik Versatile
Wonderful staff. Doctor was awesome and just overall great experience for having to be at the doctors????
3 months ago Tyler Hook
Staff was great and that was about it 2 stars staff only. P,a, I had didn't give a me a chance to say anything. He said there was nothing wrong with my left knee. Well i will tell you from the pain i feel there is something wrong. I came in for both knees. He wouldn't even look at the other knee. The referral wasn't for that knee. All he did was look at the xray. He wouldn't even touch my knees to see what was going on. Then when I said my insurance expires on the first of the month. He didn't care for helping me at all. Is this the way carle operates. I was seen at ortho on 9/27/2018......disappointed!!!! Mark Coons, Rantoul, IL
5 months ago WestanneVEVO
I don't know why Carle goes so slow. You should not wait an hour past your scheduled appointment but apparently they didn't get the memo. THE. SLOWEST. FACILITY. By far! So sick of being late to things because the staff can't get their act together
6 months ago Lucas Rocha
Cuenta con especialistas muy buenos la atencion es muy buena
3 months ago
Popular places from the category Sports medicine clinic