Seven Seas
Aquarium Seven Seas, 3300 Golf Rd, Riverside, IL 60546, United States:
220 reviews
of users and employees, detailed information about the address, opening hours, location on the map, attendance, photos, menus, phone number and a huge amount of other detailed and useful information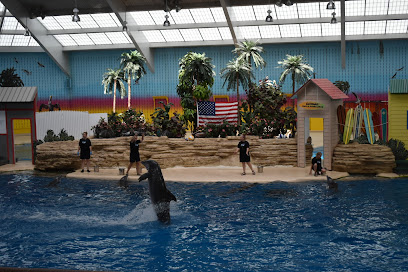 Address:
3300 Golf Rd, Riverside, IL 60546, United States
GPS coordinates
Latitude:
41.8335083
Longitude:
-87.8300444
reviews ESONYE GABRIEL
Love the dolphin show! Brings back memories of visiting there as a child, always a fun time. This time was my grandson's turn. Was happy to see they followed covid precautions; masks required in the building. The only problem is the significant reverb that makes it difficult to understand what's being said. But the dolphins are always charming, great trainers too. It's an essential part of visiting the zoo!
4 months ago Khalil Favard
The Seven Seas Dolphin show was great! ???????????????? They still require to wear masks indoor during the show, but it is not humid in there so it's not bad. The show itself is really good! ???????? The trainers are very informative and they do really neat tricks with the dolphins! They have pink bellies. The show itself is only $6 which is reasonable and well worth it. Really recommend going with the family and make sure you buy tickets beforehand to not be in a hurry and wait in line. ????????????????
5 months ago Ben Rush
Their great kids loved it will go everytime we go to brookfield zoo
4 months ago MASON RIVES
Love it. The dolphins where great. They where so cute. There tricks where excellent. Would pay to go again.
4 months ago Jeffery Hilliard
Kids enjoyed the show. It was very difficult to understand what the speaker was saying only could understand a word now and then perhaps they need to have a better pa system
4 months ago Brandon DeRocher
A really cheap price to experience something you may never see otherwise. The children loved it
4 months ago Rod Bartlett
Love the place, love these animals... But... I remember they used to do far more tricks than what I saw this time around. It seemed like this presentation circled more around getting people wet than to showcase their abilities. Like I said, I love everything about the show but didn't get the Wow factor this time.
6 months ago andrew standley
My favorite at the Zoo
4 months ago Mohammed Alrubae
Wonderful zoo! Amazing dolphin show, very well maintained, we had a blast! Spent all day, many things to visit, live shows and attractions.
4 months ago chilik holtzman
The dolphin show was good although pretty short. Enjoyed the "splash zone" where the dolphins strike their tail fin to get people wet. They did a good job with educating everyone with interesting facts about dolphins throughout the show which we appreciated
6 months ago Karen Croisetiere
Was very educational and fun. Got soaked by the dolphins but they need more room! They are gorgeous and much larger than i anticipated
7 months ago George Hylarides
a really nice area where you can watch many dolphins to tricks trained by the guards and getting fed.
7 months ago Timeka Kempster
This place was awesome!!! If you haven't experienced the dolphin show at the Brookfield Zoo be sure to add it to the list.
7 months ago Gary Leveridge
What a great attraction! It's only 20 minutes long but definitely worth it. Make sure to sit past the 8th row if you don't want to get wet from the splashing dolphins!
7 months ago David Ge
Dolphin show is very entertaining.All of my family with young ones enjoyed this show.Childrens are delighted due to splash from dolphins.
6 months ago PAYS USA
This was great! Really enjoyed ourselves..
6 months ago Sheila Hawkins
Beautiful place we had the most amazing time and the animals were just incredible
8 months ago Asmaa Abdalla
Had a fabulous time at Brookfield Zoo's Seven Seas dolphin show. Highly recommend sitting in the splash zone if you have little boys with you.
2 weeks ago Jrob
Very good show you wont be disappointed
2 weeks ago Elizabeth Love
Had an amazing time with family!
6 months ago Richard Stellingwerff
Fun time with the dolphins!
9 months ago Justin Ward
Great dolphin show
4 months ago Shayne Buttery
Good Dolphin Show
5 months ago Gwen Thompson
3/2021 Really wish this was open again. We miss seeing the dolphins, etc. And I am sure they miss seeing us too!
9 months ago raymond harvey
This was a bottle nose dolphin show that last about 30 minutes. The dolphins and their trainers showed off their skills. The show was nice. The lady with the mic said everything was the choice of the dolphins multiple times. The dolphins did tricks.
4 months ago K Fulls
50 guests allowed at a time. No crouds once in. 3 moldarama machines too. More things opening April 1. Check out the swamp
8 months ago Adam Perry
Learned a lot of information about dolphins
4 months ago Alon Mor
Great show
4 months ago Ana Alvarez
It's a paid attraction inside Brookfield zoo, and is not included in your general admission ticket. Show lasts about 30 mins or so. You need to park your stroller outside, so if your baby/ kid needs something to eat, drink carry that with you. My experience says , if you like to get wet ( not totally) , take a seat in the front rows of the either side of the pool, not the front of the pool. Dophins are intelligent mammals, so if they don't perform what their trainers wants them to do, don't go mad. Sometimes they are not in the mood and would just swim by. During our show it happened once I believe, but after a second attempt Dolphin performed the act nicely. It's an informational session for young enthusiast. Pay close attention. It's fun too. Hope you enjoy your time there.
4 months ago Oleg Shiltsov
Great show. The dolphins were fun!
8 months ago Exciting Productions
Had a wonderful time seeing the dolphins
8 months ago brye hero
It was as much of a pleasure as an adult as it was as a kid.
8 months ago Herman Axen
Love the show its always changing and evolving.
7 months ago Seth Peterson
With our Unlimited Membership we'll be seeing this show much more often, for no additional cost!
7 months ago Jonathan Quinton
Fun portion of the zoo. There's plenty of seating for the masses and the dolphins are very intelligent and comical. Be ready for splashes as you may get wet. The kids love it so you should go check it out even if its about 11 bucks a ticket.
7 months ago John Mcmullen
Spacious with great lighting and plenty of seats. Great viewing from every angle. It's a fun, formative active show.
10 months ago Puja Halder
Love the dolphin show!
10 months ago Neil Ashton
Great place to take a break from walking around but they don't start until a few minutes after the specified time; it couldve been the days I go or times I go or trying to fill seats but my 2 yo toddler gets bored quickly and by the time they start hes already in tantrum mode. However, they definitely remind you where not to sit if you don't want to get wet, if you are in need of the handicap rows , they offer you rain covers. Its also a fun, learn along for any age person!
9 months ago Patrick Staples
The venue is very vibrant and appealing to guests of all ages. The dolphin traniors and members of the show are upbeat, welcoming and are knowledgeable about the dolphins. The show is worthwhile and entertaining! It is a great experience, would recommend!
8 months ago Vicki Stuart
I loved this place
10 months ago Dubai Ghumgham
Great 2:30 show. Dolphins performed well with their trainers. Could they hit the ball more than once?
6 months ago us staffing
I love dolphins!!!
2 weeks ago Alex Freitas
It was my first time at Seven Seas and I loved it. I sat in the first row and took video. I was lucky the naughty dolphins didn't splash me. Lol
6 months ago Janak Joshi
Even in the worst spot to sit, it is still a good view of the show
2 weeks ago A Vance
The dolphin show was fantastic and humane. Enjoyable for all ages. Even very young children we're clapping and pointing.
6 months ago Jason Cao
It was the best Dolphin show. Seeing dolphins are super cool. One of my favorite aquatic animals.
4 months ago Edwina Tsui
Cute dolphin show. The arena is packed so arrive early for a good seat. Front row seats get splashed.
8 months ago Charles Trejo
The show was great, the kids loved it as well. It was very hot outside and was a great thing to do to get out of the heat and sun for a little while.
4 months ago Jeff Spainhower
Awesome time.
10 months ago Dolma Tamang
Great half hour show at Brookfield Zoo. Dolphins do tricks that wow the kids. The trainers and narrator do a wonderful job educating the audience on the anatomy and habits of the dolphins.
8 months ago
Popular places from the category Aquarium