Koi Fine Asian Cuisine & Lounge
Asian restaurant Koi Fine Asian Cuisine & Lounge, 624 Davis St, Evanston, IL 60201, United States:
220 reviews
of users and employees, detailed information about the address, opening hours, location on the map, attendance, photos, menus, phone number and a huge amount of other detailed and useful information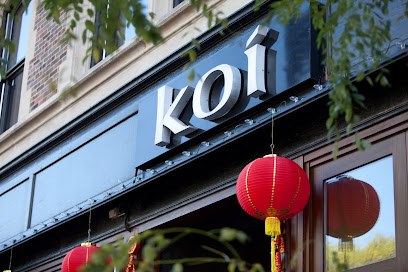 Address:
624 Davis St, Evanston, IL 60201, United States
GPS coordinates
Latitude:
42.0464665
Longitude:
-87.6810893
Location on the map
Reviews Kevin Lenn
This place was one of my favorites before and during the first months of the pandemic but seems like things have changed and that is no longer. Ordered takeout and was so disappointed with food quality.
3 months ago Jheon Norvell
Caterpillar sushi roll is the one thing you must try here. Also the fried veggie dumplings are heavenly. Service is excellent and so is the food. Definitely check this place out!
9 months ago Andybiscuits
First time dining in, walk towards the reservation area, young lady ask for a telephone number my friend kindly gave it she responds wit a females name, while he is a gentleman, that made our dinner awkward in the beginning honestly, that was his ex. Besides that the food was awesome! Kitchen closes pretty fast so make sure you give yourself sometime before you have to order, if you don't want to feel rushed looking at the meau. Might come back. Thanks!
5 months ago Thomas Wenzler
Very good sushi! Very fresh and just enough food to satisfy. Drinks are a little pricey but definitely strong!
4 months ago Jennifer Goldberg
Delicious asian food at a great price. You get Sushi, Chinese fare from different regions in China and drink options. Pleasant, warm interiors, quick and attentive service, and an elegant vibe make this restaurant a top dining location in Evanston. Great value for your bucks. 2 appetizers and an entree (served with rice) is plenty for 2.
6 months ago Santiago Sanchez
If you like super Americanized Chinese food, then this is the place for you. I got the tofu veggie stir fry and it was in an extremely sweet sauce.
4 months ago Meet Jhatakia
Been here many time over many years, the food quality has stayed amazingly delicious. Great service and amazing memories made!
7 months ago Toni Pronti
We had the appetizer dumplings (xiao long bao), walnut shrimp, eggplant fish fillet, a wrap dish, and a spicy soup dish. All were very good, especially yhe walnut shrimp and the eggplant fish fillet! Would love to get a chance to try the other menus.
4 months ago Lynn Mullet
Changed my rating to from 5 to 4 stars. As a recurring customer I still love this restaurant, but I do acknowledge they have some issues. Some dishes are wonderful and some are just ok. The thing is even the best dishes are not always the same (you can come and have a very good dish, and a week after have a really different experience from the same dish). Here and there they may accidentally change your order and bring you something else, but again, it's a good restaurant with good food and excellent service - so I do recommend. Old post: Amazing food, great service, can be very noisy but good atmosphire.
11 months ago Alaine Johnson
This is a great restaurant if you've got some extra money in your pockets and you want to explore Asian cuisine. This restaurant has an elegant atmosphere that provides a good comfortable backdrop to try new foods. They've got knowledgeable and attentive staff that have the answers to every question of the menu. However, if you're one to like saving money and getting more bang for your buck, this isn't the right place. There are a surplus of restaurants in the Chicagoland area that serve, in my opinion, much more fulfilling food for much less money.
6 months ago Mark Dawursk
Great food and service. 8 regions of Chinese cuisine. The wings to start were amazing as were the dumplings. The mains were also pretty amazing. Chinese fried rice, Cumin lamb, Ma po tofu with pork, Dover sole with broccoli and seafood combination. Everything was fresh and very flavorful. John are waiter was super helpful. Will be back.
7 months ago Ethan Fairclough
The food was extremely bland and the sushi roll looked and came all mangled up. I sent the noddles back ones since they tasted so bland. They took it back added soy sauce and brought the same noodles back. Highly disappointed.
5 months ago Martin Andrade
A nice range of Asian cuisine with Chinese food from 8 provinces. Nice location, great service.
6 months ago Vaughan Goodloe
I'm currently waiting in the lobby for my to go order. It's been over an hour. the guy keeps saying it'll be another minute. If it doesn't come by the time I finish this review, I'll post it! The only little bit of power I got besides not ordering sushi from here again.
6 months ago Benito Ocampo
Koi is a Pan-asian restaurant with offerings from several countries, but its Chinese fare is its best. Just had the moo shu, wonton soup, dumplings, and spring rolls. All excellent. We also had the kung pao tofu that was top notch. The pad Thai was pretty standard, but still very reasonable if that's a must.
6 months ago Alexander Huntet
Fantastic!. Billy, our server was unbelievable! He made our dining experience beyond enjoyable. The food was so delicious-but our service made it that much better!!We can't wait to return
10 months ago Nicholas Williamson
Favorite in Area! Absolutely delicious food and great service. My server Mary was very attentive and seemed to be going out of her way to ensure a fine dining experience. In the past, my family has had the dim sum brunch with some maki on the side, -- really good!! I forgot to take a picture of that meal but I'm posting a picture of my hot pepper chicken which just might be the best food I've eaten in quite a while!! Highly recommend!!! I wish that i can give more than 5 stars!!!
5 months ago Kay Pearce
Great food and service as always. Koi has become one of our favorite restaurants!!
6 months ago Trina Morrison
Ordered pad thai with tofu and beef dumplings for pick-up. The dumplings were sadly undercooked, or really old. Hard to tell. And the pad thai had an overwhelming vinegar taste. I was pretty sad about my order. Don't think I'll go there again. UPDATE: I was contacted and offered to try Koi again. I had the pork belly bao and the szechwan chicken. The food tasted fresh and delicious! I was pleased with my order. I would recommend Koi in Evanston.
7 months ago j bedoya
Very unorganized. Pick up order delayed 1h and the food was cold. I will never ever order again. It was a very bad experience at Koi.
7 months ago Amber Loiselle
Great food, atmosphere, and service. Would recommend to anyone traveling through Evanston!
9 months ago Rosemarie Maiorana
Billy was knowledgeable and cool. Was my waiter and the bartender. Boom
9 months ago Jordyn Gerace
great food always fresh and a lot of Choices beautiful atmosphere
1 week ago Laura Steinbauer
Great sushi in Evanston. A must try.
7 months ago Tim D
Delicious, good quality, awesome presentation, and above all, the people are extremely nice and professional at Koi per my experience. Koi has still been my favorite around Chicago. I am so happy that we can still experience the same quality of food with delivery nowadays. Thanks for the amazing experience, Koi.
10 months ago Lakiesta Evans
Half off during happy hours for most rolls. The half of rolls on Thursdays has a giant wait list so you'd probably have to wait an hour almost to be seated because it's in a small room. Rolls are small as expected for the price for $3-5, the sushi wasn't anything spectacular but it was also priced reasonably.
3 months ago Alexandria Pease
Pretty good experience in an Asian fine dining restaurant in Evanston. They have a lot of 5-star medals from Zagat ????
5 months ago Denise Dawson
Awesome atmosphere. Romantic. Food is thoughful, not greasy.
3 months ago Charlie Sears
We came here with a group of friends and Mary is spectacular. She was very helpful. She was caring and offered us different dishes we tried the dragon fire and it was absolutely amazing. We ordered about five rolls and we loved everything
5 months ago Elizabeth Tyler
Finest spot to have food when in a hurry. The customer service is fast, rates are affordable, excellent mood. Will come back again
7 months ago William Henley
Delicious meal, extremely filling. Definitely recommend the Dim Sum brunch!
7 months ago Steve Bush
Things seem to have really changed here. I've always found Koi's customer service to be really wonderful and warm. Recently ordered by phone, and had basically the opposite response. Hopefully that's a one time thing. Update - the owner reached out, which was quite nice, and she will follow-up with her staff. I appreciate her customer service, and I've updated my review to reflect this, and the fact that Koi's food has always been excellent.
2 months ago Eric Hutcheson
Meaghan is amazing! This was the first place that I ended up visiting after Covid and I am so excited that I came here. She was so sanitary she was very efficient, friendly, multitasking,and amazing when it came to service! The restaurant was 6 feet apart when it came to tables. I'd like to add everyone was wearing a mask and I cannot wait to return this place!
5 months ago Edwin Murenzi
Nice service, nice place, so so food
7 months ago Jazz L
Very tasty food , nice ambience and good vegetarian options as well !! Would love to go again !! Definitely try spicy edamame!!
7 months ago Lindsey Bloomquist
Great dinner experience. Sat near the front entrance where they had the large windows open.
1 week ago David Dawson
The sitting area and ambience is nice. Location is just at heart of downtown Evanston. Foods were nice and service was good
2 months ago Todd Riegler
The drinks were great here but, the food just ok. The pad thai was not flavorful and the sushi and nigiri were obviously second tier. The waitress was really nice but we never got silverware for all of our party and the beers were warm.
3 months ago Evans Chiropractic
First time at this restaurant and maybe we didn't order the right things, but the schezwan plate was sweet instead of spicy, and even thought we ordered half portions of most things, the prices were the same as the full portion! Found it quite overpriced but good service....maybe we'll try it again and try some different dishes but not impressed with the schezwan cuisine so far
3 months ago Abhishek Agarwal
Delicious and great service
3 months ago Cheryl Homersham
Came here for a date. It has a nice vibe and the food was delicious. Had a sweet dragon roll and 2 other dishes, which I can't remember the name. But everything was delicious! If I'm in the area, would definitely go back again!
3 months ago NAVJINDER SINGH
Delicious food, fast and friendly pickup.
8 months ago terry herring
After moving to Evanston a little over a year ago, Koi quickly became one of my go-to restaurants. My husband and I have eaten in the restaurant many times, and never disappointed! But, this review isn't about the food. There's plenty of good words echoing my positive experiences already. This review is more of a compliment to the way they've done business through the pandemic. Their website offerings to allow customers to help others, coupled with what the restaurant is doing themselves, is stellar. And this kind note included with my most recent take-out order, along with a free roll of toilet paper and free almond cookies, is the cherry on top of an all around 5-star restaurant in my opinion.
3 months ago Rachel Lubanski
Sushi is nice
3 months ago leslea somerville
Always fabulous food,service and value Tried the sole with eggplant, it's my new favorite. Everyone loved theirs and shared entrees.John is the best server.Very enjoyable
9 months ago David Spinks
This place can be great. I really love the service and decor and I have had great food here. However the last time I went the food was not up to par. It wasn't terrible but for the price tag, I'm definitely not happy. I will return at some point and if I get a great meal I will fix my review. I understand restaurants have their good days and bad, but I've got to be honest here - definitely a solid 3 stars. One positive: my steamed dumplings were delicious...
7 months ago Gavin Vanhoose
I go to this outstanding place many times because I like the good mood that is characterizes this restaurant. The team is awfuly helpful and professional. The service is impressively rapid. Also, the food you get is magnificent. I frequent more than once and I was always satisfied. The payment is fair. I suggest this restaurant to to everybody.
5 months ago JustAfterSunset MonnettWasChecking
Their shrimp plate is really good! I also enjoyed their spam musubi. I tried the beef too, but it was more like an omelet? I'd probably pass on that next time.
5 months ago tim schimming
This is a cut above other Chinese places I've been to in Evanston, even Chinatown. It's not a Chinese restaurant, but a lot of the menu has Chinese items; I'm just comparing it to Chinese places because they're usually cheap-tasting and the service is curt. Here the service is good and so is the food, of course. I was told when I picked up some orange chicken for someone (I can't really eat chicken) that it's better than the competition. The atmosphere is also comfortable, which is typical Evanston; not stuffy, but not too casual.
9 months ago Amal Baidoun
The place is just okay, nothing really special about their Chinese food. Got the rice noodles dish, flavor is light which is good for eatting healthy.
11 months ago
Popular places from the category Asian restaurant