Appliance Repair Doctor Inc
Appliance repair service Appliance Repair Doctor Inc, 2420 N Springfield Ave, Chicago, IL 60647, United States:
220 reviews
of users and employees, detailed information about the address, opening hours, location on the map, attendance, photos, menus, phone number and a huge amount of other detailed and useful information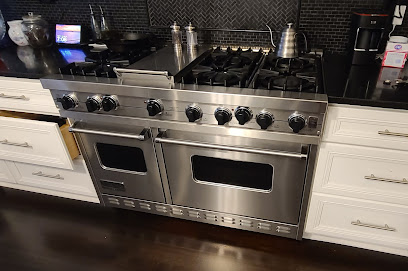 Address:
2420 N Springfield Ave, Chicago, IL 60647, United States
GPS coordinates
Latitude:
41.9252171
Longitude:
-87.7244746
reviews Haylee Denise
Very professional and great service from Appliance repair doctor. Was able to get an appointment in just 2 days after contact. Omar the technician is like an appliance Wizard and can fix any appliance with ease and is super honest with repairs. In my case just needed minor fixing on my dryer and was completed extremely well. Will have to contact Omar again for my next appliance repair needs!
3 months ago David Bruno
Great service! From first text to oven repair complete a total of 5 hrs! Can you believe that? In this day an age you must speak with a representative that is 646,765 miles away set an appointment, wait 3 weeks, then the tech calls says their 5 hrs away but get to you 3 days later. Not with the appliance doctor; contacted, appointment set up and repair complete in 5hrs! Amazing service, fast and reliable. My tenants were amazed at the services and the how knowledgeable they were. They even told us that our appliance is in great condition you have another 15yrs with it!!!!! What! Great great service we will totally recommend.
2 months ago Al Blackman
This is the second time I have used Appliance Repair Doctor and they are absolutely wonderful! Their customer service is impeccable. They were super responsive and Omar was able to come out quickly, assess the problem, and have it completely fixed within an hour. Super friendly and professional! Will absolutely call them again!
2 months ago Kyle Guzman
On of the best experiences I've had with appliance repair! Amos was great! So considerate, knowledgeable, informative, fairly priced and had great payment options. So happy to have found them. Small business with great service. I will use them again for sure!! They are just great!!!
2 months ago Gary Moederndorfer
My repairman, Omar, came, described the issue to me and what the solution might be, quoted me the price for replacement parts, and completed the repair quickly and neatly. I was very impressed by his professionalism and years of experience. Highly recommended.
2 months ago Marilyn Baez
Appliance Repair Doctor responded quickly and was able to schedule an appointment for the next day. The tech was kind and knowledgable. He clearly explained the problem, how to fix it, and the cost for parts and labor. He also gave me information to prevent problems in the future. My dryer works and I'm feeling confident about the quality of the work based on my interactions with the tech. 10/10 recommend.
2 months ago Lepaula Lang
Omar was very professional and efficient from the start of his first diagnostic visit to the end of his service visit. He got our ten year Viking fridge working better than new. After years of having meh drinks, we have ICE COLD DRINKS. We thought all hope was lost and we would need to get a new fridge after our fridge and freezer just stopped working. We also thought the service would cost an arm and a leg, because we previously went through Viking repair services. Omar was priced reasonably and even fixed our fridge before needing to order and use additional pieces. I cannot say enough great things.
2 months ago aanchal panwala
Amazing service by these guys. Very professional, clean work, and fast service. Quick response time also. I would 100% recommend them to everyone and I would 100% use them again. Thank you guys!
2 months ago Nicole Dorie
Great service!! They were very fast to reply and set up an appointment to come look at our dryer. They came prepared with parts and were able to fix it very fast. Super friendly service and felt it was honest pricing. Highly recommend! Thanks again!
3 months ago lena marie
I love these guys! I used them some time ago to repair my washing machine, had a great experience, so I called them again when my dryer was making a terrible noise. They're responsive, very easy to schedule, they show up on time, and do excellent work. My favorite part, though, is the kindness, friendliness, and professionalism of their techs. I'm recommending them to everyone I know!
3 months ago Amaya Singh
Chicago Appliance Repair Doctor was very professional and I highly recommend them to you if your appliance need a "doctor". Omar helped repair my dryer and fridge very quickly and did an excellent job! Price was very reasonable and was communicated ahead so no "surprise" at all. 5 stars
2 months ago Cliff Sanders
Omar from Appliance Repair Doctor has been servicing our appliances for years. We just moved into a new condo and had him come over to fix our ice maker which did not work when we moved in. He had always been completely open and honest about our repairs. Years ago he fixed our old washer and dryer multiple times until he told me that it was probably time to buy a new one because the cost of repairing the unit in the future would not be justified. I do not trust anyone else with our appliance repairs. Aside from being a great technician, he is also a really nice guy.
3 months ago Lorraine Smith
Very quick to respond. Great work and personable. Do you know what it costs to fix an oven? I don't, but this seemed perfectly reasonable. All around good experience and will use again.
3 months ago Nicole E
Reached out to ARD because the dryer at our new condo wasn't heating up, therefore it wasn't drying our clothes. These folks were very responsive and even helped me test some things out (making sure it wasn't user error) before they decided it was necessary to set up an appointment to come check it out in person. They sent Omar who was very kind, respectful, knowledgeable, and discovered quickly what the issue was! He even showed me the broken part that hadn't been replaced since the 90s! Now, the drier is working perfectly. Couldn't have asked for a better experience. We'll be coming to ARD for any future appliance repair needs moving forward.
2 months ago Leah Honsky
Great experience with Omar! Diagnosed problem quickly and finished the job professionally and efficiently. Will continue to use appliance doctors for repairs in the future!
3 months ago Ericka Escobar
Omar came today to replace the bellow on my washer. He was in and out in less than an hour and went out of his way to walk me through what specifically he was doing. Would definitely recommend and will be asking for Omar specifically if we have any other trouble in the future.
3 months ago Angie Sommers
I've used Appliance Repair Doctor multiple times and the service is great excellent Omar is very professional and explains things in detail so that you understand why he's doing and how things will work. He also make sure you understand preventative maintenance so that you don't constantly need repairs (which is great)! I would highly recommend them to anyone!
3 months ago Barnita Karmakar
Javier was so easy to work with! They showed up when they said they would, clear communication at all times, and they fixed our oven no problem. The work comes with a warranty and was very well priced. Thanks for the help!
3 months ago Keyshanda King
Absolutely a 5-star experience from start to finish! Scheduling an appointment via text was super convenient, and Omar arrived on time and was efficient, professional, and knowledgeable. He ended up doing more work than planned when some issues were found with the dryer, but he got right to work taking care of everything and explained things along the way. Pricing was fair and transparent and I feel that I got a great value. I would 100% recommend Appliance Repair Doctor's services and will be using them again if any other appliance issues come up.
5 months ago Royalmarc Reviews
Javier was the best when it came to fixing our broken dryer. He was kind, quick, professional - and even got to our apartment within a few hours of my reaching out for a quote. I'll definitely rely on Appliance Repair Doctor Inc for my future appliance repairs and recommend you do too if you're in the Chicago area. Thanks again, Javier!
4 months ago Debbie Burkhoff
10/10. They got back quickly and fixed the problem in no time at a reasonable price. Javier was super nice, communicative, and easy to work with :)
2 months ago Hadley Contractor
My ice maker wasn't working properly. The issue was diagnosed and fixed on the spot! Great quality service! Will recommend to my family and friends
3 months ago Briana Jordan
My Frigidaire oven randomly stopped working & lucky for me I found Omar . Wow!!! He was able to get me an appointment for the following day. Omar was knowledgeable, efficient & the service was very reasonably priced. I will definitely be contacting him in the future & will be recommending to all my friends!
5 months ago Levi Griffin
This is our second time using the Appliance Repair Doctor and both calls were absolutely five-star. Our fifteen year old dryer died late on a Saturday. Javier came out to us early on Monday. He showed us exactly what the problem was and had the parts with him to fix it on the spot.
3 months ago Harry
Excellent response time for a quote and on time! Omar is the man! Really informative and explained exactly what went wrong to my dryer. Highly recommend. Service level was fantastic and fair price point.
5 months ago Joni Traylor
Extremely responsive and flexible. Dryer had kicked out from a birds nest and Omar quickly knew what the issue was and had it repaired. Good value!
3 months ago Chantel Cable
A++ for a perfect experience! Javier immediately called me back and set up an appointment time for the next day. Omar (The service guy) called about 30 minutes before my appt time and offered to come a little early "if convenient"!! He was super friendly, knowledgeable and transparent with the very reasonable quotes for service and repair! Dryer cleaned, repaired and working beautifully. Will definitely use Appliance Repair Doctor again for any future needs and happily recommend them to anyone! Thank you!
7 months ago Andrew Thomas
Javier was incredibly helpful and very responsive. From saving me money on parts, to an on-time installation that was quick and professional, I would highly recommend this company to anyone!
3 months ago miss Conte
They were easy to schedule with, and even offered the contact information of another company who might be able to schedule an appointment sooner. I ended up sticking with them and I'm glad I did. Omar was friendly, prompt, and fixed the issue easily. I recommend them if you have a broken whirlpool dryer!
6 months ago Serena
A1 service all the way. From the first call I got a quick response and an appointment promptly that fit my schedule. Omar called and let me know he was on his way and arrived at the scheduled time. They ask for your model and a description of what's going on so they have parts on hand when they arrive. That in itself is absolutely top rate service, no diagnosing and then returning to finish the job. Omar was very professional and explained everything he was doing and gave us some great tips. I would highly recommend and will definitely use them again if needed. Kudos for the top notch service.
9 months ago Iqbal Khatri
Omar was very professional and friendly. He was happy to explain what he was doing as the repair progressed. When finished he even offered advice on how best to care for the washer and keep the new part in good condition.
6 months ago Omotayo Mebude
The easiest 5 stars I've ever given! Omar is seriously a life saver for me and my 7 person household. Our dryer stopped working & with life in a pandemic- a new dryer wasn't an option and a laundromat was too anxiety inducing. We opted to try the repair route first since a new machine was too expensive for our budget. Omar texted AND called before his arrival (always a plus!), came on time, fixed my dryer, helped keep the cost reasonable, & was a sweetheart the entire time. Thank you so much it's greatly appreciated
5 months ago Sarah Edwards
I had heard from neighbors that Appliance Repair Doctor was great. And that is absolutely correct. They returned my call quickly - promptly scheduled an appointment. SUPER reasonable and Omar showed up on time and explained what problem was and he is very professional. I highly recommend this company.
8 months ago Dylan Johnson
Omar was a fantastic technician. He took the time to thoroughly explain every step of the process and the specific repair. He called in advance to let me know he was arriving and came on time. He worked efficiently and even took the care to vacuum my floor where he had been working and put on shoe covers before coming inside. In no time my dryer was up and running again. I would recommend his services in a heartbeat.
8 months ago Brian Holmes
Omar repaired our 1995 commercial gas dryer that had stopped heating. He explained all the parts that needed service, fixed everything quickly and gave the dryer a thorough vacuuming. Pricing was fair, and I am excited to say our dryer works like new!
6 months ago Lauren Norris
I can't recommend Omar and Appliance Repair Doctor enough! They were quick to respond to my initial inquiry and were able to come out for repair within a few days. Omar has repaired both our washer and dryer over the years. He is professional, thorough with diagnosis and repair, and a very friendly person. The entire experience, each time, has been easy. Highly recommend!
7 months ago Kaz Fletcher
They were great! Our oven stopped heating. I called Monday morning, and they texted me back and were able to come that same day. Javier was professional and pleasant. He fixed the problem and was very clear about what the issue was. I will definitely use them again.
5 months ago Jason Bradley
Omar came and was extremely professional. Within minutes found the problem and fixed the problem. And the company is extremely affordable! I highly recommend!
4 months ago Praveena s
Our freezer was not maintaining a cold enough temperature to keep the food frozen and we urgently needed someone to come in and fix it. We are new to Illinois, so I had no clue who to phone. I went online and searched for the best appliance repair ratings in the area. Appliance Repair Doctor was at the top of the list so I phoned and told them my issue. I was expecting them to tell me that they would be able to come in a few days but Omar said he would stop by later that same evening to take a look as it was on his way home - wow, so nice. I was incredibly impressed and relieved that my issue was going to be addressed that same day. Omar arrived (in a snow storm even) when he said he would and he fixed the issue within the hour. I couldn't have been more impressed with Omar - polite, well spoken, respectful and a great service technician. The price was very reasonable and I would have paid a lot more than I did to have my issue resolved that same day. I won't go anywhere else for our appliance service needs. Thanks Omar and Appliance Repair Doctor!
10 months ago Tom Kielmar
We smelled gas on Thursday, had People Gas out immediately, they turned the gas to the stove off but couldn't fix it right then. We reached out to Appliance Doctor who was able to come out on Saturday, the quickest of the places we called. Javier was communicative before our appointment, checking with us to make sure his tech, Omar arrived with the correct parts. When Omar got here he explained what needed to be done and what the total cost would be before he did anything. The work was done quickly and we were back in business within an hour. Highly recommend these guys, we'll definitely use them for future needs.
9 months ago Michael Bell
I would like to say I was very pleased by the work and work ethic of your representative Omar Rosa! He was professional, on time, efficient, and informative. He took his time and a answered all the questions that both I and my partner had. He completely took my dryer apart after listening to all my concerns to find the source of the problem! In doing so he found that there were several issues that needed addressed. They were all addressed and my dryer is working as new! Not only that my refrigerator had also went out last night and Omar took a look at it for me as well! It too is now working! In fact my refrigerator has a built in ice machine and water dispenser and the water dispenser was broken per our knowledge. We were asked to get a water purifier opposed to trying to get the dispenser fixed. Well!!!!! Thanks to Omar it too is working as new. Overall we have had a great experience and it's nice knowing what to look for and how to handle this in the future. If I can't handle this myself I know Mr. Rosa is a phone call away! Thank you!
10 months ago Tracie Tanner
I have now called the Appliance Repair Doctor for 3 different issues: once for washer, once for dryer and now for refrigerator. They are always super responsive and really know their stuff! I'd recommend them to anyone who is looking for timely and knowledgeable service. It's so nice to have a company to recommend to others and to rely on.
11 months ago Rocky F
I had a great experience with Chicago Appliance Repair Doctor. They were professional, prompt, and congenial. I had 2 ovens fail and they came in and got both working quickly and inexpensively. They saved me a bunch of cash considering I was probably going to purchase new stoves. I completely and whole heartedly recommend you use them for your appliance repair needs.
2 months ago JoAnn Joseph
Omar was fantastic. He was timely, thorough, and communicative. He was able to fix a few small parts of the oven that caused some large headaches for us. We would highly recommend using Appliance Repair Doctor and will certainly go back to them if we need any future work!
9 months ago Joanne Avallone
Old built-in microwave turntable wasn't working. Omar arrived within the scheduled window and had the whole thing back up and running in just over an hour. While in there, he found a broken part and helped me find links to order a replacement for cheap. He even gave me a discount on the labor for removing the trim kit and having the microwave ready to pull out prior to arrival. Wouldn't hesitate to call them again.
3 months ago Greg Kuzmicki
We contacted the Appliance Repair Doctor when our dryer was not heating properly. I was able to schedule a service appointment within 2 days and the assigned repair person, Omar, was on time, efficient and fixed the issue within an hour. I appreciated that they asked for our model number ahead of time so Omar had all of the necessary parts when he arrived. We will definitely use the Appliance Repair Doctor for future projects!
10 months ago Dymeshia Cuttino
Javier did a great job with repair of our oven. He was punctual and candid about our options and cost.
5 months ago Stuart Krantz
Omar is very professional. Came very quickly for repair. A very professional service and a very favorable price. Thank you Omar !!!
5 months ago Chelsea Olson
These guys are amazing. Very quick to get back to me and they were able to get over the next day. They have great pandemic procedures and we felt very comfortable the whole time. The tech was very quick, knowledgeable, and super friendly. The whole repair cost much less than I expected. 5 stars all around. I won't use anyone else in the future.
11 months ago Technology SN
First used the company a few months ago when renting an apartment for a dryer fix, enjoyed the experience so much we decided to call again when we bought our home. I have since been lucky enough to get Omar twice now for repairs, and cannot recommend him enough! He was polite, on time, did the repair successfully, and most important to me... made sure to take the time to thoroughly and effectively explain the issue and made sure we are on the same page with the best route to repair moving forward. Did not feel pressured at all in regard to any up-charging, and I even seem to learn a thing or two about our own appliances every time we meet. Hopefully we won't need to call for a repair anytime soon, but I know who we will be calling next time it comes up, as it always does.
4 months ago
Popular places from the category Appliance repair service