Axess Law
Law firm Axess Law, 439 University Ave Suite 2210, Toronto, ON M5G 1Y8, Canada:
220 reviews
of users and employees, detailed information about the address, opening hours, location on the map, attendance, photos, menus, phone number and a huge amount of other detailed and useful information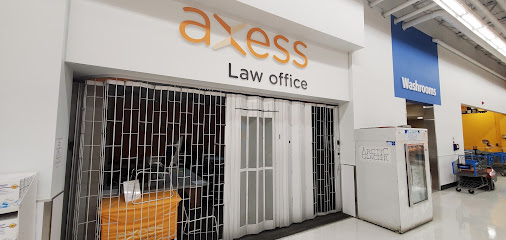 Address:
439 University Ave Suite 2210, Toronto, ON M5G 1Y8, Canada
GPS coordinates
Latitude:
43.6544350
Longitude:
-79.3875080
Location on the map
Reviews Graham Morehead
My wife and I utilized Axess Law for creating our mirror wills and POAs. The process was extremely efficient and simple. The entire team was quick to respond to any questions or concerns throughout the entire process and were very professional. Being able to do the initial meeting virtually is also extremely helpful. The entire meeting took just over an hour for both my wife and I. It was then about another 30 minutes to actually go to their office to get the documents signed and witnessed. Very happy with the overall process. Thanks very much to Jashmere and Walter for their help!
7 months ago DANIEL SIEGEL
I have been wanting to get a Will and Power of Attorney done for so long. Before Christmas, Axess sent an email for a great price to do it over Zoom. The Zoom meeting with Walter was on time, and he was very professional. In just over an hour we had everything laid out, and within a week I was able to go pick up my completed Will. All I had to do was sign the Forms. I am so glad I accepted this offer. Now I have peace of mind, and have referred Axess to a few of my Family Members and Friends. If you are needing to get a Will done, Axess Law is super easy, very convenient and very affordable. I would definitely use them again. You won't be disappointed.
1 month ago Dago S
I made an appointment to have a notary signature for a will I had received, after seeing that was one of their services advertised. I made the appointment Tuesday night for Thursday morning, and received a call at 9:30 am Wednesday morning wondering why I had not uploaded the documents yet for the next day-also asked what it was for. I explained what I needed a notary for(which I also specified when making the appointment)-no problems stated at that time. After uploading the documents shortly after the first phone call, I received a call again at 4:30 pm, telling me this was not a service they could offer, as I would need a lawyer. I expressed confusion, as it was something they advertised, and were they not a law firm? The same person who had called, seemed flustered, and could not explain why I needed a lawyer, or why they were not what was advertised. I booked a different notary service (who was not a lawyer by trade), and the document was done. It was a very weird experience. Perhaps there needs to be better communication within the company? It made me feel like I was dealing with a scam.
1 week ago maura greaney
Great firm, staff is friendly and everything can be done remotely from my own home
7 months ago Dave Seamans
I found everyone we spoke to at Axess Law to be friendly and responsive and they even honored a price match. The reason they are only getting 3 stars is I felt their was a lack of attention to detail, a few mistakes made which resulted in me having to resign some documents and even noticed on the statement that we were charged the incorrect price (not the price match which was agreed on). I did have to point out the error but it was promptly corrected so ultimately I was happy with that. As buying and selling a home is one of the biggest financial decisions, I just would have liked more attention to detail with our paperwork. Also since this was the first time we had ever done this a little more explanation on all the fees incurred would have been appreciated.
9 months ago Elvin Rahimov
We used Axess Law to notarize numerous documents for the sale of a Florida property. They were efficient, polite and the process was easy. I liked that the staff looked like they were down to earth people there to do a job and not out to spend a lot of time and money on useless corporate image. They were actually a bit Geeky and I like Geeky. We will use them again for sure.
3 months ago Teresa Tapia
had a real estate transaction with Axess Law no level of care for the client and no customer service. will definitely. No respect for deadlines and client's hard earned money. run away for all your real estate transactions. The lawyer on my case was Shraya Patel, will not recommend
7 months ago Jeff Smith
I requested two notarized copies of my ID. Both were provided in a timely way but the customization I requested (including an explicit statement that the notary was not my relative) was not include despite the fact that I shared this request twice. When I raise concerns with this Axess Law was dismissive of my concern. This was disappointing and added stress to the document preparation process.
10 months ago Catherine Jester
Axess Law helped close our house and we had the best experience. As first time home buyers, we were not only nervous about choosing the right law firm, we were also unsure of the process and had tons of questions. From the get go, Axess Law made us feel comfortable and our clerk Anastasia, and lawyer, Shangami were friendly and answered every question thoroughly. Shangami provided us with tons of information and even made sure we asked the sellers the right questions to ensure we were informed before we signed our documents. We highly recommend them to anyone looking for real estate services and to top it off, they provide other services like wills and powers of attorney at such reasonable prices! Thank you for such a seamless transaction.
10 months ago Debbbie Sowards
Hi, Great, great service and experience. Axess Law was super efficient, easy to work with and the online signing was really smooth. Never left my house. And the follow-up was incredible. Anastasia (my main contact person) was flawless - polite and very hard working. The Lawyers are laid back and easy to deal with. Life being made simple! Thank you.
6 months ago Matthew King
We had a family member who was in serious financial difficulty due to the Covid-19 pandemic impact on their income. I contacted Trina Powell with Axess Law following considerable research. Our experience with Trina and her firm exceeded our expectations in terms of fast response to our inquiry, sensitive consultation, appropriate solution, and follow-up. The best word to describe our experience is "professional."
8 months ago Deni Jo
Was smooth painless experience. Very quick and to the point. Would highly recommend this to anyone needing a will or estate planning.
3 months ago Na Din
I wish I could give them 5 stars, but in our experience, there was a lack of due diligence which I feel is important when dealing with a home sale/purchase. 1. They spelled my name wrong a few times. 2. They had the wrong middle name for my wife, so she had to sign the forms again. 3. We were given the wrong forms to sign which had the wrong home deposit and now may lose our entire home line of credit (something that is very important to us). To be fair, this may be because the bank gave them the wrong forms, but I'm not 100% sure. Overall, I think more care should be taken to ensure names and documents are correct.
2 months ago Al Gagnon
My wife and I are very impressed with the speed and professionalism that we experienced with Axess Law. They are detail oriented and they take the time to answer all the questions that you might have. We are going back in the new year to take advantage of another service that they offer. Thank you Axess Law!
3 months ago Dan True
Fast and efficient. The lawyers were punctual with the appointments and were very knowledgeable. Highly recommend their services .
4 weeks ago EMPEROR Em
Extremely impressed by the services and convenience provided by Axess Law. We have engaged with Davinder a few times for different services, and it has been a breeze each time. We've been able to do both remote and in-person visits, and she has been very professional and forthcoming in all her advice. Their prices are fair too, so I would definitely recommend them to anyone looking for the legal services that they provide.
6 months ago Sumit Shekhar
The minute I asked for schedule and got response so quickly. Thank you for professional and affectionate service!
1 month ago Jack Jewell
Our lawyer, Sonia was a thorough professional and knew exactly what she was talking about with her extensive vast knowledge as she guided us step by step with the services that we intended to use. Was a pleasure meeting her and wish her all the success in her professional endeavors.
3 months ago Lorraine Smith
Has personal will and power of attorney drafted up via web session. The session technically worked perfect and the person helping me was very knowledgeable and supportive. Had to notarize at one of their offices and again, really easy and good experience. I had only intended to use them for my will, but would absolutely consider for future legal work.
5 months ago Kris H
Hi, i am very thankful to axess law that they help me notarized my documents in such a difficult situation of COVID-19. Sonia dosanjh is my notary lawyer and she is very nice and polite. Axess law service is very good and fast. I am very very much satisfied with their service.
2 months ago Augusto Castillo
$1690 for a mortgage refinancing! I am not switching to another bank and not repaying my existing loan. Expect surprises when you need to pay! If you call and ask for an explanation, expect to be insulted and they may hang up the phone on you. This is what happened to me today! Customer service is bad, rude impolite, disrespectful, made a ton of mistakes. I am attaching the quotation as well as what i was asked to pay. Look at the differences. When i received the quotation i called and asked what is the total that i should expect to pay and I was told that it will be $799+tax + $161 title insurance + $85 registration only. Title insurance turned out to be $271 instead of $161. (see the pics i attached). They over charged me one of the items listed under the paragraph titled "Our Legal Fee includes:" I regret dealing with these people. I called and asked to talk to a manager urgently but the phone operator said they will contact me and they never did.
10 months ago Maria Hernandez
Exceptional service by staff of Axess Law. The young ladies at the front desk assisted me is correcting a typo in my document, took their time to reprint my document. Very efficient, professional and caring. Thank you Axess Law stuff..
3 months ago Saqrodiliac Aliac
I was late for my appointment and called the office 439 university avenue The guy answered and I told him I had to print stuff from staples so I am late and he said to wait in The lobby and someone will pick me up. I waited and waited and called again after 20-30 minutes to make sure they did not forget about me The guy said that I can't get the appointment and I have to reschedule I could have waited an hour without anyone contacting me...... lucky I called back Unprofessional and random No respect to others time Poor communication Most of the respectable places must have by now developed a policy for customers in view of the pandemic ......but this place obviously Did not !
7 months ago Ron Bragg
I am incredibly disappointed that I can't give less then 1 star for this company. I went to get a will done with my affidavit of execution that was written word for word as per the booking agent on the phone. Upon arrival I was meet with attitude and disgust by the lawyer rudely telling me what I did was an absolute disaster. He refused to proceed unless I paid an additional $99 for his affidavit. By far the worst service I have experienced. As a lawyer you should tell your booking agent not to give any advice especially if they are don't know what they are talking about. Absolutely appalled at the lack of customer service. Truly felt as though I was being scammed. DO NOT GO TO THIS LAW OFFICE!!!!!!!
3 months ago Shivangi Chak
Had to quickly get some documents notarized and Axess Law provided a seamless virtual customer experience. Highly recommend them!
6 months ago Jessica Thies
A great alternative to travelling to a lawyer's office, especially in view of Covid. The zoom meeting was still personal and professional. Will use this law firm again!
2 months ago Tracy Tomson
I was so happy with the services I received at this extremely professional and toward thinking law firm. From the beginning of the transaction Axess Law guided me through a easy and painless legal experience. Axess Law's lawyers are kind and care about their clients. The administration team is also very knowledgeable and organized. I would recommend this firm to anyone looking for a professional legal experience.
8 months ago Beau Whittington
Very efficient, convenient and affordable services. We had a virtual appt with Walter who was highly knowledgeable and explained everything so clearly. He was funny too which was a bonus. Would definitely use them again for other services.
5 months ago Ratna Guha
We worked with Jaz for setting up our Will and POA. He is very knowledgeable and answered our questions with patience and understanding.
1 month ago XY GAMES
Quick and professional service, great, fair price. Easy to schedule and get same-day service!
2 months ago shannon gore
I made two appointments with them. They cancelled the first. The second time, at a moments notice, they wanted me to drive to two different locations miles apart. When I told them that it wasn't convenient for me they suggested I make a third appointment. In the process of setting up my third appointment they advised me they had changed their policy I would need to pay a partial fee in advance. They were unmoved by the fact they had cancelled the first appointment and altered the second. I declined to make a third appointment it became clear that even booking an appointment with them was too much of a hassle.
4 months ago Philip Arndt
Getting advice from Sonia Dosanjh was a great experience. She was attentive and always available, generous with her time and quick to call back and provide her expertise on the matter at hand. Would definitely recommend.
5 months ago Daniel Barfield
I have worked with Axess Law on various occasions for the purchase and sale of homes. They were affordable, professional and reliable. Thanks you!
2 months ago Cassie Suther
My parents needed their wills done & having used Axess Law in the past, I recommended they use Axess Law. Sonia Dosanjh helped my parents get their wills & powers of attorney done with professionalism & ease. She answered all their questions & availed herself after their initial meeting for further queries. I would highly recommend Axess Law & especially Sonia Dosanjh as she will knowledgeably & comfortably guide you with what you need.
4 months ago Big Fangs
Unfortunately if the booking fee -to confirm your appointment cannot be processed correctly-imagine finalizing a will. WOW.buyer beware
8 months ago Matt DeFrain
Working with Axess Law is amazing. They are very convenient to get in touch with and meet for signings in person. Their clerks and lawyers are very communicative and helpful whenever you have questions.
5 months ago CHSV Funfest
Needed to use a virtual online notary these guys made it fast and simple.
3 weeks ago Iryna Sholudko
Great experience, professional, knowledgable and pleasant staff, they guide you through a simplified process and explain everything. I definitely recommend them and will return again for future business.
3 weeks ago Alex Sh
Hope all is well. Having moved to Canada, we still had loose ends to complete back home. Having documents notarized by Axess Law on both occasions was simple , the last was during the lockdown and I needed documents to support Tax filing. I was contacted by phone, then by email to set up a remote meeting, I emailed the documents prior the the meeting and digitally signed. Details were provided of the meeting for your record keeping. Have no issues and will b happy to recommend.
7 months ago Trinity Chee
Nicole was thorough, efficient and patient when answering questions I had pertaining to my will. She pointed out and explained items that I had no idea about and described alternatives to each where applicable. Everything that I wanted in the will was satisfactorily added and she emphasized that all existing accounts, etc. have the proper access names associated with them. The entire process was completed in a timely manner and the cost was surprisingly low. I would recommend this company with a 5 star rating.
7 months ago James Fritz
Axess Law was an amazing find for me. In the throngs of a pandemic I needed to get a document notarized quickly. Jasmeet was awesome. His patience is to be commended. I am a little technologically challenged and he walked me through it step by step. I have been recommending them to all my piers.
10 months ago Cyrus Mahn
Great team, very professional, Covid measures in place.
2 months ago Joel Burns
The service was both professional and thorough. The process was easy and satisfied all my needs. The price was also very reasonable and the response to my inquiry was immediate.
7 months ago Derrick Johnson
Our lawyer Pratheep and everyone involved with Axess was very informative and answered all of our questions. We wanted to get our wills done for awhile and this experience was easy and painless. Thank you.
10 months ago Haval Ismail
I had a virtual appointment . They were right on time, prepared and I was impressed how well technology worked.
3 months ago Savannah Merriott
I used this Law Firm for their notary public services. Given the social distancing required for COVID-19, their service was provided online in a virtual environment with digital completion of forms and application of signatures. It was surprisingly easy, effective and convenient.
10 months ago Pere Alemany
Had a nice experience. They are very efficient, organized and took our job in a professional manner. Our wills where made by Jazz (Jasmeet Singh Ajrawat) who did a great job in explaining each and every information required in making it and everything was done online via video chat in just 1.5 hours. Additionally considering their prices they have for wills for a couple in comparison to others is a great great deal. Thank you Axess Law.
6 months ago Bernard Bussy
If you have another option, I would stay away. We used them to do both our sale and purchase, and it could not have been more unorganized and unprofessional. Little to no communication until the last minute. We were lucky to have closed on time. Not to mention we are still cleaning up loose ends in our new place that are a result of mismanagement during signing. Yes, I only leave reviews when something goes wrong. This process was very wrong.
5 months ago Michael Douglas
Sonia was fantastic! Super efficient all the while being very thorough and patient. Would definitely recommend.
6 months ago Katie Adams
Did an online meeting for a will and then met in person at University office. Everyone superb!
9 months ago
Popular places from the category Law firm