Ivy Lane Bakery
Bakery Ivy Lane Bakery, 405 N Main St, Bloomington, IL 61701, United States:
71 review
of users and employees, detailed information about the address, opening hours, location on the map, attendance, photos, menus, phone number and a huge amount of other detailed and useful information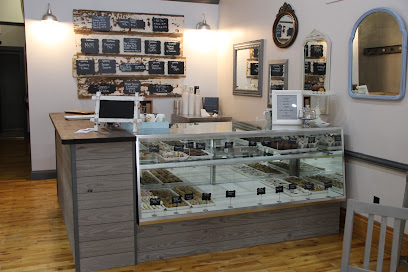 Address:
405 N Main St, Bloomington, IL 61701, United States
GPS coordinates
Latitude:
40.4815572
Longitude:
-88.9935623
Location on the map
Reviews Martinus Sudarma
SUSAN'S SUGAR COOKIES ARE BY FAR THE BEST COOKIES I'VE HAD IN MY WHOLE 28 YEARS. I don't live in BloNo but I deliver for Amazon and occasionally my route is over there. I was first given a cookie by an employee while making a delivery there and have been hooked ever since. Every single time my route is there I stop for a surplus of them to take home. Last time I literally bought 18 cookies. They're fantastic. UPDATE: The iced coffee is absolutely incredible too! Way better than any corporate chain by a very long shot.
6 months ago anna bendon
Wonderful local bakery! The sugar cookies are the best. My only problem when I come here is I want to try one of everything!!
6 months ago Tanveer Khan
Love this place. Free WiFi. Great standard cookies. No frills coffee and teas. (Get fancy stuff next door). Weekly unique special batch cookies rotate.
10 months ago Iris Geller
Ivy Lane makes the best pastries and coffee in Bloomington-Normal. The staff us super friendly and treat you like you're family instead of just another customer. My parents get pastries and coffee from them every Sunday. And whenever I am in town I make it a point to go there. They just have wonderful people, a wonderful atmosphere, wonderful food and wonderful coffee. Everything is wonderful. Everyone should definitely try them out.
1 month ago Ramona Seegars
SO DELICIOUS! This place has it all - fantastic customer service, fresh baked goods of mouth watering quality, FIRE LEMONADE, better-than-dunkin iced coffee with a variety of flavors, and ATMOSPHERE!!! Seriously, this is my favorite place to go on break, and all the amazing people who work here make me feel like a valuable customer who is welcome. It's a beautiful little place, and it deserves more attention!
5 months ago Thelma Furnell
Wife loves their white frosted Brownie's. She will buy them out each time if she could. One of the best shops in Bloomington. Staff is nice and place is clean. Lemonade is fresh and is a sure to go drink when we stop. Need more of them Brownie's like asap. Owners husband loves them too, he needs to say something for us. But hands down the best, highly recommend this shop.
3 months ago Selena Castillo
Will no longer be supporting. Way to push out a customer providing a 20th of revenue by coming every day for 2 weeks. I would come here spending no less than about $10 a trip to be met with hostile attitudes today. I told others that I was going to bring them goodies to try back home. Now I am not. I try to advocate for young adults to be in leadership positions, but given the fact that young females seem to be the WORST of employees ever to run anything in my personal and work experience, I highly question it. Also, it is hard to support family owned businesses because it seems like they have trouble disciplining people at the establishment because of the relationship. I think her daughter was the one so likely nothing will happen. I was paying the price of half a normal pie for a tiny piece of quiche which I did not mind at first, but they then cut it so tiny there was no food in it barely. I promise I finished in 2 bites that last few times. It was burnt crispy at the top the cheddar and motz and broccoli but I ignored that. Then they brought it out cold today and yelled because I did not "wear a mask walking around their store", however everyone is sitting not a foot away from each other at the tables with no masks. I just do not see the logic. Funny how that has not been a problem all the while I have been coming here for the past two weeks. They did nothing but gossip in the back, that is what young females do they talk too much, a well committed customer does not deserve it. When I asked about a peanut allergy the young girl was snappy. It is a simple question, would you rather my sister die??? I am assuming so. What I realized is that some people get spoiled by dedicated customers and stop appreciating them. The last business that does this has a capacity of 15/100 percent and would not be surprised if they closed. Starbucks is always good to me though. Strange!
7 months ago Jake Kirk
Great place! They sponsored the Central Illinois Down Syndrome Organization and was one of the stops on our photo scavenger hunt fundraiser! When we finished we headed inside for some delicious cookies!!!
5 days ago Kdean
Cookie is so soft and yummy sweet. Muffins so yummy. Will go again. When you enter the shop you feel like mom cooking in kitchen. Coffee smell fit your nose. Decors makes feel like home especially,The huge dining table. They make fresh food
6 months ago Sasidhar A
I had the lemon cookie! It was the best cookie I think I've ever had!
10 months ago Martha Pilarte
A cute little shop. The cinnamon rolls are delicious!
10 months ago Leah Rampling
Today I tried their gingerbread cinnamon roll and it was great. It's like Christmas in your mouth. I'm a fan and recommend you give Ivy Lane Bakery a try.
2 months ago Elizabeth Wood
Their quiche is delicious! The coffee is great! Very friendly staff! Tasty sweet treats! A relaxing cozy eating area! It's the best!!
5 months ago Jacqueline Gonzalez
Tremendous bakery items. Great customer service. Nice atmosphere.
11 months ago Michael Tardiff
cookies are so delicious ???? very good customer service!!
8 months ago Georgina Hernandez
Love it,people who work thier and how they keep it clean .... amazing
11 months ago Sameer Kotecha
I placed a large order for cookies for my sons graduation drive through party this year. Everything was very smooth. Cookies were delicious and I highly recommend Ivy Lane Bakery!!
8 months ago James Copen
Definitely the best scone I've ever eaten. I was beginning to think I just didn't like scones up until now. To be honest, the "Game of Scones" street sign pun caught my attention and I walked into this place for the first time. Staff was friendly and the baker in the back had a really warm smile which is always nice to come across on a tired morning. So glad this place opened up! I will say as my one thing for constructive feedback would be that although the menu up on the back wall looks really cool and vintage as a display, I personally found it hard to read to quickly find prices on the items on display. Maybe it's just me though. Also, the front countertop appeared a bit empty, so it was unusual that the credit card machine would be kept far way (unless maybe the intent was that when ringing up the order, you come around the side counter) 5 stars!
1 week ago Sirius Don
Sugar cookies and cinnamon rolls...oh my...so delicious
11 months ago Jason Edmunds
This is a lovely local bakery that makes the tastiest muffins I've ever had. I have not had a single pastry from here that I didn't like. Their selection changes daily and that's what I love about going. I always grab an iced coffee while I'm in and it makes for a delicious morning treat. Prices are reasonable, I highly recommend!
7 months ago Terry Green
Always some delicious treats available in the case! Familiar and unique items to try and also able to grab a quick iced coffee at the same time!
10 months ago Grace Drummond
Nice people with some great Nummies to have in your Belly
3 months ago Pratheep Kumar
Always fantastic, but check the rotating inventory to make sure what week your favorite is being made! Our 3 year old now asks when I'm going to get scones.
1 month ago wilmer flores
The most amazing sugar cookies I have ever eaten!
10 months ago Hugoisrael Jeronimopablo
Their raspberry scones and blonde brownies are absolutely amazing! As an added bonus, their coffee is quite tasty. Atmosphere is fun and cozy. They even have a little kids corner with toys.
10 months ago spncr gfx
I am so grateful for this little bakery to be downtown and serving here in bloomington illinois. The scones are awesome but its the sugar cookie that takes the cake. If your on the search for the perfect sugar cookie its right here.
6 months ago Merv Matthew
First time checking Ivy Lane out and got the macaroons. They were massive and had awesome flavors. Salted Carmel & Strawberry Cheesecake. Looking forward to trying some of their other baked goods in the future!
4 months ago Charo Willis
Yummy cookies and good coffee.
4 months ago Amanda Fegan
Very good baked goods. Needs more macarons, more often. (We crave them now! )
6 months ago Candice Kitchens
Wonderful place to sit and enjoy a cup of coffee and homemade goods. Love going there.
7 months ago Steve Osterholz
We love Ivy Lane Bakery! Bring your tablet, grab a mug & fill it with coffee, choose a scone, sit back and work or relax in a charming, homey and friendly space. And don't forget a peanut butter cookie...
7 months ago Gloria Oladeji
Addictive. Best bakery of all time!
5 months ago Kara Thompson
I could go on and on but this entire bakery is to die for! Must TRY!!!
4 months ago Craig Couty
Ivy Lane did oreo balls for our wedding and they were an absolute hit. People were complimenting them all night. The staff were friendly and worked with me to buy some samples from their case. Thank you, Ivy Lane.
7 months ago Christa P
The iced coffee and muffins are AMAZING not to mention how clean the location is and all of the employees are so nice and helpful!
8 months ago Samone Overshown
So many wonderful treats, Best chocolate chip ever!
6 months ago Lisa Tonick
So friendly
11 months ago Judy Dorr
The cinnamon rolls are great . The Macarons are an explosion of goodness in your mouth!
1 week ago Ken McGraw
Love this place! Charm and warmth like your grandma's baking. So yummy :)
9 months ago Kyra Kennedy
Very nice homey atmosphere. The staff is awesome.
4 months ago Andrew R
Sweet treats smelled & looked amazing, service was grand, and iced coffee gave me just what I needed. Cute shop!
4 months ago April Murray
Quaint farmhouse decorated Bakery complete with coffee and tea choices. Yum!
6 months ago Anthony Oliveri
They have amazing things and people I know lane personally and he is such a good person and I don't know ivy but I went to school with her she seems pretty nice they are great and I can't wait to try more things
11 months ago Xin Weng
Selection was more limited than I expected based the website, but the cookies were quite tasty.
6 months ago Liz Koether
Ivy Lane is one of my favorite places to have meetings! The staff is friendly, the food is delicious, and the tea selection is delightful. 10/10, will continue to make excuses to have meetings here.
1 month ago Olga Rosario
I've enjoyed stopping in here lately. Today we had the honey butter scones, which were enormous, and quite tasty (not overly sweet either!). Additionally we've had quite a few of the macarons that they have started selling. I want to laude them because these macarons are consistently fresh, flavorful, and tender. I'm yet to purchase a macaron that would come close to dry, hollow and crumbly. Well done!
4 months ago Vitaliy Vilshanetskyy
Cute little place with delicious pastries and basic hot & cold beverages, great selection of teas, reasonably priced. Super comfortable atmosphere.
1 month ago Austin Scogins
always, great selection and very tasty!
8 months ago Jennifer Busone
Very friendly employees and wonderful baked goods!
1 week ago mike runyon
The muffins are so fresh and tasty. The coffee is hot and good. Friendly staff as well!
6 months ago
Popular places from the category Bakery