Pete's Fresh Market #12 - Oak Park
Supermarket Pete's Fresh Market #12 - Oak Park, 259 Lake St, Oak Park, IL 60302, United States:
220 reviews
of users and employees, detailed information about the address, opening hours, location on the map, attendance, photos, menus, phone number and a huge amount of other detailed and useful information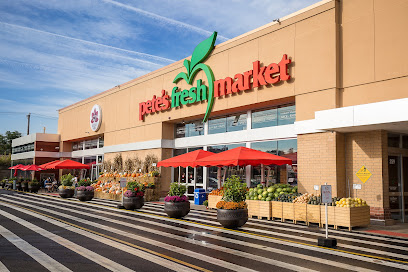 Address:
259 Lake St, Oak Park, IL 60302, United States
GPS coordinates
Latitude:
41.8877279
Longitude:
-87.7821806
Location on the map
Reviews Will Morales
Delicious hot section and sushi section. I cater their food for several of monthly events. Never disappointed me, ask for their catering menu. Oh and their a grocery store with good variety, can't go wrong at this petes location.
8 months ago Jake Ludemann
Don't make only the Black ppl who shop here wear mask make all wear a mask. So I'm in line and a Caucasian women in the very next line neither of us are wearing mask . A man give me a mask and walk right pass her. Too bad I was in uniform #KAREN ???????? Never coming here again‼️
4 months ago Mark Verg
I bought Pete's catered dishes for a Memorial Service. I was so happy I used them. I had over 80 guest and got many compliments regarding theeir sandwiches, pasta and chopped veggie salads. I had 4 doz. chocolate cupcakes that quickly disappeared - so good.
5 months ago Jim Day
Pete's is awesome. I did how they're good to their employees, because the store is really nice. If as an American you don't think you live in the land of plenty, just go to the frozen pizza section of this store and see for yourself. The selection is incredible. Furthermore, the store has a good selection of organics and gluten free stuff. The best thing is you can find your groceries here and your don't get the same kind of sticker shock that your get at whole foods. So enjoy a trip to Pete's. The downside, btw, is that except for early morning, the parking lot is a zoo.
8 months ago CURTIS MEYER
It was so clean and I found what I was looking for (pastrami). I love that it's close to home and it has a huge selection!
4 months ago Callan Hudson
Pete's is the best grocery store, don't sell out please! Your vegetable stockers and deli workers are so hardworking and pleasant.
5 months ago N B
Great Store to visit, I told the one of the Manger to put smaller guacamole containers for different prices, and the carmelcorn and cheese I rather not paid for full pound of 7.99
4 months ago Shane Dekle
Always clean, abundant fresh fruit and vegetables, the best cuts of meat I have seen in years at fair prices and the prepared food area ... WOW ... wide variety of choices and everything I have tried is flavorful and perfectly prepared. Wish I could take a Pete's home with me when I leave. The grocery stores in my state aren't even close to half as good. My ONLY suggestion is if you are baking your own bakery bread, go for a fluffier, softer inside.
7 months ago Sidney Schnoll
The food bar selections are great but the seasoning is high in salt. For people who have high BP would like to manage their salt intake.
4 months ago Geoffrey Smith
I like them. They got all the weird and cultural essential groceries. Sushi and tacos made there fresh and have an ice cream cafe. Good image.
5 months ago Mohammad S
Love this Pete's near my new home. So happy and FORTUNATE this is very close by. A bit compact as compared to the other Pete's in the area but nevertheless same HIGH QUALITY at good prices and a LARGE selection of fresh produce which is always great. Just love love their hot bar and salad always fresh and great selections. Oh yes!!! The best part they serve two brothers coffee at the lotus cafe. Parking can be a bit of a pain during busy hours kinda reminds me of Met Market in my other favorite city ????
5 months ago Monica Toledo
This place is great! They very accommodating to me Everytime I shop. Everyone who's ever wonder about this particular Pete's fresh market should try it.
5 months ago SUSAN GLIDDEN
Great place to shop. Friendly service.
4 months ago Laura Saucier
My first time going to this place which I'm from out of town...the deep south. They have everything you can think of when it comes to food, cooked food as well, prepared food also. The young lady (the cashier) was very nice and courtesy. I wish we had a Pete's Fresh Market in my home town. I really like this place.
7 months ago Nicholas Graff
Excellent food market. Clean and well organized. The buffet and the deli section is incredible. I go there quite often for lunch because they have a huge variety of meat, fish, salads and fruits and it s close to my office. I highly recommend
9 months ago Ruby Peel
I am very happy with this petes location. Been going since they opened. I visit at least 2x a week. One small change is that on a busy day, like weekends that the deli staff do less talking amongst themselves, some just stop working like your not waiting on your deli order.
6 months ago Pat Baldwin
Their fresh squeezed orange juice is fabulous. They're deli meats not so much. Beautiful butcher shop. Nice cheese mongers. And okay selection of gluten-free products
9 months ago Will Wagner
Got to love Pete's the produce and fish market is always good. The cafeteria/cooked foods section could use a lot of work the food is usually doused in salt???? it would help if they diversify their chef's/cooking crew in other words hire some African & Asian Americans don't no other race season their foods like they do.(it's not a slight but it is the truth ????????)
6 months ago clemente lopez
Bought 2 watermelons they was sweet. I haven't had a sweet watermelon in along time. Going back to get 2 more
5 months ago Shafak Alsaeedi
Fresh fruits and vegetables. Knowledgeable staff. Always clean and bright....and CASHIERS as far as the eye can see! WHO KNEW?
6 months ago Roberta Parra
Nice store, I like their fruit selection. I am really bummed they add sugar to some of their fresh squeezed juice. Why? What person actually wants this? We drink juice for health! Edit: I wrote this about the wrong location. My apologies.
5 months ago MsJennifer Anderson
Just went to grab some cherry Pepsi in the 16oz but they always let it run out, if it's going off the shelf I would stock up. 7/17 I realize that the stock workers didn't have any communication devices to check stock or if there is an emergency that require medical assistance which could save a person life, instead of physically searching for mangers
5 months ago Ryan Ayres
If you haven't had the food at Peet's you need salad is good need to try their food bar it is wonderful I had a piece, from there I loved it
5 months ago Steven Carter
I like this store. They offer a wide range of foods from around the world. They seem to know what their customer need. The steam table need to be revamped. If the food is traditionally food prepared by a Black house, the store should allow a Black person come in and show the cooks how it should be prepared. Their ethnic foods are TERRIBLE. WHY ARE THERE NO BLACK PEOPLE WORKING IN THIS STORE. It seemed planned and shows bias and anti Black.
8 months ago kenny spradlin
I love the store! It's very clean and everything is always fresh! However, they have very rude cashiers!
5 months ago Rebecca Marshall
Very well lit, stocked fully and the employees worked well with each other. There was a lot of customers but very quick lines.
6 months ago carlos molinari
I LOVE this store in Oak Park. Every chance I get I'm there. The store is always clean, shelves always stocked, from the guys in the seafood department to the cashiers all helpful and courteous, my all time favorite place to grocery shop 5 ⭐ ⭐ ⭐⭐⭐❤
7 months ago Mastram Verma
The cashier entered 3 of my items wrong in my purchase of produce and meat. I don't believe the cashier couldn't remember anything. The space is narrow compared to other branches in west suburban area, and the size of plastic bags for taking fresh produces is even smaller. The worst Pete's I've never been. You guys needs to make more improvements.
9 months ago Ali M
There was a Pepsi employee putting pops on the shelf and he wasn't wearing a mask. He sneezed all around the open salad bar. I reported his behavior to the manager and she did nothing about it. I will not shop there in the future. I don't need covid-19!
5 months ago Karrigan Shankle
Usually I really like this Pete's in Oak Park and I shop here quite a bit. However, we brought some salmon shish kabobs from here on Friday 06-4-2021 and my family member cooked theirs yesterday and stated that they smelled, and tasted like the salmon was old and no longer fresh. I cooked my today on the grill and the same thing. It smelled old and did not taste good at all! I ate half of it and I threw the rest of the salmon shish kabob in the garbage because I could not eat it. Now I have a headache an hour later and my stomach is not feeling so great and the only thing I can contribute to me not feeling the best is from the salmon shish kabob.
7 months ago Ben
Watched a customer talking on his cellphone while eating chicken wings out of the hot food and throwing the bones back. Told a employee; his response " oh there is a heck of a lot worse that goes on". Just go to Jewel in River Forest now.
8 months ago David B
The fruits and vegetables are always fresh here. They have a wonderful salad bar as well. I've even purchased from their prepared food area a couple of times and surprisingly, the food was really good. Although, the prepared foods are a bit pricey, it's not something I'd buy everyday. Other then that, the store area is always clean and they have reasonable prices too. I've never had a bad experience here.
5 months ago Wallace Comeau
Great produce and cheaper off brands. Not as wide a variety of staple brands as Jewel/Mariano's' /Meier.
5 months ago Ersha Forney
Very good. The employees are very attentive. They help me to find everything that I need. This is a really good service. They respect me and let me field important.
11 months ago Meg
Nice employees but parking lot is a bit rough and unpleasant. Never experienced this at any Pete's. Welp I'm driving the extra mile to the Oak Brook location!
7 months ago Jake Atzen
Love this pete"s fresh market in oak park the employees are very accommodating and helpful if you don't know what isle something is in they will direct you to what your looming for
1 week ago Daniel Hof
I was treated to dinner after Church I enjoyed my Turkey lasagna and asparagus.
7 months ago Chloe Rasberry
Pete's is my favorite store its has everything I need especially my favorite wine????
4 months ago Alicia Green
The Salad From The Salad Bar Was Nourishing To My Body.
6 months ago Emille Hall
It was very good. I was able to pick up my few items, no wait in line. GREAT
10 months ago Sharon Buck
????????it here. For the walk up and order taco section. And the seafood boil kinda dish they have in hott food area also. Friendly but pricey on those groceries. I only vist for my lunch!
9 months ago Donna Weymouth
Love this place. Food is always fresh and so good. The prices aren't bad either.
10 months ago Dainer Cornieles
You have good fresh food but some of your stuff is too pricey like the wine they are to price
9 months ago Kelly Buckley
Pete's is great for their produce and meats. ????
4 months ago SomeoneYDK
This place is a zoo. If you can actually park in the lot you get the privilege of battling crowds and overstuffed isles with below average customer service to top it off. You are better off going to trader Joe's or while foods up on Harlem.
10 months ago Ivelys Hilario
Favorite Store This Far! So Fresh! I'm here weekly shopping???? Great Produce, Meat & Seafood!
8 months ago Krystal Nagorka
Clean store, friendly workers. They have a lot of good local food, but not a lot of international ingredients.
6 months ago Jennifer Burford
Shop here weekly. Like the good choice of fresh fruit and vegetables and the opportunity to buy some foreign products as well.
10 months ago run ruma
What can you say about place that excels in every wonderful regard. I love this place.
8 months ago Pawan Kumar
This place is FANTASTIC!!!!!!!!. I LOVE everything in the store. Friendly employees, great food, amazing produce, I cant say enough about this place, I could live in the parking lot and eat a nutritious meal everyday. 25 STARS for this place
10 months ago
Popular places from the category Supermarket