Banfield Pet Hospital
Veterinarian Banfield Pet Hospital, 2553 John Milton Dr, Herndon, VA 20171, United States:
35 reviews
of users and employees, detailed information about the address, opening hours, location on the map, attendance, photos, menus, phone number and a huge amount of other detailed and useful information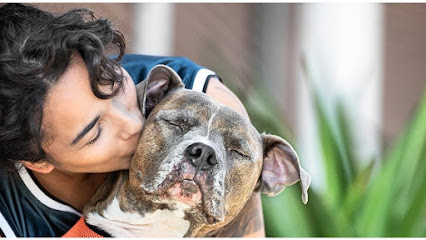 Address:
2553 John Milton Dr, Herndon, VA 20171, United States
GPS coordinates
Latitude:
38.9263593
Longitude:
-77.3755423
Location on the map
Reviews Debbie T
We switched our 11 year old beagle over to our local Banfield over a year ago, and have had nothing but good experiences with the Wellness plan. She's had everything from teeth cleaning, extractions, medication, check ups, and even surgery to repair an ACL. Anything not on the plan is communicated up front, so there are no hidden surprises in care. From the kind hearted techs, knowledgeable doctors with great bedside manner, to the constant communication, I couldn't be happier with how Banfield treats my pup. Joanna wags her tail going into the vet, as well as leaving.
3 months ago yvette araujo
We've been bringing our two dogs to the Fox Mill location since it opened, and we couldn't be happier with the care they receive. Our pups need regular visits to manage chronic illnesses, and the staff at Fox Mill is absolutely amazing! Our dogs are always well cared for, they are extremely happy, loved, and I know that I'm getting exceptional pet care at this location! I highly recommend Banfield at Fox Mill
4 months ago ROB RICHARD
Banfield is fantastic. I visited the Fox Mill location. The staff were all exceptionally friendly and the Vet (can't remember her name) and her assistant were consumate and compassionate professionals. My cat, who is nervous whenever there is ANY deviation from her routine, seemed at ease when they were handling her (administering a pill) in the waiting room after checking her out and collecting a urine sample (in another room while I waited).
6 months ago Louis Poole
All of the have been great since we started going there almost 2 years ago. I can always make an appointment and they've always been caring and professional. I highly recommend. Updating this review because we just had to euthanize our dog here. Dr. B and the staff that assisted with this were awesome. So much empathy and compassion. It was aparent how it affects them as well. We couldn't of asked for better support during such a difficult time. We picked up his ashes and paw print recently and there was a card attached from them. As you can see that all took the time to sign it and it even has his paw print. We were so touched by this on top of how sweet they had already been. This meant more than words can express. ????❤️????
2 months ago spampie
They took very good of both my dog and kitten. Definitely recommend this place.
3 months ago Steven Bouchurd
They were great saw my dog and talked with me about concerns or care for him. They do try and sell there care package but for long term repeat service it is worth it.
4 months ago Tommy Allen
My first new patient appointment was nice. I had to wait a bit but tech and vet all fine. Made the appointment to come back for booster shots bordetella and Lyme. A couple days later they called me about rescheduling due to overbooking/staff shortage on my appt day. I am 8.5 months pregnant and my schedule is packed leading up to delivery day so I couldn't reschedule. They said that's ok but warned me that I may have to wait a little on my appointment day. And I said that's ok. On appt day I arrived at appointment 5 minutes late. Seriously just 5 minutes! They told me I was too late and next time to call them ahead and I now have to reschedule because they cannot fit me in anymore today. I cannot believe they turned away an 8.5 week pregnant lady for being 5 minutes late to a basic tech appt for a booster shot.In the span of trying to reschedule my appt they could've just done her booster shot. They didn't really want me to have the appt that day/time n the first place since they were overbooked, so they used my 5 minute delay to turn me away. I am in shock. They could've tried a little to fit me in and not make a 8.5 month pregnant lady come all the way back in another week.
3 months ago Angie Stapleton
I am a very picky dog mom plus my shih tzu is very feisty. They picked him up and held him and cared him down. This was the 1st time ever it was a great outcome at the doctor's office. I love it there and it's 30 mins from me. I pass about 4 other locations on the way.
4 months ago Kubra Ali
Great docs. Caring staff.
3 months ago michelle tracy
Prompt scheduling for our three cats (two well visit and one sick visit), affordable (with the OWP), and they always communicate pretty thoroughly. All three only hated me for half the day afterwards, and the one sick kittie got better with the provided treament.
5 months ago Fugere Leo
Caring staff and great weekend hours. They have a nice pet lobby/waiting area and very experienced vets.
10 months ago madhu mithaa
Great care! Very professional and caring staff. Definitely recomend to visit. 5 stars for Dr. Bussanich, and nurse Alissia! Thank you for all your excellent work!
7 months ago Buddha Buggz
Dr. Salmanzadeh and Denise were wonderful during my last minute visit. This was our first time in this location, and I couldn't be more pleased for a wonderful team that took care of my Cirilla from the minute we stepped into the door to the last min we walked out. Cirilla has a history of abuse, and denise and Dr. Salmanzadeh made sure they were gentle with her. They made sure I was aware of everything that was wrong with her and explained everything to me and my fiancee. This team is a 10- and I would highly recommend them. here are some pictures for attention :)
2 months ago Michelle Towers
Best vet office I've ever been to! Can't really say enough about them. Amazing prices compared to anyone in town. The staff is super friendly and helpful. We will use this as our dog's primary vet going forward.
2 months ago Kayla Heidinger
Great Banfield, Dr. Surman is wonderful!
4 months ago Andrew Montgomerie
The staff always does a great job.
9 months ago Peter Stenger
Tremendous Vet Team, Outstanding Service, as usual to our pets, we drive more than an hour sometimes to have our pets visited by Dr. Salmanzadeh. He is an outstanding Vet. He always walks the extra mile to give us excellent service and cares for our pets. There're times that we think to relocate to West Coast, but one of the main reasons that keep us in VA, it's Dr.Navid. I hope that Banfield keeps him happy at all times; also, we appreciate the staff for doing a great job in supporting him. Keep up the good work, Guys. And God Bless Y'all .
5 months ago Jose Ruiz
Dr. Salmanzadeh and Denise for sure is our go to and all the staffs are so welcoming, friendly and professional. I've never seen my dogs get so excited to visit the vet???? This location is highly recommended for anyone who's looking for a trustworthy professional or hospital for their furry babies.
2 months ago Brian Deel
I normally visit Banfield in Leesburg but needed an appointment yesterday and Banfield at Foxmill Rd Herndon stepped up. They were courteous, polite and very thorough. Just wish they were closer as I would go there all the time.
2 months ago Daryl Falkenhein
With courteous and professional staff, knowledgeable and caring doctors, I'm so happy that this location has opened so close to my house. Their office is super clean, complimentary beverages, a nice sitting area, and separate rooms for dogs and cats. Their front desk staff (Scarlett, Cate, and Carson) are very cordial and accommodating and Dr. Gregory was a joy to speak with on the phone as she updated me on my cat's dental progress. Jessica - Vet Tech also deserves a shout out too! It feels like a mom and pop vet, and I look forward to having my cats visit!
6 months ago Miroslav Niznik
Everyone here is so nice and very caring. They take such good care of my dogs! They even fit me in last second 15 minutes before closing because one of my dogs was having a reaction to a vaccine. Highly recommend!
6 months ago Rodger Weathers
This veterinarian and staff are the most professional and wonderful with pets!
4 months ago John Chmielewski
This vet visit was great. Everyone was knowledgeable and really took their time to listen and provide advice. They were incredibly patient and sweet with my hyperactive chihuahua. I would definitely recommend this place.
8 months ago Alexander Vorotyntsev
My dog started acting strangely. We took him to Banfield and diagnosed her at once and got her on some medicine that while it won't cure her, it will make the rest of her life better.
8 months ago Ljubo Pranjic
Arrived at 6:30pm on a Saturday and they were already closed. Drove over because I really needed to have someone check on my 12 week kitten because he was shaking and not eating. If the sign says you close at 7pm then someone should be able to attend us
5 months ago sanja corovic
There service overall was great! They were able to treat my doggie in a timely manner, everything was clean. Although I do not like one of the girls from the front and that is why i am not giving it the full 5 stars. She was rude and i dont feel welcomed when shes there. Customer service for me is very important when you will be dealing with them for a while . After my dogs last check up there i will most deff try another location.
4 months ago rupesh patel
The staff is nice but the price for service is high and there iis always a upsale pitch for a plan.
4 months ago Lindsay Greth
Back staff are very friendly and helpful. Front desk girl I believe its Carly, is very rude and not welcoming. Poor phone etiquette.
5 months ago Lyradical Underscore
Great team , a peaceful hospital with professional people , they did a great job for us today Thank you to everyone
10 months ago Dwayne Adams
Treatment for my pets and great as was the follow up.
8 months ago Danielle Smith
Very nice and competent staff.
2 months ago Muskan Sharma
Strongly recommend that you avoid this "hospital"
5 months ago Wilfredo Santiango
They are personable and professional.
6 months ago Randy Mingo
Very nice and helpful.
4 months ago Robert Oleksy
Very friendly staff. Vet spends time with us to answer all our questions.
5 months ago
Popular places from the category Veterinarian