Champs Sports
Shoe store Champs Sports, 6451 W Diversey Ave, Chicago, IL 60707, United States:
42 reviews
of users and employees, detailed information about the address, opening hours, location on the map, attendance, photos, menus, phone number and a huge amount of other detailed and useful information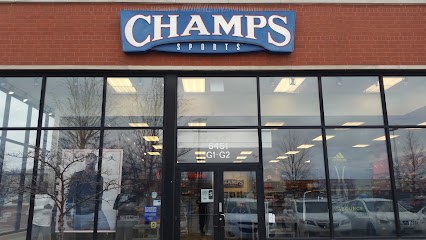 Address:
6451 W Diversey Ave, Chicago, IL 60707, United States
GPS coordinates
Latitude:
41.9306798
Longitude:
-87.7878626
Location on the map
Reviews DeeDee Clingan
Helpfull and staff. The guy was knowledgeable and told me there were other colors available online for the shoes I was looking for!
8 months ago saleh Ahmed
Staff was amazing. Kids were able to try on clothes so were didn't have to come back for wrong fit. Employees were busy but attentive to our needs. Good group of people working there
7 months ago Michael Beauchemin
On 7/20/2020, at approximately 1-30 pm, we went into the Champs at the brickyard and had terrible customer service. We asked the young lady who was folding clothes (as she was the only sales rep on the floor) for a particular shoe. She informed us they didn't have it in the size we were looking for which was fine so we asked her for another style to which she walked away. Instead of getting the shoe she went back to her folding table and began talking to another sales rep. Another young man briefly joined the conversation and we decided that we'd ask the guy at the register who was free instead. Honestly it just seemed like they didn't care about the customers in the store but rather the little conversations they were having. No one was getting help unless they personally asked a sales rep for help. Long story short we walked out empty handed rather then getting frustrated with the poor customer service.
8 months ago david mcmillen
Poor customer service doesn't knowledge customers
1 month ago netslide r
Refused to let me in the store.
10 months ago Lisa Teague
Gene and Honorio were very helpful, they used each other to help me look for what I was looking for my son. Ended up walking with 2 pairs, awesome service. Will continue to come back and shop with these guys !
9 months ago Naim Esquivel
Rude
6 months ago Kortney J
The costumer service is amazing and the selection of shoes are amazing as well.
4 months ago Christina Brown
Staff were nice and helpful. Not very much shoes
4 months ago Zalmen Labin
NEVER SHOP HERE ITS HORRIBLE!!! They close at 7:00pm. Me and my daughter got here at 6:53pm. The store manager refused to let us in. My daughter needed shoes for camp the next day!! They are rude and I would not give my hard earned dollars to this store. BE WARNED!!
6 months ago Sally Kemp
Rosa is always very helpful n patient. Great customer service.
1 month ago Sindi Mannochi
I went with my son to buy him some Jordan shoes he's been looking for and I went 10 minutes before the closing time (6:50 pm), and they already locked the doors. They ignored the questions of my son who was asking if they were really closed. I told my son no problem we just need to cross to Footlocker and I spent $110.00 that was going to be a sale for them. I called corporate and report them right at the spot. Obviously, they lost my business once and for all.
4 months ago Jurgen Braungardt
I came in looking for one specific shoe , manny immediately helped me find the size I needed and was very friendly towards me in the process. Once I was ready to checkout Enrique noticed I was wearing a windbreaker that champs carries and he informed me they were on sale at the moment and offered me a different colorway so I picked one up for a lower price knowing I probably would've bought another one eventually most likely for full price
10 months ago Todd Steele
Manny is the worst manager that I've ever talked to in any store. He flat out refused to return an item because he said he was too busy. He had 3 employees working at the time and the store literally had 3 customers. His incapability of providing any service shows that he can't fulfill his job duties. He kept sending people to other stores to return items. The Harlem and Irving store has way better customer service with employees who are capable of doing their job. I will NEVER in my life step into this store thanks to Manny refusing service 2 days in a row. I wish i can give a 0.
8 months ago Wendy Westbrooks
Great customer service very positive vibes
10 months ago John Reily
Great customer service every time I'm in there:)!
4 months ago Matthew Ridgway
If you do want an d do not go to this place they're all about basketball for the most part no hats none of that nature this is more of like a place to go to get basketball gear running gear running shoes etc but they are not diverse in all the sports there especially not hats.
4 months ago Mari Mari
The gentleman very helpful nice both of them love it
10 months ago Mickey Martin
These youngsters here at the brickyard are the best enrique and young lady know their shoes they deserve a raise and praise for there knowledge friendly service like family nothing like footlocker champs my store now and I will spread the word thank you champ employees have a blessed day
10 months ago Brian McDermott
Went in the store and the Manager Manny told me because the merchandise was a day past the 30 days he couldn't take it back. I bought my items online. There is nowhere on my invoice that says 30 days. Plus the the fact I didn't get the stuff until 2 weeks after I ordered it. I had to call customer service to verify that I was right. Horrible service. A manager should know proper protocol. Those store won't be open for long.
8 months ago Debbie Tijerina
Such a wonderful staff ready to help when you walk in the door
4 months ago Rachel Stennis
Great service always helpful.
7 months ago Lee Kimball
Will not be shopping here again. Friday I came at 8am to purchase a WS Cubs hat before I went to the parade. Somebody didn't show up till 8:15 in uniform stared and me and a few other people waiting for the store to open as he got out his blue jeep Cherokee. Didn't say anything and locked the door as he walked in. About 10 mins later a girl shows up and he opens the door for her and locks it as they walk in. Few minutes go buy and the girl walks out with a lot of WS Cubs gear and the guy comes out as well and locks the door and starts walking to his car. When I asked what time they open he said "when my other employees get here" makes it sounds like he's a manager. Somebody else says well your website says you open at 8 and he says nope till 10. Why didn't he say anything when stared at us when he walked in to the store? Why was somebody else able to purchase items that we also want but can't because they don't open till 10? Very unprofessional and very rude. And if he's the manger I hope he's gone.
9 months ago lori schwenk
Horrible staff. Always closing 15 or 10 minutes before 7pm mon.- Fri. and same thing on sunday.
8 months ago Stephanie Pratt
Like that they have different things then the competition. One thing did bug me tho.
4 months ago Marwa Marie
Not a big selection of new shoes
7 months ago Chloe
Best place need more shoes
9 months ago Leshia Wolfe
DIDN'T HAVE MY SHOES, TERRIBLE
4 months ago gk enterprises
Horrible staff, apparently you can't return any items at this store. Extremely Disappointed.
9 months ago Melissa Feazell
We cound not find anything
4 months ago Denice hinkson
Ok prices some items are old
7 months ago Shade Lich
best place to get
1 month ago Dee Blow
Great deals
6 months ago Zachary Hamel
Never been there
9 months ago Margaret Jensen
Love it
6 months ago Lori Droste
The champs
7 months ago Haniel Jedson
Good service
4 months ago Sindhuja lifeisbeautiful
Good service
4 months ago mitali goyal
Good
1 day ago Brett Stuarr
Buena atención
10 months ago Megan Guare
Pensé encontrar mucha variedad y calidad, la atención ni fue muy buena, nadie se esforzó por preguntarme si necesitaba algo, los precios normales, tiene una buena presentación exterior que atrae y llama la atención, pero entras y todo cambia
7 months ago Shafiqa Jahangiry
Súper
10 months ago
Popular places from the category Shoe store