Akina Pharmacy
Pharmacy Akina Pharmacy, 23475 Rock Haven Way Suite 105, Sterling, VA 20166, United States:
220 reviews
of users and employees, detailed information about the address, opening hours, location on the map, attendance, photos, menus, phone number and a huge amount of other detailed and useful information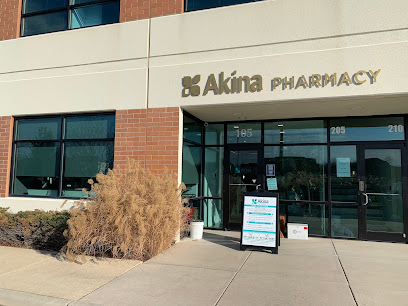 Address:
23475 Rock Haven Way Suite 105, Sterling, VA 20166, United States
GPS coordinates
Latitude:
38.9681328
Longitude:
-77.4920624
reviews john elkins
Akina prepared my compounded prescription quickly, and got it to me with overnight shipping. It was packed carefully, and with very good insulation and impact-resistant packaging. Everything was labeled clearly and carefully. …
1 month ago annapoorani s
I used Akina pharmacy for PCR Covid test needed for travel, service is outstanding and the medical assistant Vivian is superior in every thing, she was very professional and communication was super fast and easy. Results came fast as promised and price was the best among the available options. Highly recommend! Thank you so much!
1 month ago Michelle Ouellette
The customer care representative was extremely helpful. Got my medication quickly and they had curbside pickup!
4 weeks ago logan m
Great experience! Very friendly, professional and helpful staff. Fast delivery!
3 weeks ago REESE BAKER
At the suggestion of our son's doctor, we recently moved his prescription to Akina. They have provided better service and convenience, at a lower cost, than our previous pharmacy. If you are looking for a compounding pharmacy in Northern Virginia, I recommend Akina.
1 month ago Alberta Rawls
MD ordered a compound med and wrote the script for Akina. Don't know if this was b/c his office had an arrangement with Akina or they had selected Akina after vetting several compound pharmacies. I've ordered twice and they have been …
1 month ago Janae Hudson
My experience with Akina Pharmacy has been great. The are very professional and customer friendly. Notifies you when it's time for a refill and go the extra mill to contact your doctor when your prescription ends. Top notch.
1 month ago Michael McCarthy
I had a wonderful experience with Akina pharmacy. I contacted them to get eye drops prescribed by Dr. Akina representative was very helpful and explained all of the questions I had. On top of all this I got quick and very well packaged delivery. Definitely 5 star experience!
3 months ago David Placzek
This pharmacy is known for pricing that the average person can afford. They provide professional counseling so one knows what he/she can afford, and they will tailor the to what one can afford. They are quick and efficient delivering one's …
1 month ago Mike Peterik
Customer Service was very helpful and knowledgeable with the product. They answered all my questions and also gave me flexible options. She had a positive attitude. Thanks for your help!!
1 month ago Amit Gaonkar
The person I spoke with was very understanding and very clear regarding the process and amount.
1 month ago Nip Jordan
Excellent pharmacy and customer service, the pharmacist was very helpful and explained everything in great detail. Looking forward having my next prescription handle through Akina. …
2 months ago Danica Boyd
Akina is just terrific. They compound a special blend of medications for my daughter and provide a different medication for myself as well. Their service is quick, accurate, and friendly. I recommend them without hesitation.
3 months ago Keyshanda King
A plus! So nice to have a trusted compounding pharmacy that has excellent customer service in addition to quality products. Love this pharmacy.
1 month ago Josh Vanfossen
I really appreciate Akina Pharmacy. They are quick and efficient in getting my medications to me. Thank you!
2 months ago Dennis Davis
Awesome customer service! I highly recommend without reservation.
1 month ago Tara Williams
Always on time. Always courteous. Always affordable. What else can I ask for? Thank you.
3 months ago sabrina crum
Akina Pharmacy is wonderful! They were very cordial and easy to work with. Very business like yet they make you feel as a valued customer... …
4 months ago Ralph Stan
Akina Pharmacy staff are prompt, professional, and friendly, and always eager to help educate the patient (me, in this instance). I recommend them highly.
2 months ago Charlie B
Akina has the best customer service. They stay on top of my prescription for me and proactively reach out to my doctor when it's time for a refill. I've been with them for years and have never had a single issue come up. 5 stars all the way, for Akina Pharmacy.
5 months ago Sharon Tipton
Akina Pharmacy, team crew was fast in assisting me with changes and rx's I needed to my account. Polite, friendly and happy to help me.
1 month ago Oscar Urrutia
It was nice to actually interact with a human versus push this or that. The rep was very personable and walked me quickly and efficiently through my order-no please hold while check on something. I wish all business interactions were like this one.
5 months ago Linda Chavers
The pharmacy was great to deal with. Their customer service was excellent. They got my prescription to me in one day.
3 months ago jeff tan
This company is always pleasant and helpful the customer service is the best by far, they always help me with what I need and let's me know about my options and discounts. Its pleasing to know that they just don't want my money …
5 months ago Jim Ransom
Akina Pharmacy has been my go to pharmacy for the past 2 years. They are efficient and quick in getting my medication at a moments notice and at a great price. I could not be happier because I have the friendly people at Akina who have my back when I needed them.
6 months ago Tyler Dennett
1st time using Akina and everything worked like clockwork. My order was available when they said it would be. I arrived to pick up the order and someone brought it out to my car to give to me once I alerted them I had arrived in their …
7 months ago Tim Patrick
Timely delivery and easy to reach someone with a concern that I had.
1 month ago Lani Perez
The person I spoke with was great. She explained everything, gave me directions for use on the phone and a time line for delivery that was spot on. I am very happy with Alina Pharmacy.
6 months ago david heslop
Overcharging insurance for the covid tests. They advertised their covid test as 45 dollars no insurance required. I took a covid test with them in virginia on january and and now i am getting billed 1034 dollars from a lab in philadelphia for the covid test. This is a scam they are running.
2 months ago Faith Quintero
Overcharging the insurance for COVID-19 tests. The website clearly says RT-PCR is 49 dollars and that insurance card is not needed. Although they do ask for the insurance card and then charge the insurance 1000 dollars for one test. We got …
2 months ago Gareth Davies
Best customer service! Had been with several other pharmacies for my kids' compounded eye drops. They have an unusual prescription and other pharmacies would constantly be confused by this. It was like reinventing the wheel each time I …
8 months ago MADHAVA REDDY
The medication I needed at a great price and shipped quickly to my home. Definitely 5 stars!
5 months ago Moorthy Govindaraj
I didn't know this pharmacy excited yet I work 6 minutes from them and have been for over 18yrs!!. I had the pleasure of knowing about them from my Covid vaccine appointment. They …
5 months ago Vertisha Craig
My doctor sends in the prescription, Akina contacts me about payment arrangements,, medication arrives at my home. So simple and convenient! A+ PLUS !
6 months ago dan cheung
Very professional, everything came directly to me via FedEx. Medication needed to be refrigerated but the temperature was just cool when my medication was received.
1 month ago Erica Bowie
Great and fast service!! Keep up the super job!! Always easy to reorder!
3 months ago Justin Stephney
Affordable prices and great service
1 month ago Liusheng Zhang
Akina Pharmacy was really fast at providing me with the prescribed medication I needed. Payment and pick up were really easy.
5 months ago Darrell Newman
Amazing company , amazing staff , certainly the best I have ever had . I love doing business with this fantastic company.
3 months ago Sherry Veal
Very happy with the costumer service operators. Extremely polite and friendly. It's not always a prescription or medical need we talk about. Just above the call of service. Delivery on prescriptions is very quick. Thanks Akina …
8 months ago Nedda M
Needed a prescription quickly. Fired off an email over the weekend to a generic address. And guess what? The president of Akina - yes, the president! - got back to me over the weekend. By Monday, a customer rep had called me and had my …
8 months ago Abigail Loughran
great service , very professional thank you
4 weeks ago Debbie Ellis
Excellent pharmacy. The employees are the best.
3 months ago Valentina Ponti
Great customer service. Fast delivery. Highly recommend using this pharmacy.
6 months ago Donna Dobell
It was a great experience. The medicine arrived as promise. It was safe as we still on this ongoing pandemic.
7 months ago David Heritier
I paid ($45, as advertised) and received a Covid Test in January. In May I was sent a bill for over $1,000. Do not use this pharmacy. They also emailed me a few days later advertising the $45 test with no mention of additional charges.
2 months ago William Bloom
Good service. It is great having this pharmacy in our community.
6 months ago Yang Chen
Great service. Efficient, fast easy-to-use software. Fair prices.
7 months ago Olga Rusyakina
I recently filled a prescription through Akina Pharmacy. The process was easy and the Akina rep I dealt with was both professional and courteous. From start to finish, an A+ organization. I can recommend Akina Pharmacy to others, based on my very positive experience.
9 months ago Terry Berlin
Great Business to work with, very helpful.
1 month ago
Popular places from the category Pharmacy