Quinn's Goldsmith
Jewelry store Quinn's Goldsmith, 14901 Potomac Town Pl #170, Woodbridge, VA 22191, United States:
220 reviews
of users and employees, detailed information about the address, opening hours, location on the map, attendance, photos, menus, phone number and a huge amount of other detailed and useful information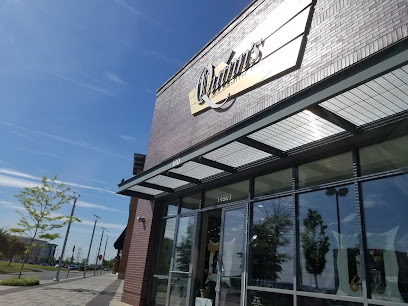 Address:
14901 Potomac Town Pl #170, Woodbridge, VA 22191, United States
GPS coordinates
Latitude:
38.6301320
Longitude:
-77.2878800
reviews Coronda Lee
The most amazing jewelry store in VA! Been going here for 3 years now and don't know what I'd do if it weren't for this place! Such an amazing staff and always make sure the customers are taken care of and happy!
4 weeks ago John Hightower
Well I was really impressed with Quinn's Goldsmith customer service and quality of work. I brought my bridal set for repair/resizing and I wasn't too happy about final result first time. I left review and Laura and Mr. Quinn reached out to me. I brought my pieces again and Mr. Quinn fixed everything and addressed all my concerns. So I can definitely recommend this store and I have to say that the management do care about customers. And on top of that while I was waiting for my repair, I was able to browse around and I notice that Quinn's Goldsmith has really nice and unique pieces, and I have to say the prices are good too. Hands down, one of the best repair places I have been too and great store as well.
1 month ago Jeff Showers
Best goldsmith in the area; the work order prices are a small bit higher than the chain stores but 1. The work is much higher quality and 2. You get to speak with the person who actually does the work (rather than the other stores that send your jewelry out somewhere else for work). I have broken quite a few things, but Quinn's can fix it all while respecting the original integrity of the pieces. They welded my wedding band together with my engagement ring as well, and I am blown away by what a great job they did! Thank you, Quinn's!
4 months ago Michael Crocker
I took my engagement and wedding rings in to be resized. It was a complicated process due to the amount of increase required and the intricacies of the wedding band design. Everything was thoroughly explained before any work was done, and the pricing was excellent considering how much gold had to be added, the fact that my rings are two-toned, AND the fact that a diamond had to be replaced! Not only did they do beautiful work, the rings were ready in time for a planned family celebration. I have nothing but good things to say about the staff (friendly, attentive, thorough) and the excellent work performed on my cherished jewelry. I'll be using them for all my jewelry needs going forward!
2 months ago TheFury MCs
Quinn's was recommended to me for appraisal of some family rings. When I went there I told the lady at the counter what I was there for and she said she could do the appraisal. I put two rings on the tray and then she told me how much it would be for one ring and the additional one. She looked at the one ring then turned to an associate who told me she was the gemologist. I mentioned that at some point I would have a necklace made that lady who first looked at the ring asked why I would get an appraisal if I wanted to have a necklace made? I explained that I wasn't going to have a necklace made at that time. I was not comfortable leaving the ring so I said I would like it done today to which they told me a different price and I could pick it up before COB. I asked if I could make an appointment but I felt like they were in a hurry to serve other customers who would be making a purchase and that my appraisal was not worth their time. Someone prior had made a purchase of $5,000+. I was disappointed in how they approached the whole situation and would think that each customer whether you are buying a piece or jewelry or want an appraisal done would be given the same respect. I doubt I will be going back there. I also
4 months ago George Gregs
Quinn's treated me so well! I have found my jeweler. Wanted to do something special for my wife's birthday, and with a recommendation from couple of guys in my family, I went to Quinn's. My wife has a cheap $50 ring I bought on Amazon which she wore all the time. Because I knew she enjoyed it, I wanted to recreate it but with higher white gold, a gem birthstone, and a diamond. With a couple of pics from the internet, the Quinn's team (MVP to Reza) recreated it and produced a lovely ring that impressed my wife (not easy to do with jewelry). Highly recommend! Hope to do more business with them in the future.
3 months ago Letitia Lee
They're very attentive to your request. Are professional and customer service oriented. I will recommend them to anyone. We left a necklace to be fixed and it was done within a two weeks period as they stated.
4 months ago Corridor Hockey
Excellent customer service! Everyone in the store was friendly and very helpful. I definitely recommend Quinn's jewelry to anyone looking for a great jewelry experience.
2 months ago Brenda Snodgrass
Outstanding customer service. They were accommodating to a unexpected schedule change when I needed my jewelry a day earlier. They resized my rings perfectly and I just love being able to wear them again. Thanks Quinn's.
4 months ago Victoria Shilton
I couldn't be more disappointed. I brought my wedding ring in for a small side stone replacement. Was told my ring would be ready before I had my flight, when I called them to check in the day they said it would be ready after not receiving notification. Turns out they were closed. I had to spend 4 hours on the phone with the airline to change my flights. I came in to get my ring the next day and there was dirt under the diamond, it looked black. They had to keep it yet another day to clean under it. To compensate they waived the cost. When I got my ring I immediately left to run for my flight. I then noticed after leaving THEY DAMAGED MY RING! When I got home I took it to a different jeweler to assess the damage. Instead of replacing some of the metal for what was a worn off bead to hold the diamond, they cut out a chunk of the metal and forced it over the diamond. They destroyed the grooves, design and even the sides of my ring! Now I have to pay to have my ring repaired for the atrocious job they performed.
1 month ago Amanda Snipes
This is not a mall jewelry store. Quinn's is well known for quality, innovation, and personalized service and that reputation is well deserved. I've been a customer for years and now my sons are also customers. We know we will be treated like family. You will be listened to and helped to find exactly what you are looking for. Need something really special? Quinn's also makes jewelry. Award winning jewelry. If you haven't been, do yourself a favor and go for visit today! If you haven't been for awhile, what are you waiting for? Get your ring cleaned, have a diamond appraised, update to a new wedding band, add some new earrings to your collection, pick up a few last minute gifts for those special people in your life, and see some great pieces of jewelry. Have fun!
9 months ago Andrew Mass
Spectacular jewelry and custom design pieces by Terry Quinn! Sales Associates are always so nice and extremely helpful!! Love this store !!
2 months ago Joesph Williams
Highly recommended this amazing store. The owner is very knowledgeable and helpful. All employees I dealt with were very nice and inviting. Amazing customer service and quality items in the store. I did not have a single negative experience while shopping here and there were multiple other customers who said they have been going to Quinn's for years. Awesome place and great people.
9 months ago Lily Lang
My fiancé and I wanted to shop for her engagement ring together. We searched online and the Quinn's website offered several rings we were interested in. We definitely wanted to visit a store in person, and found that Quinn's was not too far away. Our experience in the showroom was outstanding. We made it pretty clear early on that we were shopping at the lower end of the price spectrum for engagement rings, but we were still treated as if we were buying a $50,000 ring. The salesperson (I feel terrible that I don't remember her name) showed us several rings and quickly figured out our tastes. She did a great job of showing us things within our target price range. We were looking for something a little non-traditional, and she helped us find the perfect compromise that we will love for decades - a more traditional setting, but with a colored stone in the center. Terry Quinn made the adjustments we needed right away in terms of the center stone and the sizing, and also showed us the custom ring he was working on for a jewelry competition. We are so happy that we supported a local, family-owned business, and got the personal attention you can only get at that kind of store. We loved Quinn's so much, we went ahead and bought our wedding bands at the same time since they were so helpful and their prices were so reasonable. Thank you for all your help, Quinn's!
9 months ago WILLIAM SAFREED
Highest quality of craftsmanship, comfort and personality. Quinn's Goldsmith has given me the most wonderful experience i could ask for when looking for a ring that will signify a once in a lifetime major event like an engagement. From the first time walking in and looking at engagement rings the staff was incredibly helpful and so very kind, we were treated like family the second we walked through the door. The selection is very vast with styles from every edge of the world. This is the highest quality jewelry store I have been to and the staff is incredibly helpful in finding exactly the style I was looking for, as well as having the ability to customize the jewelry however fits my taste. If you are looking for a helpful staff, a wide selection of customisation and a piece of jewelry that will have you smiling for a life time, you want Quinn's Goldsmith.
10 months ago Bruce Maclean
Very knowledgeable helpful patient and fair price.
1 month ago Setareh Siahpoosh
My experience at Quinn's was exceptional. The staff were helpful and extremely patient. I've never felt comfortable in a jewelry store until my visit to Quinn's. I'm the kind of person who always regrets an expensive purchase at least a little bit; thinking to myself, what if there was something else better/less expensive? I can honestly say that I am nothing short of ecstatic, and can't wait to see my girlfriend's face when she sees the ring.
8 months ago Edward Singleton
Very helpful! Very friendly and obviously knowledgeable with the beautiful jewelry pieces they have. I felt welcome and taken care of! Purchased a pair of diamond hoops and I'm so excited to wear. Will purchase all my jewelry from here!
8 months ago Erik Radle
Very friendly. My husband had his wedding ring sized down. It was ready before they promised and cleaned beautifully. I have bought other jewelry there and it is unique and beautiful. I highly recommend Quinn's Goldsmith!
7 months ago Chertha Yarber
Excellent service! Quinn's Goldsmith produce unique, beautiful, gorgeous, and exquisite jewelry. Ladies and gentlemen treat yourself!!
4 months ago Zachary Billips
We were treated like gold by the entire staff. The jewelry repair services are as perfect as the award winning one-of-a-kind pieces they create. The prices are very reasonable, and the selection is very broad. The staff knows so much about their craft, and are well aware of where everything is located in the store, which has many well-lit showcases. The whole staff was very COVID-19 conscious, wearing masks and maintaining a respectful distance without losing a friendly, customer service oriented environment. I highly recommend Quinn's to anyone!
1 month ago wendy lebron
Quinn's was amazing! My mom passed away and I wanted to wear some of her jewelry. Quinn's perfectly resized a ring of hers for me, and they replaced an opal that fell out of a 3-opal set in my great-grandmother's ring. When I didn't like the match of the opal they used, they took the ring back and found another opal that matched beautifully, and didn't charge me for the re-work. The owner was very open and honest, and I appreciated his willingness to do that. Everyone was incredibly friendly, patient, professional, and helpful. I couldn't have asked for a better experience. Thank you to everyone at Quinn's!!!
10 months ago Anthony Hollins
Mary Lou and Osmarina Rush were extremely helpful when I picked up my repaired jewelry today. Not only were they friendly and professional, they created a welcoming environment by asking me about my day. Sometimes that's all we need, to share joys in our lives when the world seems to be spinning out of control. From this grateful Veteran to Quinn's Goldsmith Inc...thank you for a great experience! Sincerely, David Gomez (U.S Army)
8 months ago joshua dyer
What wonderful experience, the jewelry is breath taking. Keri help me and she was so knowledgeable and super sweet. The whole staff was so nice. I got one of Terry's signature piece a lovely heart bracelet just love it!
2 weeks ago Erick Chambers
The staff is extremely professional and friendly. Mr. Quinn came out and assisted me in getting a new clasp for my necklace and even offered to clean it as well. Overall, I am very pleased with the service that I received and would definitely recommend this store to everyone
11 months ago Emma Dakin
I had an amazing visit that left me feeling re-energized and relieved. I came in because I had my ring stolen which really upset me and I was nervous I couldn't find anything that looked like that stolen ring. As soon as I walked in, Osmarina greeted me and helped me along the way. She was nice and helpful during the entire process. Once I found my ring, she wrapped it up and gave me coffee cups and chocolate. She then proceeded to say "you're family here" and I even met the owner. It was one of the best experiences I had and it made me forget about my stolen ring which had so much sentimental value to it. I now have a new ring with even more value because of my experience today :)
1 month ago Lynn Crews
Love the atmosphere, every time I walk into the store. I will always shop for fine jewelry at Quinn's Goldsmith. They are very professional, personable, and easy to com with. I can truly say each time I buy there I know I am being treated right, getting quality jewelry, and one of a kind pieces when I customize it. I had my husband's wedding band customize there. It is a beauty. I love this place and everyone working there. Loving attitudes and spirits. Thank you again Quinn's for helping me select another special piece of jewelry.
3 months ago Yung Yola
Quinn's helped me find the perfect engagement ring for the perfect price. They knew I had a limited budget, but they worked with me and found exactly what I needed within my price range. I had a credit at another jewelry store, but the price they offered beat their competitors offer by a mile. The staff was super friendly and honest. They took the time to know me and me situation. I thought I was gonna spend a fortune on a ring but like actually ended up saving money thanks to them. Not to mention their sizing service was fast, ready the next day. I can't wait to purpose thanks to them and if I need any other jewelry for my girl, I know I'll be returning.
1 month ago Jeremy Parks
I love Quinn's. They helped me navigate upgrading the diamond in my engagement ring after 35 years. Reza was knowledgeable and so helpful, and waited as I took my time navigating this investment. Thank you so much!
9 months ago Marina Pushkareva
The staff at Quinn's is always very professional and the work is very well done. I will continue to use Quinn's as my local jeweler.
3 months ago cindy duell
This is my absolute favorite jewelry store. I brought my sister and best friend in today. We were helped by Mary Lou who was amazing, professional and very pleasant to work with. I will always recommend Quinns to all my friends and family.
8 months ago kevin layne
Reza did an incredible job on fixing an old ring that was too small and very cloudy. It is absolutely stunning! I will absolutely go back anytime I need anything done!
8 months ago Douglas Shaffer
I wanted a special gift for my nieces 40th birthday. Mary Lou Costa helped me pick out a beautiful bracelet. She was very kind and patient. The bracelet was wrapped to perfection by Osmarina. Quinn's customer service is top notch. I give them a 5 star rating!!
8 months ago Alex Lee
I was parked outside waiting to go in and employees yell at me to go park somewhere else lol. Can't recommend.
3 months ago Ron Carrigan
If you are looking for options and answers for a special gift, this is absolutely the place to go. I had been shopping around all day looking to find an Alexandrite necklace as a Christmas gift. I had zero luck until I visited Quinn's. I feel fortunate as I was able to work with the owner Terry directly. Terry helped me find exactly what I was looking for, he actually went as far as customizing a set of earrings he had with the Alexandrite and designing and crafted into a necklace I was looking for. All of which he was able to do in 1 hour. I have never been to a place so elegant and customer driven. If you want something special, have it done by special people. Terry and the staff at Quinn's are second to none. I wish I could rate them higher. Thanks team. V/r Scott
9 months ago Jim Arnold
Mary Lou was awesome! Very friendly and informative. You can tell she truly loves her job
8 months ago Chris Tutt
Wonderful establishment with a staff that is not only professional but personable. Excellent selection and unmatched quality. I have shopped with Quinn's since 1999, and still a satisfied customer.
8 months ago J J
Had a sterling silver spoon engraved on the back of the handle with my daughter's birthday. I'll looks exquisite! Love the script style. The price was great too and it was finished on time. Thank you Reza Sadeghi!
8 months ago Marty Kahler
All the reviewers are spot on. This place does quality work! My ex-husband was a jeweler and we owned a goldsmith shop. I can spot quality workmanship and materials. The staff is extremely knowledgeable, friendly and helpful. I had a ring custom made and he made sure it came out exactly as I wanted. The ring is perfect. Thank you Quinn's! I can't wait to do my next piece!
4 months ago Christopher Coleman
I had a situation where I had to cut my fiance's engagement ring off her finger, I thought it was going to be a total loss. I went into Quinn's to see if they could repair it not only did they repair the ring they fixed it so she could easily take it off without cutting. The craftsmanship is incredible and they treat you like family thank you so much, I'm telling everyone I can definitely go to Quinn's
11 months ago Barry Langley
⭐️ ⭐️ edited 4/5/18 ⭐️ ⭐️ I just picked up the ring that the wonderfully talented Mr Reza just made for me and I love it so much I had to cry in my car for 10 minutes before I could drive home!❤️❤️❤️ the ring was made from a beautiful rose gold set that he then created the center stone and halo out of my mother's wedding ring ( hers is the yellow gold one in the pics) who passed in 2011. I can't say enough about the quality, creativity and professionalism at Quinn's. I'll be heading back to make a ring for my husband!! So..If your looking for THE ring ????..head straight there!! ⭐️ March 2018-Just left Quinn's goldsmiths and I couldn't be more pleased with both their customer service and their talented staff!!!! I adore the replacement wedding ring Mr Reza is creating for me out of my mother's original one. He also fixed a pendant that was very dear to me! I can't wait for my ring in early April but my pendant is beautiful!!!!! Thank you so much ❤️Leslie Cox
4 months ago Pat Wilson
Reza and Quinn's were great to deal with. Listen well. Make themselves available online and in store. Provide prompt service. And provide great deals. Great experience.
8 months ago Frankie Hatch
Since we only sort of knew what we wanted (a sapphire ring with an antique look), Reza patiently guided us, coming up with options and ideas we never even considered. The result is honestly one of the most beautiful and unique rings I have ever seen. As a family, we have always been Quinn's fans, but Reza and this experience made us love them more!
8 months ago Madison Riley
The shop was vey busy but they were able to do my small repair right away. Quinn's has a great selection of jewelry and the staff is very knowledgeable and patient and personable.
2 weeks ago Jessica Kirby
Keri went above and beyond my expectations!! I know nothing about jewelry but I was referred by a friend because I had jewelry given to me by my grandmother that I needed appraised. Keri was quick to schedule an appointment, knowledgeable, kind and thoughtful in her suggestions. I will be going back for any other jewelry needs and I can't stress enough how highly I recommend this place. If I could give an extra star I would!
3 weeks ago Josh Berger
We've had a couple of occasions to buy items at Quinn's and the customer service has been excellent! We will definitely return in the future and will happily recommend to friends.
7 months ago Chrissy Polans
Quinn's has been the best decision my fiancé and I have ever made when looking at engagement rings. Everyone told us to go to the big name stores but after visiting Quinn's before lunch one day we immediate made our decision. They are so personable and caring and answered every question we had. They went above and beyond helping my fiancé get the ring. And a year later, after losing weight the ring was very loose. I took it in and they sized it no problem. Reza and all the other staff have been amazing every time I've gone. I have nothing but amazing things to say about Quinn's. My loyalty has stuck!! I recommend anyone to go to Quinn's, they are flexible and understanding in any situation.
8 months ago Penny Lombard
I was considering a custom fitting and sought their advice. Very friendly and helpful staff. They took the time to help me consider options and it was really nice. I was pleased to purchase a custom Quinn designed bracelet. I highly recommend them for your fine jewelry option.
3 weeks ago Nancy Rossley
Ordering a ring from Terry was an exquisite experience. Seamless, smooth, trustworthy, knowledgeable, and passionate about the craft. They helped us find the perfect ring with all the details we wanted, and were completely patient with us the whole way through. What was lovely was the exact right amount of guidance blended with autonomy. Joy asked just enough question to get my fiance to become clear about her perfect ring. It's not common to find a true artist who is passionate about the craft more than the business. And here, I found that and plan to repeat. Highly recommend! Thank you!
2 months ago Sergey Tseona
I could not have had a better experience from the second my fiancé and I walked in the door. Very friendly and knowledgeable staff. The owner himself actually came out and took great interest in the ring I brought to get resized and appraised, which that in itself means a whole lot to me personally. Overall I don't believe there is anything Quinn's could have done better to make the process any easier or more enjoyable. HAPPY WIFE HAPPY LIFE :) I will be going back for any jewelry needs as well as referring anyone and everyone to them.
6 months ago
Popular places from the category Jewelry store