Car wash MainLand Car Wash & Oil Lube Center
Car wash MainLand Car Wash & Oil Lube Center, 3120 Palmer Hwy, Texas City, TX 77590, United States:
141 review
of users and employees, detailed information about the address, opening hours, location on the map, attendance, photos, menus, phone number and a huge amount of other detailed and useful information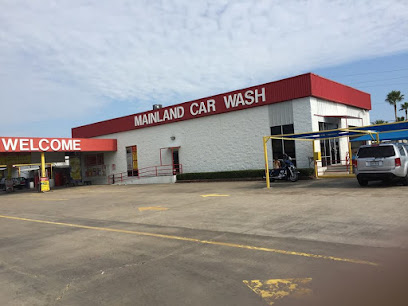 Address:
3120 Palmer Hwy, Texas City, TX 77590, United States
GPS coordinates
Latitude:
29.3960112
Longitude:
-94.9426002
Location on the map
Reviews Barry Fairbairn
If I could give them a 0 I would. This is my car after being cleaned. Just pitiful. $27.99 wasted then I gave the guy that vaccums a $10 tip. The car doors everything was still dirty. Don't go to this place. It's a warning. Go else where.
8 months ago Lucy Alvaro
Absolutely disgusting! My car is the same way I brought it in. The seats still had crumbs, the floors were barely vacuumed. Everyone seemed annoyed like they didn't want to be there. Hispanic big guy was beyond rude! Save your time and money! This place is the worst!
2 months ago Lorrie Hamlin
I paid 27.99 for the best car wash but when my truck went through the auto wash the services I paid for wasn't applied to it. I questioned the guy that I paid and he refused to believe me. I told him that I would never use this car wash again and he said thank you.
3 months ago Konstantinos Vlachos
These guys are working so hard even the girl at the front that takes your money is so sweet and wonderful just love her to death ❤️
4 months ago Chris Karasek
Oil change was good fast The carwash not so much under staff Vacuum was horrible and the drying and wipong the windos was regular at best. I hope this business gets back up asvthey were before
4 months ago Abby
Not too bad. They didn't do detailing like I wanted. But, they did vacuum the interior and did a good wash job.
8 months ago Aleksey Lisovsky
Paid for platinum drive thru and after done underside did not even get sprayed. Talked to manager who is worthless. Would not even give voucher or spray underneath. Also he was begging for tips while i was paying before car went thru. Rating 000. Horrible service with new management. Never used to be like that. Warning do not use!!!
7 months ago adem karakum
Will not be returning to this establishment.. i know 20$ isnt a lot but when i pay for a service to be done i expect it to be completed.. there is still dust and dirt on my vehicle, you can see the wipe marks where they attempted to clean but didnt get it.. there are water spots everywhere and i had to reclean my own windows.. do not waste ur time with these people!!
7 months ago James Adams
Went in for interior clean today and am very disappointed. They only cleaned the front seats. Not even vacuuming the back seat. Nothing was touched in the back area at all. I even found some old receipts in the seat. I tried calling to complain but no answer so far. I will never go back. I was charged $41 and all thet did was vacuum the front and wipe the dash.
7 months ago Priscilla Carroll
I paid 30 dollars for the Best Wash .. When they were finished I got to get in my truck and the outside and the inside was still dirty nothing was wiped down and the rims still had dirt on them.. I do not reccomend this place at all.. Horrible Carwash
8 months ago Shawpon Raj
They for me and my CHILDREN in and out with no PROBLEMS, the team was very fast and CAREFULLY HANDLING MY OIL CHANGE AND AIR IN THE TIRES, thank you so much and GOD BLESS!!!!
8 months ago Betty Fennelly
I have a Tahoe. No it did not get clean. Before it dried I wiped it down myself and found so much first on it. Slow the rollers down and let the carwash do it's job.
7 months ago David S
Do not even waste your money or time!
10 months ago Issac A
Did a good job and very cost effective.
7 months ago Andrew Fullerton
The employees do a great job! And because of the carwash packages they offer i can get the exterior and tires cleaned every day of the month for a very reasonable price!
2 months ago Rachel Nichols
I noticed the manager plays the game of favoritism. Washed and cleaned my truck pretty good. One women was both polite and mean so I assume a bad day I guess?
7 months ago Tharani S
It's 97 degrees and they expect you to sit in the vehicle while oil is being changed. 3 minutes sitting in the vehicle while it's off, I begin to sweat. Now I do understand the current issues with Covid 19. However, you will think it will be allowed to sit outside with proper air circulation away from anyone, keeping social distance in place.
2 months ago Candi Gibson
It was horrible the machine was not working correctly and the workers there half wiped your car it is not the place to take your vechicle.
7 months ago Murali Srinivasan
Good service on my visit
5 months ago Chelsea Holleman
A horrible wash job. Wanted to charge me more money, when I had paid to have my car cleaned by them. Manager was rude. They have horrible service, because they don't do quality work. It's not worth your money or time. Will not recommend service by this company. Not a professional service and you can take your car to the car wash stalls and clean it better yourself. No more car washes for me here.
10 months ago Simone Roberts
Really did a great job ????
6 months ago Alex Bender
Absolutely wonderful! Fast, inexpensive but great quality! Had oil and air filters done and a car wash with vacuum!
3 months ago Jonathan Moore
It is the best car wash ever!!! The workers are amazing! They sanitize the inside of your car too to protect against COVID-19.
2 months ago Team Cavenago
Quite possibly one of the worst car washes I've had. Didn't even get the bugs or road dirt off. But I'd waited so long I just left. I saw others do the same.
5 months ago Haydeekinz Lover
Only have good cleaners on the weekends
7 months ago ThinThuThu Aung
They do a good job most of the time.
1 month ago Timothy M
Got an oil change at Mobil and a free interior and car was after behind the building ☺ people were nice and did a good job on my car.
4 months ago Carlos Oliveira
I HAD an 'Unlimited car wash' where I pay monthly for 'unlimited' car washes as I want. Today, I went to the Mainland Car Wash and went thru, but near the end, the machine dumped a big load of soap suds that was not rinsed off. When I drove over to the drying area, even those employees looked at the finish and made a face. The suds had dried all over, streaking my dark vehicle like crazy. No way they could wipe it all off in that condition. They told me to drive over to the entrance again and it would be re-washed. The one guy that's always there to scan my wash club sticker said no problem, but then his boss came over and asked ME why my vehicle didn't rinse off. Four or five months ago, this same 'boss' jumped onto drying a Mercedes that came to the drying area after I had been waiting there first, I suppose thinking he would get a great tip. (I always tip 8-10 dollars, so I'm not cheap.)So that previous time, I asked to go thru the wash again, because the spots were dried everywhere by the time he finished the more desirable Mercedes. I did go thru again that time-and this was just once previous to today's fiasco. The boss today apparently remembered me from that months ago time and stated that I 'always want another free wash' but they would wash it again only one more time. So I cancelled my monthly 'Unlimited Car Wash' for their terrible customer service from that one person. Unlimited means unlimited if the damned machine didn't work right, or if I-the customer paying for a good job-don't think it's clean. The owner should consider his monthly losses from that one guy with a bad attitude. Sorry I tried to 'Keep it at home' and support Texas City employees. Like the boss guy told me 'Hasta la Vista, baby-hasta la vista!'
8 months ago Vicki Jackson
Sad to say you have a thief there at the Mainland Car Wash in Texas City. Yesterday I had left an auxiliary cord wrapped up nicely in a compartment in front by the cup holder and it went missing while the car was being cleaned. When I asked about it, the man in charge looked for it and of course it was nowhere to be found. He said they would check the cameras and to come back later. It's not that the item was expensive or not, it's just that they have to take something that doesn't belong to them. So disappointed.
5 months ago Iryna Sholudko
It was not good sorry
3 months ago Andrew Olim
Worst car wash ever. Spent $80 for a full detail. Had to get them to cleaned roof over and all of my doors I had to clean myself they are happy to take your money with no sense of pride in work. Had to clean around the wheel well also. Poorest detailing EVER..
8 months ago Juan Soto
Went to get a wash and vacuum and they left the back dirty! When I handed the tip before I noticed they ran off before I could inspect my vehicle!! Will NEVER go back!
1 month ago john vance
If you are going to charge top notch prices, provide top notch quality. SPLISH SPLASH in Webster charges less for a better job. Stop hiring these young kids to do the job if you cant teach them to provide quality. I should not have to clean up your mess after paying $45.00. SPLISH SPLASH provides double the quality and charges $25.00. Thumbs down.
4 months ago Adam Sterenberg
Quick , speedy car wash and wax. Efficient staff and courteous service. Affordable prices. Easy access from Palmer Highway in Texas City , Texas.
4 months ago Riley Grant
car was not vacuumed AT ALL..windows was still dirty it was just TERRIBLE. Only way y'all will wash my car again is when I get a FREE car wash cause y'all are not worth the money AT ALL.
4 months ago Hassan Nawaz
9-9-19 Today I had 2 cars washed and had to send both cars back. However one of the guys who wiped down one of my vehicles was really helpful while the others didn't have a care in the world. I spoke with a manger and gave him a compliment because I didn't want him to take a hit for someone else's negligence.
4 months ago Marco Tena
My grandma can do it fast and just as good. The detail people like to goof off and get on there phone to much make it a longer wait than it should be for the customer
4 months ago August Grant
A little pricey for the effort.They get your car cleaned. Their equipment looks like it's 50yrs old. I would hire private detailer for a professional look.
4 months ago John DeFabio
Friendly service. Did a good job cleaning inside and out.
6 months ago Lonnie Laster
Great work
6 months ago Josh Bosma
Good job dru9
1 month ago S S
Half fast work for what you pay for. I drove to another SPOT to get the rest of the bugs off and windows cleaned.
4 months ago Maria Giotopoulos
Tried to get the Interior Clean Wash advertised for 29.99. For some reason the guy told me it would be 49.99. I pointed out the sign and he then agreed to sell it to me for 43.99. He would only be satisfied if I bought a monthly plan so I left. Went to Grand Slam.
2 months ago Maria Baldari
Very disappointed very poor service went and had an oil change and to get my car detailed what they lacked to tell me was they had no one to do the details and made me wait for ever till I inquired about it then they tell me I have to give you your money back why didn't you tell from the start
8 months ago Kendrick Webb
Total Rip off!!! I went there in 2/27/19 and the lady as soon as you drive up she is a bit young and very smart mouth told me one price for the detailing which was 48 something and said they can clean my seats to then I get in my car after everything is done my car is not cleaned still trash under the car seat !!! Oh and they never moved my stuff in the seat just got home and seen more trash in the seat ha this place is a joke and then the lady who is very smart mouth came in there like she was going to fight me!!! She was like what did I say excuse me what did I say??? Walking up on me very fast !!!! I told her she better simmer down and asked why did she tell Me something false and my car is still dirty ?!!! She started arguing with me and I asked for the manager it took them forever to get one by the way so the manager comes out and he doesn't even look like he cares and tells me I'll give u free car wash and indoor clean as well ! All I wanted was half my money back and they said no refunds I'm looking all over the shop like where does it say that at ?!!! I could have went to blue wave and cleaned my own dang car out if it was going to look like that!!! Very upset and will never go there again! I hope this place goes down and I will contact the owner tomorrow about this as well!
8 months ago Sharon Vasquez
Tried to sell me the highest price package, and then said part of it was extra charge, contrary to signage! When wash finished, and hand dry stated finished, found front grill, back hood and bumper still wet, and smudges on most windows from towels. Not very good customer service if you ask me!
4 months ago Michael Perez
Excellent service if u want to have the best vacuum tip them so they can be energized to do it way better then they normally would 5 out of 5 stars
6 months ago Anas Benali
They do a poor job of finishing your car. The guy who was supposed to be finishing my car was so busy looking around to see what was going on with the apparent manager he couldn't focus on his job. If you are watching them finish your car. make sure you check the hidden from view side/sides of your car. No excuse for dirt on wheel or dirt dried on body. I was in a hurry or I would have made them correct the problem. Go at your own risk.
2 months ago Robert Wessel
Had to go through the MACHINE wash 2x. Its really hit and miss with this place as to whether or not you get a decent job. Hand wash jobs have not worked out for me here and lately, even the machine wash has done a crappy job. Went yesterday, the water smelled like sewer water. After running through the wash and 2 employees hand wiping it dry I looked at it and the top and hood looked like it hadn't been touched. Ran it through a second time. Looked much better. Got home and cleaned around windows, insignia, trim myself.
10 months ago Zeina Shahbandr
We took our truck their this past weekend after parking under a tree and the birds left presents for us. We needed an oil change anyway, so I asked my husband to take it in and get the oil change and get the truck washed and detailed. While the inside looks really nice, there's still remanants of bird droppings on the truck on the outside. They also didn't dry it well, because it had tons of water spots on it. In the future, we'll take our business to Grand Slam Car Wash in League City. They never disappoint us.
2 months ago
Popular places from the category Car wash