Memorial Village Emergency Room
Emergency room Memorial Village Emergency Room, 14520 Memorial Dr # 4, Houston, TX 77079, United States:
220 reviews
of users and employees, detailed information about the address, opening hours, location on the map, attendance, photos, menus, phone number and a huge amount of other detailed and useful information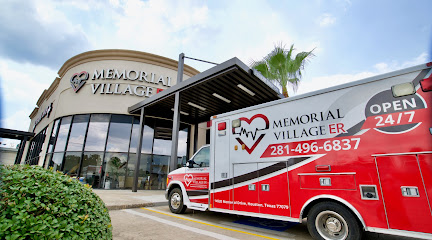 Address:
14520 Memorial Dr # 4, Houston, TX 77079, United States
GPS coordinates
Latitude:
29.7705503
Longitude:
-95.6040345
Location on the map
Reviews Mary Abboud
This was very easy to get our Covid test for travel completed. I appreciate their commitment to have those waiting and filling out paperwork to do so in their car. Sadly, we were too late in the day for the drive through service, but it didn't make it a worse experience. Great job and good service.
4 months ago Dreeka Faggans
This place was great I came to get Covid tested for travel purposes and my nurse Kim was super gentle when swabbing me nose. She had great bedside manner. If I ever have an emergency, I'm coming here and asking for Kim. The clinic itself was very professional. The staff was kind
4 months ago ripika kapoor
I went in to get Covid testing the other day. Process is super smooth and quick. Kim and Isaiah did a really good job.
4 months ago Yi Xiang
I'd gotten covid testing with the utmost care. The faculty is on point. Nurse Kim is nice and comforting. She's very informative, putting my mental state at ease.
4 months ago Makala Griswold
I took my kids to get covid tested to take a trip, the staff was super nice especially nurse Kim. She was able to calm down my son and walk him through the whole treatment.
4 months ago Marc Perreault
Quickest and easiest drive thru Covid testing I've ever done. In and out in less than 10 minutes and the staff was SO friendly!
4 months ago Dan Bradley
Came in for a covid test and nurse Kim was super nice and caring. She is very knowledgeable and addressed all of my concerns.
5 months ago Pavielle Wuerfele
Going on vacation soon so I recently came to get covid tested and received wonderful service! Nurse Kim was a pleasure to talk to and made sure I was taken care of in a brief and friendly manner.
4 months ago Social Butterfly
Dr. Ryan and my nurse Brittany were amazing. I came in with the worst foot pain ever. After spending a a couple hours there, I went home but I knew I wasn't 100%. Dr. Ryan called me three times to check on me since I was visiting from out of town with no family here. That meant the world to me since I know she's extremely busy with patients. They really make you feel at home. I'd recommend this over a traditional hospital any day of the week!
4 months ago Boris Feldman
I got a Covid test done here and nurse Kim did a really good job
4 months ago Dometria Dixon
Amazing!!! Got my covid test done at this location and the nurse practitioner kim did such a wonderful job helping me.
4 months ago jimmo lee
I dislocated my elbow today and I went to Memorial Village ER for treatment. The care I received there was wonderful. Everyone I met there, from the front office staff, to the nurses and doctors were so compassionate and caring. There were very informative on treatment options and treated me quickly. I'm so glad I chose to go here instead of a hospital or other urgent care place. I highly recommend them!
5 months ago Myrtle Webb
The staff and Nurse Kim was really kind and helpful when i came for covid testing. Place is clean and professional.
4 months ago Justin Tillman
They drive up Covid testing is very efficient.
5 months ago Dhan
Everything went well. Troy my nurse did an amazing job. He took great care of me. The lady on the front desk immediately set me up in a room. I highly recommend this emergency room.
5 months ago Ron Lee
This place has it down. Every member of their staff is a top notch professional in every way! Thank you.
4 months ago Pinja Rovamo
Super fast and great bedside manner. Everyone was so kind and caring. The doctor was matter of fact and told me what I needed to know without being condescending. Great service. Glad to have this facility so close to home!
6 months ago MANISH TIWARI
Nurse Troy fixed me all up, he was so funny and nice. He had amazing jokes AND he fixed my migraine. I plan on coming back for all my emergent needs and recommend you asking for him when you come in. Bella- 11 years old Nurse Troy treated my daughter amazing and made her smile and feel completely comfortable from the moment we got into the room. To see her smile after hours of crying in agony made this so worth it! 10 stars at least! Melisa- mom
8 months ago Richard Ross
I needed a last minute PCR test to catch my flight and this ER delivers! Same day PCR and I got it within a few hours. The nurse Kim helped me out and answers all my concerns. Totally recommend.
4 months ago David Goldberg
I'm new to Houston and I was very nervous about going to the hospital because I haven't been to a hospital here in Houston before but as soon as I walked in a I was greeted I felt welcomed Nurse Alexis did a great job she took care of me and was very sweet. All the doctors are very sweet I definitely recommend Memorial Village ER.
5 months ago Dana Rowland
Troy did an amazing job with me today he made me smile even when i was down but I would recommend you come here
4 months ago lele g
inaccurate lab and irresponsible service! I took my husband there over the weekend for fever, they ran a CBC and it was not accurate and they had to repeat it and the lab results were completely different. There was also a test they ran but after the blood was drawn, the nurse then told use oh this lab will be picked up by Quest and not ran here. We called 2 days later for the lab result, the lab technician initially told me the blood sample was sent out on the day you were here, then I told then I already called Quest, they do not have specimen, then she told me on a long hold and then came back and told me sorry the blood specimen has not been picked up for the past 2 days. so the blood specimen has just been sitting there for 2 days. This is a facility where patients' health are concerned, this type of inaccurate lab and irresponsible pick up of blood sample is very disturbing and this ER staff needs major training and is reflective of very poor management. I feel bad for the ER physicians who work there and have to deal with this type of facility and management. Lab equipment need to be maintained regularly and courier services for lab need to be set up automatically and checked daily. I am a physician myself, I would never recommend this ER to my patients nor would I take any of my family members there again!
5 months ago John Robertson
My wife had kidney stone, we wait over 2 hours in Memorial Hermann hospital which was ridiculous, she was so much in pain and vomiting and she won't able wait anymore, so we decide come here from hospital. They took us right away in the room, they gave her morphin for pain, preform Cat-scan for kidney stone and give prescription medication. While we wait for Cat-scan she was able to took nap in bed for 2-3 hours. Doctor Elaine Ucbamichael was great and kind ! , I highly recommended this ER location !
5 months ago Luke Kikukawa
I just want to say thank you so much for helping me when I couldn't find help. I had been to 3 other hospitals trying to get help. The staff, doctors, that I came in contact with were very compassionate and kind. I had been miserable since 12/2020. It wasn't until I went to this hospital, I now have a plan of treatment. They were quick and efficient. I wholeheartedly appreciate all of you. Thank you so much. Thank you for answering my prayers.
11 months ago Jesse Fisher
Tiffany was amazing at the front desk with being understanding to my situation and finding alternatives ways to help me find my information in the reception area. Plus Raquel in the radiology department was quick and attentive to my needs. Also she was very informative on certain things I didn't know . The entire staff is truly amazing and a blessing to help me.
8 months ago k s
Alexis was awesome and doctor gartzman was amazing too!
4 months ago Aleks Fefelov
Came in expecting chaos. I simply can't stand hospitals and doctor offices or the experience in general. I end up wasting my day. Elvira made it simple!! She explained everything I was supposed to do step by step. She was so nice and accommodating and I didn't waste my whole day! Thank y'all so much!!
8 months ago Marty Kahler
Sean was so helpful and kind! He made the testing process very easy for my daughter and I. Even after dealing with a person honking and waving him down in the parking lot he was still professional and courteous. Thank you for getting us in and out swiftly!
8 months ago Nick Ryan
Troy is literally the best!! He was very reassuring and made me feel alright with everything going on. After a couple minutes of just meeting Troy, you can tell how great of a care taker he is and how he really cares for his patients. Anytime I need medical attention, I know I'll be taken care of here for sure!
8 months ago Todd Beckman
This location is the best place to get your Covid testing! They are so organized and extremely friendly! Sean and the whole staff is so helpful. I tell everyone to come here!
7 months ago Patricia Uram
Honestly very very friendly staff!! Super helpful, respectful and patient. Would definitely recommend! If I could give more stars I would..as you don't places like this often. Also very fast and well organized COVID testing.
3 weeks ago Nicholas Riordan
Elvira and Cindy were so great. The swab was harmless and gentle.
4 months ago Monica Ray
I highly recommend Memorial Village Emergency if you are need of medical care. The facility is clean and comfortable. The doctor and nurses are very caring. Nurse Troy was especially helpful with making certain that I was comfortable and made sure I had all of the essentials I needed for my case.
10 months ago Cherry Dayzz
I could not be happier with how gentle and amazing Sean was with me and my family this is not our first go round at being tested and my 2 little girls 5 and 6 are terrified of having their noses swabbed due to previous experiences they were crying and upset as soon as they realized where we were, but Sean talked to them calmed them down and let them help and be comfortable and they said it only tickled this time and was even laughing by time Sean finished their testing. They said for now on they only want the tickle test. Even for myself and my son that was with me was the most gentle COVID test I've had. Thank you Sean you were amazing.
7 months ago Brian Bruno
Took my son to get tested for Covid before going back to school. The Nurse practitioner named Kim was very nice and made my son feel safe throughout the whole process. Would recommend requesting her if you have an anxious kiddo.
7 months ago Sue Harness
They took such good care of me. Definitely did not feel like the typical ER environment. I was admitted quickly and made to feel very comfortable. The doctor was very nice, the two ladies assisting were so sweet.
10 months ago Anna Henschel
Quick easy friendly staff. Fast results
4 months ago Jon Adams
Everyone here was friendly and courteous. Nurse Troy was very informative and funny. Dr. Rawat explained thoroughly of my course of care. Rad Tech Raquel explained and took my X-ray quickly. I wouldn't definitely recommend anyone to come here for any minor or major care. Thanks!
8 months ago Annabel Humber
Excellent no hassle place to get covid testing. Fast and efficient without leaving your car. Nurse Kim was very helpful, organized, and made sure everything was being taken care of.
8 months ago Aliyah Brown
I had to bring my son in and it was a great experience. We were especially impressed with an employee there named Elvira. She was so professional and made our time there easier.
9 months ago Jeff Klott
This place is the best place to get a drive up covid test. They are so efficient and the process is super smooth. Keyara was very gentle when she did my nose swab- it wasn't bad at all! This is my second time coming back here, and if I need another test I would come back again.
8 months ago judy layne
Troy was literally the best nurse you could ever have. He makes you laugh and smile when you're feeling low.
4 months ago Sam Brooks
These folks have perfected their craft! Everyone was super friendly, super nice and very courteous! The young lady that did my nasal swab took that extra second to explain exactly what she had to do, and as apologetically as she could she did the swab. She didn't just jab it in my nose and say next..... she was wonderful! This is the best place! I highly recommend Memorial Village ER!!!!
11 months ago Flor Almanza
Tony was so nice, caring and took great care of me. The whole team was sweet. Made me feel good when I actually felt so sick. Definitely recommend!
11 months ago Douglas Schaffer
The facility is clean & beautiful. The staff is friendly and helpful. Dr. Burger and his nurse, Alexis, were very professional and thorough. I felt like Dr. Burger spent lots of time listening to my issue and sincerely wanted to help me feel better.
10 months ago Rachel Ratcliffe
The staff was very friendly and immediately started my treatment. Fastest er I ever been to. Troy and Doctor Burger were very informative and made sure I understood everything before they sent me home. They answered all my questions and concerns with clarity. Thank you!
8 months ago Arash Irani
I got my drive through Covid testing here and Kim the Nurse Practitioner here was very thorough. She was very helpful in explaining the process, in and out very quick! Highly recommend!
7 months ago Kourosh Kianizade
Got right in and out. Great doctor, listened, explained in detail and Nurse Troy is the best ever!! Thanks for taking care of me.
7 months ago Jason Thomas
I went on 12/31 to get tested and there must have been 50 others doing the same. The staff had a well tuned process and it took less than 20 minutes to get tested. Best thing is to complete your paperwork inside your car and then jump in line. Don't let the long line scare you, because the ER team moves quickly. Each team member has their own step and it goes by super fast. Way to go MVER Team!
11 months ago gigi vazquez
Alex was quick, attentive, kind, and patient! It was an easy process to get tested. I recommend coming here if you need to get COVID tested.
8 months ago
Popular places from the category Emergency room