Fyber Gaming and Repair Center
Internet cafe Fyber Gaming and Repair Center, 731 Brookside Dr, Lansing, MI 48917, United States:
41 review
of users and employees, detailed information about the address, opening hours, location on the map, attendance, photos, menus, phone number and a huge amount of other detailed and useful information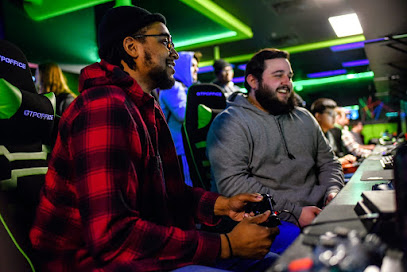 Address:
731 Brookside Dr, Lansing, MI 48917, United States
GPS coordinates
Latitude:
42.7419566
Longitude:
-84.6477933
Location on the map
Reviews Desiree Andrews
First time here, and I am suprized at the size and how many system they have for gamers. Friendly stay and great prices.
3 months ago Todd Poulin
Helped me pick parts for my own Gaming PC and constructed it in 1 day at a very reasonable price. Incredibly kind and knowledgeable staff. Would recommend this place to everyone!
3 months ago Sheila R
Fyber gaming is the best place HANDS DOWN! They staff there are incredible, welcoming and truly care about their patrons. My kids love the place and As a community organizer I have had the opportunity to hold events at Fyber gaming. In addition, I just got my PC repaired there and since I have gotten it back it has worked FLAWLESSLY!!! This place is amazing!
5 months ago Trevor Goodson
This is the second day in a row that my friends and I have come here! There are two sections for VR, perfect for dueling in Beat Saber. Fyber is a lot more spacious then I thought it would be, and I'm pleased to see that they're taking wearing a mask as well as utilizing appropriate sanitizing procedures due to the pandemic seriously. Very assuring to see everything being cleaned/wiped down before we touch it as well as the huge sanitizer bottle at the front counter. This is a really great place - I'm excited to bring more people here in the future as well as see more people here once the pandemic lessens up. Seems like it would be a sweet place to meet more people!
7 months ago Sofia Kotelnikova
They did a great job working on my PC for a great price.
4 months ago ANGELA NELMS
Went with a party of four. We had a really great time, prices were very reasonable. Attendant was very polite and helpful.
7 months ago James Burkett
Great place to take family for gaming fun. Staff friendly games exciting and equipment is new and state of the art.
4 months ago Tanayah E
Great place to Game, I had a lot of fun there! Their prices are cheap and affordable. The PC's are high-end, they also work like a dream. I was using a variety of games to test the Gaming PC out. It worked really well! Thank you Fyber! I will come back again!
2 months ago Holly Stewart
Great people very knowledgeable and great prices
4 months ago Gavin Macdonald
The folks at Fyber are amazing with software repair. They got my system up and running within an hour or so. The staff is wonderful and the price was very reasonable for a complete format and reset.
11 months ago SEO stacy
It was amazing a great spot to hang out with friends and play games with them but bring extra money for drinks and food great place.
2 months ago Rebecca Treadway
Called yesterday to ask if they sold processors and they said they only do repair. Called today to get a quote on a possible repair. Someone on the other end picked up the phone and hung it up. Tried calling a couple more times with the same result. Tried calling again and it goes to voicemail after a few rings. Apparently renting computer time must be a lucrative business during a pandemic when they don't have any physical inventory and don't even have the time to answer the phone to say "Fyber Gaming and Repair, please hold"
1 week ago Robin Neibert
Highly recommend for any gamers and families all-around. Chris and Dan will go beyond expectations to help anyone. Great prices for computer repair as well. If your near the area check these guys out, awesome spot.
5 months ago Robin Cote
Great clean place????
3 months ago Rosalyn Harris
Very easy access right off Saginaw, plenty of parking. Prompt attention from Dan, he took my laptop, listened well to my issues and diagnosed within minutes. To top it off, when he did not have the part in stock, he looked up where I could order it directly, for a third of the price it would have been at the huge store down the road. I sure hope it will be a good while before I need a computer service again, but for sure this will be my first choice.
3 months ago C Rae
Well supplied and well run with excellent and helpful people
7 months ago Amelia Miller
Great service and quality computer repair!
7 months ago Melissa Bernheim
We had a computer problem, so we brought it in for a diagnostic. They quickly figured out the problem. Great service, nice people, fantastic gaming shop! I highly recommend Fyber.
4 months ago edward wilson
We had my son's 11th birthday party at Fyber Gaming and it turned out to be his best birthday yet. My son and his friends talked about how cool this place was all day! Both Chris and Dan were extremely helpful and easy to work with. They take pride in their business and it shows; only wanting the best experience for everyone by providing the top knotch equipment and service. Thank you guys! You made my son's day so special.
4 months ago Heather Ormon
Love bringing my kids here.
9 months ago Seth Mcclanahan
These guys have Bawls.
3 months ago Misti Libby
I had a laptop I needed fixed. And they did a fantastic job and did it in a quick time. I am impressed with this place.
6 months ago Bettina Lee
Staff is knowledgeable about computers without being condescending which is rare in people that talk shop.
3 months ago Cyrus Mahn
This was an amazing experience as I had a lot of fun playing on the PCs, the staff was very friendly and welcoming. Thank you Fyber Gaming, will definitely come back next time!
5 months ago Harold Monroe
My son went to a friend's birthday party here and had a great time! The value you get for your money is unbeatable. We highly recommend it!
4 months ago Joseph Goodwin
VR was awesome! My son and I both had fun. Super reasonably priced... and gaming tourneys! Most definitely recommended.
4 months ago Greg Park
Went there with 10 kids for our 12 year olds Birthday party!!! Stayed for 2 and half hours and we had a blast. Dan and Chris were extremely helpful and I must say patient with us. (We knew nothing about VR gaming) Very reasonable pricing also. Definitely going back over Christmas break.
2 months ago Jeff Mueller
This place is awesome! My teens had a blast, they are begging me to take them back! The owners are great, friendly and very helpful!
2 months ago madhuri rajput
Took my PC in for a corrupted SSD and they had it fixed by the end of the day
10 hours ago gayathri pandurangan
Best service! Kind employees! Best selection of games and the childless vibes everrrr!
2 months ago Randy Rowe
This is a really cool spot to do some gaming and you can try out some virtual reality games too. Good pricing.
5 months ago Sandie Nadelson
Awesome! I went here and everybody was nice. The VR system was great ????.
4 months ago Roy Edwards
Amazing atmosphere, I was very impressed with the nice staff and meets all my gaming needs!
4 months ago Micah Harris
Awesome service an game play! Everything up to date an clean!
4 months ago Proline Services
Great prices, awesome atmosphere. Perfect place to get some gaming in!
4 months ago Shawndela Isom
Very cool place, the vr is very fun. Deffinately going back!
4 months ago Meredith Scott
I grew up going to LAN centers and this place does not disappoint. LOVE the VR stations and the PC's are great!
5 months ago DonnyFrusciante III
Every time I am in Lansing I try to come here. Such a fun place and the owners are really nice and helpful!
4 months ago Island Legacy
Good place for computer repairs!
4 months ago Dugvk Hech
The place to be for computers and gaming events in the greater Lansing area
5 months ago Mike Andrew
Great place!
5 months ago
Popular places from the category Internet cafe