The Lipp Law Firm, PC
Employment attorney The Lipp Law Firm, PC, 4000 Legato Rd Suite 1100, Fairfax, VA 22033, United States:
43 reviews
of users and employees, detailed information about the address, opening hours, location on the map, attendance, photos, menus, phone number and a huge amount of other detailed and useful information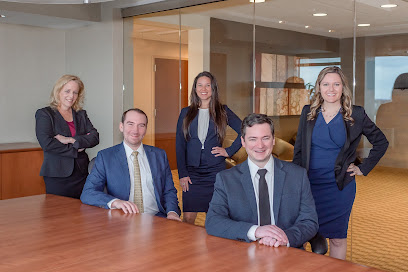 Address:
4000 Legato Rd Suite 1100, Fairfax, VA 22033, United States
GPS coordinates
Latitude:
38.8657990
Longitude:
-77.3651920
Location on the map
Reviews Matt Fleming
I received excellent legal representation from Katie Lipp. I emailed about an employment issue, and Katie Lipp responded immediately. We set a 30-minute consult for the next day. During the consult, she listened, asked questions, provided thoughtful suggestions, and left me fully confident in my path forward. In our Zoom meeting and through our exchange of emails, Katie was responsive, professional, and positive. The issue went away quickly, as we expected it would, but in the meantime I felt I had solid legal counsel on my side. On top of the great service, Katie was always pleasant to work with. I highly recommend her.
9 months ago C H
I went through a really difficult situation with my last employer that left me completely distraught. I felt hopeless and only sought help at the encouragement of my husband. So I contacted the Lipp Law Firm. David Moon and his paralegal, Eileen O'Leary were assigned to my case. They were not only incredibly compassionate towards my situation, but they fought hard for me. They were strong advocates on my behalf and made me feel cared for and defended. Every time I had a question or concern they would respond immediately and were excellent at explaining the legal process. I always felt heard and like I was in control and able to make decisions about my case. The outcomes of my case were a complete win for me, and I could not be more thankful for their dedication, professionalism, and kind spirits.
7 months ago George Wade
My experience with Katie was a breath of fresh air, and far different from my experience with other attorneys. While others have proven rushed and impatient, Katie offered her knowledge and legal savvy, as well as empathy, patience, clarity and care. I'm grateful for her honest, human approach.
8 months ago Ryan Ames
If I could give half a star I would. I thought this firm was going to be a higher quality when I first spoke with them. But instead they used poor judgement and changed their tune as to what they can actually help me with, ironically after I had already fished out thousands of dollars. And the complete and utter disregard for clients items and documents used while they were hired is egregious. I have never had to chase a law firm around to beg to get documents returned to me. It has been over 2 weeks from them first saying they were mailing them and I have still received nothing. Which has completely inconvenienced my situation and put it at a stand still which has cost me thousands of more dollars because their negligence at doing their job has caused more stress then can be explained. I would not suggest this firm if you are expecting legitimate service and professionalism and integrity. Such a waste of valuable time and money and so incredibly arrogant and disrespectful. They will only act like they care and pretend to put in effort if you're actively paying them, and they will find ways to squeeze as much money from you as possible and if you choose to no longer hire them for your services they will push you aside and treat you as though you are no longer any of their concern. All they had to do was send documents back, but the amount of difficulty I have had with that has made a bigger nightmare for me. I wish I could go back and get my money returned and have never hired them. A complete waste and any other kind of service field would refund clients who get treated and serviced this way. Arrogance is unprofessional.
10 months ago Joseph Ovady
Kathryn is a wonderful person and professional. She gave me the honest feedback and perspective I needed to understand my circumstance and choices I could make. Her transparent, honest and calming demeanor made me feel safe to open up at a time when I felt my most vulnerable. A great advocate to have in your corner!
1 month ago Keyona Thompson
We chose the Lipp Law Firm for their overwhelmingly positive reviews. Their outstanding reputation is absolutely deserved! From our first interaction with Katie it was clear that she's sincerely passionate about her work. Her genuine and thoughtful approach assured us from the start we were in good hands. She maintained excellent communication throughout, and her highly informative recommendations were equally outstanding. We couldn't have hoped for a better guide. There's no doubt Katie would be our choice should we ever need assistance again. She has my full and complete confidence and recommendation. Thank you, again, Katie and the Lipp Law Firm! -Tim
4 months ago Munira Amdavadwala
If you have any labor or employment issue, Katie Lipp should be your first phone call. Her thoughtful approach to each matter delivers a great value to her clients. I would refer my own clients to Katie knowing they would be in good hands.
1 month ago Lisa T
Kathryn Lipp, the owner and founder of The Lipp Law Firm is a top-notch attorney who is knowledgable, responsive, and empathetic. I recommend her for your labor and employment law, commercial litigation, and corporate law needs. Plus, she provides flat rates for certain matters!
11 months ago Bobbi Ott
The Lipp Law firm is the epitome of professionalism. Katie Lipp is caring, passionate about what she does, and a true wealth of knowledge. I knew instantly I was in good hands and appreciated the fact that as a small business owner, I never felt like a second-tier client. Katie promptly answered all of my questions, eased many concerns, and held my hand during a difficult situation. For those reasons and more, I am forever grateful.
6 months ago BIG C
As I organizing my new law firm, Katie and Ryen were spectacular. They were efficient and cost-effective while providing great service. I would certainly use them again, and I definitely recommend!
11 months ago Brian Lentz
Terrific experience! Lipp Law was able to listen to my needs, dial in a strategy fast, and explain the processes at all times. Extremely responsive and keeps costs low. Would highly recommend!
1 month ago Katie Salivar
Our company recently hired the Lipp Law Firm about a contract and business matter. The discussion about our options and how we should proceed was well thought out. This issue was resolved expeditiously and without significant cost to the Company. Attorney David Moon provided excellent insight and advice and his litigation paralegal, Eileen O'Leary, was professional and responsive with updates and the Company's requests. Lipp Law provides a great service to its clients and the value of their counsel is outstanding. Bruce Kudeviz, CFO Knovos, LLC
9 months ago Veronica Rogers
The Lipp Law Firm greatly helped me out with my needs in a crunched timeline. Kathryn gave me a call, discussed the case requirements, promptly completed the work, and otherwise resolved my issues kindly and efficiently. It was a welcome relief to work with Kathryn. She put me at ease, eliminating my stressful situation 100%.
1 month ago Bruce Maclean
I have engaged Sarah Mugmon in complex research and analysis-intensive projects with tight deadlines on multiple occasions. Despite plenty of alternative attorneys to choose from, Sarah is always my first choice because I know that if she takes on the project I can put it out of my mind and move on to the next thing with the confidence that she will deliver. The solutions she offers are always more compelling and creative in approach than what I envisioned success would ultimately look like on a given project.
2 months ago Chatona Banks
Our firm has worked with Sarah Mugmon to make sure that we are in compliance with DC employment laws. Sarah is extremely knowledgeable and professional. She took the time to understand our company needs, and offered thoughtful recommendations that produced an excellent work product. I would highly recommend Sarah.
5 months ago Robert Rosendo
Ms. Lipp and her associates are all so professional, respect, and responsive. After just one meeting with them, I immediately felt comfortable and in good hands. They all understood and appreciated my needs and made sure I was always taken care of. I highly recommend!
5 months ago Nick Evans
Eileen is very professional, knowledgeable, responsive, honest and absolutely a fair person. She helped me to understand my case. No beating around the bush. She was very punctual and quick to response. Thank you so much for all your time and assistance. Highly recommend this law firm!!!!!
8 months ago Shannon Ball
Katie and her team ran a very professional process from beginning to end. Beginning with a very clear explanation of process and pricing, her and her team proceeded to efficiently review the documents I provided to them and provided honest and straightforward feedback on how to proceed with my case. I would high recommend that you contact Katie and her team to discuss your legal needs.
3 months ago Khanh Mai
I cannot recommend the Lipp Law Firm highly enough! They came to my aid in a difficult time and through their thorough and effective communication, attention to detail, fair pricing, and care for their clients; made a difficult time for myself and my family a great bit more bearable. I would not hesitate to use the Lipp Law Firm in the future and will be recommending their services to any friends or family who can utilize the services they provide. Thanks again Lipp Law!!
7 months ago Michael Miller
I had the pleasure of working under Katie's mentorship early on in my legal career. Katie always made sure to provide me with clear guidance and advice on how to be successful in the legal field in Virginia as a new attorney. She is extremely relatable and down to earth, which is what makes her mentorship so invaluable. Katie took the time to build up my confidence as an attorney when I was entering the legal field and always motivated me to be better. Katie has built a strong community of attorneys in Virginia, and her welcoming reputation proceeds her. I could not recommend working with Katie enough. Not only will she bring the kind of skills and expertise you need in a mentor, but she will also quickly become an asset and help your career succeed in any way she can.
5 months ago Zoe Koe
Katie Lipp is a diligent and thoughtful attorney that works hard for her clients and genuinely cares about the results. She's well respected in the local legal community. And, as an attorney myself, I refer her cases. Any client is lucky to have her.
7 months ago Viren Shah
Whenever you see an employment attorney you are always on edge as your livelihood is about to be or has been effected. Katie brought such a calm to the entire situation to help produce sound decisions. Calls and emails were answered immediately or returned promptly. Again, this just tells me how Katie knows that this situation I am/was going through was very personal and important.
6 months ago Terry Tyner
I needed Katie's help with getting licensed for a future career! She was extremely knowledgeable and thorough, she gave my peace of mind and was professional throughout the experience and a pleasure to talk to!
4 months ago amy greene
I would recommend Ryen and the Lipp Law Firm to anyone looking for a professional, responsive, and highly knowledgeable business attorney. They helped me to easily get my business formed and made sure I understood every step along the way.
9 months ago T Vu
Simply put, Katie and David were helpful and efficient. It was my first time hiring attorneys and I was pleased with their work and the outcome. 10/10 would recommend.
9 months ago Lisa Meleney
Katie was a godsend for Banduri. In addition to having deep experience with the issues we were facing, her care and concern for our company's future, our employees, and us extended beyond the courtroom. Her capability is equal to her integrity and these same core values are echoed in all of her staff. I highly recommend The Lipp Law Firm.
6 months ago Lee Wafer
While reviewing a professional contract, Ryen was knowledgeable, polite and pleasant to work with. Will use his service again if needed in the future.
7 months ago Ben Wilson
Katie Lipp and Ryen Rasmus have helped me with a very unpleasant contract litigation and successfully got a very favorable result for my business. They have also helped me with copyright registration and approval. Katie and Ryen are both amazing attorneys and they always work with an outstanding determination.
9 months ago Eduardo Portas
Found Lipp Law through the Washington Area Lawyers for the Arts Organization. Ryen went above and beyond to help me work out needs with a film project. He was knowledgeable, attentive, and treated me the same way I imagine he would treat a client paying 20x more. Highly recommend this firm.
7 months ago Tony Lubbers
Lipp law firm provided excellent, straight forward and kind advice, support, and guidance through a tough transition. Their prompt attention and wise advice led to an outcome that surpassed all expectations. And, major bonus points added for avoiding stressful litigation! I absolutely recommend Lipp law for any of their legal services! Thank you so much Lipp law!! P.S. Special shout out to and gratitude for Katie Lipp and Ryen Rasmus who worked closely with me to resolve my case. Thanks again!!
6 months ago Brian March
Everyone at Lipp Law is very courteous and friendly. The staff is knowledgeable and just as helpful as Mrs. Lipp herself. I would not have any problem trusting Lipp Law with any of my legal needs now or going forward.
9 months ago haleigh burns
Ryen reached out right away with a phone call to discuss my situation, which I found so much more helpful than a simple email explanation. The rates were reasonable, and all of the follow up was faster than I expected. Really appreciate it!
7 months ago Garry Kern
Katie Lipp & David Moon were experts at navigating an uncomfortable situation to a positive end. Wonderfully responsive, extremely knowledgeable, and very caring. Their work is personal and, as a client, I felt very supported and kept in the loop. Hated to have to need them in the first place, but loved that they were in my corner.
7 months ago Natasha Pajak
Ryen Rasmus, at the Lipp Law Firm, was knowledgeable, helpful, responsive, and timely. I appreciated his service, and am happy to pass along a 5 star review without reservation.
7 months ago Darnyell Wilson
My Organization has worked with Kathryn Lipp for years and in fact followed her to Lipp Law. Katie and her team are genuine, down to earth, precise, great communicators and make it easy to navigate through employment law issues with confidence in their knowledge.
7 months ago Maryam Enjavinezhad
I had such a positive experience with The Lipp Law Firm. They were very responsive, professional and went above and beyond to make sure they met my needs. I will definitely use them again in the future!
7 months ago Evelin Castillo
Very satisfied and I would recommend their law firm to anyone asking for a recommendation.
8 months ago Jail Annex
If I had to describe Lipp Law in three words, I would say knowledgeable, responsive, and professional. I have been working with Ms. Lipp for several years and trust her advice and counsel on any employment or contract issues that I encounter.
11 months ago Precious Kwame
I highly recommend using Lipp Law Firm. They are very knowledgeable and always work quickly for their clients.
6 months ago Vincent Barone
Responsive, top-shelf legal advice with a solid understanding of Government Contracting
6 months ago Caleb Barton
First class
11 months ago Dreeka Faggans
I found Katie to be highly responsive, professional, knowledgable and compassionate.
7 months ago Lena Webb
I would recommend Lipp Law Firm!
11 months ago
Popular places from the category Employment attorney