PAE Plumbing LLC
Plumbing supply store PAE Plumbing LLC, 119 S Cochran Ave, Charlotte, MI 48813, United States:
163 reviews
of users and employees, detailed information about the address, opening hours, location on the map, attendance, photos, menus, phone number and a huge amount of other detailed and useful information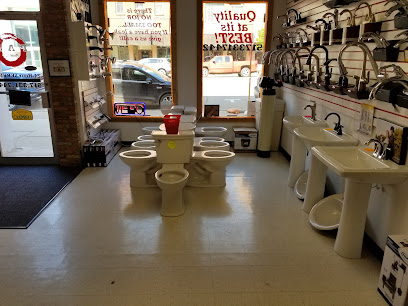 Address:
119 S Cochran Ave, Charlotte, MI 48813, United States
GPS coordinates
Latitude:
42.5633296
Longitude:
-84.8354480
Location on the map
Reviews Jodhbir Singh
The two gentleman that came and worked on my issue were very polite and professional. Got everything done in a timely manner. Was very informative as what to do for prevention. They also saved me money from what the estimate was given. I would highly recommend them to anyone. Thank you
6 months ago Madeleine Camacho
PAE Plumbing was great! We called them on a Monday, and by Tuesday they were able to have our water heater replaced. The techs that came out to service the call were fast, knew their stuff, and were respectful! Will definitely be calling these guys again!
6 months ago iman hashi
The guys got here early got the job done and where the most professional crew I've ever had the pleasure of hiring. AND They cleaned everything thing up so nicely!! I definitely will be referring PAE to anyone who needs a professional plumber. Thank you PAE, Trent and Isaiah you are awesome ????
6 months ago Jim Gagne
PAE did a great job! Staff & Installers were friendly and knowledgeable. Great prices. Very happy with the results! I would recommend them!
6 months ago Mike Veazie
PAE was recommended to us by friends. They put in a new water heater for us and hauled the old one away. The process was quick and easy, from getting the estimate to scheduling the appt. to getting it installed. We will be using them again in the future. Recommend.
6 months ago Bryan Dalton
I would highly recommend PAE plumbing. They worked hard to resolve the issue. Any questions I had regarding what they were doing were answered and explained . When they job was finished they made sure the area was cleaned up and things moved back to where they belonged. A job well done
7 months ago Erkan Anatolia
I am new to this area, I was recommended by my realtor of this company. I called and they came out when promised/timely. I had the material in house for them to install. Both josh and Devon were very professional. I asked if they were to remove the debris and they did. I would recommend to any one who needs a plumber Thank you very much. They are both working well in my Condo.
8 months ago Robert Green
I couldn't be more pleased. PAE replace my 20+ year-old well pressure tank with a new Water Worker 40/60 tank today (11/24/2020). Cameron, a mountain of a man, did top notch work. He removed the old corroded pipes/fittings and constructed a new, more corrosion-resistant system. I'm a wheelchair user and the previous configuration made it nearly impossible for me to reach the valves or see the pressure gauge. Cameron's configuration made the valves and gauge easy for me to get to. Thanks PAE and thank you Cameron.
3 months ago James Kuper
We recently had PAE Plumbing install a new toilet in the second floor of our building. Their staff was very polite and completed the job quickly and efficiently. They were so quiet that our staff located in an adjoining office weren't even aware work was being done. Thank you, PAE, for all of your assistance. Housing Services Mid Michigan
8 months ago Ethan Zhou
Thanks so much PEA, you guys came right out, fixed the problem, and we feel gave us the best "deal" possible. Dustee Patrick and Isaiah Isabell did great job and we're very nice! Thanks again!!
6 months ago Patrica Cambell
Austin and partner installed a new toilet and modified water lines and drains for a new double vanity. Right on time, super friendly and did great work. I've used PAE Plumbing for many years and they are honest, friendly, provide a consistently high level of service and are always reliable. As a Realtor, I've dealt with many local plumbers. I use PAE for my own home and family.
1 month ago Kevin Morgan
Needing some major work done on my new business and they are getting things done and moving quickly! I appreciate it greatly!
5 months ago Rj Martinez
We have always had great service from PAE! I highly recommend them for any of your plumbing needs. Reasonable prices and very polite and professional workers. Thanks Cameron and Devon, great job!!
9 months ago John myers
Dustee came and removed the old water heater and installed a tankless water heater. It was a very easy experience. The new heater is mounted to the wall. It's installed square on the wall. The lines are all neat and tidy. All the mess was cleaned up and it looks great. I will use PAE again when a plumbing issue arises.
9 months ago Aaron Cook
If you have a plumbing problem, call PAE and request Mike. You won't be disappointed.
6 months ago Olof Edlund
Trent and Nick were great! They worked efficiently but carefully. They didn't try to game the clock. Their work was solid and the cost was reasonable. We'll be using PAE Plumbing for all our plumbing needs in the future!
11 months ago Vincent K
I enjoyed dealing with PAE Plumbing right from the initial point of contact, and through the actual job itself. Both of the individuals that performed the work, came prepared, and knew what they were doing. After giving them the complete background information, they took care of business in short order. Greatly appreciated, and I'm sure that we will use PAE Plumbing again in the future!
11 months ago Lori Hudy
From the 1st call to P.A.E. till job completion everything was better than my expectations. Other companies I dealt with left bad taste, due to lack of communication. P.A.E. sends texts, emails or calls keeping me fully aware of who, what, and when to expect them. Price was fair and workers cleaned up when before they left. ???? will definitely use again.
9 months ago Tanya Gibson
The gentlemen who worked on my leaking pipe were courteous, knowledgeable and kept me informed by explaining clearly what needed to be done. They arrived on time and worked swiftly to get the pipe fixed. They advised me what needed to be done further to avoid trouble in the future.
9 months ago Connie Timmons
The guys did a great job. We will be asking for them on our next project. Thanks Mike
7 months ago Jinying Ge
Called at 8..job completed by 12 for 11:00 appt. Quick reply. Great job by plumber. Reasonably charged. Definitely will use again & recommend.
8 months ago Mel Melada
The guys did a really great job, they arrived early, cared about little details and I think left everything Cleaner than when they started. I highly recommend and will use this company again in the future.
6 months ago Ian Steele
Excellent service and quality of work. They arrived at the scheduled time and promptly conducted the work. In our case, installation of a tankless water heater (including removal of old unit) and installing and plumbing a new sump pump for our existing sump pit. They are also working on a stall shower installation in one of our outbuildings and are going to great lengths to complete the project. The bathroom is on a concrete slab and they have been jackhammering a small pit for the drain plumbing. They have been up front with progress of that project since it it taking more time than they anticipated (not a big deal in our case) and even reached out to a third party to assist in the concrete demo. Really happy with PAE.
11 months ago Kinneyn Lindar
We had 3 different plumbing needs scheduled for one appointment; one leaking outdoor faucet, one leaking bath tub, and one non-functioning sump pump. Josh took care of all three in one day and at an affordable total cost. Thank you PAE Plumbing!
9 months ago Pat Mistak
These guys are wonderful. Respectful, courteous, and fair - honest pricing. Highly recommend.
8 months ago Sheila Clark
How do you give ten stars when there's only five available? These guys were quick, professional and got the job done! And it was $100 less than the estimate... Wow! What a great business model. "On time, excellent service, and a fair price." Thanks very much, seriously. ????
5 months ago Sharron King
Excellent service and they arrived earlier than projected after calling to see if that would be okay!
8 months ago Ann Brigman
We had a terrible experience with PAE. They replaced a sewer line, and we specifically asked them to avoid a large tree in the yard. They couldn't find where the sewer line was going, so they ended up digging around 75% of the tree. We are concerned the tree will die. On top of that, they left a terrible mess with pieces of sewer line and tree roots mixed among the pile of roots. Absolutely hazardous, particularly given that young children live in the house and play in the yard. PAE's owner was rude when we called to ask what happened and just said, "I wasn't there. I don't know." Follow -up calls yielded no further response to the huge mess they left. I would advise anyone to stay away from these terrible plumbers.
9 months ago Janice Mills
PAE has done work for me on a couple occasions--they do a solid job with great customer service.
11 months ago Jill F
The service was excellent. The crew arrived fully masked and ready to fix our plumbing problems. They were courteous and took the time to explain the issues, how they fixed it, and offered professional tips to prevent it from happening again. Now, my plumbing problem is gone and it won't come back. I was impressed, offering preventative advice could mean less money for PAE, seems they put my interests over there own. That's old school. These guys were great!
3 months ago terry hays
I really appreciated them working my job in with their busy schedule. When one guys job ran into problems they sent another guy to take care of my job at a reasonable price.
7 months ago Pratik Mehta
Mike and Isaiah were very cordial and performed their repair well and in a timely manner. We would certainly recommend them to others in need of plumbing services.
10 months ago devin wolfe
Loved the work very professional affordable so happy I chose PAE for the job thanks so very much
8 months ago Rolando Austero
Josh and Devin were incredibly professional! Highly recommend PAE to anyone!
7 months ago Michelle Godinez
The guys did a great job fixing our clog and a reasonable estimate for installing a new pressure tank and water heater. I Wont use anyone else! If I could give them 10 separate five star reviews each time I'd had to use them I would. Nothing but the best service and experience with Pae!
1 month ago Richard Martin
#1 Top-Notch QUALITY ???? I HIGHLY recommend this Local, Friendly, "GOOD????PEOPLE" Family Owned PAE Plumbing business!
11 months ago David Hanks
Great company! Prompt, educated and caring.
7 months ago beth fremel
I was able to get a quote and schedule our water heater replacement virtually. They were able to come replace our leaking water heater the next day. My appointment was confirmed via text, and I got notification when they were en route. The employees were polite and prompt. They let me know of one cost that was not in the quote (a valve replacement for code purposes) up front. They completed the job well, and made sure to clean up after themselves. The quote also came in at much less than several other companies. Overall, excellent experience!
6 months ago Liz Petro
Great service, right on time, cost was more than fair. I've never used this company before but will from now on for any plumbing work that comes up.
5 months ago cory swan
On time, professional and left the work area cleaned up. Great small business!
11 months ago Kimberly Dunn
Pae plumbing has excellent customer service and employees, From Sara the receptionist to Keenan the installer and Dusty who came to do our original quote. They were all amazing and we highly recommend their services. The owner Tim, also came here for an emergency call one time. It is always a pleasure to hire these people! Quality work. They also support our military and veterans with a discount. We appreciate that!
9 months ago Asef Khurshan
PAE Plumbing was referred to us by another service company, and boy were they right on! They are very nice and easy to talk to from the first call to the office, to the finish of the project. Very knowledgeable, and they actually call or text you to let you know when they are coming, and let you know the status of the job each time. How refreshing! I would highly recommend them to anyone. We had a bit of a gas smell after the installation, so I call PAE... they came out next morning (I called late in the day the day before and it wasn't an emergency), found a tiny leak in one of the pipes and promptly fixed it. Again, with smiles and good cheer! Great Company.
11 months ago Storch Pictures
PAE did a fantastic job. They (Josh and Keenan) took a lot of care to make the final product look great. I would highly recommend them to others. In short they listened to what I wanted and delivered. Thanks guys!
6 months ago nina Rauda
We've had PAE do a couple jobs for us now. The most recent was installing a new shower/tub combo, setting a new toilet and putting the sink onto our vanity. They were understanding and worked with is to come and complete our job after we had to reschedule. Mark was very professional and personable, he even interacted with my kids both times while being in my home. I believe he had Isaiah with him as well, he was great as well. Work turned out great and done in a timely fashion. Thanks again!
7 months ago Armando Hernandez
These guys were awesome to work with. They showed up on time and did a great job of leaving things the way they found them. I would highly recommend PAE Plumbing to anyone having plumbing issues.
6 months ago John Anthony
Great job clean and professional everything works great ????
8 months ago kawther Alzaidi
The guys were here on time. They listened patiently to my very poorly articulated need and figured out what I needed to have done. They accomplished the task quickly. I'll use your company and ask for them should I need additional work done.
3 months ago Andrey Minyaev
We had sewage coming up from our floor drain in the basement, called PAE Friday morning and by Friday afternoon this was taken care of. The guys that came were great and service was absolutely amazing!
11 months ago John B
Your guys were Awsome and tackled a huge messy job in my crawl space with nothing but kindness & professionalism!! Thank you so much for your knowledge & patience with a difficult situation!!
11 months ago Nicholas Ehrlich
Dusty, Mike and Isaiah were the best. Dusty wrote us a estimate for a broken septic pipe inside the house that went to the septic tank. They were here on time we're very professional and just downright nice. Initially they said they couldn't get out here for a week but in reality they were here within three days had the job done for less than what the estimate was. I highly recommend them to anyone and will use them again Thank you PAE
5 months ago
Popular places from the category Plumbing supply store