Boomtown Vapor
Vaporizer store Boomtown Vapor, 8584 Westheimer Rd, Houston, TX 77063, United States:
220 reviews
of users and employees, detailed information about the address, opening hours, location on the map, attendance, photos, menus, phone number and a huge amount of other detailed and useful information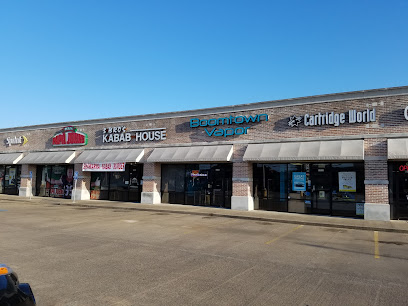 Address:
8584 Westheimer Rd, Houston, TX 77063, United States
GPS coordinates
Latitude:
29.7379925
Longitude:
-95.5150596
Location on the map
Reviews Chris Stanwood
Every worker here has over the top knowledge and superb customer service. Their products are high quality. I have owned electronic devices for over 3 years that still work. I upgrade them every year. Very clean and organized inside. All the flavors I enjoy never get tired some. And they have several if not many flavors to choose from sweet, sour, tangy, fruity, coffee, bakes, candy and many more. Check them out for sure.
7 months ago George Manisco
These guys are AMAZING! Not only did they have a replacement glass for my tank, they were super friendly and prices are competitive! Definitely worth the trip! Don't even bother with anyone else, these guys are the BEST!!!
9 months ago FTC
Always on point. Respectful and courteous. Don't try to push a sale on you. Helps find what you want.
6 months ago David Burbidge
Ive been to this vape shop twice now and both times I have been very impressed. The staff has always been very friendly and knowledgeable about their products. Today I met Ben and he went through his entire list of 0 mg flavors to find me one that is closest to my regular flavor. I do not live close to this shop, but if I did it would definitely y be my go to shop. I would highly recommend this place. Good stock, friendly and knowledgeable staff and clean!! Thank you, Ben!!
8 months ago Charlene Swanson
Great place to shop. Very nice and helpful people. ????
6 months ago Shannon Greer
Been coming here for a couple years and it's always a cool experience. They definitely know their stuff and give great advice based upon what you like. They've never steered me wrong.
10 months ago Arlo Green
Really an awesome place to shop all vapes, mods, cbd, and any juice you can imagine. I went to vape city got overpriced on a simple smok stick prince and a 60 ml of juice all for the high price of 91 dollars. At this spot I bought my mod batteries and 2 juice bottles for 60 bucks almost double the load and half the price. Be smart and shop with boom town.
8 months ago Kashif Durrani
Love it. Always has my coils whether they are smok,valkyrie,falcon, and mmore. Check here first.
6 months ago Aaron Desjardins
This vape store is AMAZING!! The owner is a gem of a man. The staff are very helpful. The guy that helped me out set up my new mod for me. They always have what I need and want. There house juice is top notch. I recommend it for anyone that is hard to please they will not disappoint.
9 months ago George Richardson
Let me preface by saying ive only been here twice. Once to buy a vape and e-liquid( which seemed reasonably priced) and the second to buy replacment coils of that vape. The replacement coils ended up being like $26 for a pack of 3. Which seems a little pricy. When i was sold the vape i wasnt told the coils would be so expensive. If i knew that i might have considered other options. That aside the staff seems super frendly , I dont know what the prices are like generally for other items, and i havnt been enough times to say this place is overpriced or not, but that is the impression i got after going there twice. And I definitely wont go back to buy coils as i found them way cheaper online.
10 months ago Roxanne Shortte
Great customer services. High quality productos. Really good advisors...
11 months ago Dolores Carr
Customer service is excellent. Very knowledgeable in their products and good quality products.
3 days ago Joe Gauvin
Josh and dalton are the best employees excellent customer service and had a good atmosphere
1 month ago Lauren Sterling
Been there last night and I have to say I met 2 of the best staff ever, very knowledgeable and didn't mind spending 40 minutes just to recommend me the juice and coils I need for my device, definitely coming back again!
5 months ago david zhu
Great place and knowledgeable staff. Awesome products. Highly recommend.
1 month ago John Rhodes
Best Vape Shop in town and the best prices for devices and Juices always has what I need ????
1 month ago Tiro Castro
After driving around to three different Vape stores I was recommended to come to Boomtown and I am overjoyed that I found the exact device that I was looking for. They were extremely helpful and nice. Brandon took his time to explain the different vapors and E liquid that best fit me. I definitely would be back and recommend my family and friends.
5 months ago Jackeline Landaverde
Awesome service n I recommend everybody to come here
7 months ago L Davis
Ben was excellent great customer service
8 months ago Steven Hafen
Love the dude here never asks for ID ;)) thanks B
7 months ago Pamela Rogers
Very nice place to get a good vape mod or even simple ones, the employee, Eric is very well informed and takes the time to show you how to use vapes properly, if you're new to using vape.
1 month ago Samuel Sewell
Zack the manager Chris the best sales associate ever and of course Eric is the bomb
7 months ago Sarah Bucher
Stopped in with my roommate to get coils for his e-cig. Great place.
1 month ago Asley Aguero
Boomtown Vapor is my goto vape shop. First of all their store juice is off the chain both in quality and price, the staff is always super attentive, knowledgeable and friendly; I can never just run in an out because I always get caught up in conversation with them and last but not least Eric is one of the nicest people you will ever meet. Stop in and see for yourself, you won't be disappointed.
5 months ago Nathan Cortez
Went in, place looked great and professional. Mr. Eric is the one that attended me. Great service and definitely knows his products! Will be coming back no doubt. Would give more stars if I could.
11 months ago Stacy Ashton
Great place and helpful people
8 months ago Anthony Greenblatt
good service and everything you need is in stock!
2 months ago doni malaise
Great service, awesome selection and pricing.
11 months ago Constance Kuecker
Been coming here for years and still has yet to disappoint. I always know when I come here they'll have exactly what I need in regards to juice, mods, etc. Plus, they have the best in house juice I've had from any shop.
3 months ago Crystal
I have been a long-time customer at this business. The staff are very knowledgeable and friendly -- especially the proprietor, which perhaps should come as no surprise -- and the glass cases offer an excellent variety of vape products that are not only immaculately arranged, but clearly labeled with legible and concise descriptions and competitive prices. I have no reason to go to a competing business for what Boomtown Vapor provides. They also used to offer a "juice bar" -- an innovation I have seen nowhere else -- until the pandemic killed it. In addition to vape products, they carry a limited supply of CBD products (no gummies here) and a decent array of glass pipes (there are better selections at head shops) but for all your vape needs, this is definitely *the* place to go.
8 months ago leonard radulescu
We just so happened to stop into this shop on our way home and they were very helpful! We found unique vapes,tanks,and a tester bar that we haven't ever seen before. I would definitely recommend!
6 months ago Knumzcul Thirteen
Best smoke shop
10 months ago Anne Cayer
My first time here I bought a wonderful flavor but with my current Nic Salt use I couldn't taste the lower concentration freebase juice. Everyone is so helpful. Eric was really nice and accommodating. He let me exchange my vape juice free of charge. Customer for as long as I vape! ❤❤❤
7 months ago Thamara Diez
Had the luck of breaking the glass to my Tigon tank not once but twice in 2 days! Eric did his best to find a compatible glass but no luck. He was able to get me a temporary fix and I was on my way, you rock man thanks!
9 months ago Trey Hernandez
Zach was awesome! Store was a bit busy, but he helped us pick a great vape. We had lots of dumb questions, but he was very patient and informative. Thanks so much!
5 months ago Harrison Marks
Vey nice place with wonderful customer service. Eric is very helpful and will make sure you understand if you have any questions. Highly recommend this place ????
7 months ago Karla Garris
Best customer service that I have received since I've been in Houston! Will definitely be returning! Thank you so much for your time Chris!
6 months ago Annie Riecken
Love this place! Employees are friendly and helpful and they always have the newest devices in stock before anyone else.
11 months ago Ciera Colvin
Wide selection, EXCELLENT prices and super cool people to deal with. Staff is friendly and informative. I found a new vape shop that is actually a vape (not a glass) shop.
7 months ago Cinus Findus
Great place to shop for vaping supplies! Zach is a very knowledgeable guy. Come these folks here!
7 months ago Ryan Ferguson
Great friendly service. And with over 60 different house ejuice flavors. This was my first time going there and i will for sure go back. I bought blooper and cupid ejuice. I have only tried blooper yet and its awesome.
5 months ago Adam S
Excellent service. Eric was very efficient even with a store full of customers. Keep up the good work.
8 months ago Unknown Account
Best Vape shop in Houston!
1 month ago Milan Brlik
Staff are super helpful, knowledgeable and don't try to push products. The prices here are outrageous, some things having over a 100% markup like coils, and parts. E-juice is on the high side as well. I get your still a brick and mortar business but I've never seen prices like these, even with other vape stores in Houston.
6 months ago Zzzlife Zzzlife
Place is awesome they helped me right away. Prices are fair and they offer military discount.. Talk to Eric
9 months ago Kayla Kent
Amazing place. People at boomtown know their stuff inside and out. Eric was really helpful on finding a replacement coil and tank for which I was lost how to replace. Their local flavors are also pretty high quality and fairly priced. Can't go wrong with this place.
5 months ago Arash Irani
Best vape shop , good community and friendly people and the reward points are dope
6 months ago Lori Applebaum
Great service and great flavor highly recommend
1 month ago Jenna Pye
Amazing service from Oliver first time customer and will return for his customer service
7 months ago Dionne Cochrane
This is the only place I go when getting vape supplies. The staff are always knowledgeable and super helpful. I've had a couple of small issues with my mod and tank, and they've helped me figure them out and I've always left happy. I've also found that the juices here are of higher quality and flavor to what I get at other stores. Due to that, I only get my liquid here. They have so many flavors and they always have something new. Check them out!
5 months ago
Popular places from the category Vaporizer store