ROCK N' ROLL IT SMOKE & VAPE SHOP
Vaporizer store ROCK N' ROLL IT SMOKE & VAPE SHOP, 3616 N Fry Rd, Katy, TX 77449, United States:
220 reviews
of users and employees, detailed information about the address, opening hours, location on the map, attendance, photos, menus, phone number and a huge amount of other detailed and useful information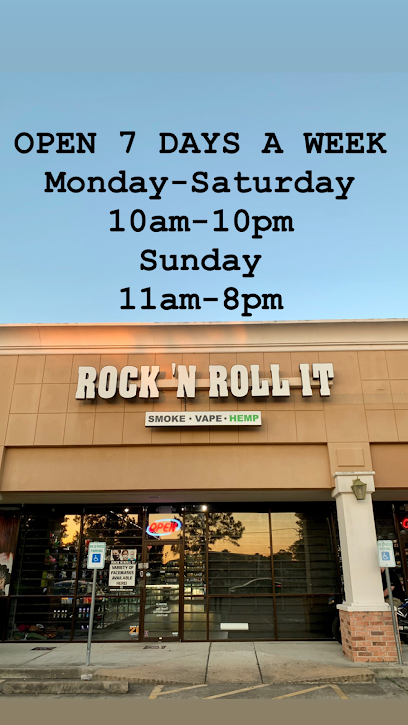 Address:
3616 N Fry Rd, Katy, TX 77449, United States
GPS coordinates
Latitude:
29.8249579
Longitude:
-95.7194944
Location on the map
Reviews TeAnn King
Ever seen D8 distilate.move that fast. The website says they are $39.95, got it for $9.99 wonder why? Don't buy these carts, waste of time..Cakes removed for same reason. Be careful with d8! I understand they were cheap. But I've continually had problems with this store and their D8 stuff. Definitely not a 1 off!
9 months ago Maxie Weaver
Amazing service and very friendly employees. Will definitely be visiting here again!!
5 months ago Jacqueline Nesbitt
Man great place. I drive an extra 5 mi one way to go here the prices are that good! The staff knows their stuff. They help you with an item within the range of price you were asking and if you want a second to look around they're not oppressive. Actual people work there!
11 months ago Wei Pang
Love this place!! They have helpful and friendly staff there all the time. So willing to help you with whatever your looking for. I started vaping about a month ago.. and had no idea where to start. They got me all set up. They even gave me a discount for being a first time customer. Now ever time I go in to get juice refills or anything I need they always have it in stock.
7 months ago David Scrivener
Great selection of detox drinks. One of a few stores with Detoxify Mighty Clean.
11 months ago Christopher Gutierrez
Great service with great deals. Huge selection of juices too. Sale ended one day before I came and and was given a discount just because I barely missed the sale. Great service you can tell they really care about their customers here
9 months ago Joshua Kidwell
Zach was wonderful and super helpful to find good CBD products for me! Great service 10/10 on yelp
3 months ago Navdeep Kaur
Been a few times. Its the cheapest place around with the highest quality stuff! Its going to be the only place we buy our items from!
5 months ago Audrea Allen
Described the functionality I was hoping to find in the way of a vaporizer and hooked me up with the perfect one. Great product.
2 weeks ago Randy Hulseberg
The guy who checked me out for my stuff was awesome I really do recommend that store for who's needing a vape or anything
6 months ago Tori Roe
I decided to search for a smoke shop while I was in Katy and this store popped up first so I decided to visit here. I was shocked by the amazing inventory they had. All the employees were nice and welcoming to me and my friends which felt amazing. They had the stuff we were looking for and the prices were excellent. I highly recommend this shop to anybody who is in Katy or little far away because you'd definitely be satisfied!
9 months ago Darren Jones
Found it to be a very cool place, with a great selection. Staff just as cool, and excellent customer service. Definitely will be a returning customer.
11 months ago Steve Ragland
This is the best Smoke/vape shop in town. The employee are knowledgeable and very helpful.
6 months ago mikael lumme
Justine is great he always makes me feel like I'm the most important customer. The shop has the best prices. I live this place.
1 month ago Ryan Ferguson
Walked in and was instantly greeted by Justin. He was super helpful and knew exactly what I was looking for had it in stock!! This place rocks will definitely be coming here for all my gear!!!
11 months ago Porter
Large store, big variety to choose from and Mason is good help ????
4 months ago Jessica maslowski
I didn't get the dude's name today that helped me with my Sourin Air Plus issue, but he was totes legit, personable & a smile could change one person's entire day, which he did. ????
6 months ago Shenique Rushing
Amazing customer service and discounts!
5 months ago Sergey
I don't live in the area anymore but the drive back out to this shop is always worth it. They always have great customer service, give great advice, and they always have my favorite juice and coils in stock. Clean shop and great selection!
10 months ago John Andrews
The staff is always helpful and friendly. I don't know her name but the girl with the septum is my favorite! She is super nice!
8 months ago Matt Alderton
Went to location was attended by Jordan , very knowledgeable on equipment and used proper terms on juices,product etc . Will give him recognition on a great customer service. Will recommend location????????
6 months ago Ady Friedman
They have actual pretty pieces. A lot of smoke shops have equipment that only appeals to masculine types but here I found iridescent classy onez
5 months ago Heather Angeloff
Rock and roll it is a wonderful smoke shop. Eli in particular is super chill.
7 months ago Emily Jaremko
Great store. The new guy Zack was super helpful and fun to talk to. Am customer. Can confirm.
7 months ago Yandel Richardson
Best vape shop in town. Everyone is nice and they give great customer service and they don't rush you. They ask what your looking for and suggest new items to try. I won't go anywhere else. I strongly recommend purchasing from this shop! They even set it up for you if your not sure!
10 months ago Emmitt Woltz
This place was great Josh was a big help and very knowledgeable on his product. Amazing!!!
7 months ago Dave F
Great service! Come here for everything. Best prices in town for juice and they have a huge selection of mods and will help you setup everything. Trey hooked me up with a new snowwulf and I love it. Thanks and will be back!
11 months ago Ahmedullah Aziz
My visit was an absolute delight! Devantre (sorry if I butchered it!) was incredibly knowledgeable, sweet and patient with my first time user self. Definitely recommend this establishment to supply your smoke and vape needs. One of my more pleasant consumer interactions!
7 months ago Tiffany Bumbury
Amazing!!! Staff is so helpful & kind, very knowledgeable. Every time I go there I know I my experience will be absolutely delightful. Honest to God. I love this place. Best vape store I've seen ever, even out of state... Which says a lot :) Love y'all <3
11 months ago Frank Johnson
Came in the shop all the employees where playing video games and didn't care much to take care of me. Prices are okay but that doesn't make up for the lack of customer service. Last week I also came and their store hours say 10 am it was 10:30 am and they where still closed. Don't be fooled.
8 months ago Arlene Weakley
Justin was great help and cordial. Very knowledgeable of the products and overall industry. Great place
5 months ago Musicisforus Bennash
Great content, perfect business management over all! I recomend this shop to all my friends and they always come back satisfied, just like me!
11 months ago Cecil Shepard
Ine of the best selection in houston great customer service
6 months ago Jay fresh
Super friendly and helpful. I was just starting out with a vaporizer and they were very kind when helping me. I had some issues with the battery a few days later and I went back, and I was taken care of right away. Even the patrons were friendly! I will definitely be returning.
5 months ago Adam Nyholt
Zach was SUPER helpful and patient We were VERY happy with our experience in "Rock n Roll It" Thank you!!!
7 months ago David Spellman
This place is awesome! Great selection at a great price. Ronnie and Christian were a huge help and very knowledgeable. Must stop by if you are a fan of smoking.
8 months ago Andrea Jones
Great and attentive to their customers. Very patient with me and I couldn't have asked for a better employee. Thank you Guys!!
8 months ago Rob Peabody
My Experiance was super awesome today! Friendly service and a wide range of products.
7 months ago James Ch
Great place , great people variety of CBD...will be back 4sure..
11 months ago Subbu Achar
Great place love the prices on juice and mods. They have an amazing selection of juices as well
7 months ago john weerden
Very knowledgeable staff. Did a lot of research before buying my first vape and I couldn't be more pleased. Great experience.
9 months ago Robert Racek
Love this place!! Friendly staff always helpful ????
6 months ago Bill Rehani
Justin and Kenny helped me out instantly as I walked in and were very helpful and polite will definitely recommend to my friends to come to this shop when ever they need anything
8 months ago Tammi Higgins
Amazing local place. They always have the CBD pens I love. Glad they popped up near my neighborhood.
5 months ago Devin Smith
The staff is very friendly. They have great products. Definitely my go to spot.
5 months ago Alfred Hacopian
Honestly, I've lived in Houston for 2 years and I've been to a lot of smoke shops. This has to be the best shop I have ever been to since I have moved. Great prices, big selection, and amazing environment!
7 months ago Hantie Bester
These guys were awesome. They were very helpful getting me fixed up on what I needed and was right on in the suggesting of E - juices. They also have good prices.
3 weeks ago John Bernard
My husband and I are regulars at this shop for a reason. Awesome customer service. The best prices I have found in the Katy/Cypress area. I recommend this place to anybody!
10 months ago Sama Swangs
These guys have their stuff together. Great prices, awesome selection and also a great place to chill. Armando took great care of me.
2 months ago Otacilio Filho
Colt and Kenny were amazing!!! They sold me out of my last twenty dollars!!!! They were very knowledgeable and persuasive !!!! I always leave out with more than what i need
9 months ago
Popular places from the category Vaporizer store