Randalls
Grocery store Randalls, 10228 Broadway St, Pearland, TX 77584, United States:
220 reviews
of users and employees, detailed information about the address, opening hours, location on the map, attendance, photos, menus, phone number and a huge amount of other detailed and useful information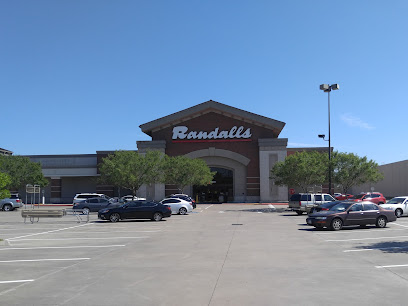 Address:
10228 Broadway St, Pearland, TX 77584, United States
GPS coordinates
Latitude:
29.5543479
Longitude:
-95.3792266
reviews Marcy Allison
I just want to give a special thanks to miss cherry in the bakery she did a awesome job on my son's second birthday cake and it was just awesome!!! so realistic just like the picture!!I just want to give her a shout out as promised because she out did herself and not Only was she informative about sizing tasting and colors she was very patient and make sure we were going to be happy with the cake! Yesssss which we were very pleased!!
2 days ago Mary Ang
Randall's is clean, the food selection is plentiful. I also like the member perks. However, Randall's could use some modernization. No self-checkout, outdated weight scales, and prices that lag behind competitively with HEB, Kroger, and especially Aldi. That being said, I do think it's a nice store, however, there are some things they could do to stay up to date with competitors.
2 weeks ago TomMarineVet
Always clean and staffs are super helpful. The Checkout lane could be slow. Most times it's only one person that is opened. But most often than not, someone always open up to reduce the line.
2 weeks ago Chris Orchard
I've lived in the Pearland area for several years but frequented another grocer because of of distance. Visited Randall's yesterday I can't believe how I could torture and deny myself quality service and products all these years! So glad to be back!
3 weeks ago Emma McQuady
Randalls is a high end grocery store. It has pretty much everything. Most are large and have a deli and some are so big they have a Starbucks like this one. I actually came here to go to the Quest Diagnostics located inside near the pharmacy. The ladies at Quest were so friendly and helpful I was overjoyed. Had to get cholesterol checked lol. I highly recommend this location of Randall's and Quest Diagnostics. I hadn't eaten so I stopped by the deli and had a fresh roasted chicken plate with sides. Reasonably priced but really goooood!
1 month ago Jack Stumberg
i try to avoid Randalls given higher prices for most items versus other nearby options. I did go today for water containers to refill and the water machine is still not working. I know these may not owned by Randalls but come on man, look out for your customers if you're going to lease out a spot for such service.
11 months ago Lena Barrera
Employees are helpful. Pharmacy feels like the independent Pharmacy that I grew up with. My only complaint is that some products are not available in a large size
1 week ago AJ Moellenbeck
I don't go to Randall's much but, the people at this particular store are nice. The lady, to the cashier that helped me, they were real cool. I would go here again.
4 days ago Mazlan Mahfudz
Exceptionally clean with great lighting and a large selection of products from food to wines to everyday products -- at surprisingly good prices. Employees are most accommodating. I love this store.
1 month ago Roxanne Varela
We recently relocated to Pearland from Rockaway Beach, Oregon. Best decision in our 68-70 years. We shopped Safeway who are owned by Albertson's. Recently we received weekly sales papers from Randall's right away I noticed select products and the deals on fresh meats I told my husband I think this store is owned by Albertson's, we visited yesterday and found out it was. ???? The best produce, meats are the best you will find bananas do not spoil within a few days. The aisle foods are priciest but I don't shop the inside aisles.
1 day ago Jennifer White
This is a terrific small market in the neighborhood. We find ourselves here all the time, whether it's to just pick up a couple snacks, or get a larger amount of groceries. It's always clean and organized with a great selection for many items. Love Randalls!
2 months ago Charmain Brideau
It may be unfair to penalize Randal's for the in-store third parties they host but I do not know how else to communicate my extreme disdain for the Quest Diagnostics installation inside. To begin, the facility is dirty, cluttered, and packed with patients due to obvious overbooking of "appointments." Seating was limited because there were empty shipping cartons strewn throughout. Lots of older folks were forced to stand for hours, they said. Although I'd preregistered online, I was told I'd have to wait two hours for simple bloodwork. No way. I felt sorry for all the folks stuck there with no choice and no seating. Randal's itself is a nice store but unfortunately you're often judged by the company you keep. They need to tell their tenant in no uncertain terms to cleanup or ship out.
1 month ago zaheer khan
Love this store!! Especially their deli prepared foods. Wish it was closer to home. Employees are friendly and helpful.
3 weeks ago sabir bello
Outstanding store very beautiful, the store is very clean,cashier's friendly and helpful. I would have never seen a grocery so beautiful. Prices are not bad . I will go back.
2 months ago Melanie Joelle
I do like shopping here sometimes. Randall's is a good store, but very expensive. I do enjoy the deli. I like the variety if items and the fried chicken is really good
4 months ago Maria Cayuela
The pharmacy people are very nice and chatty. I really like that even though I knew they were busy that they would just take the time during the transaction to talk and say hi. Very personal people.
5 months ago buddhi Munasinghe
Nice employees in deli and Starbucks,our iced coffee drink was so good, and Awesome selection of food in deli. Will be back soon.!
1 month ago Lawrence Williams
Best produce ever, though not necessarily organic in many instances, but still outstanding! There's a QWEST Diagnostics lab in-house in a separate enclosure next to the pharmacy. Convenient!
6 months ago James Martin
I love the extra products Randalls carries. Anything from flannel shirts to gardening supplies. Every week there is something different to explore.
4 months ago Marcia Warmkessel
Really good deals at the time of my visit there
1 day ago Ed Baig
Reasonable prices, Available coupons online. Fresh seafoods and meat on sale.
1 month ago Jake Landry
Great shopping experience. Very clean grocery store. Fast check out.
3 months ago Lindsey Peterson
Everything is Always so fresh. Very clean store and very organized.
3 months ago Renee Goodale
nice and quiet. Frequent shoppers are usually residents of the surrounding neighborhoods, neighboring the shopping center.
7 months ago Lisa Deer
Easiest grocery to navigate in town for the physically challenged. Great assortment of gluten free options to choose from.
5 months ago Stephanie Butkus
This store has a lot of good food at reasonable prices, love shopping here.
4 months ago Bori Bori
Store always clean. Easy in and out. Prices pretty high but certainly worth the no hassle shopping experience. There is never a wait at the checkout. Go to spot for a stress free shipping experience
5 months ago Kolyo Kolev
Prices are too high compared to heb and Kroger and be careful of expiration dates on foods.
4 months ago Hamada
Store always quiet. Easy in and out. Prices pretty high but definitely worth the no hassle shopping experience. There is never a wait at the checkout. Go to spot for a stress free shipping experience
2 months ago Jaebong Jeon
Clean store. Seemed higher priced than kroger or Aldi
2 weeks ago Kass Marquez
The store is very quiet I will give them that BUT on the other hand the management in the company needs a complete overhaul starting with the current store manager and his district manager. I also had issues with the district manager of the fuel station in the parking lot. She is the absolute worst when it comes to dealing with customer concerns. I do not see how they feel they can speak to anyone the way they do. I don't know what position "Tracy" has but she needs a major crash course in phone etiquette. It's like everyone there is unhappy with their jobs. It's close to my home and not very busy the only two reasons I go there.
3 months ago Rebeca
Store always quiet. Easy in and out. Prices pretty high but definitely worth the no hassle shopping experience. There is never a wait at the checkout. Go to spot for a stress free shipping experience
1 month ago Candy Jolin
Pastries are great and the cakes are so pretty! But the dairy is iffy.... I bought a bag of shredded cheese and the cheese was curdled when I reached in the bag.
5 months ago Nelson Monsalve
Laura is suppose to devaste parts of Texas and LA. I was freaking out trying to get sticked up on water/food... I went to HEB & Walmart and everyone was going crazy, there was no organization. Found this Randalls and oh boy! Everything was super easy find, the lines were moving quick AND they had everything I needed! I will for sure be recommending this location and continue coming back! Thank you Randalls & Staff!
1 month ago The Man
I bought some fresh chopped fruit and all of it was sweet and delicious to the pallet...
6 months ago Militerriers
Not the best prices but, if you're in the area a great place to pick up most items. If you are looking for fresh produce you are better off at HEB..
10 months ago Jenn C
Quick trip. Couldn't find the Heritage Gumbo I was looking for. Think they no longer carry the brand. Picked up other items.
8 months ago Joy Winnie
Usually it's a good shopping experience. Saturday not so. Extremely rude cashier who couldn't handle the pressure of having more than 5 customers in her line. Perhaps she should be somewhere like in a retirement home, or with her children making them miserable. Other than that, I was able to find everything I was shopping for except bottled water.
1 month ago Quinlan Syfert
Convent location for me but has a super small produce section. Had maybe 8 avacados in the whole store for example. I like to eat healthy so only go here in a pinch.
2 months ago Penelope Vazquez
Great place the employees are always super friendly!
5 months ago Sloan May
This Randall's is awesome. The only person who works there who is rude to me is a guy named Leonard. One time he picked on me because of my handicap. All others in the particular Randall's are nice, and very helpful. From the pharmacy, to the checkers, stockers, bakery, deli, meat, floral, fruit and produce departments. Everyone there is always helpful and kind. (Except for Leonard...he's a jerk)
2 months ago Laurie Ludwig
Ghost town but cashiers extremely nice.
4 weeks ago Dennis Dalton
Store always quiet. Easy in and out. Prices pretty high but definitely worth the no hassle shopping experience. There is never a wait at the checkout. Go to spot for a stress free shipping experience
5 months ago Natalia Kulikova
This place has everything you would expect plus a great product. The employees are great and their working hours and location are convenient. Highly recommend.
3 weeks ago Diana Neering
Very nice store. wish there were more of them
5 months ago Sara Ha
Great store nice employees. Store is currently being remodeled. But they always have better prices then HEB.
8 months ago Wayne Clary
Store always quiet. Easy in and out. Prices pretty high but definitely worth the no hassle shopping experience. There is never a wait at the checkout. Go to spot for a stress free shipping experience
2 months ago Prathippa Moorthy
Love their Smaller Shopping carts
1 month ago Faraz Shaikh
I love shopping here ! Felipe ,ken, and a few others always help me whenever I need it! The rest of their staff is very helpful too! Love the overall layout and the Peking lot is spacious and organized! I love saving money and getting points by having a Randalls card, I always punch in my number when I don't have my card! ☺️ It also helps me save on gas!
1 month ago Sammy Lugo
I have been to this store many times and I have yet to meet a cashier like Sydney, every time I come she is so welcoming and I appreciate her letting me know of all the sales so I don't go over budget.
11 months ago
Popular places from the category Grocery store