City of Philadelphia Northeast Municipal Services Center
Government office City of Philadelphia Northeast Municipal Services Center, 7522 Castor Ave, Philadelphia, PA 19152, United States:
17 reviews
of users and employees, detailed information about the address, opening hours, location on the map, attendance, photos, menus, phone number and a huge amount of other detailed and useful information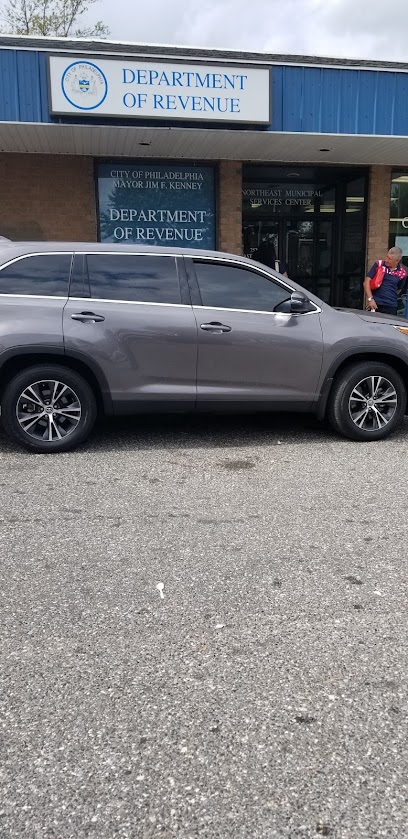 Address:
7522 Castor Ave, Philadelphia, PA 19152, United States
GPS coordinates
Latitude:
40.0550977
Longitude:
-75.0628494
Location on the map
Reviews Nancy T
Limited encounters paying taxes/water bills were 5-star. But when the official website posts an 8:30 opening, only to find CLOSED INDEFINITELY DUE TO COVID signs glaring at citizenry that rating drops to fewer than one, especially as cashiers have been protected by thick plexiglass since the once-convenient facility opened in the lovely long-ago. While sassy city clerks backslap another for finding evermore silly ways to stay home, collecting wages, each time we think to have The Big Picture a larger looms on the horizon. Already $800 million in the red - and counting - Third World Philadelphia will be forced to chop deadwood. Guess who's foolishly proven themselves superfluous?
2 months ago Caedyn Busche
I have found the staff knowledgeable , pleasant but under staffed. If they had one more person processing at the front window it would make the citizens of northeast Philadelphia much happier. On a normal day the wait is about 25 minutes on busy days over an hour. Since the northeast is a working class neighborhood where people work by the hour ,time is a precious commodity.
6 months ago john vance
Most of the time they are very friendly and quick. The only problem I find is the security guard, he thinks he's a god and is a real jerk!
4 months ago William Campbell
Very helpful staff. Can pay my city taxes and water bill.
3 months ago eric sy
It's ok place ...bad parking lots of shops and bank on property
3 months ago Kenny J
People there are very helpful and friendly. I left there with a very good mood. Nice and easy to pay bills there also.
5 months ago Richard Klemundt
Better than city hall...
3 months ago Chantal Venot
Don't think & not expecting that the water Dept of Philadelphia can provide any normal service to customers,
2 months ago Emilia Turves
Laughing at the previous review about the fake ass rent-a-cop. He's annoying as all hell, impulsive, and from what I observed mildly retarded. I can't believe the things that comes out of his mouth. He tells old helpless people he is going to fight them. Like come on dude you have that gun on your hip to protect and serve not to annoy and badger. And on top of it all he believes he funny. My hour long wait was torture having to sit there and hear his nonsense. There was a lady taking a phone call from a loved one in the ER and he rudely interrupted her and told her to get off the phone. Theres a little thing called common courtesy. I wanted to say DUDE SHUT THE H*LL UP and sit in your corner. Theres an black old lady there who's ignorant. She always seems unhappy. Like come on lady we come here by force if you're unhappy with your job retire already. But despite all that the workers there give great service and they're nice along with the cashiers. Im giving 4 stars because of there customer service and patience. The case worker I had was very informative and helped me resolve my issue. I guess anything beats going to their Center City office.
7 months ago Emanuel Darmani
A one star because of convienance not because of the service they provide hello you are a cival servant that's is what you applied for now act like one and if you can not then quit I was there this morning and yesterday as well and the treatment the security guard most of all Jerry curl ass abnoxious rude rent a cop really upsets me that he had the nerve to be rude to numerous seniors but the stick that broke the camels back was a Vietnam veteran who asked a simple question and he treated him like he was an alien of some kind are u kidding he is elder and was concussed y add to the confusion.it pisses me off that one of our vets gets treated like that dude like the reason your free to talk freely in this world is becuse of them men and women who have fought for this wonderful country of ours and if you can not respect them then guess what get out of our country you miserable human being
2 months ago Alex Griffin
Very crowded place and very few people to help.
4 months ago Vikas Jain
I have been there 10 times in the last month trying to fix a issue they were friendly and more than helpful every time I came in if it wasn't for the lady at the front desk the issue would still be unresolved she found the mistake the city was making and got it fixed
2 months ago Kristopher Galenski
Sometimes too long of a wait, even when no line of people.
2 months ago Kristi Toppi
Very professional and pleasant,
2 months ago Jessica Torres
Black woman at the front desk is racist.
8 months ago Karen Leon
Quick transactions
10 months ago Alex Rocha
Fast service
8 months ago
Popular places from the category Government office