R3House - Recovery Houses and Sober Living Facilities in Lancaster PA
Addiction treatment center R3House - Recovery Houses and Sober Living Facilities in Lancaster PA, 150 S Prince St, Lancaster, PA 17603, United States:
52 reviews
of users and employees, detailed information about the address, opening hours, location on the map, attendance, photos, menus, phone number and a huge amount of other detailed and useful information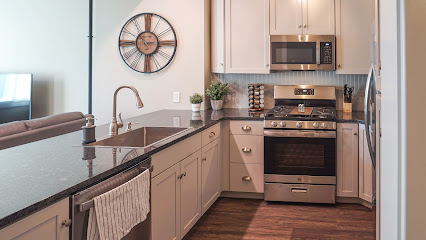 Address:
150 S Prince St, Lancaster, PA 17603, United States
GPS coordinates
Latitude:
40.0347047
Longitude:
-76.3074731
reviews Alina Stanciulescu
It's been a great experience living here. R3 came highly recommended by a trusted friend, and my intuition told me that this was the right next step in my recovery journey. Now that I am here, I understand why he was so enthusiastic about R3. I felt a sense of relief immediately upon my arrival. Living here is apartment style, so residents are in small groups that share common spaces and services. The apartments are beautifully designed and clean, and the managers ensure that everyone here is safe. There is a good balance of accountability and freedom, and the culture is one of genuine respect. All of the residents I've met seem to be serious about recovery and are grateful to be here. There's a sense of community and shared responsibility, and I have talked to a number of people who originally planned on staying for a month or two and wound up staying longer because they are happy here and recovery is going well. As a professional I was concerned about having adequate privacy to be able to work remotely. They went to great lengths to set up a workspace for me and I'm pleased to report that it's been possible for me to focus during working hours and take zoom meetings from home, so my career is going as well as my recovery. The family that owns and operates the houses are lovely people who deeply care for all the residents. They go to great lengths to ensure that our needs are met (see attached photo). I would highly recommend this place to anyone looking for a safe, supportive and enjoyable recovery home.
9 months ago Nancy Khera
My time at R3 was great! The staff there really have a vested interest in advocating, protecting, and supporting your recovery. This is easily the best recovery house in Lancaster - I've been told that by other recovery house managers in the area as well. It is not a place to relapse. The rooms are very clean and put together. They have meetings regularly. They make it a point to have you meet and interact with people in the house. All and all, if you make use of what this place has to offer, I have no doubt you'll have a solid foundation for your recovery and there is a lot of accountability and standards to live here - it's not a flop house - this is a place for people who are serious and are willing to put in the time and work. They owners are extremely kind, generous, and thought. I'm very fortunate to have lived at r3.
2 months ago Don
The management of R3 are truly committed to maintaining the highest levels of excellence in all aspects of providing an environment to support those who take their recovery seriously. Consistently demonstrating their attention to every detail they have impressed me with their "do everything the right way" mentality that ultimately places the welfare of people over profits. The properties are clean with upgraded amenities creating a comfortable environment that complement the efforts of those dedicated to creating a better life for themselves while in recovery.
2 months ago Jasmyne Traylor
R3 is a business, plain and simple. In my three month stay at R3 *Prince St* my evaluation would be, it is run very similar to a family business that you would find on any neighborhood grocery store or maybe favorite family owned restaurant, but the fact is that it's bigger than that. The Roberts are in the business of life and they take it very very serious, they are particular about things that they can control. They are willing to help in anyway and every way possible. When you are ready to ask, they will work with you. Maybe you need your space they will let you have it, and also have daily and weekly chores or meetings to keep you active and accountable. The Prince st house is just incredible on looks and efficiency alone. The people I've met during my time here all are very grateful and the Roberts have shown each and everyone of them love unconditionally in very individual ways. Yes there is a business to run but at the end of the day these people have IT in their hearts and minds, what that IT is. I dream to have and enjoy and be able to spread to others. My hope is to be close enough to see what future endeavors bring to the Roberts family and anyone who is willing to invest themselves into R3 Thank You You Matter Casey Burke
5 days ago Darca Harman
My experience with R3 House has been nothing less then excellent! I first moved in here back in March of 2020 and since then I have learned and grown so much, thanks to the opportunities provided by them. Every third Tuesday they have a life skills meeting that has taught me so much. The houses are clean, the residents are amazing and the managers hold you accountable. R3 House has also grown so much in the past year, expanding and offering more and more to its residents. This is my first and only recovery house I've been too and I continue to recommend it to anybody looking to change their way of life. Not only do they have excellent life skill meetings but we have house meetings every week! The owners and managers really do care about there residents which is awesome. I couldn't be anymore thankful to R3 and it's staff for helping and guiding me to success. 10/10 highly recommend for those looking to live a new life.
5 months ago Ring Maker
I have been in many recovery houses but none like R3. So I began looking for a recovery house in the Lancaster area and R3 was first to pop up. So I clicked on it scrolling threw all the pictures looking at how beautiful it was. First thing that popped in my head is this is to good to be true no recovery house is this nice! So I proceeded with calling getting all my arrangements to come be a resident, talking with John the owner who was very nice and reassuring that I will get the help I need here. When I arrived I was blown away they were super welcoming, nice and the pictures were exactly what was on the website. Once I got settled in and met some people you could really feel it in the atmosphere the love from everyone. It feels like one big family here with everyone helping one another because that is what recovery is about. They hold AA meetings here so if you don't have a vehicle or do not know the area very well it is a good start to help you meet new people. Like anywhere else we have to attend a house meeting once a week and address each other if anything is not to our liking. The reason I give this place a 5 star is because they do more than just help you with your recovery. They help you stand back up on feet in every way possible. You can not slip threw the cracks here, drug tests once a week or if you are visible. I have been here since January 6 and plan on staying here for at least a year. I'm grateful for this opportunity "Have a blessed day"
5 months ago Tom Mazur
My review is definitely 5 Stars and here is why; Talk about a clean and beautiful place and this is what you will get. I was almost taken back because usually, you don't always get what is described however, R3 delivered. Not only have I been here for numerous months trying to help myself, I've been given the opportunity, to also help improve other areas I didn't realize had a big impact on the future me as well. You can't say that about many places...at all. Now what I mean by this; there is a monthly meeting. (R3 has a great family/community feel. These meetings consisted of) Credit Repair, Filing your taxes, long term recovery goals and much more, that I can honestly say "I'm looking forward to." I'd say the biggest reason I took to R3, is that they GENUINELY care about you and your recovery. They understand this is truly life and death. I was not judged at all so far through my stay and have been treated with nothing but respect. Remember, this is not a flop house either, R3 will hold you accountable in areas of cleanliness and a few others...not to hound you but simply to let you see what may possibly be an issue in your life that needs attention. The only way I can see if you don't want to come here is if you don't want change or help to change. I rarely ever give 5 stars however, the fact of them caring about my life and others is going above and beyond! Especially when they (R3) honestly don't need to but choose to. So if your looking for something real I recommend R3. I'm not disappointed at all believe this should be your choice of stay. Thanks R3!
7 months ago Teresa Mosley
I have had a great experience being a resident at the R3 house.i have received encouragement and guidance from the management who are genuinely interested in helping the residence succeed not just in recovery but also in life. The facilities are the cleanest and most modern that I have ever seen and the houses are maintained to perfection.The other thing that stands out is the social workers and recovery support specialists they have working with the clients. I would suggest r3 to anyone interested in a safe place to recover and grow!
5 months ago Roger Loomis
R3 is absolutely the BEST recovery house in Lancaster! I'm so grateful to have chosen R3 as my home and it does feel like home which in recovery it's very important. It is ran by a family who truly cares about each and every person and welcomes you into the R3 family with warm arms. After being through the hardest part of recovery to transition into such a well structured and beautiful re modeled recovery house makes a huge difference in your recovery. The R3 is like a big family, there main men's home even hosts AA meetings in there beautiful huge basement. It makes getting part of the AA community very easy and welcoming. If your looking for a loved one to get deeper into the next step of their recovery R3 exactly designed for that. I was able to meet new postive friends also in recovery and start to build a new life here in R3. If your looking for yourself or a loved one R3 is the next step to enter into long term sobriety. R3 is the best choose you can make!
8 months ago Daisie Cardona
R3 has been without question one of the wisest choices I could have made to supplement my recovery. In the spirit of full disclosure- living in a recovery house was one of the last things I wanted to do. Ever. Fast forward a few months and I am in a totally different state of mind. ALL houses are extremely comfortable, well kept, and foster an environment of growth and sobriety. The Roberts want nothing more than to assist us during a tumultuous time in our lives so that we can repair and regroup whatever messes we may have created during active addiction. Unlike some recovery houses I have heard about, there is an absolute zero tolerance policy for drugs and alcohol of any kind. We are expected to do 4 meetings a week, do a chore and keep the house and our personal area clean. In turn, the Roberts work hard to offer us many resources for whatever it is we need- from credit repair to therapy to assistance with job placement. The rent is more than reasonable for what you will receive. Do yourself a favor if you are really serious about changing your life circumstances and sorting out whatever messes you've made- spend some time at R3.
1 month ago Jw Ww
R3 has by far the best recovery houses in Lancaster county During my time at R3 I was shown nothing but respect by the Roberts family I especially want to thank Paul Roberts for providing me with a new perspective on how to be a better person in sobriety and in life,The lessons and insight and life skills I learned from him I carry with me everyday and have truly changed my life. The houses are well taken care of exceptionally clean and the best in the area and in general by far if you are looking for a great recovery house I highly recommend R3 the lessons and continuity that come with living at R3 will truly change your life and help you maintain long term sobriety
5 months ago Benjamin Dumont
There have been many times when I felt my journey "begins NOW". My tainted past, my tainted life I am casting away. This feeling or realization of a necessary freshness had always come following a "bottom" of sorts. Several months ago, when I had reached what I strongly plan on being my final bottom I had no idea where I would begin my healing process and my recovery from the catastrophic nightmare that was my life saturated with substance abuse. Following rehabilitation, many had recommended moving in to a sober living house. My idea of such a facility looked nothing less than an uncomfortable, disruptive frat / flop house that I believe would have only caused further damage. Thankfully, someone who came to know me rather well over my days of rehabilitation recommended R3. After an introduction a tour I finally felt "I think I can do this"; this is no ordinary sober living house. It was clear to me that there exists a genuine care for people in situations comparable to mine. It is clear that there is an interest in the personal growth, individual success and, most importantly, recovery and sobriety of the residents at R3. For myself, reaching these goals would have been much more difficult in any other environment than the one R3 provides. Along with extensive guidance and assistance offered by the staff, R3 provides me with a top-notch, high-quality living quarters and a regimen to help ensure an inspiring level of order and hygiene necessary to live the quality lifestyle needed to get life truly back on track. I don't know where I would be without R3, frankly. There is a refreshing confidence that I've earned that I know couldn't have flourished in the way that it has anywhere else. There is a new sense of accomplishment. There is a sense of belonging. There is a sense of community. There is finally a sense of hope and the idea of a future I can be proud of and I have R3 to thank.
9 months ago Eternalnerd
The house is very clean and organized. The residents and the house managers and owners are very nice and welcoming. The house has and over all good vibe and secure feeling. Very good program. I'm very grateful for the opportunity to be living here .
5 months ago fern pal
Living at R3 house has been a great experience. This is the 3rd recovery house environment that I've had the opportunity to live in and it has been the best experience for many reasons. The living arrangements are impeccable providing a comfortable environment to exist in. The owners are caring, supportive, and committed to the residents being holistically successful. Residents are held accountable while also leaving room for autonomy with their recovery journey. I consider the recovery house as the Ritz-Carlton/Four Seasons of recovery living. R3 house is an excellent environment whether you're new or have past experience with recovery. You can receive the support you need to be successful. I'm grateful that I landed here!
9 months ago Ryan weller
I've been living in R3 since November last year. Absolutely love the quality and care they provide for the people living here. The sober living environment is top notch couldn't have asked or made a better decision to change my life!
5 months ago Diana Kirby
I have been a resident at R3 house for about 6 months now, and the progression i have made in my life from when I first moved in until now is remarkable. I have the pleasure of calling this place my home, because that is what it truly feels like. R3 has helped me push myself to achieve goals I never thought were possible in all aspects of my life. My recovery, financials, and the relationships with my friends and family, have never in my life been this significant . I am always treated with the upmost respect and I know that this place will reach out their hand to help me or anyone else that needs it. I highly recommend this place to anyone that wants to live in a place where you always feel welcomed and helps you push yourself to achieve goals and success.
1 month ago JP M
I am a resident and these recovery houses are by far the most well kept and cared for houses. The residents, management, and owners are some of the coolest people I've ever met. The rules are simple and only a few things are asked of residents, don't do drugs, try to get along with others, keep things clean, be courteous and kind, some pretty basic life skills. 10/10 Living with them has helped me find myself and happiness through sobriety.
5 days ago Scott Cabney
I have been a resident at the R3 house since March 3rd, 2020. This was my first time going to a recovery house and I was very nervous. I moved here from Rochester, NY not knowing anyone. All the residents are really friendly and the house manager is amazing. The house is absolutely beautiful and is immaculate. The expectations of the house help to aid your recovery. They help you get a job, insurance and public assistance if needed. I know for a fact that I would not have been successful in my recovery if I did not move into R3. I would highly recommend it to anyone looking to make a positive change in their life.
5 months ago Linda Gillis
Unfortunately, I have had the experience of staying in many different recovery houses. Fortunately though, there is R3. R3 stood out to me from the start, it is administered by a compassionate family who are deeply invested in the lives they look after. Shortly after moving in Mr. Roberts took the time to meet me and get to me know me personally, this is unheard of when considering recovery houses. In addition, R3 was willing to meet me where I was, they understood my circumstances and accommodated me. As far as the housing goes, the pictures online accurately depict the facilities as well as their cleanliness. Likewise, the housing goes above and beyond the average.... have you ever heard of a recovery house that gives residents full sized memory foam beds for a reasonable cost? Not to mention that R3 will invest you in as you invest in yourself, R3 offers grant money if you go back to school, which I took advantage of. Grant money is only one of the many gifts they have to offer. When considering aspects of recovery, they take accountability seriously. I was able to recovery around people who were passionate about recovery as well, nonsense was not tolerated. While there I also developed quality friendships, today my closest friends are R3 grads. I can go on and write more then you would ever be interested in knowing, but if you are looking to recovery with excellence, go to R3. All other recovery houses fail to compare.
1 month ago Tricia Maslowski
This recovery house is amazing. I had the pleasure of living at the r3 house for a little over a year and it was filled with great laughs, even better people and the best community I've ever seen in a recovery house. The ambience of this place is sometimes surreal due to all the caring people who go out of their way to make sure you stay sober as long as you want it. This is the first place that I've ever been to where the director and his family care about your well being more than money which just doesn't happen in a recovery facility/house. 10/10 I would definitely recommend r3 housing if you really want to get sober and find a new way of living.
1 month ago Brittany H
R3 , where recovery comes first! This is not your typical recovery house. From state of the art furniture, temper-pedic beds, Wi-Fi, flatscreen TV's, and so much more. On top of the beautiful homes to choose from, the managment really will help you get your life back on track. Whether you need help getting your financials straightened out or improved, finding a new job or career, or just need to hit the restart button on your life, there's no better place then R3. I have been a resident since April and I have nothing but great things to say about R3 and the people that run this business. For me personally, I have turned my whole life around here and could not be more grateful to have somewhere like this to live. 10/10 recommended! I hope R3 keeps on expanding, so that anybody who comes to the Lancaster area for recovery can have the opportunity to live in such an amazing place.
3 months ago AMANDA EDMOND
I have worked in the field for a few years and have referred many clients to R3 because it is one of the most reputable recovery houses Lancaster has to offer. The living amenities are top notch and the staff truly care about their residents. I have witnessed the success a person can have when beginning their recovery process if they are surrounded by people who care about them and support them and if they have a stable, drug free living environment. R3 provides that and so much more. I highly recommend R3.
2 months ago Cassie Vacanti
R3 House has breathed new life into my recovery when I needed it the most. While 12 step support groups, detox / rehab facilities and one on one counseling were definitely beneficial to my recovery, I couldn't stay sober. Some of the top rated area recovery specialists had suggested sober living after I completed a 28 day stay at a few rehabs. I always had an excuse not to go... my job, my house, a relationship... the list goes on. It wasn't until May of this year that I truly got honest with myself and admitted that I had to do something radically different if I wanted to survive to my next birthday. However, I heard horror stories about recovery houses that were crowded, dilapidated, infested with vermin and had very poor management and leadership. R3 House came highly recommended from one of those recovery specialists I mentioned earlier and whose advice I previously ignored. I committed to a 1 month stay here. However, over 3 month of living here, I found a very tastefully renovated and appointed professional facility, with amenities that exceeded my expectations. The clientele were all welcoming and cool; I've made many supportive friends here. The Roberts family, who personally own and operate R3, are real, down-to-Earth people who genuinely care about their residents. They have not only experienced addiction first hand within their own family, they go the extra mile to foster a professional environment conducive to the recovery of everyone who lives here. I feel like I'm part of a family that cares about and supports me during a critical and crucial phase of my development in many aspects of my recovery. If you are looking for the best recovery community in the area, you will definitely find it at R3, hands down. Living here has been the best decision I could have made for my personal recovery.
1 month ago Johan Yssel
Living at R3 was by far the worst experience of my recovery. R3 was recommended to me from a friend who was going to live there. I have not been at R3 for over a month now and am not writing as a disgruntled angry complainer. Rather a person in recovery who needs to share their experience there. I am doing well and have moved on. After much trepidation I reached out to Paul at R3. We had a great conversation and he made me feel comfortable. I asked about drama at the house as it is a major issue for me. As a 50 something female I was concerned about being in a home with young girls. Paul assured me there would be no drama and I'd there was it would be handled swiftly. I agreed to try. I did an intake with another resident and shown my room. I never heard from or saw Paul again. The drama amongst the girls was constant. I was verbally assaulted several times yet never complained, raised my voice or fought back. When verbally attacked by my Roomate who had already been disciplined for the same issue with another resident, I reached out to the house manager to just let her know of the situation. I was told I could sleep on the couch. During a house meeting Paul arrived and spoke to the group about the drama. He was extremely condescending and arrogant. I was called out and when asked to resolve the conflict with the roommate, I addressed her in a calm nature manner. She then again attacked me in front of both house managers who did nothing. As a boundary, I had to remove myself from the situation. I was then called in the next day by John Roberts and asked to move to another house. I repeatedly asked for a reason and was not given one. So with no explanation I was asked to go to another house. They could or would not identify the issue nor assure me that I would not just asked to leave. I said I would let him know that night. He strongly threatened me and said not to make an issue or I would be sorry. At that point I knew I could not stay in that environment. It was horribly upsetting to specially in my early recovery. I had no place to go and came very close to relapsing. As a parent or as a woman in recovery I would in no way recommend R3. All of My fears about sober living came true at R3 and was one of the most detrimental experiences thus far. John and Paul are not compassionate and may only be in it for the financial gain.
1 month ago Keith Lickert
I would highly recommend R3 to anyone looking to live in a beautiful, comfortable, sober environment. The people I've met are truly miracles and inspire me every day to be as amazing as they are. I've been to other sober living environments but this is something I wasn't expecting. I like the accountability while being able to work on myself and learn from others as we trudge this road to happy destiny. Thank you John & Paul for what you do.
1 month ago Anthony D
Living at R3 is the best decision I could have made in early sobriety. The place is amazingly beautiful and clean. The staff here really care about the residents and help to hold them accountable. Through my stay here I have become a productive member of society and have worked on myself to become a better person. In turn I am now an apartment manager so i can help others through their journey in sobriety.
11 months ago Benjamin Earnhart
Don't believe what you hear. The houses may be nice but paul roberts is not and does not care about you or your recovery. He only cares about your rent being paid on Friday by 5. If you can't pay you will be kicked out the next day no if, ands, or buts about it. I was there for 6 months and was never given pillow cases for my pillows. They say the supply coffee, creamer, paper towels, toilet paper or cleaning supplies. They only supply those things when they get around to it so 90% of the time you will have to use your hard earned money to buy it. My pregnant girlfriend was in the r3 house next door she was never late for curfew, rent paid every Friday, did all her meetings, found a sponsor, passed every drug test and pill count, worked a 9 to 5. Always had her chores done and paul allowed his manager to constantly accuse her of being high and put her on contract for being tired. In my own room I found a hidden camera that one of the roommates I had the entire time was recording what was going on in my room. After I found the camera and told and showed the assistant manager the camera was recording. Paul did absolutely nothing about it. My privacy was 100% violated. And paul roberts did nothing but move the kid to a different room. I have video proof of the camera recording and text messages of the kid admitting that he was recording without anyone's knowledge. So for my own safety and privacy I moved out. Then when I told them I was leaving they said ok you can't have your security deposit back because I didn't give a 2 week notice. So not only was i being recorded getting dressed and undressed but my pregnant girlfriend put on contract for doing everything she was supposed to do. we are also out 800 dollars during these really hard times. Because r3 is only about your money. My advice do not stay at r3 its not worth 160 a week.
7 months ago Laurie Jones
I have moved in here may of this year, and it is my first recovery house experience and everything about it has been amazing! the house is absolutely beautiful and beds are super comfy. the owners really care about you and are very involved which is awesome, they are there to help you every step of the way. if you are looking to get into a recovery house I would highly recommend r3
2 months ago Triston Brobst
The R3 House is awesome. The staff is great, the owners are super supportive, and the facilities themselves are very clean and well maintained. I appreciate everything you guys do. If I could give 10 stars I would. I highly recommend this place!!
1 month ago Bob Lage
Beautiful modern living spaces that are very clean. The owner and management are willing to come along side the residents and help them to achieve their goals. Would recommend to anyone seeking to build a solid recovery foundation!
11 months ago Pamela Townsend
For me, going to R3 was the most important thing I could've done for my sobriety. When I first got to the house in July of 2018 I was a complete wreck of a human being and certainly could not see any type of future for myself. The Roberts family goes above and beyond for every resident in every aspect of their program. From the cleanliness of the facilities to the genuine one on one conversations, it shows that they really do care and believe in each resident. The structure and accountability of R3 is unmatched by any other house around and was exactly what I needed in early sobriety. If you're looking for sober living I don't believe there is any better option than R3. I can't thank them enough for everything they've done for me.
1 month ago Bobek Bobek
R3 is so far out of any other Lancaster recovery houses league not just because they have the newest and most modern facilities, but because the people behind the name are genuinely in this to help others. That can't be said about too many in the recovery house world. The Roberts family has gone above and beyond for me more than once, and for that I am thankful.
9 months ago Jennifer Thomas
Great place for a positive transition. The owners and staff provide a very nice apartment, friendly residents, support and security. I highly recommend! I visited other homes and Director Paul encouraged this....and he thought I would choose R3. I am very happy I did.
1 month ago Lawton Curtis
Once we remove the physical component of our addiction we are left with the emotional and psychological maladies which fueled our drinking and/or drug use. R3 approaches addiction support to navigate through the source of the struggle. On the surface, R3 provides upscale homes and amenities for each resident. Just past the surface, residents are offered life skills classes, grants towards therapy and education along with inspiration towards developing a "new normal" each day. R3 residents are encouraged to build a strong foundation of sober support in recovery programs and fellowship. R3 matches the determination and enthusiasm each resident puts into their recovery - and then some. R3 is a solid place to land and grow.
11 months ago Richard Neville
Hi, I've been an R3 resident for a few months now and I honestly can say if your looking for a recovery house thats going to hold you accountable yet still let you have your independence R3 would be a great choice. The homes are beautiful, clean and in pretty decent locations for Lancaster city. The family that owns R3, each one of them are great people and devoted to helping people like myself who are in recovery to better themselves and stay clean. They dont care about your money or where you've been or who you were. They care about seeing your growth and watching you become a better person and beat your addiction. This isnt just a normal recovery house they actually truly care about you. The woman I live with and other residents i've met are very kind and supportive. This is my first time in recovery and the first recovery house i've ever been to and its been a great experience. I am going on 6 months clean and would recommend R3 to anyone who is looking to get into a program and actually stay devoted to their recovery.
11 months ago Larry Gutierrez
Great house with great people! Everything is beautiful and the living conditions are amazing. The owners are very caring and empathetic. They put your recovery and mental health before making a profit which is something I have never seen before in the recovery field. Highly recommend.
2 months ago Pat Foto
R3 has truly helped me in a time of need. Not only has R3 provided a wonderful living space, but also access to resources such as resume building, job searches and and meeting recommendations. Recovery is not easy, but R3 sure has made it a lot more possible for me to achieve. Thank you R3, for helping me and countless others battling addiction.
2 months ago Amit Singh
Paul along with both of his parents truly care about the futures and well being of their residents. This house has helped me transform my life tremendously and I wouldn't be where I am today without R3 and the Roberts. I appreciate everything this opportunity has done for me and I am beyond grateful for them.
3 months ago Viktor Ageev
Coming to R3 was a huge benefit to my recovery. There is no way I could make it alone. The accountability and kindness are crucial to my success.
11 months ago hamed esmaeili
Absolutely beautiful facility. If you want to stay sober then you go to R3! The owners are awesome and help you get your life back together. Located in a great part of the city and the house is filled with awesome guys. Would give 6 stars if I could.
1 month ago Rahul Chadda
Super nice facility with a good group of guys. The apartments are all brand new and it is in a good spot with a lot of places surrounding. I would recommend this place to anyone new to the area who is trying to get sober and wants to stay sober.
11 months ago Ana Hoyt
The r3 house is the best recovery house to stay at. The atmosphere in the building is very clean and supportive. The managers and everyone in the buildings put recovery first and will help u a lot on the way to your sobriety. Would recommend this house to anyone who is serious about getting clean, and willing to put the work in.
1 month ago Akim Moss
I don't know where I'd be without r3. All of the friends I gained and life's skills I learned while living there is priceless. Highly recommend!
1 month ago Shi Reads
I currently live in R3 house on Prince St and the house is in perfect condition. The house has good structure and is great place to start off your recovery. There is a solid group of guys and everyone cares about you and your sobriety.
1 month ago Andrea Vallejo
This house is extremely nice, highly structured and well run. I fell safe and cared for. They really do want u too succeed in getting sober living here.
2 months ago Ben Tag
I've heard amazing things about this place! Keep doing great things Paul!
1 month ago Amanda Torres
Almost a year ago I was in a bad emotional state. I was lost as to who I was and what I was becoming. I was fearful of what was next and how I was going to get there. This has been a road I have traveled down before and even though I have had successful months of sobriety, I always fell back to old habits, people and behaviors. I wanted it, but I had to do something different this time. The only thing I haven't done was a Recovery House. I was skeptical as to how it would be ran and most importantly who I would be living with and what was the condition of the house itself. I remember moving into R3 and meeting the Leadership team on my first day. They were overly supportive, accepting and truly genuine. I remember feeling so out of place but they made me feel so welcomed, as if I was entering into their own home. They treated me with dignity, honesty and respect. I moved into one of their locations and was blown away by the amenities that they offered. The structure and accountability that R3 requires you to maintain was something that I thrived in. The camaraderie that the house had was something that I wasn't expecting. I truly have met some great people who I now call my closest friends. They make sure that the right people are being moved into their properties. They take time to get to know you and treat you as a person. They make you feel involved in their community. Since then I have successfully maintained a positive lifestyle in which I could finally be proud of who I was and what I was becoming. I am so glad that I have taken this road and went this route because I have learned a lot about sobriety, life, great friends and most importantly, myself. The only words I can say is that I am truly thankful for R3.
2 months ago R Sanchez
I like R3 house because it helps keep me accountable. The fact that you must make sure that things are kept clean and organized is good for my mind set and I do my best to apply this to my personal life as well as my recovery program.
1 month ago Jeannie Sullivan
A great place to live if you're in recovery. Very well kept and clean with great amenities and reasonable cost.
2 months ago Anthony Huber
Good group of people, and management. Happy with the choice to move in here, and would recommend to others.
11 months ago
Popular places from the category Addiction treatment center