College Works Painting
Paint store College Works Painting, 235 M. A. C. Ave #213, East Lansing, MI 48823, United States:
38 reviews
of users and employees, detailed information about the address, opening hours, location on the map, attendance, photos, menus, phone number and a huge amount of other detailed and useful information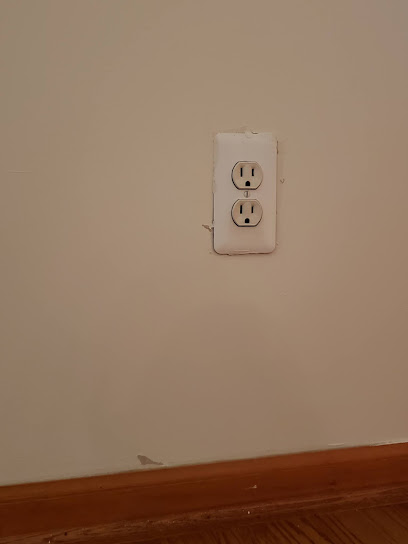 Address:
235 M. A. C. Ave #213, East Lansing, MI 48823, United States
GPS coordinates
Latitude:
42.7360177
Longitude:
-84.4808530
Location on the map
Reviews Halo Hakim
It was a 5 star experience in hiring College Works Painting. I hired College Works in March 2019 to paint my house. The team always had a professional and customer focus manner. They were informative and knowledgeable about the house painting trade and offered suggestions. The team did a quality job within the time estimate:; plus, no paint on the windows or the stucco! As a home owner, I appreciate when a contractor shows up as scheduled, and keep promises. The team will be on time and explain any of your questions. They will start early and end late, as necessary. I am sure you will not regret hiring College Works.
5 months ago Christyn Scimeca
Josh Barresi painted the exterior of my home at the beginning of the summer and at first I was a little skeptical of trusting a college kid to paint my entire house. But boy was I glad I hired Josh. He was thorough in his communication about what was happening in the project which made it MUCH less stressful as I didn't need to babysit. Josh did 2 coats on my full exterior and it looks amazing! It was a pleasure working with college works and their outstanding intern.
8 months ago Aaron Tyler
Excellent group to work with if you need your house painted. You will be pleased with the hard working personnel employed by College Works. The project was completed in a thorough, efficient, and timely manner. I especially would like to commend Morgan Livingston for her work and especially for communicating what and when different phases of the project would be started or finished.
9 months ago Rhonda Decatur
I hired College Works Painting to power wash my back deck and paint. Josh Barresi was the one who explained the process to me and was also the lead on the job. I was extremely impressed by how professional he was through the entire process and have been very pleased with the results. The weather delayed things a bit but all worked out nicely. Thanks again Josh!
8 months ago Edwin Lukas
Josh Barresi is working for College Works Painting. He and his crew painted a room in our house which included the ceiling and the walls. His crew was prompt, they were at the job when they said they would be. They first protected everything in the room from paint spatter. They did a nice job of painting.(even helping with color choice, sheen and type of paint). They completed the job well within the time allotted. Thanks College Works
11 months ago ARTHUR BLAKE
Tristan and his team were complete professionals from beginning to end! Focus was on my 100% satisfaction. I would use again hands down and recommend them to anyone due to the fair pricing and great customer service!
1 month ago Charlotte Newport
We had a good experience with our College Works Painting Crew leader, Josh Barresi, and his crew this summer. They took on a challenging job, painting the interior of our lower level of our vintage cottage, (and some trim work on the upper level) which is made up of 1970's built cedar, complete with grooves in it, so they really had to pay attention to details. Josh was very professional and easy to work with, and he took full responsibility for everything, including the times we weren't on-site, and he followed through on all of our expectations.
10 months ago Chris Maddocks
I was very impressed with the knowledge and professionalism shown by the project leader, Taylor Mrozinski, as he assessed my painting needs and walked through the process, materials, timing and cost of the project. The painting crew came in and did a great job on the house and were on time. They did this at a fair price as well. I would recommend using College Works.
8 months ago Natasha Pajak
Connor and his crew were enjoyable to work with. Always prompt, professional and dedicated to getting the job done to your satisfaction. He has done commercial work at our business this summer, and is currently painting a bathroom at my home. Wouldn't hesitate to refer College Works to others.
8 months ago Dan Greengler
College works painting sent a crew to our house to stain our deck. Our deck was in pretty bad shape. They power washed and stained it and it looks great! We are very happy with the quality and care. We will use them again!
8 months ago Lynda Notter
Josh is professional in his approach and attentive to the customer. He was helpful with decision making and the project turned out great! He explained the process of needing two coats confidently. Thank you Josh!
7 months ago Amanda Logan
Joshua Barresi lead the painting team who completed interior painting at our home. Our job was completed in a timely manner and was on schedule. Josh kept us updated with the job details. The team worked hard to properly prep the area so that no damage/paint got on any of our furniture or other items. We are pleased with our newly painted room. Thanks College Works and Josh Barresi for a job well done.
11 months ago Tiwain Eberhardt
Sam Nichols painted our garage and a couple interior rooms in our home this summer. His crew did a fantastic job. They were thorough, tidy and the outcome was beautiful. Our neighbors noticed how careful and clean they were as they worked on the garage. I am very thrilled with the work Sam Nichols did for us.
9 months ago Brandon Pazera
We had a great experience with College Works Painting this summer! We have positive feelings about the initial contact of one of the painters doing cold calls and canvassing our neighborhood, the prompt and polite response by the crew leader to develop the bid, and the professional follow up by the crew leader. We delayed our decision to move forward with the work, and when we made a contact 6 weeks later, the crew leader continued to be polite, personable and professional. Our job included some unusual aspects (like staining a gazebo), and the crew remained positive throughout. The work was done promptly, with quality materials, and there was prompt follow up to a few last elements that needed touch up.
11 months ago Ninoska Sosa
RE: Gabe Woodworth, College Works Painting Thank you Gabe for your prompt service in painting our cedar home. As mentioned, we are getting ready to sell our home soon and wanted a fresh look to our front. Your crew did an excellent job. Your daily involvement in the progress, daily communications by keeping me informed of your progress and your willingness to make sure everything turned out great. My wife and I appreciate the excellent work you and your crew did in painting our home. It looks great, we love it.. Please use this as my recommendation as a job-well done. Thanks again. Guy and hope Atkinson
1 month ago Tab Bryan
College Works Painting recently re-did my entire exterior. I was pleased with the quality of the materials and the work, and of the safety precautions taken when working off the ground. After the job was done, the team cleaned-up well also.
10 months ago christine rigali
Bria Dalgliesh was very professional. She made sure we were happy throughout the entire process of painting the exterior of our house. The team did an excellent job prepping and painting. The only issues were the prepping took much longer than the quote (which raised the price), and there was a bit of over-spray on the eaves.
5 months ago Richard Johnson
Tommy Barton and crew did a very good job at our home. Tommy is very responsive, responsible and a hard worker. He really tried to make sure we were completely satisfied with everything. We had exterior trim and front door painted. The crew working here were polite and pretty thorough, they just needed to be more mindful of cleaning and not damaging the landscaping. We let Tommy know about the small messes and he had the others clean up the next day.
5 months ago Greg Coccoluto
The crew led by Tommy Barton did a great job on a fairly intricate project - painting doors (that's the easy part) but the wood fencing on my front porch. They were timely, worried that they let the cat out of the garage (it's an outdoor cat, so it was fine), and cleaned up after themselves when they were done. Thanks!
2 months ago Donna Dobell
Sam and his crew were a great pleasure to work with. These guys are honest and came through even when it was difficult. They showed up on time when they weren't early. They worked hard all day in the heat and humidity. I would recommend them to everyone.
11 months ago Ryan Sarsfield
I am deeply disappointed in my experience with College Works this summer at my home in Michigan. The issue here was the estimate vs. real time required to complete the job. The quoted price of $1,329.00 reflects an estimate that would take 2 days and multiple hours of scraping. In reality, it was a simple project that took 4 hours to compete, start to finish. If I paid 2 workers $20/hr for 4 hours plus a $30 gallon of paint, that would be $190.00. If I paid 2 workers $30/hr for 4 hours plus a $30 gallon of paint, that would be $270.00. Do you see the discrepancy here? Also, the added charge of $200 for possible "lead" paint is ridiculous. I could understand that if it was a confined inside project, but this was minimal wood and it was outside. The workers did not even bother to wear masks while working... if they were even concerned. The quote of $1,329.00 for 4 hours for 2 men means that I paid over $166.00 per hour for getting a few window panels painted. I contacted the local College Works office to dispute the matter, but was informed to go through corporate. They, in turn, told me that I could only get the $200.00 "lead paint fee" reimbursed if I wrote a review... so here is my review. I would have also expected (and still want) to be reimbursed for the miscalculation on the hours it would spend to complete this project. In fairness, I do want to say that Gabe, the local branch manager/college intern, did an outstanding job at his presentation and follow-up calls regarding your company. I realize that this was probably one of Gabe's first estimates on the job and he is learning more about predicting a project's timing. I also hope he is learning that in business, if customers are treated fairly and honestly, they will be your best advertisers. Thank you for your attention to this matter.
9 months ago billy smith
I'm very pleased with Dylan and the overall experience he gave us. He was very thorough with everything he did from start to finish. He was very professional and was a joy to work with. I would highly recommend him to anyone who is looking for a painter. Thanks Dylan!
7 months ago David Cronkhite
Our experience with College Works Painting was amazing. The results exceeded our expectations but what really stood out to us were the workers themselves. The entire team was extremely professional and the leads on the project, Ben DeVries and Nick Stellin, were friendly, detail oriented and completely dedicated to the job, start to finish. They worked day and night to meet the deadline of the project and are the reason we would use College Works Painting for any future projects. Josh & Jami W.
5 months ago Lashunda Hudson
Zeek and his crew stained and painted our deck and power washed our siding. The job was completed in a professional manner with all the details discussed and all the prep work was attended to before the painting began. We were very satisfied with all aspects of the job and would highly recommend the company and Zeek. Carol and Steven Walvisch
10 months ago Michael Rosales
Luke is was a pleasure to work with. He showed tremendous patience with me when it came to scheduling, selecting paint colors, and prepping for the work. The outcome is great and I am very happy with everything. Very easy!
10 months ago Sss Ppp
The work was done as scheduled. The quality of the painting was as good as any I've ever had. They did a good job with cleanup. Very professional.
9 months ago Maureen Montiel
We had Tommy Barton work at our house this summer. He and his crew stained our deck and the front of our house. They a did a great job and we have received many complements from friends and family. Thanks so much to Tommy & College Works.
2 months ago Sarah Mullis
Ben DeVries did a great job initiating the painting of my house. Very professional and friendly. Great job and haven't found any issues. I would hire again.
10 months ago Pratiksha Sharma
My wife was shocked that i choose College Works for our painting needs since i am super picky . I had them paint my whole house with two coats and cannot be more pleased. They did an excellent job.
7 months ago Carin Croker
Sam Nichols and his crew did an incredible job. The job was done on time and the quality was fantastic!
2 weeks ago Germaine Dignan
We had our house painted and our deck stained this summer by College Works. Very professional workers and a great job. Our house and deck look real nice, thank you for giving our house and deck a fresh new look!
7 months ago Nancy Freschet
Services were described in detail. Services were performed to my satisfaction. Services were performed timely. Follow up was provided timely. Delays were explained.
6 days ago Jenny Leigh
We were very satisfied and pleased with the work that Dylan provided. His work ethic and attitude throughout the project are commendable. We have no problem recommending College Works, and certainly are pleased with Dylan K. and the work this MSU Spartan did.
3 months ago bob jones
Good to work with, kind, quick, and professional. Would work with them again.
8 months ago Nina King
Very professional and Luke met all my needs. He had to work around a lot of rainy weather but the building looks great.
5 months ago Karla
Awesome job by Nick and his crew. Paid attention to detail and did the job as promised and on schedule.
10 months ago Belinda Cobb
To whom, College Works group with Leondre Quallo as there leader did a great job cleaning and staining an old house with cedar siding. Every thing was timely and in good order. I would give a good recommendation to any one who wishes to use there service. JW Doezema
5 months ago Charlie Wright
Provided an excellent job and ver y professional service
6 days ago
Popular places from the category Paint store