Grocery store Whole Foods Market
Grocery store Whole Foods Market, 701 Waugh Dr, Houston, TX 77019, United States:
220 reviews
of users and employees, detailed information about the address, opening hours, location on the map, attendance, photos, menus, phone number and a huge amount of other detailed and useful information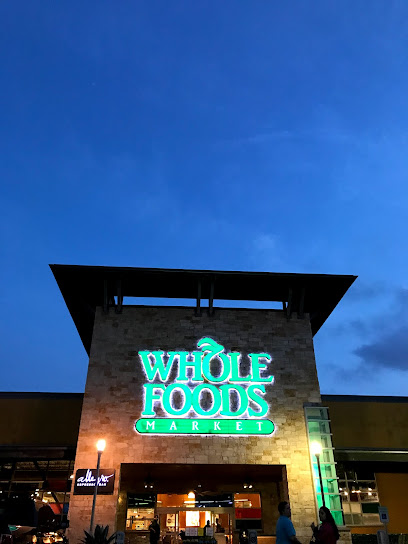 Address:
701 Waugh Dr, Houston, TX 77019, United States
Website:
wholefoodsmarket.com
GPS coordinates
Latitude:
29.7582377
Longitude:
-95.3976230
Location on the map
Reviews Christine Yang
Very clean & polite associates. Great selection of pre-made meals, sushi and dried fruits/veggies. The pineapple is my favorite!
2 months ago Cheryl Homersham
Whole Foods Market is my new favorite place to shop for groceries! They have so many healthy options and the staff are super friendly and helpful. The variety of selections is outstanding and it's fun just to walk through the store and see all the different foods to try!
6 months ago Briell Wilkins
Since bought by Amazon, Whole Foods does not provide the quality and diversity of products and service that it used to. And the teller almost always forgets to bag something we bought. They're about one step away from Kroger level quality. Go to H‑E‑B instead
3 months ago Kate Tell
This is a great location with a very helpful staff. They have a decent wine collection. They have wines from France, Germany, Italy, South America and other parts of the world. The store is very, very clean. They also have a floral section, free trade flowers which is wonderful.
1 month ago Natalya Korolyova
I have to drive up all the way here from Humble as love the variety of healthy specialty foods they have. I wish we had one closer as I like their fresh organic produce and and I am able to find everything.
8 months ago Bryan Grimes
Many organic and natural items, friendly service by employees too
6 months ago Rebekah Parsons
Used to be one of my favorite locations for years, unfortunately after Amazon took over the WF chain has drastically dropped one of which being customer service. Most employees are generally friendly and helpful except a new fellow I've recently encountered named "Jose" ,not sure what his problem is but he has a very passive aggressive tone when asked for help and an overall rude demeanor which made me uncomfortable.Not sure why WF hires rude staff like him that clearly don't like their jobs.
5 months ago Frank M
Groceries, health and home items, fresh baked breads, sweets, pizza, sandwiches, salad and Soup bar & more! Lots of vegan/vegetarian selections. Great store with a large selection of items from wine and spirits to fresh fruits and veggies. Great for picking up meals with lots of options made in house and ready to go. Clean and organized with plenty of parking space, area inside and outside available to sit/eat.
2 months ago Giles LaPlante
This location is great - good parking, easy to navigate the store, usually pretty well stocked, good selection. The only way it could improve is if they had a more regular stock of peanut butter chocolate bars in the bakery!
5 months ago franesm rice
Super delicious, fresh made spinach salad wrap with tasty tuna fish & Swiss cheese. An awesome pick up lunch near the office. Always fresh, always delicious and custom-made ingredients added plus super healthy spinach wrap to hold all the yummy wholesome ingredients together.
11 months ago Ashley Everett
I frequent this location for both in-store shopping and curbside. Usually a positive experience but not so much as of recent. My cashier yesterday was too busy chatting with the bagger. Ignored me when I spoke and didn't acknowledge me other than to receive the payment. Rude. Recently saw a man tasting food from the buffet. He didn't reach in but used the tongs to taste what he wanted. The store is making an effort to put out gloves for the buffet area but I notice most people bypass that (which was more of a reason for me to use them). I appreciate the effort but someone should keep an eye on it. Today I bought a salmon salad from the prepared foods area and there was hair in it (not mine). Please do better.
2 months ago Karen Callender
Great place to find quality organic food. The customer service here is great, I was able to find the right meats for dinner.
10 months ago Michael Conners
Super nice n understanding staff. The lady in check out was so inviting n welcoming. Asking if I had prime. Seemed like she really loves her job
8 months ago Zachary Rvr
Jose, the chubby man with the tattoo on his arm walking around the aisles is rude. He needs retraining on dealing with customers and needs to fix his attitude. I expected better from WholeFoods.....
4 months ago Tina Buck
One of my family's favorite stores for organic vegan specialty foods ! Should not be chased down to put on mask or "require" mask. Super weird.. it should be optional like other stores .
6 months ago Jason Hester
The best Whole Foods in the city. A beer and wine bar. When u need service it is quick and friendly. Tonnes of parking. Lots of fresh reasonably priced fruit and produce. The best bakery in the city.
9 months ago Ron Carrigan
The place is well organized. And the staff in bakery is very helpful.
5 months ago Lorraine Stephenson
They have self-serve mochi ice cream balls.
4 months ago Paul Bedich
Well I'm sadden to say they no longer sell the Tapioca Pudding in the cold section. ???? Also, you can no longer purchase their delicious Chantilly icing straight from the bag anymore. I'm inclined to remove one star because of. But, you can still get tipsy on tasty wine while you shop. So I'm inclined to give one star back. Ah, hell 5 Stars⭐️⭐️⭐️⭐️⭐️
10 months ago Billy Rae
Had a surprisingly bad experience at Whole Foods today. Noticed my fav chapstick was on sale ($2 off w/Prime). Price was wrong at checkout...so I I offered to take photo of the sign. As I rounded the corner, an employee with a walkie talkie was taking the sign down...she informed me the sale ended July 1st TWO DAYS AGO. They didn't honor their posted sale price. Surprising.
5 months ago Rodney Aviles
Way to expensive for products one can get elsewhere for a lower price. Very clean, wide variety of organic, all natural products.
4 months ago candice wright
Great store and really loved there is an Amazon drop off inside the store.
5 months ago Julia Robinson
Love this place! Found my favorite Black truffle hotsauce here
5 months ago Brandy L
I love the store and it's walking distance away which I'm grateful for. The staff is super friendly and always seem to be in great spirits. I'm still giving it 5 stars but the store is a little confusing inside so it will take a couple times to get it figured out.
1 month ago Jonathan Martin
Always great and always nice people.
3 months ago Shae Byas
I think we have ordered pizza at this location on Friday at least 4 times and every time we call in an order 30 minutes beforehand, the pizza hasn't been made yet. And then the one employee working the busy Friday pizza days is also having to man the sandwich and buffet food section. Tonight, not only was the pizza not ready, when we got there and finally put in the order, he forgot to put toppings on both pizzas. So we had to wait another 30 minutes for him to make the new pizzas and he baked them separately. There's not even a line. When we asked if he could be light on the cheese on both pizzas, he didn't do so. Then there was a shift change in the middle of all of this. And he left. Ever since Amazon took over Whole Foods, it is quite noticeable that they are understaffed and underpaid for the work. Or maybe they are hiring the wrong employees. I've been a Whole Foods shopper for 20 years and the employees in all locations just don't care about their job and serving customers quality food and groceries. There is no enthusiasm and it feels like they have had little to no experience working in grocery stores. They also seemingly don't care to improve. It truly is a disappointment.
8 months ago Tim D
Love this place for the variety of natural and organic foods. I love tea and they always have something I like. I just wish they would sell their bread pudding year round as it is most delicious! The blueberry, white chocolate is my favorite!
1 month ago Jeremy Vazquez
Good. Clean. Fast
3 months ago Dillon Sandhu
Very modern, vegan, and eco friendly grocer!
1 month ago Vladika Michael
It's a Whole Foods, you know what you're getting. Never fails to deliver on expectations.
3 months ago beesley photo
Centrally Located and great location. Whole Foods offers a great selection of health food and beverage choices as well as on the go meals you can take to go or enjoy inside the climate controlled patio or outside.
4 months ago Gary Heinz
Get to know your butcher's to learn about great deals on quality meat products.
8 months ago William Irvine
On September 16, 2020: A certain cashier at this Whole Foods was rude to my husband and made him not feel welcome. She was super attentive to all of the other customers and when it was his turn to check out, she was scanning all of his items and pushing them to the side. There were no other customers in line. We usually bag our own groceries, but she was bagging them for everyone else BUT him. And she didn't even greet him or wouldn't look him in the eye. I get it. Whole Foods is known for being "high class" grocery store. He came in to buy items for our dinner tonight after getting off work. Sure he showed up in his worn out work clothes, but she didn't have to treat him that way. This isn't the first time it has happened here. I love Whole Foods products, but for the service, I would not go back there. This is why I've been sticking to grocery delivery.
2 months ago hanny cohn
Great selection of goat products: cheeses, butter and yogurt are my favorites. And because I drove 90 minutes to get there, they even gave me some ice for the ride home - what great service! I'll keep coming back until Whole Foods locates a store in College Station - please hurry!
1 month ago James Smokey
Everything from this store is perfectly selected to make sure customers are completely satisfied.
7 months ago Jason Beckerleg
They had exactly what I was looking for. The hot bar is delicious.
9 months ago Richard Klein
Went to pick up items from the Amazon Locker at this location. Smooth sailing. Staff was helpful as to where everything is. No sanitizer was available to sanitize hands per the COVID measures though although they may change, so bring your own in that retrospect. Overall, nice, dark, organic location.
3 months ago Tania Semenova
Way overpriced products, extremely confusing layout, extreme overhype, inefficient waste of time
5 months ago pavithra Rajasekar
Great place for produce and outdoor/indoors plants. Got these cute succulents over from whole foods. They slightly over priced compared to central market.
5 months ago Gaye Medlock
Fantastic produce department. Learned that one can special order meats from the butcher. ????????
8 months ago Jennifer H
Have been shopping at whole foods in Houston for many years. Still my favorite location! Love that they have built one closer to where I live but it doesn't carry many of the things I need as this store does.
1 month ago Frank Eddy
Best selection of foods! And amazing desserts
4 months ago Javier Lopez
Whole Foods is incredible! This store has a great selection of produce and pretty much anything you would want. The staff is really friendly and the food is super fresh. So glad this is my neighborhood store!
10 months ago Hicham Sami
Their chantilly cake is so delicious, I definitely recommend!
3 months ago kimberly lantrip
Love selection, polite staff, A.Prime association
4 months ago Brett Bowman
Great location with tons of traffic. Selection is wide and varied, priced about $$ what you would expect for this type of food and service. Always clean, bright, well-light, friendly help close by and within walking distance from many attractions and other amenities that are sure to fit your needs! I love getting their fresh juices and fruits, sometimes the breakfast bar in the morning is quite enticing. The reuben sandwich is flavored well, and a wide variety of salad choices as well!
8 months ago Brandie Reynolds
In the last year unfortunately we have seen the prices go up and the quality go down. Not just produce but seafood, and meat. Things have been frozen that shouldn't be. Disappointed.
6 months ago Sebastian Ize
Love this neighborhood gem. My cashier was so kind and patient to explain my Amazon Prime membership and how to use it when I shop!!!!!
1 month ago david zhu
Having to stand outside in a line to get in is lame. As far as Whole Foods go the employes at other stores are usually nicer and more attentive. I don't have to wait as long to be acknowledged when there are no customers nearby and more than one staff ignoring me while I wait on the other side of the deli counter at other Whole Foods locations.
3 months ago BuddhaB Parton
High quality products. Store neat and tidy. Not the cheapest place. No surprise there.
1 month ago
Popular places from the category Grocery store