Uncommon Objects
Antique store Uncommon Objects, 1602 Fort View Rd, Austin, TX 78704, United States:
220 reviews
of users and employees, detailed information about the address, opening hours, location on the map, attendance, photos, menus, phone number and a huge amount of other detailed and useful information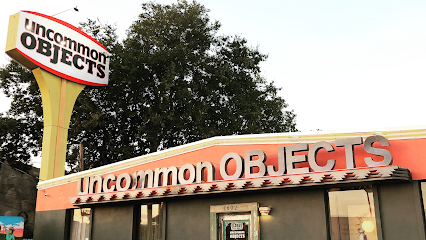 Address:
1602 Fort View Rd, Austin, TX 78704, United States
GPS coordinates
Latitude:
30.2290058
Longitude:
-97.7830873
Location on the map
Reviews Georgia Bryant
This place has aisles and aisles of all kinds of interesting finds. It's much more creative than an average antiques shop and way more vintage than a normal home decor place. There's wall hangings, belt buckles, stairs, old wooden and metal boxes, jewelry, tools, stuffed trophy animal heads, signs - kind of something for everyone. Like a curated fascinating garage sale but giant. Pictures may help because there's too much variety to describe in words. Fun to visit and great place to get a memorable and special one of a kind gift for someone whatever their interests.
5 months ago Chauncey Hulbert
Uncommon Flea market is very unique. Popular and with an interesting variety of merchants and merchandise. Don't miss August flea market and meanwhile start getting in the mood by visiting Uncommon Objects.
4 months ago Mahtab Kaka
The name was very accurate, and I spent way more time in here than I thought I would!
5 months ago Chelsea Barrera
This place is incredible. I've seen so much about it before but never visited even though I live in San Antonio. I'm so glad I finally made the trip over with my husband because this is one of the coolest places I've ever been to. Will definitely be back many more times!
10 months ago ken hunter
Some of the most strange things I've ever seen for sale. Not your common thrift store finds. A very interesting place to check out vintage pieces and oddities...Mainly home goods and random trinkets.
9 months ago Wanda Marrero
Uncommon Objects is a fantastic, authentic Austin visit. The name really says it all. Super fun curation of historical ephemera, with new stuff coming in all the time. I love going every now and then to add to my collection of Very Small Things.
9 months ago Sandra Dowdy
Beautiful shop, well curated and organized. THE place to find that authentic piece that will make a room.
7 months ago Tab Bryan
An Austin must go attraction. This place is filled with so many blasts from the pasts it'll trigger all kinds of fun memories as well as oddities that tickle your fancy. I highly recommend for a quick run through. Who knows? Perhaps you'll find a treasure or 2.... or 3... ????
7 months ago Kris Martin
Color-coded curated perfection! I don't k ow if people know how difficult it is for antique/thrift/consignment shops to curate unique objects and display them in a way that allows for storytelling and design, but it's not easy. Uncommon Objects did such a fantastic job of mixing quirky, ethereal and practical objects all together. I was tethered to each section by the color blocking, and it allowed me to take a longer look at the items that interested me because I could tell that there was intention behind the placement of these objects. Normally I get overwhelmed seeing that much stuff in one place, but I actually felt a sense of calm, so kudos UO, aesthetically you knocked it out of the park for me!
5 months ago HarshaSuneetha Fernando
Very cool to walk around. Everything's overpriced but it's definitely a fun experience and interesting to walk through. Very unique and Not junky. Probably one of my favorite antique shops so far!
5 months ago Jake Ludemann
Fell in love with this place! Expect to spend some time exploring all the Nick backs, paintings, and one of a kind items. Picture perfect and we'll organized. Staff was patient and friendly, held my stuff in a cubby so I could show without dropping anything. Jewelry to butterfly wings to skeleton keys and glass blown sculptures.
2 months ago semhar kidane
Lots of interesting items. Really loved how they displayed the taxidermy
9 months ago Justine Bodin
This is such a wonderful antique store. It's the ONE place my mom has to go every time she visits me in Austin. It is so incredibly well-curated. I have about five pieces of their artwork filling my apartment. Gorgeous art and really competitive prices. They will continue to get our business!
5 months ago Yatman Chung
Cool stuff! Went for their monthly flea market. Some of the sellers were asking unbelievably high prices that didn't match the quality of the item. Other sellers were spot on with their pricing. Make sure to look at every stall before you buy, you'll be able to see who's overpriced and who's spot on.
4 months ago Jabbar Jones
Lots of unique items. Take your time..
9 months ago Stephanie Tham
Great place to go and get some good laughs as well as see some cool things. The prices seemed a little high to me, but I am from Oregon where there are more antique stores and so I think the prices there are cheaper. The workers here are really friendly as well!
4 months ago Traci Fryauf
amazing store and wonderful staff. fun to wander around and look at all the vintage and antique items. they have a wide range of items and prices. some things are very pricey, while others are more reasonable- just keep hunting if you are looking for something to bring home. staff were wonderful and kind.
7 months ago Sami Klein
Awesome spot for odd stuff and antiques, we spent a couple of hours here and left with some one of a kind pieces. This place is worthy of your time and money!!!
9 months ago Mykalia Jamison
I'll always have a spot in my heart for this place. Even if you don't buy anything it's cool to go look around. It's like a museum!
4 months ago Samuel Vasconcelos
Super cool little place to visit. As long as you like weird and uncommon stuff you'll love this place. We spent a couple hours looking at random stuff.
6 months ago Brad Mulkey
If you like oddities and collecting 20th century antiques you'll enjoy this. There's a market out back that happens once a month. Prices seem over the top for the condition they're in and feels like most of its junk people are trying to sell. Perhaps that might be a project you're willing to invest in.
7 months ago Madelyn Balch
Loved this store. Something for everyone.
2 months ago john weerden
Amazing place to get lost in and you can actually buy some historical items! My favorite items were the taxidermy and voodoo statue with nails in it.
11 months ago Kinda Constantine
Love this place! They've always got very wonderful and odd pieces to looks through. Their vendors are well thought out.
7 months ago Raymond Jacobs
This is a wonderful quaint place to spend the day. There are more things to look at than one visit will justify. The building is deceptively small looking from the outside, but there is plenty to look at as you wind you way in and around toward the back. The staff is very helpful but not pushy. Come for a quick look or stay awhile. Also there is something on Sundays...
5 months ago Pooja Bajpai
So many unique items
11 months ago Gabriel Feder
Cool stuff with some vintage and antique finds. Some thinks are a bit pricy but makes sense considering the value of the items.
4 months ago Barry Fairbairn
What an outstanding and eclectic selection of items this place has! Some really cool stuff and all quite well curated. They have done a great job carving out spaces that have connected objects and everthing looks quite textural. Employees are friendly and ready to help with questions or finding things. Parking is a minor hassle but the place makes up for it!
9 months ago Bethany MQ
This place does have a lot of uncommon objects, including jewelry.
7 months ago Wally Laskowski
Spectacularly weird
6 months ago Hope Reed
What a fun place! Hands down the best antique shop we have been to. Wonderfully curated finds, some at surprisingly great prices. If you don't go to shop, go to just enjoy the weirdness that abounds! Random taxidermy all over and often comical. Some areas organized on color schemes and others on different "themes" if you will. Staff were friendly and ready to lend a hand if you are in search of anything in particular.
8 months ago Ryan Mcallister
Amazing antique store, probably one of the best that I have ever been to! The thing that I love the most is the organization of the whole store, with its color code and theme for all its items. Lastly, there would have been more purchased if the prices might have been more affordable, but that didn't stop me from buying items all together.
8 months ago vivek m
Very lovely collections of antiques and weird stuff!! People work there are really friendly and welcoming. I like how each little corner/section is designed and organized with a nice color palette. So much fun to walk around and make it a treasure hunt!
6 months ago Tara Jones
What a cool freaking place! Definitely worth a stop! Had fun walking around looking at the oddball items for sale. Dogs onsite were super cute and friendly.
7 months ago Jeremy Prado
This place is without a doubt awesome. It's far more than an antique store. Chock full of stuff you didn't know you wanted or needed. Unique, quirky, a place to find those one of a kind things that make any design totally you.
3 months ago Mildred Bencosme
This is a destination spot for sure! I love the thoughtful and creative way the store is merchandised. You can tell the love that is put into each vingette. One of the best antique stores I have visited, a must see!
9 months ago Paul Gruenwaldt
Lots of neat old things! Staff was fairly knowledgeable on the items they have, unlike other oddities and antique stores I have been to! Will definitely be going back!
9 months ago Michael Tatum
Pretty cool. A little overpriced. No real sense of discovery. Mostly just the usual antiques.
3 months ago Charlie Belcher
A comfortable little antique shop. Everything is laid out well and everything clearly labeled and priced. From section to section the prices range from fair to unreasonable, luckily mostly fair. Some joker wants 90 dollars for an old stick. Not a walking cane mind you, a stick. That irked me but everything else was great. Lots of strange items too. Fun conversation pieces and worrisome signs of an onset of early dementia. Something for everyone!
9 months ago Randy Vonkanel
Loved walking through your store! Definitely full of rare and random items!!
5 months ago Gill Chester
Love this place. Lots of great stuff. This is paradise.
6 months ago Gabby Schropp
They have uncommon things lol
4 months ago peggy hernandez
The most amazing items can be found here. If you're looking for different or eclectic, this is the place for you.
5 months ago Karla Ames
Really interesting spot with a ton of unique vintage items. Their inventory is mostly decor.
8 months ago Stephanie Pratt
I've always valued the unique treasures this store has collected over the years. Must see
8 months ago Timothy Davis
Super fun to browse but most of the stuff is just a bit overpriced. Does have some cool, rare books and interesting taxidermy. Worth a visit.
7 months ago Eligio Avila
Very clean and organized without taking away from the usual disorderly aesthetic of antique shops. Attractive merchandising technique. Decent prices. I'm glad we stopped in.
10 months ago lavonda banks
Two words : IN LOVE. Amazing prices, friendly staff, and a wide variety of items. Will definitely be back to buy more!
10 months ago Jeff Parisi
Unique and eclectic and organized
9 months ago Mark Dawursk
Cool place, great for getting lost for an hour or so.
7 months ago
Popular places from the category Antique store