Greyhound: Bus Station
Bus company Greyhound: Bus Station, 320 1st St SW, Albuquerque, NM 87102, United States:
220 reviews
of users and employees, detailed information about the address, opening hours, location on the map, attendance, photos, menus, phone number and a huge amount of other detailed and useful information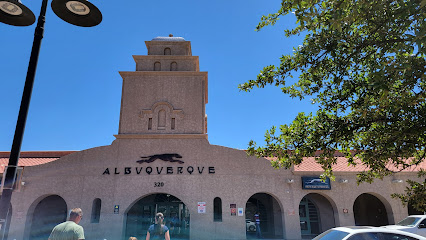 Address:
320 1st St SW, Albuquerque, NM 87102, United States
GPS coordinates
Latitude:
35.0820046
Longitude:
-106.6478379
reviews Maricel Lucero
I arrived here by Amtrak 11am to connect to Greyhound to Texas at 9pm. A long wait indeed. The guard in the waiting room said the waiting room is for current riders within the coming hours. And I have to wait outside until 6pm. I told him that outside was too hot for me. All people are not allowed in until their scheduled time. I guess Albuquerque doesn't like out of Towner's. I wanted to buy their Famous New Mexico Chiles.... Now, they can stick it up where it burns the most!
1 month ago Tammie Harrison
What made this place horrible is the person named Anita Gomez she's a piece of work idk how this person is still working there she refused to sell me a ticket and then slithered away for someone else to deal with her nastiness. I would say she's a detriment to Greyhound the bus wasn't filled only 9 ppl were on that bus and yet she was ugly enough not to sell me a ticket. Greyhound I will give you more stars when she is released of her duties there
1 month ago Diana Mobley
The bus station workers all of them and the drivers are some of the most patient people ever. 4 stats because 1 guy can't clean the whole bus at every stop. #aceyourbets @chriswilkinson741
4 months ago Ashley Hardy
Booked a bus trip for my boyfriend from here to Amarillo, Texas and he got nothing but confirmation emails for the trip up until he gets to the station and they tell him his trip was all of a sudden canceled. He received no cancellation emails at all. The lady who told him it was canceled I have no doubt canceled it herself because after she told him it was canceled and offered no explanation as to why it was and when confronted with photos of the card I used showing it went through and confirmation emails she vanished for over 2 hours and there was no other ticket station people to help. So he missed his bus.Their own security guard was confused as to why no one else was around to help. An investigation needs to be launched on the staff here. Now I'm trying to fight greyhound for my money back while my man waits another full day to go home.
2 months ago Ferdamys TFM
Tom loved the ride<3 Greyhound is definitely a "Get-Away"/"Vacation" for everyone, just like Tom! The Bus Drivers were nice Enuff, & if Tom need more time? Bus Driver give more time! Tom had great experience up'n'til `De Driver stopped; Phoenix AZ... Tom disapprove of (some) people. Nasty! Over-all; Tom has good time. Drive with other friendly Cats???? Tom suggest a Ride in Greyed Hound! Tom love to Travel! - De`Cat????
1 week ago Rick Hernandez
Great customer service.
5 months ago marcia colvin
Great friendly drivers that puts one at ease is the biggest PLUS Going-trip was manageable then comes the Return-trip... So... unforgettably filthy bus from Atlanta with 4hrs delay in Oklahoma as the icing!!!! Got home very late
3 months ago Jai Lee
Complete lack of communication. As passengers, we are in your care, and trusting your business and competence. When a bus is over 30 minutes late, you should let your passengers know what is going on. Leaving Albuquerque in a really bad mood!
2 months ago Michael Caban
Very nice and clean. There is a grocery store that have hot food(chicken strips, Mac and cheese and things as such)
2 months ago Ryan
Bus is late...it would be awesome if they had something that you could see from you car in the pickup area that would tell you if the bus was late.
9 months ago Renee D
Did not really feel safe. But hey you get what you unfortunately can afford. Vending machines outrageous. 3.00 bottle soda. Food in machines no one could seem to operate but did not see microwave. ???? Rundown.
3 months ago Kyle Guzman
The bus driver I believe his name is "Ted" was great. Funny and helpful. So this station you cannot stay in unless you have a ticket going somewhere. I arrived at 430am exhausted. I was going to leave in a few hrs waiting on my ride when a police officer stated the rule. That's fine. So I go to the end of the building outside to smoke when a cop states no one can stay on the property unless you have a ticket. Well, some mentally disturb woman started to scream profanity at the cop. Yeah, there are some crazies here.
8 months ago effie webb
Great customer service professional and a reminder of our face mask security workers did a great job as well
3 months ago brandon rippeto
Open for business, I drop packages here and they take care of them quickly and I'm in and out swiftly.
3 months ago Car Gil
Speaking of a holiday travel! Greyhound had lost my sons luggage and we didn't get anything/nothing in return and as well as their bus leaving early in Chicago as his bus had just barley pulled in into their hub and had to wait 4 hours! His mother 'decided' to drive 6 hours instead to pick him up while he didn't get to his 'Paid travel' destination! …Sad company!
2 months ago Donna Gagne
The FEDS were there!! ????????????
11 months ago Mansi Patel
Though i passed through rather quickly on a couple of occasions the place seem clean and efficiently run and staff was very friendly and helpful. Quite a contrast to some of the dirty rundown stations ive seen in the past.
4 months ago Niculaie Ciotlos
There are good days, then there are bad days. This trip was one of those bad days. But there appeared to be one bad constant in Tulsa, in Albuquerque and all the way to Denver. The employee gave order as if they were superior to the confused passengers they were hired to supposedly help and serve. Comments like, I'm not going to repeat this again; I am not going to tell YOU again; read your tickets; if you miss your connection it's your fault. Passengers who had poor English abilities were trying to get help from other passengers because the agents were unwilling to do so without yelling.
5 months ago Karlena Henry
Went from northern lower Michigan to Arizona and back and both ways it was clean, friendly staff (front desk and gard) great job. Most grayhound stations on my path have not been.
5 months ago Monette Ortego
IT SUCKS!! BUS DELAY FOR 4 HRS. BUT THE STATION ATTENDANT WAS GREAT. HE HANDEL THE SITUATION VERY PROFESSIONAL.
4 months ago Cheri Seale
Had a layover there with Amtrak. The place was busy! The personnel was very helpful with those of us traveling through. There is nice sitting space inside whether you are waiting for the train or bus. There is a spot where you can pick up a trinket or two. Lots of information to take as you tavel. I enjoyed this stop!
6 months ago Chelsey Jones
Staff extremely professional. Couldn't ask for a better train station.
3 months ago Idel Bass
Very disappointed in the overall service in general. What was to be a 12 hour trip with to two 30 minute layovers turned into a 27 hour trip with a 7 hour layover and a 4 hour layover. I'm could have made better time hitchhiking. And social distancing isn't possible when the busses are packed full of people with the greatest distance between two people was no more than 2 feet. When it came to purchasing tickets it was easy and fast. Even after having to change the entire travel plan it was taken care of promptly and no questions but doesn't overshadow the very poor quality of the service they provide... I basically lost an entire day of a vacation.
7 months ago Frank Pitto
Website not accurate and caused a great inconvenience. Security guard was more informative. Bus station needs to provide updates on bus schedules/times
4 months ago Josh Moreauu
Friendly and helpful staff. Facility was very clean .
2 months ago Soriya Noona
The Amtrak station and Greyhound station are one and the same. AWESOME customer service. The people are so helpful, caring and provide great information
6 months ago Josh Draghe
The employees are rude and I think you guys should have somebody help carry luggages an individual has has more than just carry on there should be some kind of stuff that helps with a cart especially for the disabled that's what I think
3 months ago ned johnson
Very clean, have snack and beverage machines, but no hot coffee if the restaurant is close...????
2 months ago Erin Swanson
The buses broke down. Some of the drivers and clerks were very rude . company gave me back some of my money because my trip was so bad .
2 months ago Clarke Thomas
The service is good and the building is nice. My old stomping ground. I can tell you that downtown ABQ is not the place to be if you are just passing through and want to walk around to pass time waiting for your bus. It is filled with crazies walking around that area. FYI, abq has a high homicide rate and lots of meth heads. So stay on the property and wait for your bus.
6 months ago Rashad Carter
One of the better bus stations I have been to
2 months ago ILYA SKOROBOGATYH
Clean place. A few weirdos. Bus trip from Albuquerque to Denver was comfortable.
6 months ago edward tiliinghast
Greyhound is great! I enjoy taking it and there is always good scenery!
4 months ago saya abdullahi
It was very late at night so it was extremely quiet being the only one there.
5 months ago Richard Roach
Its ok the busses were late today which had caused a increase in time to wait for bus refiles or switching busses.
4 months ago Kimberly K
Pretty good. As far as Greyhound bus stations go, and I've been to many, this one is pretty good. It's cool, clean, plenty of seats, food and drink machines, a restaurant, and bathrooms. The ticket counter is the typical sloooow awful Greyhound service, the seats are wire and slippery. You cannot get comfortable on them but, at least you can sit. Only one tv viewable from only 16 of the many seats. There is a really primitive inadequate charging station. This gets 2 stars only in relation to so many other Greyhound stations. Most are a zero. Oh yeah, they have free wifi, it is so sloooow and the restuarant is not open during posted hours.
3 months ago Officer X
Kool bus station the security guards are professional and friendly
2 months ago Kimberly Porter
Relatively good bus station for greyhound. Inside is clean safe. Uncomfortable seats. Outside a lot of homeless.
7 months ago shirley lowe
Staff are cool but the seats are killing me.
3 months ago Brian McDermott
I guess it's ok. I have to sit outside and wait for my train. They don't allow people into the lobby until 2 hours before your train leaves.
3 months ago Deborah Marks
Nice clean station in Albuquerque new mexico.
3 months ago Jerry Adcock
Dont even deserve one star , waiting to pick someone up here the bus is a few hrs late , the station wont let anyone in to use bathroom , everything is closed around here they say it's a law to wear a mask inside , there is no law and they are pretty rude
2 months ago Claudia Kemper
Because of this station and the day i was there i now suffer mentally and physically from the wreck i was involved in RIP TO THOSE WHO PERISHED FROM BUS 1333 those who survived i wish yall the best in life
2 months ago Ganesh Kadam
Nicest I've ever been in with a distinct Southwestern flavor.
2 months ago Rochelle Mays
All in àll good people
1 month ago Sanjay Solomon
Getting checked in was a breeze.on bus and departed on time.my dog has his own seat..all good
7 months ago Suzanne Lafever
Area was very nice and clean. People were friendly.
5 months ago Robby Clerk
This was a 25 minute stop on my train trip. I did not go in. The outside was clean and there was security present
1 month ago Moe Alsada
Nice place to visit but would not like to stay there
7 months ago Keerti Bajaj
Pretty watchful with a lot of armed guards. Safe enough tho.
8 months ago
Popular places from the category Bus company