Uno Chicago limo
Limousine service Uno Chicago limo, 5030 N Marine Dr #1307, Chicago, IL 60640, United States:
32 reviews
of users and employees, detailed information about the address, opening hours, location on the map, attendance, photos, menus, phone number and a huge amount of other detailed and useful information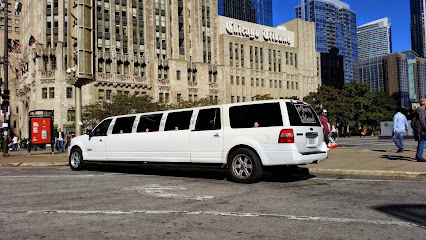 Address:
5030 N Marine Dr #1307, Chicago, IL 60640, United States
Website:
uno-chicago-limo.business.site
GPS coordinates
Latitude:
41.9741168
Longitude:
-87.6519118
Location on the map
Reviews John McLaurin
Had them take me to dinner and back. Awesome service with a beautiful black limousine. Our driver was kind and even thru in a free champagne. Of course we tipped him extra
8 months ago Rachael Touchet
Worst limo company in Chicago. Do not use this company!
11 months ago Eliza Charles
Love these guys! Celebrated my dad's 60th birthday (he lives in Chicago area) in style thanks to the beautiful limo with professional service that VIP provided. The prices were the best and the quote was accurate till the end. No hidden fees or anything weird. We were treated with respect by both the management as well as our chauffeur. Had a great time and will be using them again if I need a limo in Chi-City. Keep up the good work fellas.
8 months ago Maria Witt
I was looking for car service for my company as I travel a lot. I found them on google and decided to give them a call. I spoke to Daniel and he was amazing! He set up an account for me and helped me with all my bookings! I will definitely be using reserve limo again!
6 months ago Kelly Corcoran
Had to stop by and say thanks to Chicago Limo for their exceptional customer service. I rented their stretch Hummer for a few hours for a family get together and everything went smoothly. Our chauffeur was great. He arrived on time and left me impressed with his professional uniform and clean limo. The driving was great and he got us to and from our destination safely. The price was very affordable and we all had a good time. I look forward to doing business again. Thanks.
2 weeks ago Christina J
I travel a lot. Leave Monday mornings and come back either Thursday or Friday mornings. I've used them for a couple of months now and they are great. Thanks a lot Daniel and your drivers.Chicago limo.They are great.
8 months ago JL yorkperez
Excellent service. Ordered several cars for a dinner celebration and impeccable service. On time. Gracious and helpful. Perfectly maintained cars. Highly recommend. Thank you
10 months ago bob smith
Great service, extremely convenient and professional. Would highly recommend. Great way to "add to" the Chicago experience especially if you have kids. They loved the ride with the lights and everything!
10 months ago Liz Andujar
I travel a lot and can say for sure, service is really really good. Very responsible and helpful customer service. I used the service for over 10 times in the past month and every single time limo were 15-20 minutes earlier. All the chauffers who I met so far were very nice people with their unique stories that is always interesting to listen during the ride. I don't even need to mention that cars were very clean, and actually smelled like brand new. I can't stop to recommend this service to my friends because when you travel as often as me you must have a reliable limo service. Great job, guys, you're doing amazing job!
10 months ago Clayton Harness
We had an amazing night thanks to Uno limo. The driver came on time and had drinks on ice ready for us. They made our unbelievable night worry free. Thank you!
2 months ago Erik Stieringer
Uno Chicago limo is Awesome!! Great Service and the rate is very reasonable, well worth giving a try, I booked a lemo to impress my date and Daniel really made the experience something that me and my girl will remember for years now. My girl had a wonderful time and smiled and laughed through the whole experience I defently impressed her and could tell from her excitement I was for sure going to get some tonight. I will for sure be using Uno Chicago limo in the future.
8 months ago Josh Wilkinson
Great service, Great cars. We had an awesome night & these guys made it stress free. I defiantly recommend to others.
10 months ago Karen Frankel
What more can I say....Uno Chicago Limo treated us great! We felt like big shots for a very great rate! We will for sure use them again real soon.
7 months ago Adel Bouzid
I live in the neighborhood and i chose them for a ride to the airport. Their sedans are clean and well maintained. Thank you for your great service.
2 months ago Opara Phillips
I called last minute for a trip to Soldier field and they were available. I must have called 20 places before and they all had outrageous prices. Their prices are very reasonable .Thank you guys for your help!
11 months ago Brandon Anderson
Awesome Limo service! I was taking a little longer than expected and the driver was very understanding! Very clean as well, I'm a stickler about that
2 months ago Flaky LMD
It's hard to find a service that puts customers on top of their list. Working with them was a bliss. From booking to the ride it self everything went according to plan. Fully stocked and decorated with flowers, my wedding was a blast.
9 months ago Caroll Nerette
November wedding is the best. Can't get better pictures than that. Thank you Superior Chicago limo for your beautiful limo and good driver
2 months ago Chad Jennings
"The most professional limo company that I have ever used. Highly recommend! "
10 months ago Rachel Spicer
I traveled to Chicago last week and made a reservation for them to pick me up at the airport. Great service..driver helped me with the luggage's and was very nice. "I will use them again when i travel to Chicago" Clint H. Owner of AIRWORX
2 months ago George Macintyre
Need a limo for a wedding and these guys were great. Good limos and awesome drivers that go above and beyond to make you feel special.
7 months ago Ross Mansfield
used them a few times and they were great. on time and very respectful drivers
2 months ago Walter Smith
Wonderful company,hired them for a wedding and they send down a beautiful 10 passenger stretch limo decorated and with a "Just married sign". #Weddinglimo
7 months ago james frommer
Being from out of town i wanted to make sure i don't end up in a Chicago taxi. These guys were great from start to end.
11 months ago Jamie Rovithis
Like previous reviewers said their MKT limo is awesome...beautiful limousine. Will be back for more services.
9 months ago Larry Liston
The best at what they do...A limo service that cares about its customers and reputation.
2 months ago Michael Richard
Great Service, Highly Comfortable Cars. Thank you.
5 months ago Vidal Filho
Beautiful limos and well mannered drivers best limo company I have ever used I would highly recommend Superior Chicago Limo!!!!
2 months ago Adam T
I'm from out of town and I happen to stumble upon this limo service. Awesome people, very friendly.
2 months ago Jeia Chiong
I rate it 5 stars for good service.
4 months ago rebecca patterson
My first time renting from them and i was impressed. They have a 3 hour tour of Chicago and a price you cant beat.
4 months ago jennifer boyd
Showed up at the exact time as expected in a clean late model SUV with a very professional driver. Everything you could want or that you would expect from a car service....I'll be back for sure.
9 months ago
Popular places from the category Limousine service