ALL Pediatrics of Lakeridge
Pediatrician ALL Pediatrics of Lakeridge, 4500 Pond Way Suite 220, Woodbridge, VA 22192, United States:
112 reviews
of users and employees, detailed information about the address, opening hours, location on the map, attendance, photos, menus, phone number and a huge amount of other detailed and useful information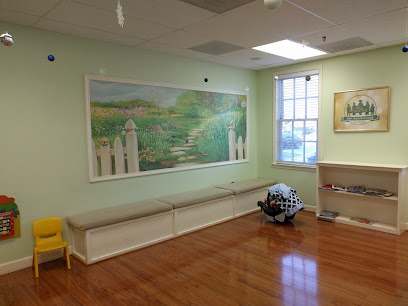 Address:
4500 Pond Way Suite 220, Woodbridge, VA 22192, United States
GPS coordinates
Latitude:
38.6774755
Longitude:
-77.3445979
Location on the map
Reviews Juli Wall
This is the worst office that I have ever come into contact with. Initially, it took forever to even get an appointment. Then it wasn't with who we wanted. I called exactly when they said the "new calendar" would open. Since this was the case, we were told the office manager would contact us to fit us in for her next check up with the preferred doctor since we had been waiting for months. She finally called back and offered a wellness/vaccine appointment a month after our daughters 9 month mark. So by the time she called, I had already found a new pediatrician and had requested for her paperwork to be sent there. I tried to ask her for an update about this, but she hung up the phone as soon as I told her I was switching. It's been a month and they still haven't faxed the paperwork or mailed it to me like they said they would. I have now filled out her medical records release form twice. This was really disappointing bc All Peds had such good ratings and we just moved from Florida so we were excited to find a good pediatrician. I don't know why the reviews are good. This office is terrible. They're unorganized. They can't answer any questions. And the doctor we saw was less than personable. She made me feel really dumb for asking questions and I'm a new mom so obviously I need to feel comfortable asking my daughters pediatrician questions. I'd shy away from this place. It's not even worth the try.
5 months ago David Newman
Dr. Caplan is compassionate with his patients and always helpful! If for any reason as a parent, I am overly concerned, he reassures me and provide great resources to ease my nerves. He works well with kids and his comprehension when listening to my concerns and his ability to communication is exceptional! He is one of the best doctors in Northern Virginia!
7 months ago Lisa Volturi
I was very pleased with the care my son received. The Doctor had great bedside manner. The nurses and staff were very professional and thorough. Having moved from a different state and looking for the best care for my son Im content we found ALL pediatrics.
6 months ago Luke Whally
Dr. Farber takes the time to listen to our concerns and thoughtfully answers our questions. He doesn't pressure/push our toddler to participate in the appointment but always tries. He is kind and smart and we trust his feedback and his knowledge. We appreciate that he follows up when there is a concern. While our toddler is quiet around him, she does not shy away and for us that speaks volumes.
8 months ago Valarie Gabriella
The answering service is very slow. Was on hold for 15 minutes just waiting to speak to someone to schedule an appointment. The automated message kept saying I could schedule online but the none of the providers availability was displayed. Appointments also never start on time. At my last appointment I waited over half an hour past my appointment time to see the doctor.
5 months ago Paulletta Gwinnup
We have been going to this practice since my 10 year old was born. I have 3 kids so that's a lot of visits to the practice and every time the staff has been friendly and professional. We usually see Dr. Ashton-Lazaroae since my child has a unique medical condition, and she has always provided excellent care. She is very knowledgeable and has answered all of my questions (that's a lot of questions with three kids over a ten year period). When we have needed to see a specialist, she knows who to refer us to and she always follows up when we have seen the specialists.
9 months ago Dela McBrayer
Love that they have multiple locations and the doctors are very receptive, i feel they gave my family the time and attention we needed and answered all our questions. Dr. Sullivan has been great with our newborn premie, he makes me feel confident in the quality of the entire practice!
6 months ago Abhishek Jacob
We love the staff at All Peds. Dr Sullivan is our go-to, but all doctors and practitioners are extremely helpful and friendly. The front office staff is accommodating and kind. 10/10 recommend this practice.
7 months ago pjsanfil
Dr. Caplan is the best and so thorough with everything! Always there to help answer questions. So glad we were able to book him for our sons appointment as he is always booked!!!
7 months ago Mary Bozaan
This is the second time we've seen Christina Chen and she is just fantastic. An amazing listener, she takes all my concerns and questions as a parent seriously. And offers wise and reasonable advice... I know she'll be thorough and carefully consider all options for treatment. She's a real asset to your team. If you've had bad experiences with doctors or NPs running in and out and not taking the time needed with you and your children, or not taking your concerns seriously, rest assured you do not have to worry about this with Christina Chen. Highly recommend her.
8 months ago Robert Ribeiro
Dr Sullivan is so good with my son and is very personable. Always a pleasure taking my son to see him. My son enjoys going to the doctor. That says a lot about the care that Dr Sullivan provides.
10 months ago Tydiz Hye
They moved to a new facility better facility which we really like it, Great Location! We are visiting All Pediatric for our children in the past 2.5 years, the staff, nurses and doctors are amazing, thank you for the good customer service! Keep it up!
11 months ago Woodrow Williams
Dr. Nair was incredible. First time we went to visit her for my daughter. Not only has she taken great care of my child, but she is lovely speak with. It's rare to find a doctor that combines such personal touches and care for a patient as a person with outstanding quality. She also called next day to check on my daughter. I wish she is full time doctor in ALLPEDS. I highly recommend becoming her patient.
10 months ago jignasa solanki
Updated Review: At our newborn appointment, my review was addressed. Dr. Sullivan apologized and seemed genuine in his concern for this error their scheduling experienced. Dr. Sullivan indicated the office manager at Lake Ridge and Lorton were involved and making sure the policy of scheduling newborn visits is properly implemented. The office manager visited with us and apologized in person. Gave us her business card with contact information, as well as the contact information for her boss. It was nice to see some acknowledgement of the failure instead of it being simply brushed aside or excuses made. None were made. They took responsibility and seemed contrite during the discussion we had with both Dr. Sullivan and the office manager. Will update as needed. ORIGINAL REVIEW: "Try to schedule visit for newborn on Saturday. Told we have to call at 8am on Sunday cause they won't take appointments. Call at 802am told can't schedule for newborn cause they have a sick visit scheduled. Practice has slowly degraded to where everything is a fight and problem. Now we won't get a newborn visit for 3 days. Will be moving our 6 kids to another pediatrician soon."
9 months ago John Cameron
She was very personable and she took time to interact with my 4 year old. It was not just about getting the well visit done and moving on. It was a great experience for both me and my daughter.
11 months ago Mary Wallen
We have been taking our kids to All Peds Lakeridge for over 6 years. They are a great team of doctors. We have our favorites but all of the doctors are professional and caring.
9 months ago Guanting Liu
We had a new patient visit with Dr. Zigler and she was amazing. Dr. Zigler was friendly, knowledgable and patient. She addressed all of our questions and concerns and made us feel confident in her expertise. The staff was also very friendly and the office very nice and clean. Highly recommended!
9 months ago Paul Saputo
Great staff, very professional and knowledgeable. Dr. Azadeh was very very patient, answers all our questions. Both my teenage children were very pleased. Dr. Azadeh was very attentive and even though I felt like I asked a lot of questions she answered them all without me feeling rushed. 100 stars.
9 months ago Sarah Schatz
Our family has been going to this practice for years and we couldn't be more pleased with the attention and care my kids have received since they were newborn babies. We see the same doctor for all well visits, and occasionally see other doctors or nurse practitioners for sick visits. Everyone is patience and listen to our concerns. We have also visited the Lorton location and we had the same positive experience.
11 months ago Barry Dutton
Dr. Farber is an excellent pediatrician. He always takes time to properly assess my children and their development. Dr. Farber also addresses all questions and concerns during appointments. Highly recommend!
2 weeks ago Nate Day
I arrived a few minutes prior to my son's appointment and we were seen right on time. The receptionist was friendly as well as the rest of the staff. The office was clean and not crowded. Not to mention., AllPediatrics simply has the BEST pediatricians.
11 months ago Visayas University
Both my children have been with All Peds since they were born. All the staff is extremely friendly. We've had wonderful experiences with Dr. Farber and Dr. Park.
10 months ago Obay Elshikh
Amazing newborn appointment. Easy and smooth process to see a dr once discharged from the hospital and loved the facility. Since we're new to the area and practice, loved that the front desk staff was able to accommodate a second appointment for a 1st grade checkup along with the second newborn appointment. Dr. Otasowie was patient and provided details on what's happening in the field as it relates COVID-19. Given that we made an appointment without doing any doctor interviews, I was throughly impressed and looking forward seeing doctors at this practice.
10 months ago Sherry Child
Transferred our 15 month old from another practice nearby. Very happy with Dr. Farber and the staff at ALL Pediatrics of Lakeridge. Courteous and professional staff, facility was open, clean, and bright. I wanted a pediatrician who payed attention to developmental milestones with my child. Dr. Farber did just that! We weren't just in there for shots and for him to fill out a form, he spent time evaluating basic developmental milestones directly with my son instead of simply asking for my interpretation. Very happy with ALL Pediatrics.
11 months ago Dave thomas
When choosing a medical provider for your child it's imperative to have knowledgeable, professionals who who also have a kind and patient bedside manner. I have been bringing my children to ALL PEDS since birth. They have earned my trust and respect through their consistent and expectation all care. The office staff from the individuals in scheduling, the front desk, and back office staff have always been so welcoming. This is a very large practice with a small office atmosphere. The remember you and your children personally. Asking about there well being by name. The founders of this practice, laid such a wonderful foundation of evidence-based, high quality, safe, patient-centered care that still resonants today. I would not take my children anywhere else.
6 months ago Lex Tal
I was recommended this place and each doctor i had has been amazing. I felt they were attentive, I've never felt rushed and my questions were answered. I have taking my boys here since they were babies and truly appreciative of the experience. I've had quite few doctors I seen there and interesting thing I can't say I have a favorite because I've had such a good experience with each one. Im mostly in the Lake Ridge one and each time I leave the office nothing but good feelings.
4 months ago Alondra Garcia
The staff and doctors are real nice. Very knowledgeable.
11 months ago Dale Koester
My son just turned 16 and my daughter is 12. We have been going to Dr. Sullivan (ALL Pediatrics) since my kids were new born. My kids look forward to seeing him. He is a very good doctor. Very personable, does not rush, takes time to examine and answers all questions. My kids are very comfortable to ask him questions. I would highly recommend him.
6 months ago Charles Unger
Dr. Sullivan is fabulous with kids and parents alike. He makes us feel at ease no matter why we are being seen. The entire practice has taken good care of us for 9+ years.
3 months ago David Elrod
Dr. Azi & Dr. Caplan have been consistently professional, excellent bed side manners, take time in conversation with the patients addressing their concerns. Front office is professional with the exceptional of Ms. LaToya & Mrs. Chanpadith, warmly pleasant with our administration paperwork requests or questions. Thank you for another year & more to come of wonderful service providers.
10 months ago leonardo SANCHEZ
Great care. Office clean. Office staff efficient. We checked in and went right to an exam room. Did a full exam. Asked questions and Doctor had a positive attitude about Covid and returning to normal activities like scouts and school with reminders of safety procedures. Nice visit. Highly recommend.
6 months ago Michael Jensen
We have been patients of ALL Peds for many years, starting with our new parent visit to the office before our oldest child was born over 8 years ago. Our family visits the office in Lake Ridge most often and have also used the Lorton office for Saturday sick appointments. Due to a change in insurance, we had to switch to another Woodbridge area practice for about a year but switched right back to ALL Peds as soon as we were able. The front office staff has always been professional, helpful, and prompt in getting us in for appointments as well as taking care of any billing/insurance issues. The quality of care has always been wonderful with both nurses and doctors, though we do have our favorites. Once we found the doctor we felt was the best fit for our family, we now make it a point to schedule well-child visits with him as soon as the schedule opens to secure a spot. The Patient Portal/Healow app that the practice uses helps us stay on top of all things medical with our kids and we appreciate the access. We are able to send messages to the doctors, print records, request appointments, etc. Bottom line: Choosing a pediatrician depends so much on your personality and parenting style to be honest, so I recommend finding the one with whom you connect with most. ALL Peds is a wonderful practice with a wide range of doctors and nurse practitioners to meet your family's needs. Highly recommend.
1 month ago Maddy Bemus
Dr. Ziegler has a great bedside manner with the kids. We never feel rushed. Also, Kathy (RN) handles immunizations well with kids (ages 8-12). She helps get them calm and is quick to administer.
3 months ago Anthony Koster
I am a practitioner at this office, and also a patient. Dr. Sullivan is caring, effective, and thorough. Thank you for your continued care of my daughter.
2 months ago Mark OT
She is a great doctor, we like her so much :)
10 months ago Kathy Orvis
Love the amazing staff, everyone is super friendly, saw an assistant, a nurse and then the doctor for the appt of my 13 & 11 years old Awesome!!!!! They always make kids comfortable! Been going since the girls were 5! Love the practice!!!!
3 months ago Andrew McWilliams
I really appreciated Dr. Otasawi's manner and care. She listened to all of our concerns and questions and helped to educate me more on my daughters health. I love the whole person concept and preventive nature of her understanding and care plan. I left feeling more knowledgeable as a first time mother and very comfortable that all of my daughter's multidimensional care requirements were addressed.
6 months ago Chathuri Wasundara
I always recommend ALL Pediatrics because all the doctors have been great and their offices and hours always have us covered. I've been to all the offices since 2017, from regular visits at Lake Ridge to weekends at Lorton to an emergency evening visit in Alexandria. In my most recent visit, Dr. Ziegler identified something I'd never heard of. I'm so glad I made an appointment. Listen to your kid when they say something is bothering them! We've seen different doctors for sick appointments and they've all been great. The nurse who gave the flu shot was quick and my daughter didn't even know what happened before it was over, so perfect! We see Nurse Practitioner Patricia McGinnis for well visits. She was particularly great for supporting breastfeeding in the early years.
5 months ago Heather mccraw
Same day sick appointment, weekends appt (including Sundays). I love this practice, always caring and keep you up to date. Super clear and the staff, wonderful ladies.
5 months ago Brad Phillips
My girls have been seeing Dr. Farber since they were infants and we couldn't be happier. He REALLY takes his time to evaluate patients during developmental screenings, he answers all of my questions, he is reasonable (providing dietary advice for toddlers), and he stays abreast of current research. My family loves him!
2 months ago Michael Hall
Dr. Sullivan is personable, knowledgeable, and truly cares about his patients and their families. I removed a star because the front check in staff could use some work.
1 month ago Harold Howell
Very professional and understanding. And knowledgeable and helpful. Will be coming back.
1 month ago prasanna kumar
I've been coming to your pediatric since 2002 I believe when my son was just about three years old he's now 22 but I do have a 13-year-old daughter that I take there as well since she was born in 2007 I love their offices they have offices in Alexandria, Lorton and woodbridge. Great service I've never had a problem with them they work quickly
4 months ago Lisa Granato
Great facility!! Nurses are extremely friendly and office staff is always very welcoming. My son normally sees Dr. Farber and my daughter sees Dr. O both are amazing pediatrician, highly recommended both!
6 months ago Idan F
Dr. O is so amazing. She took great care of my two children and they felt so comfortable with her. Thank you so much.
6 months ago Jay Dirt
Always a great experience at ALL Pediatrics but this time was an exceptional with Dr. Jon Farber. Thank you.
3 months ago Jakob Miller
Dr. Caplan is caring and kind. He has been both of my kids pediatrician for the past 10 years. He knows our family and seems genuinely cornered about our well-being.
7 months ago Jon Aird
With two boys just 12 months apart and in day cafe full time for the first few years, it felt like we were in the peds office weekly for...ever! We were always able to talk to someone or receive a quick call back from the advice nurse to determine if a same day appt is necessary AND always able to get a same day or weekend appt when needed. We have only had positive experiences with the staff and every doctor we've seen in this practice. They are just wonderful!
5 months ago Andres Feliz
Dr. Sullivan really listens, he takes time, and he keeps up with current information. When I ask questions he gives obviously well thought out answers that are understandable but not dummed-down. I trust his answers to questions and his knowledge of what is going on with my children.
8 months ago Buddy Hamlett
Dr Farber and his team are very friendly and professional. We had baby during COVID and our appointments always on time and fast. As first time parents we get all infos and answers we asked for. We highly recommend this place.
7 months ago
Popular places from the category Pediatrician