Roto-Rooter Plumbers
Plumber Roto-Rooter Plumbers, 731 Rankin Rd NE, Albuquerque, NM 87107, United States:
220 reviews
of users and employees, detailed information about the address, opening hours, location on the map, attendance, photos, menus, phone number and a huge amount of other detailed and useful information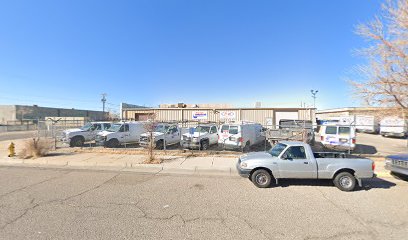 Address:
731 Rankin Rd NE, Albuquerque, NM 87107, United States
GPS coordinates
Latitude:
35.1227449
Longitude:
-106.6271861
Location on the map
Reviews Lindsy Jordan
My kitchen sink & both bathtubs were backed up. Cory cam on time & explained precisely what he was going to do & why, and quoted a price. He was fast, efficient & my drains worked great! Then he proceeded to explain the 1 YEAR warranty was good for the whole house. So if anything went wrong with any of the drains or if I needed a sewer clean-out within the year, it was all covered! Cory gave me more useful information, but will wrap this up. Price was what he had quoted. Job done quickly & effectively. Cory was nice yet professional. If you need something with your plumbing fixed, I would highly recommend Roto-Rooter! ????
3 months ago Magda LAHLITI
Highly highly recommend. We had an emergency leak and they were the only company that was able to come that day pretty much immediately. Service man was genuine and offered me affordable ways I could fix my leak, he lifted a huge weight off my shoulders and showed me how a $200 repair would really only be $25. Truly honest employees. Thank you!!!
3 months ago Charles Unger
I had a toilet replaced and an issue with septic smell solved. David and Gianni where professional, smart and personable. They did not waste time and cleaned up after themselves. The schedule was changed at the last minute and they made a supreme effort to get to me before the end of the day. I was impressed and pleased with their incredible work ethic and attitude!
5 months ago Brian Wilson
Recently in the evening, my kitchen drained clogged up. I tried the usual chemical and even borrowed a neighbor's drain snake to no success. It was time to quickly find a plumber that specialized in clearing drains. The next morning I called Roto-Rooter and the friendly dispatcher said that a technician should be there within 2-3 hours which wasn't unreasonable considering I just called that morning. Later, another dispatcher called and said the technician would be there within a half hour which was exactly inside the time period initially given. I'd like to give a big shout out to Jonathan, our plumbing technician, who knew exactly what to do to unclog the drain. He was very professional, courteous, and knowledgeable. This was a messy repair and unclog job and Jonathan did a nice job cleaning up everything. Kudos to him. I thought the invoice was fair. I wouldn't say it was reasonable nor was it exorbitant. I do feel I got a good value and Rotor Rooster was fast, reliable, and got the household up and running. I very much recommend their services.
11 months ago Adina Tapp
We bought an older home and we got a backup into our bathroom toilets and one bathtub. They sent a service person very quickly. He got the job done in no time. He and his wife own a restaurant here in town and we are going to have to check it out.
1 month ago Taylor
Quick service call to fix my backed up kitchen sink. Its nice to get a plumber in 3-4 hours after you call.
4 months ago brad asbury
I was told they would be here between 9-11, they arrived just after 12 but didn't fix the problem. The staff was great, they did what they could but I didn't know they wouldn't go under the house or I would have called a plumber. I wish I could have left a better review and in all honesty I could have left a worse one!
11 months ago patrick rooney
Great service. Very quick response and jimmy g was able to analyze our problem very quickly. Appreciated his very friendly and business like manner. Will inform my neighbors of this service. The cost was very resonable. Woud highly recommed this company.
5 months ago Olwen Williams
Mr. Reyes was very professional and respectful. I am very cautious regarding covid and he put me at easy by making me feel safe with his mask and gloves.
5 months ago md jakaria
Nick, the Technician that came to our house, was professional, speedy, and did a great job cleaning up. Glad to have this service for the whole house for a year.
6 months ago Michael Zottarelli
This business replaced and updated my refrigerated air conditioner over a year ago. Great job, technician was on time, professional, did a great job. When the heating unit went out recently, I called them again and because of the pandemic I thought I would have to wait a long time, but they came the following day. I had requested the same technician (Jessie) that worked on my air conditioner and he came, worked on the heating unit, repaired it, great job. I am extremely pleased with this business and they will be my "go to" for any other repairs and replacements that come up in the future!
11 months ago Scotty Williams
He was very professional and polite. If we need Rooter Router again, we have we will get him. Thank you for coming out so quickly.
8 months ago jon doe
I had used them for years and no more. I a have contacted a law firm because the 1st plumber broke the snake in my pipes and had to have a 2nd one come out to cut the snake out. The 1st plumber was so rude and unprofessional. I was told over phone I had to pay for repair costs even though it was the compony who broke my lines.DO NOT USE THEM BECAUSE THEY WILL CHARGE YOU FOR SERVICES THEY CREATE
3 months ago Michael Sorrels
Easy to book an appointment online, came earlier than expected which was great. Technician was fast and knowledgeable and polite however the price was a little high but solid job.
9 months ago Alyssa Avila
Have Used Roto Rooter a few times now for emergencies on a few rental properties, hands down one of the best. Quick to answer & get out there, also affordable
6 months ago Charlie M
I called with a clogged drain and was so grateful that they could send out a plumber the same day. Jake was very courteous and professional. He was upfront about pricing and didn't pressure me to upgrade (even the cheapest service seemed great to me). He got right to work on my drain and got it taken care of quickly. I also appreciated that he wore a mask and practiced social distancing without even being asked. A+ would recommend or work with him again any time.
8 months ago Damaris Sing
Lionel was professional and courteous and fixed my clogged sewer line immediately. He gave great recommendations for preventative care. Brenda who scheduled him to come out was amazing as well. She was prompt with updates and call backs and made sure I knew when my technician was on his way. I tried unclogging the drain myself but my 25ft auger was not up to the job. Sure I could have rented from Home Depot but it was well worth it to have the professionals come out and take care of it. Call Roto-Rooters for a job done right.
3 months ago Sunshine Rochester
The technician, Cory, arrived within an hour of my call on a Sunday! He was very knowledgeable and professional. He explained all my options and cleared the problem very quickly. I will definitely call this office again and be requesting Cory.
11 months ago Victoria Lesce
When I called, I was told there would be a trip charge of $35, which was ok. I told the serviceman my shower drained slowly, the tub would not drain and both toilets and sinks worked fine in both bathrooms. In the one with the shower, the serviceman flushed the toilet once and turned on the shower for approximately 2 minutes. In the other, he unscrewed the stopper in the tub, removed a small hair clog with two fingers and flushed the toilet 4 times. He did not snake out any drains and did absolutely nothing else. He charged a total of $250.81. The invoice note said "Clean a secondary line (Kit Lav, Washer) from a roof vent or access point to main sanitary line for home." He was at my home maybe 10 minutes. I'm glad both drains now work, but the charge was exorbitant for what little he did. He wanted to do even more work outside, but thankfully I did not allow him to do it. I'm not rich, so I certainly will not be calling again.
2 weeks ago Marissa Collins
The good: I needed someone to come today to fix a water leak and they came pretty quickly and the fix only took 1.5 hours and I think they did a good job. And they were friendly. The bad: They charged me for 2.5 hours instead of 1.5. So I had to call them to get that fixed. I asked for an invoice to get a break down of the cost to confirm proper billing. Unfortunately, their invoice was just a generic total. So I have no idea the break down for labor and parts. And based on the new totally, left me with a bad feeling I got probably over charged by $100 still.
8 months ago Shane Adams
I had a toilet brush break off inside of my toilets and had to call Roto-Rooter. The plumber was there a little less than 15 minutes and charged me $400 for the call. The following day I had to have them back because the plumber had not disengaged the toilet brush head and the toilet had to be pulled. They should have done that in the first place but they didn't. I think it's pretty steep the $400 bill for 10 minutes. One thing they do have on their side is that they responded pretty quickly. They also didn't charge me for the second call which they shouldn't have because they overcharged me for the first. So that's on their side as well.
1 month ago Sam B
Very quick to respond, easily fixed my clogged drain. Would recommend! Positive experience. Thanks to Mr. Nick the technician!
7 months ago Erykah Renee
I am extremely happy with the services we have received! Kind, knowledgeable , quick, exact, clean, all we expected and more. Recommend them highly.
9 months ago Deb Pfab
Reyes chaves and joe And a gentleman who started that day all did exceptional work replacing a water heater, swamp cooler and repairing a toilet
4 months ago Patrick Mullins
Excellent Service and the best at unclogging drains on Planet Earth. They unclothed my drain and then performed a camera scope (with my warranty purchase) that showed we still had a big clump of roots. The technician then marked exactly where it was and made an adjustment to his auger and went back and removed almost all of it. The technician who came out gave me the best customer service I have had in all of 2020. BEST ON THE PLANET.
3 months ago Brandon Malone
Dispatchers and On-site Technician were all professional, courteous, and prompt. Technician had great customer service. He was informative and focused on my problem. He wasn't condescending or in a rush to the next job. He was able to solve my sewer line issue incredibly quickly. He was prompt at finishing the job and billing as well. Great job all around by R-R! Thanks!!!
5 months ago Smita Reghunath
They were good, quick to come out basically the same day. But they are a bit expensive for what they do.
4 months ago Christy Dohring
So, my tenant called and said the drain is backed up. We are on septic. I said "oh no" and called roto-rooter. They said that they would come as soon as they could, and they got right out. I think it was less than an hour. The plumber called me and I told him to just do what he needed to do. He apparently actually found roots! He cleared the drain and it really did not cost that much. So, a few dollars, a couple of short phone calls, and the problem just went away. Awesome experience, thank you Roto-Rooter!
10 months ago Tim Brown
These guys were awesome! Showed up at 9 pm when we needed it and were fast, quick, friendly, and really nice guys! We actually made new friends! I de Ximena this company to anyone! I'll never use another plumber! Thank you for saving us when we needed you guys! Nick and (I'm sorry I can't recall the other guys name) but long hair and really cool guy- they were friendly professional and got the job done fast! ????????
3 months ago Paige McNaughton
The technician was knowledgeable and did a good job but I was absolutely shocked by the price. He worked on diagnosing our problem and worked on our pump for a few hours(3) and it cost almost 1k. I've never had a plumbing bill that high and I've had plumbers put in way more work before. I only recommend them if u have an emergency and everyone else is booked.
3 months ago Danny Wolfe
I made a long list of issues. When Ryan/Nick came out I also mentioned needing counter tops for both bathrooms. He said we have the man for you - Kurt. He can do anything. He called Kurt and he came over and gave me an estimate to replace my counter tops. These guys coordinated a time when they both could complete the job and it was done in less than half a day. Ryan/Nick came out change all my fixtures, leaking faucets... And Kurt/Garrett replaced my counter tops. Their estimates were true in the final bill and much less than what I expected to pay for all the work done. If ever I need anything done to my home I am calling Roto-Rooter!!! I am a very happy customer.
4 months ago Bee El
Professional and reliable and and they will help teach you how to prevent issues. Absolutely the best!
4 months ago Jacob Oliver
Paid almost $300 for them to run a snake to unclog a pipe. Solved the problem for maybe an hour. Their customer service was horrible. They weren't willing to come back and didn't offer up any compensation. Ended up calling a local plumber and they had to replace pipes to address the actual issue. Cost just slightly more than what Roto-Rooter charged. Will never use them again.
3 months ago Joanne Guggenheim
I had a pipe burst in my front yard. My whole yard was flooded and I had to shut the water off to the house until I could get someone to come fix it. I have 2 kids and a swamp cooler so having no water isn't ideal. I called Roto-Rooter and explained the emergency situation. They were so kind and squeezed me into the schedule. Within an hour Sam had showed up with a few other workers. Dug out the pipe and had it repaired within 2 hours of my call. I am beyond thankful and pleased with the prompt, friendly and affordable service they provided. Thank you Roto-Rooter!!
4 months ago KING MAYANK
We had a 50 foot garden hose trapped in the line to our septic (long story!). RotoRooter got it out without digging or cutting the pipe. Jeb was relentless, very knowledgeable, friendly and answered all of our questions.
11 months ago Kevin Ellis
The employees we're quick to arrive when I had a busted water line and we're very knowledgeable. They had it fixed and better than new fast when other companies couldn't send someone to look at it for weeks.
11 months ago Mario Parlev
We called yesterday early afternoon about the kitchen sink backing up into the hall bath. The service tech was out to our place within a couple hours and fixed the same issue we had another company fix not less than 2weeks ago. Fast, professional, friendly, service. The tub has not drained like this in a year and the kitchen sink no longer backs up into the tub. I wish our home warranty would add Roto Rooter to their list of service providers. Much better service and price. I didnt feel like I was being taken advantage of when I was presented the bill. Will definitely be calling Roto Rooter for future plumbing needs!!
5 months ago marcus bryson
My rental property in Albuquerque required plumbing service. Frustrated by the unresponsive plumbing choices contracted by my home warranty program (which is worthless, by the way), I contacted Roto-Rooter and received prompt, courteous and professional service — the same service Roto-Rooter always provides locally here in Tulsa. The technician (Paul R.) was very helpful and polite. I will contract them again.
2 months ago Rukhsar khan
Customer service needs work I called 3 times gave my info for a quote to clear my drain with an auger! I still have yet to get my quote and it's almost been 2 weeks! All they say is we will call you back! I wouldn't even give you 1 star! But it was needed for this post!
4 months ago Cat Rum
I called Roto-Rooter and talked to a very knowledgeable scheduler, and had an appointment that morning! The young man was pleasant (and masked), and took care of the problem and gave me good tips for maintenance. I found the charge expensive, but in my mind, the speed of response justified the price.
6 months ago orlan salazar
Came out promptly. Did an amazing job. Would definitely recommend this plumber.
7 months ago Andrea Olsen
Unclogget drain involving kitchen and laundry room professionally and for a reasonable cost. Same day service was great. Had. Representative out within 3 hours.
2 weeks ago Joe O
Mathew was very professional, quick, honest and friendly. He was sure his job was done according to our satisfaction. If others technicians are professional and skilled like he is I will definitely recommend this company to anyone who need Roto rooter services.
4 months ago Elizabeth McP
Jonathon provided a very professional and thorough service unclogging our drains. He was happy to provide a clear explanation of everything he did and answered all questions. Very pleased with the service Jonathon provided and recommend Roto-Rooter, and Jonathon, to anyone who needs plumbing services.
6 months ago Nicole Wells
I had a plumbing problem the toilets were backed up and coming up through the shower, I immediately called roto rooter they scheduled a time they would be out they arrived on the time they scheduled, immediately got there equipment out and went to work I was so impressed on how quickly they solved the problem. The individuals who came out were very professional, friendly and very polite the Quality of work they performed was outstanding I will recommend roto-rooter to anyone who has a plumbing problem, the price I paid was great any other plumbers would charge an outrageous price. Thank You Roto-Rooter for your Quality, professionalism I'am so happy I called Roto-Rooter.
7 months ago Bobbi Mabb
Roto-Rooter came out to fix our toilet. We asked if they could please snake our cleanouts. They did so and we found out that our septic tank was full. Have they not been here and done a great job at checking out our lines we would have had a massive backup and it would have been horrible. Thank you Roto-Rooter for being on the ball and helping us with our situation.
5 months ago Dimas Martadarma
i had a very difficult plumbing issue and the team sent out went above and beyond to find the issue and fix without overcharging! They knew i was a nervous Nelley and they were very reassuring! There was only 1 person who needs work on his attitude and this was not the first time with him! I have also used R&R for heating and they were also awesome! They to me were about tesolving your issues rather than trying to overcharge a customer like another company I have used! Highly recommend
4 months ago Francesca Giazzon
These guys turned my worst nightmare into 'no big deal.' I have a huge tree in my front yard, and figured one day I would have a problem with my main drain.. that day finally came. Everything was backed up with water coming up through my shower, and toilets not working properly. I called around 7 pm and they offered to come that night.. I chose the first appointment in the morning. They came on time, everything went smoothly and the pipes are again flowing in the right direction. I will call these guys again and recommend without hesitation. Thank you so much for providing prompt, exceptional service.
4 months ago Jill Kahn
When I called, I told them it was a toilet issue first, with a slow sink drain as a secondary issue. The tech came out and only fixed the sink, $260 dollars, and didn't fix the original issue with the toilet! I called back and had another tech come out, he quickly resolved the problem. The biggest issue with it though was since the first tech only fixed the sink, that is what is covered under the 6 month warranty! Was not impressed with my first tech out at all, thank god the second tech was extremely professional, as he helped to maintain a three star rating! Had he been the first tech it would be a 5 star rating!
11 months ago JASON TAYLOR
Very pleased with the service and the outcome. The technician arrived promptly Roto-Rooter called me beforehand to let me know he was on his way. He discussed the three options. I elected to go with the whole house option because it's a one-year warranty. He also gave me a gallon bottle of pipe Shield which is a monthly maintenance treatment. Totally satisfied
7 months ago
Popular places from the category Plumber