SirOne Plumbing Services
Plumber SirOne Plumbing Services, 2300 Freetown Ct #21c, Reston, VA 20191, United States:
49 reviews
of users and employees, detailed information about the address, opening hours, location on the map, attendance, photos, menus, phone number and a huge amount of other detailed and useful information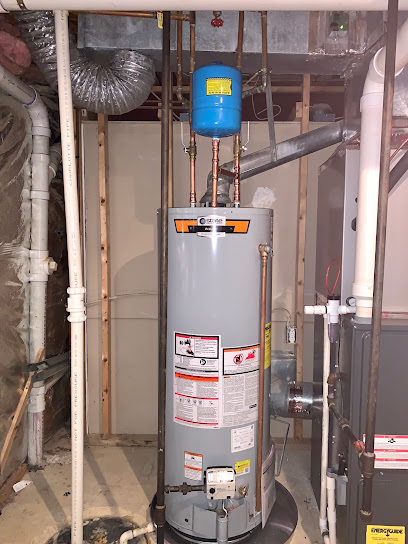 Address:
2300 Freetown Ct #21c, Reston, VA 20191, United States
GPS coordinates
Latitude:
38.9383385
Longitude:
-77.3661793
reviews C Nice
I called this company to investigate a sewage like smell coming into my condo for the last month. I received a courtesy call of expected arrival, so I wasn't sitting around for hours. Ali and Nelson came as expected and started to investigate quickly. Turned out the issue was outside of my home. Within less than 10 min, they were able to locate the issue/leak to a pipe incorrectly installed, and removed it. 3 days later still no smell. For any other plumbing needs, SirOne would be my first call, prices seem fair and they are were very professional.
10 months ago Abimbola Mpindu
Quality service! Request for Allen he was amazing and explained everything in detail. Definitely using again!
10 months ago logan m
From the first moment we called this company about the leak under our kitchen sink, Allen was responsive and genuinely cared about our situation. He was knowledgeable and communicated what the situation entailed and what was needed. Cost was outlined clearly and there were no surprises. He offered us times which worked with our schedules & installed our new faucet efficiently and thoroughly. We highly recommend this company and would definitely use them again.
7 months ago Michelle K
They did a great job! Had a new faucet installed followed by replacement of my garbage disposal a month later. Allen provided efficient, quality work and would highly recommend.
2 months ago Brandi Dillard
We've always had the issue of not getting enough hot water for everyone in the house. Nelson came and provided a solution for this issue. He installed a tank booster on water heater and since then we never ran out of hot water. I thank mr. Nelson and SirOne Plumbing for taking care of this issue and I highly recommend you to all my friends and families.
10 months ago Rakiba Drew
Wonderful service. Knowledgeable, skillful, prompt and polite. I felt rescued...Equipment furnished without delay and water restored. GC
1 month ago Daniel Lizarazu
Ali did a very thorough job which I very very much appreciate! Our main drain got backed up but Ali could see our house was not designed in the easiest way to fix or diagnose the problem. He found a way though and did fix the drain! We were happy with the job he did.
5 months ago Jeremy Parks
Most professional, plumb, and neat plumbing work I have ever seen! Called SirOne plumbing on Sunday morning for our leaky water heater that was 17 years old. Ali came within two hours and was able to provide us a very reasonable estimate. They came back out the next day and did the replacement. I'm very happy with the result and would definitely recommend them to anyone who'd need a professional plumber at a reasonable price.
2 days ago Melvin Lightfoot
Very fast response, clean and professional work. Reasonable price! We'll use them again
1 month ago Glenn Martin
Worth the money. Professional, polite, and explained all the work that he had to do.
1 month ago Helen Bryant
Great plumbing experience I've ever had. Ali was professional and knowledgable. he took care of our 22 years old water heater at no time and a great price comparing to others in the market. I would recommend this company
9 months ago Kirstyn Walker
Called Sirone Plumbing Wednesday night for help with an unknown water leak in our condo, Neil was very helpful, he guided us over the phone so we could temporarily stop the leak to prevent further damages to our house and the unit below us.Greatly appreciate! Allen came out the following day and found the leak source in no time, event though its was hidden behind the walls somewhere, he just had to make two small cuts in drywall which is easily repairable! Then he repaired the pipe and everything was back to normal! I'm very pleased with their customer service from start to finish and Highly recommend them!
10 months ago Shay Marie
Water heater broke Sunday morning, called SirOne Plumbing, they sent a technician in the early afternoon. Mr. Ali was very helpful and professional , recommended the replacement with a reasonable price. The water heater got replaced next Monday! Super smooth process. Highly Recommend !
1 month ago Luke Soojian
Allen was early to the job which was great. He was professional and explained everything he was going before he did it. I would definitely recommend this plumber to anyone who asks.
7 months ago Emily Juster
I'd like to thank SirOne Plumbing for taking care of my 19 years old water heater which was leaking from the bottom. Ben Came right away and did a phenomenal job on putting the new water heater in. He was courteous, knowledgeable, and clean. Im so glad I called SirOne Plumbing.
3 months ago Audrey S
Our water heater was leaking from the bottom it was almost 15 years old. We contacted Sirone Plumbing based on a referral from our neighbor. Ali was on time and very knowledgeable! He was able to replace our broken water heater the same day for a very reasonable price. He even took the time to teach me how the water heater works, he also cleaned up after he finished the installation something that not every plumber does! I highly recommend Sirone Plumbing and will use them again for future Plumbing issues
11 months ago kahmiah g
Allen installed a whole house water filter for us. He went above and beyond to make sure the filter was working properly. We no longer have chloramines. Couldn't be happier
9 months ago Malcolm Johnson
Sirone is the best local plumbing company out there- they're very responsive and prompt! Ali solved our water heater issue in no time. Highly recommended
11 months ago lucy higgins
We weren't getting any hot water last night which is hard for a family with four kids. Called several plumbing companies in the morning to get a same day service but SirOne was the only one who was willing to come the same day. Allen diagnosed the issue and gave us couple options but since the water heater was 15 years old we decided to go with replacement. It took him almost three hours for the whole process. Not to mention that their prices was very reasonable. I highly recommend these guys and will definitely use them in future if needed.
10 months ago christina grant
Super responsive and very professional! Will be using them again!
8 months ago Siren Widowson
Very professional and honest. Asked him to come back to repair toilets.
5 months ago Pat Mccluskyjr
very nice and we are very happy to use this company , I dont have any issue with my water leak now. thanks lot
3 months ago Shelby Cohen
We were only getting cold water from our shower faucet, Ali came out the same day and performed the diagnostics, He then replaced the pressure balancing valve, and there he solved the issue.. Really appreciate it !
10 months ago Fouad Fouad
Excellent experience from scheduling to get getting the work done. SirOne did a great job on installing my kitchen sink at no time. Highly recommended
8 months ago Constance Kuecker
I had a very good experience with Ali. He was professional, thorough, polite, and fair (quote for work). I would definitely recommend Ali and SirOne Plumbing to a friend.
10 months ago Phil Wolff
Ali called to advise his arrival time which was well within the window provided. He brought with him all required parts, equipment and tools to complete the work in a timely manner. Ali was thoroughly professional, cleaning his area as he finished one phase of the job. He'd very clearly knows his business and technology and it was a pleasure to work with him. I would highly recommend him.
9 months ago Erin Missel
They were prompt and got the job done! Most places I called were not available for days .
6 months ago Anant Tiwari
SirOne plumbing Honest, dependable, trust worthy. They did a great job at a reasonable price. They even clean up after themselves. I was impressed with the workers - courteous, explained everything for sure in future if I have any other plumbing issue the fist company we will call its SirOne plumbing , Thanks for your best services
2 weeks ago Kelly Buzzard
I was visiting my elderly parents in Herndon when they had a toilet valve start to leak. They had to shut the water off to the whole house to stop the water. This all happened at 11:30 at night. My parents' medical conditions make it so they can't live without water, even overnight. We called multiple plumbing companies to get emergency service and ONLY SirOne was willing to come. The service was prompt, professional and he didn't gouge my elderly parents (which I cannot say for other plumbers). I recommend SirOne not just for good service but ALSO for good values.
10 months ago James Hubbard
Great service, very professional. Had a leak in my sink and he fixed it. Very punctual and good price.
9 months ago sara nice
I recently received service from SirOne plumbing and I must say it was the most professional plumbing service I have ever encountered. Ali is a great owner and was personally able to make to back to back house calls for me for an emergency situation without haste, his professionalism and experience is what you want in a great plumber in Northern Virginia! I highly recommend anyone using this plumbing service, I will be using them again in the future if needed.
11 months ago Chris Hawk
had an unknown water leak downstairs Which caused our basement to flood. Called SirOne plumbing and Ali was able to make it within an hours. He came and diagnosed the problem in five minutes which was a burst pipe behind the wall, then he quoted us for repair, it was definitely worth it. He replaced the burst section and put a new piece of pipe and there we have our water back on again :) Very satisfied with the service and the tech, would definitely recommend them to anyone who needs a professional plumber
1 month ago Rohan Oberoi
Great service. Somewhat pricey
10 months ago Noah Milstein
Prompt, fast service. I called in a clogged drain this morning and Ali arrived before 9am. He was courteous, knowledgeable and quickly cleared the blockage .
5 months ago Sabrina H
Ali was thorough and honest, he completed all jobs to the best of his ability. I would definitely recommend him to all friends and families who need plumbing work!
2 weeks ago Melba Brown
Overall we've had good experience with this company, although they're a little too pricey
1 month ago Andrew Morse
These guys are really awesome. Their job is clean and reliable. I could not believe their prices comparing other plumbers. I strongly recommend them.
8 months ago Mirandi Espach
Outstanding service. Arrived promptly, professional and friendly service. Highly recommend you call him.
9 months ago alyssa marie
Great price and reliable. Highly recommended. Found my permanent plumber!
2 weeks ago Habib Sanu
I've been using Sirone Plumbing for over two years now and I'll definitely use them again, I had my main water shut off valve and angle valves replaced by them today..the prices were absolutely fair as well as their great quality. I highly recommend this company
2 months ago Trevor Draper
Comprehensive, professional, knowledgeable, through, and responsive. Great experience. Highly recommended!
9 months ago Simple Guy
Ali is THE BEST!! I had a water filter to be installed, other plumbers couldnt fix it at al and gave upl, but you give Ali any task, and he will complete it with quality finish, no matter how difficult it is, in a heartbeat! We loved SirOne Plumbing! HIGHLY RECOMMENDED! Same day service and great prices compared to others in market! Thank you again Ali and SirOne.
6 months ago Beverly Claburn
Great fast service. Somewhat high prices
10 months ago Andre Jackson
Ali was helpful in diagnosing the problem in a quick manner and providing thorough and courteous service. I appreciated the time he took to write out and estimate his recommendations and to go over an and all plumbing issues he came across.
6 months ago Andrew Dugan
The guys were proficient in their work and I didn't need to do anything more. While M & Son charged me 2 more times for their mistakes, these guys gave me some discount. Yay!!
9 months ago Haley Darst
Great company, honest work, Fair price!
1 day ago Jason Bradley
Great service and pricing.
4 months ago Mohammed Razzaq
Highly recommend, I had a emergency he came out same day & took care of my problem.
2 weeks ago Lizetta Eitner
Great company
1 month ago
Popular places from the category Plumber