NM Human Services Department-Income Support Division
Social services organization NM Human Services Department-Income Support Division, 4330 Cutler Ave NE, Albuquerque, NM 87110, United States:
209 reviews
of users and employees, detailed information about the address, opening hours, location on the map, attendance, photos, menus, phone number and a huge amount of other detailed and useful information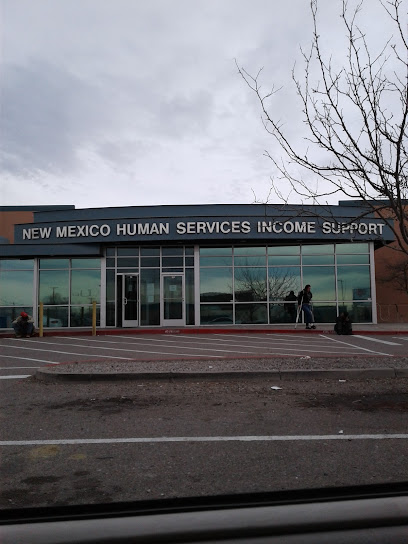 Address:
4330 Cutler Ave NE, Albuquerque, NM 87110, United States
GPS coordinates
Latitude:
35.1054559
Longitude:
-106.5972232
Location on the map
Reviews Greta Hart
The staff here is amazing. They're understanding and kind and willing to help! I appreciate them.
3 months ago Bella A
Awesome, jus drop all COMPLETED PAPERWRK'Z @ da frt desk !!!!!
3 months ago sophia bansal
I really appreciate and love all thr workers.here. They are real trust worthy
7 months ago Moshe Akerman
Very fast, and professional service when you need to replace a e.b.t. card.
8 months ago jignasa solanki
I always get my answers to my questions immediately even if they're not the ones I want to hear they're honest and prompt
9 months ago Shelli Hendricks
I have Never had to use the services before. And I'm 52. It was a wonderful experience the people there are very helpful and caring and understanding. They do not treat You with any disrespect I would have never thought. Is that I would ever have been in the situation to need help. But it can happen to anyone. And reassuring. They understand and are there to help in every way?
3 months ago Adam Lewis
I dislike this place because of the programs they have allowing people like me to get my hopes up and actually start to believe I can get a real job and become something I never thought possible for me... That it untill they took it all back and laughed in my face as if it was some kind of joke.. but it caused me to have a mental brake down and made every thing I had worked so hard to get back get snatched up from under me
5 months ago chergo chergoo
Plan accordingly because it is a rather busy place. Had to wait quite a while a couple times. Rarely will it take less than 30 minutes. Staff is really polite and facility is clean. Bathrooms looked good! Could use better supply but it was clean.
6 months ago Dan Pellerin
The staff were so rude and unprofessional.
5 months ago Dave Hollinden
Very helpful and polite staff here.
11 months ago Mary Oldach
It was actually fast they have a drive through and they where very nice.
3 months ago Dan R
Came here to settle some things a couple years ago. I brought a friend that recently moved to New Mexico and was in desperate need of ebt services. All three of us signed in. They have a system that seems pretty streamline and efficient in terms of making the line go faster. I thought it was going to be a disaster and endless waiting but it wasn't so bad. I went during the week in the afternoon. My friend came out of it with a activated temporary food card and I felt like my own business was handled well and the staff was very helpful.
7 months ago Kittie Fynz
I could not believe how friendly and courteous and easy to work with the people at New Mexico Human Services Department were on my visit recently to apply for SNAP benefits they were very very helpful I was really shocked by the level of detail and courteousness that they executed it was fantastic, if you need anything to do with Social Security Human Services that kind of stuff this is definitely the location to go to it is very very easy to find right off of Cutler big sign saying New Mexico Human Services Department very friendly staff they do have security and they will do a Magna sweep but that's for your protection I've totally happy and then glad they have that they're so keep up the good work.
4 months ago Kenneth Lin
Love that I don't have to get down and wait anymore. Just drive up at the moment .
4 months ago Shelli Hendricks
I do have to say this was the quickest most helpful explain to me in terms that I can understand moments before closing rectified Fort of the issues that I have been worried sick about as far as my part b Medicare premiums my LEAP power assistance help and other resources to rely on beyond that and getting other numbers and contacts for services needed. And an added bonus had I not happen to mention I do have a German Shepherd service dog who does need medication on a monthly basis the Fantastic young lady explain to me but there are possibilities and options no one in five visits has ever mentioned possible assistance for my service dog. I would tell you her name but then everyone would want to go to her. Her first name that starts with an "A" I have spent well over 16 hours of my time and at least five different trips trying to get just these issues resolved. Sincerely thank you more than you will ever know. S. Asay
3 months ago Lamont Way
Curbside staff very prompt got what needed to be done .
8 months ago Debbie M
The staff are courteous and professional. In my experience, they have always been able to meet my needs during my visit. The wait is not long and they are very efficient. Jason is wonderful to work with. He's pleasant and very informative, and if he can't answer a question he finds someone who can, which is a breath of fresh air when you're usually told incorrect information or "I don't know". Thank you Jason and the rest of staff for helping me when things are already stressful and difficult.
6 months ago David Campbell
You do have to get a number and wait. It is always busy. But it went a lot faster than I thought. Also, I didn't know the exact form I needed a copy of, and didn't have my case number. But the customer service representative went out of his way, looking on the computer & consulting with his colleagues. Usually in government agencies, staff are harried, but every one took their time with each client while also making sure things moved as quickly as possible.
5 months ago Dennis Irasusta
I wish I had the lady's name who helped me that day she went way above and beyond what I have ever experienced here at human services her concern for my well being was and will always be greatly appreciated
4 months ago Sandra Bacon
Friend had to Reapply for Medicaid Benefits..hardly anyone there..was taken care of right away and out...Nice Place workers are Very Friendly...
5 months ago Mark OT
Quick & easy to get information. Employees very helpful. Great attitude.
7 months ago preety anjna
Great service. Very kind and knowledgeable staff. I highly recommend this office. Very professional, passionate and caring with their clients. I give them 10 stars if i could. Thank you very much.
6 days ago Gergana Kireva
Wow! Love ❤ how this place runs! Service was friendly, prompt, knowledgeable. I did not have to wait long at all and they were super nice even though I showed up close to closing time. Kudos to all who have a part in running this agency so well! Thank you!
3 months ago Nena Chavez
Was very satisfied.
10 months ago wurmbly
Im disabled waiting for my disability and the office was unable to verify. I even faxed the info myself with a confirmation page and still, they refused to admit they received the paperwork. Edit: I received my disability before getting general assistance from these stooges. New Mexico truly is a lawless state free of our federal government guidelines.
6 months ago Michael Bilbo
Had to all my cases recertified and arrived just before opening. These people don't care what kind of whether it is. They will let you sit outside in a thunderstorm,snowstorm hell probably even a damn tornado if we had them. But the service from the staff was very kind and quick. They took care of everything in a timely manner.
5 months ago Linda Cook
Eh..what can I say
4 months ago Ricardo Ramirez
If I could give this place no stars I would. The supervisor Erica is so unprofessional and a bully to the employees. Not training them and then getting mad because they don't know how to do something? Belittling someone because they have mental illnesses. Also yelling at employees in front of clients. What a joke
4 months ago Geetha Prasad
I needed to drop off paperwork and according to everything I go in the mail I was told to go to this particular location and when I got there no one is there the doors are locked and just signs about covid 19 not happy I wasted my lunch break to go there
5 months ago Carmen Dejesus
Faster than the other ones. Still prepare for a couple hours
4 months ago Matt Hard
My husband and I went to go and get a paper for my insurance and it was not that long of a wait.. We checked in and sat down and about 5 minutes later they called our number to the window and the Clerk was very friendly and helpful. We went around 4:30 in the afternoon during the week. I know that they offer a lot of services online now too. It is always worth it to call ahead and see if you're available to accomplish your needs over the phone or online. Be patient if it's ever busy though... Remember that everyone has bad days and a smiling face or a good attitude can change someone's day. ✨Believe✨
8 months ago Miosoty Car
When I got there they were very informative I'm very helpful the people there was very kind
4 months ago Lynn Carson
I went to change my Mother's Address ,and I found it very empty, it doesn't look like this the last time I came. I was surprised when one off the workers offered me a sit. They make a very good change, exelent and faster than before. Thank you all. You can register for voting there also.
7 months ago Magnus Koski
This is being organized much better than years past. Quick response by mail for document drop off and such. Thank you
8 months ago zulma rivera
Good Place. Better to go later in the day.
4 months ago Keith Franklin
Really nice people even in spite of corona virus!
6 months ago Sammy Ashyi
I like this human services department is a good place. The staff is very helpful. If you need any benefits or get your food stamps they can help you here. There are very nice people that work here.
11 months ago Rob Peabody
This place is awful. Our case worker didn't return our call because she was sick and wanted to go home early therefore our case was sanctioned. Rude staff!
4 months ago K C
The staff is always ready to help you...
6 months ago Madison Bullard
Don't know if it's open or closed
3 months ago James Pitts
They've gotten much better here. It's become a bit of a speedier process.
8 months ago Chundra Wayne
You have to wait a long time just inline you have to get checked and they take their sweet time at the Human Services
5 months ago Nathalie Mack
Was able to get a trplacent card the same day no problem.
5 months ago Mark Pelc
Bring something to do your gonna be waiting...a very long time. They do a great job for the amount of people in there on a daily basis while never losing it on anyone no matter how stupid or crazy they are. Could be alot worse
7 months ago Varkeo Kooze
This is simply yet another mediocre, nonoffensive State Office serving citizens merely what it needs to legitimize its being.
6 months ago marivelle valerio
People and Security here at this location much more friendlier. Make you feel like a human. But it isn't the cleanest place. I've gone to other ones and they just look at you like get a job or make you feel out of place. But this one I give a high five.
3 months ago Ken Molestina
Best one ive been too so far in this state. Friendly people who offer loads of help as long as you dont cop a whole bunch of ghetto attitude.
5 months ago Document Solutions
I called to inquire about my EBT card. This is a local number to this specific office. I was on hold for a while and a message kept playing offering for me to leave a voice message. I never once selected this option, but 3 times I was directed to leave a message with no other option than to hang up or leave a message. I just want to talk to a person, but was on hold for an hour and never got through to anyone.
1 month ago Rocky Tren
Got called within 10 minutes. Good service.
4 months ago debbie dare
Waiting area was nice. Was waited on in a timely manner and the staff was very helpful and very professional.
6 months ago
Popular places from the category Social services organization