Catholic Charities
Social services organization Catholic Charities, 721 N LaSalle Dr, Chicago, IL 60654, United States:
117 reviews
of users and employees, detailed information about the address, opening hours, location on the map, attendance, photos, menus, phone number and a huge amount of other detailed and useful information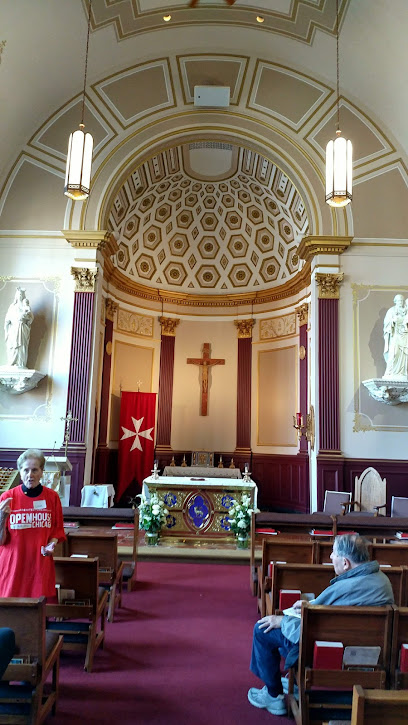 Address:
721 N LaSalle Dr, Chicago, IL 60654, United States
GPS coordinates
Latitude:
41.8949319
Longitude:
-87.6323057
Location on the map
Reviews Annie Riecken
Where People are helping People ???? wide ...What a blessing just to be alive :)
5 months ago Linda Russell
Adela Carlin a so called attorney is unprofessional and rude. Was hired in March for an order of protection case. Worked on my case until mid June and called me three weeks after she was suppose to to tell me that she doesn't have the resources to continue to work on my case and she was leaving the organization. When I voiced my concerns she got upset and proceeded to hang up. She doesn't listen to you even if you have proof that something needs to be included in paperwork. She became so rude and unprofessional during a sensitive time in my life. Carlin you do not need to be in law nor representing domestic violence survivors. Do not go here for Legal Services.
4 months ago adriana vera
I came for the clothing donations. They welcome all zip codes and they were very nice to me. You cannot donate clothes until September but they will gladly give you what they do have. Everything was clean and I even got some nice outfits for my toddler.
4 months ago Darell Gholston
The weekly food pantry is most excellent, the choice is some, always.
4 days ago Heather Waters
The best place if you need help as far as clothing, food and showers for the homeless, even to help out the people who have low income housing with food and other services
3 months ago Deborah Mabry
Too many hours waiting in person to tell me no for my Emergency crisis having no heat is not an emergecy in my home and no gas. And not just because they send you there don't mean you will get any type support although they have a Big name in offering different support for different situations. We wouldn't come to Catholic Charities if it wasn't a place offering to help in need of crisis. I'm in one. It's winter and freezing! What amount money in world in their system claiming what your emergency that occurred shouldn't happened to you! It happens to people everyday. I was sent by 311 and it's been very disappointing that even the people who rarely ask for any help never qualifies on their principles of living. You wouldn't be there if you didn't need help! Bottom line! Some of us barely getting by although we have some kind roof over our heads. But it doesn't mean cause you don't tell the world by tweets you're not in a crisis situation of daily necessity living. A one person household doesn't qualify making minimum wage. I don't believe it! Taxpayer: my taxes go towards programs too. What about us when we are in need. I pray for people like myself that truly needs the assistance. No one intentionally, wants be there.
4 months ago christopher frost
They have really helped me keep food on the table. Thank God there are people and organizations to help a veteran whom is now disabled.
5 months ago Lebeta Flieringa
Caring, respected facility for poor, homeless.
2 months ago Cometad Melgar
Wonder
4 months ago J Schlarmann
Good people doing much-needed work for the disenfranchised.many programs to help those in need.if you or your family are down on your luck i highly recommend checking them out to see how they can give you or your loved ones the helping hand that you may need.God bless them for their good deeds
4 months ago Mario Tagaras
Very polite and helpful staff. They do so much for the needy and homeless. Catholic charities has helped so many people and I hope that they never stop helping others.
6 months ago Rajesh Agarwal
Always ready to lend a helping hand.
5 months ago Jc B
This place is dedicated to helping people that are on their road to recovery.
4 months ago Roland Chesney
Awesome people here.
4 months ago Frank Vennix
I adore everyone that works and volunteers here!!! So very helpful and caring!!❤❤
4 months ago Gerald Macy
Great help if you need anything and supportive.
3 months ago Faraz Shaikh
Offer human support to those in need. Donations are welcomed.
3 months ago Jeff Kyle
Friendly staff, they give fresh food and help with clothing, very personal, offer help with employment...Enjoy volunteering
6 months ago Alan Smith
A place where catholics from different denominations gather for prayer and life events
5 months ago bee freee
Catholic Charities Downtown only helps Walk-In people every three (3) months for Assistance. Catholic Charities celebrates 100 years serving the community in the Chicago land area. Thanks Be To God!
3 months ago Brenda Howell
Ok this seems right. Due to third party interfering at my occupation. Catholic Charities be held liable for the acts of a rogue group whom was and mayhaps still be trying to control the grow and well being of those who are in need of services provided by Catholic Charities.
4 months ago Robin Rice
They could actually be more considerate and helpful to those in need than they actually are I've recently had a bad experience with them and am still recovering as a disabled Vietnam era veteran
5 months ago April Baker
Very helpful.
2 months ago Scott Haynes
If you stay in the service area you'll enjoy it. If you stay outside the aea you'll hate it cause you'll get nothing but clothes once every 3 months and a bag lunch. What about us that are struggling with the taxing nobs we have that pay.minimum wage and can't make it to any other place.
9 months ago Ian Mitchell
Very organized now clean and the people are more friendlier now
4 months ago Veronica Jordan
They have nice clothes and they have hot meals
6 months ago mike corssen
Elaborate phone system is a maze of red tape .
3 months ago Colleen Brickey
I enjoy going for the nightly dinners. And being able to talk w people
8 months ago Judy Vest
They do great work, and best of all the staff is awesome. They embody an essence that is spiritual
6 months ago Sheleen Maish
Would give it 0 stars they told me that because I was homeless and didn't have proof of address I couldn't eat
4 months ago Kelly Noyes
Compassion in action!
3 months ago Rebecca Rutgers
Unfortunately I have to Post this I recently visited Catholic charities on Lasalle Due an appointment I had I was Approach by Kendria Atkins The Manger No hello No proper introduction In the hall way she was very Argumentative she was encouraging me to go back home due to the weather . I requested that to continue to be seen since i came a long way and lack of transportation! she became Abrasive and i was confused unsure what i had done. She then threatened me multiple times first was to Reject my referral as i ask to speak with Executive in charge she then threatened me again with Security Guards . She then Proceeded to the Security Guard to discuss dishonest words on my character when serval people witness this incident! Its was Clear she didn't want me there for her own Personal reasons and Inequity! This was my Experience!
3 months ago Shannon
Great help
1 month ago Kathryn Kindl
This is my work place with beautiful people and kind heart people, we are working for God Almighty and Jesus.
8 months ago minako takahashi
Great place to receive help ( food , clothes , job listings and tutoring for GE D.
10 months ago Vanessa Coston
Temporary laid off. Went thru small hardship with rent. I call them and they told me bring misc. paperwork. Only to was $10.50 to go there to be turned away. I was truly needy at time. But made ot out. I would NOT recommend them what so ever.
7 months ago julie ahlberg
Great meals from local restaurants and taverns..served 5 days a week, except certain holidays...theres often enough food to call for seconds, then after that they give out food til its gone..they often have items to give away as you leave, and they have other services available, but you need to ask
8 months ago Angel Romero
With all my heart and soul they do so much good for people
6 days ago Alexander Iono
Well organized and you can get spiritual satisfaction
10 months ago nel toro
Wonderful time with the St. Vincent's Orphanage reunion!
7 months ago James Steinert
Honestly I don't review much but I'm new in Chicago I came here for a form of help since I started a new job and quickly got turned cuz supposedly I agreed to something I dint and they thought I was getting paid it dint seem like they really wanted to help I was givien misleading information try talking to the person in charge and got turned down too and they only reason why I'm reviewing be is cuz this is a place to help those in real need I was in a need in a town I have no one and they dint even bother to clarify anything with me at all or hear me out door shut quickly
9 months ago Joe Offutt
They their to help god bless them. Respect.
5 months ago Terry Berlin
Very helpful help me in my time of need
3 months ago Ranjani Raghu
Great clothing and free household items and also free food and poultry
7 months ago Denise Tarbox
Nice people and will help you if you qualify
7 months ago Barrett Burns
Horrible don't waste your time. Thumbs down for this place.
6 months ago Ali M
Be prepared to spend hours waiting but when you are seen they will do anything they can to help you. Apparently not with a bus pass though
9 months ago sherri folsom
Good charity, but they need to update their policies and fscilities. Its not 1800s
3 months ago Kevin Lynch
Amazing social services organization that works hard to serve those in need.
9 months ago Andy Beaire
Home less gave printout of place called all if them nohelp
8 months ago
Popular places from the category Social services organization