Shim's Martial Arts Training Center
Martial arts school Shim's Martial Arts Training Center, 239 Golf mill Center #315, Niles, IL 60714, United States:
34 reviews
of users and employees, detailed information about the address, opening hours, location on the map, attendance, photos, menus, phone number and a huge amount of other detailed and useful information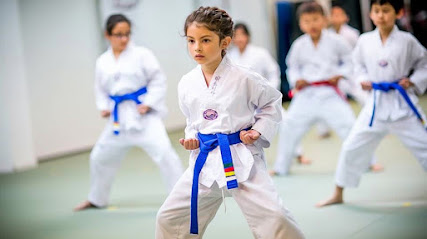 Address:
239 Golf mill Center #315, Niles, IL 60714, United States
GPS coordinates
Latitude:
42.0501365
Longitude:
-87.8381166
Location on the map
Reviews ferarzo
Master Shim and his sons always, have a spot in my heart. This is good family business. -Steve
3 months ago roli osagie
Started at Master Shim's place early 90's till early 2000's. From white belt to 3rd degree black belt, the school always pushed you to reach your physical and mental potential. 1 memory I will never forget about Master Shim was, when he found out that my father was diagnosed with stage 4 colon cancer, Master Shim was pushing my father to start Tae-Kwon-Do for free; to help his body & mind fight off the cancer and to stay mentally strong / positive. ????????????????????????
9 months ago Tim Philpot
Classes are pretty well structured to keep kids attentive and interested. They do a really nice job of teaching the kids and keep an eye out for someone who needs help.
7 months ago Pen Peter
I paid for year in full but due to some personal reasons, I had to move to different city. My son only attended classes for two months, then this pandemic came along. I requested them to give money back but they refused and were very rude. I also said they can charge penalty or whatever, but at-least give me half of money back. They stopped picking up my calls and whenever I visited, the guy started shouting at me. I wish I can give them minus stars! Its just money making business where they only care for you till you pay.
4 months ago Tara Hohimer
I was a student at Shim's Martial Arts Training Center back in the early 80's through the early 90's. Many fond memories. As a kid I remember playing soccer with tennis balls, obstacle courses, going to the park and training in the snow, flying side kicks over objects, watching unbelievable demonstrations from the masters, tournaments, participating in demo teams, parties, training, sparring, and the occasional horse playing. The Shim family helped me keep grounded and focused. It was my home away from home. Always had great quality instructors locally and overseas. I have learned many skills from Shim's such as self-defense, discipline, physical fitness, leadership, confidence, self control, and never give up attitude. I want to thank the Shim family for helping me become the person I am today. I highly recommend Shim's.
9 months ago Simone Caesar
I've been attending Shim's Martial Arts Training Center for 6 years now. I only have great things to say about this school. My experience here has been wonderful. I've learn how to really challenge myself through the guidance of the instructors . They really care about their students and they know how to teach the art. I'm glad that I've train at this school it's like family here. I highly recommend families to train here. It's a great place to learn.
7 months ago anishour Rahman
I observed and took part in some classes here and must admit that what they're teaching their students is amazing. The martial arts instruction is top notch, and detailed oriented. Further, this school sends out such a positive message to their students as they encourage honesty, integrity and respect for all. I highly recommend this school. It's no wonder this family run business has been providing great service for over 30 years.
1 month ago Tim C
Great classes! Great instructors! Shim's Martial Arts provides a safe, fun and disciplined environment for kids to learn martial arts while getting exercise and learning respect. Instructors are friendly and professional. The space is clean and spacious. I highly recommend this place for all ages.
10 months ago mayra garcia
Perfect! I came here when I was only 6(?), I made lots of friends and It was A very good expirnece, the staff help you a lot for you to learn how to fight and defend yourself, It was a very good time, Even if I could not stay here for a long time ( Moved to BG, KY in 2017 ), I would never forget the memories and friends here.
4 months ago Vladika Michael
My daughter and I train at Shim's Martial Arts Training Center! We used to live in Morton Grove, but we moved to Norridge recently. We love it here so much that we actually drive from the city to attend their classes. I've seen my daughter grow physically and more importantly mentally. Her self-confidence has really improved every since we've attended at Shim's Martial Arts Training Center. I love it there especially cause it's such a great workout. This place is really something special I'm really happy with the martial arts instruction as well as the school facility. It's clean and safe. I would highly recommend kids and families to join. It's such a great place to be!
10 months ago Pam Ewing
I used to come here when I was a kid. Loved competing in tournament and Grand Master Shim was so strict, but so awesome. His sons are also very good instructors, they are probably masters by now. Was a great childhood memory of mine and it made a big difference in my life!
11 months ago Dan Mitchell
I was a student at Shim's from childhood to young adulthood. Training at Shim's help me through many of my life endeavors which includes the Marines and with my current occupation as a police officer. Shim's TKD taught me a lot, but equally as important I forged many a life long relationships through the school. I would highly recommend training there. Master Phil is great instructor and great with kids. I am planning on sending my son there, even if it is far from where I live. I think it's worth the drive.
10 months ago Lel D
I've always wanted to know how to fight. I started off with a 2 month Groupon offer and I was convinced and then signed up for 18 month contract. I am a lot healthier and therefore feel a lot better and productive. Although sometimes after class even walking becomes a challenge. I'd highly recommend it if you're considering it.
1 month ago Zach Wilkinson
If you want to learn quality martial arts from an original Master, this is the place. None of that watered down day care type school, but a school that teaches true Taekwondo. I've been hosting an annual tournament for the past 20 years, and Grand Master and Master Shim's students consistently shine. Master Philip Shim has helped me as a school owner by helping me become a better instructor. Imagine what he can do for you!
5 months ago Valdor Fox
I used to train here back in the early 80's. I used to love to train with Grand Master Shim. He used to give us the most challenging workouts and the training was top notch. If you want to learn how to kick, this is the place to go. I highly recommend this place and it's such a positive environment for kids and families.
1 month ago Teresa Tapia
GREAT! Wait no, AWESOME!!!!!! Made great friends and I still go there. (I'm a blue belter.) Master Phil has a straight-forward teaching which I like. (Lots of exercise.) Even though he can be strict sometimes it's still great to be around. Master Cy has a more hands-on teaching with games and other fun stuff. (In my opinion/bias Master Cy is better. Sorry Master Phil!) Either way it's still a great place! -Aldrich
7 months ago amanda eddy
Shim's Martial Arts is a great place to learn and grow, and the instructors are great with the kids. Many of the concepts and disciplines I use in the professional world have been instilled in me through martial arts. I am very thankful to Shim's Martial Arts and the great work they do.
10 months ago Geoffrey Smith
Martial Arts in America once started as an opportunity for immigrant americans to provide an income for their families, while establishing a unique service helping their local communities and individuals find the best in themselves and test their own mental and physical limits through eastern methods. Along the way and through much success, there were unintended consequences; many schools have compromised more business for less art, and traded more money with less in return for the student they originally aimed to serve. Through the many, many years, and through an effective/consistent regiment, Shims Martial Arts has maintained a grassroots, traditional, family approach, staying true to the essence of what martial arts was intended to be, always placing the student first and at the center of what they do. Pursuing and supporting, not only your personal limits, but how you interact with your families and your contribution to your community. Most believe that martial arts is about breaking boards, bricks, and fighting people, but the right schools, one's like Shims Martial Arts, lead you to so much more. Things like Confidence, Humility, Integrity, Resilience, Respect, Drive, etc... Teaching you things beyond "self-defense" and whatever current FAD training, but truly prepare you for the real trials and promotion tests in life. The only mistake you could make with Shims Martial Arts, is not starting sooner. I highly recommend Shims Martial Arts.
6 months ago sanders michael
Great place for kids and adults. I went here when I was younger, now I am starting my son there. Really good instructors and they have been in the Niles area for at least 20-25 years.
1 week ago mz goldie
I've known their dojang for over 10 years. Their new facility is clean, very up to date and safe. It is a wonderful environment for kids to come and learn the martial arts, its philosophy, respect, etiquette, and also have fun like shooting nerf guns. I've seen their eyes light up when Master Philip walks in and starts commanding the very best from these kids. Kids come in and walk out of Shim's Martial Arts Center with a sense of empowerment and self-respect
10 months ago Kaitlin Douglas
I'm really impressed with this place so I had to share. I only share my thoughts through reviews on business if it is really impressive or really bad where I feel I should warn others. My sister and I are extremely grateful for the positive change noticeable in my youngest niece after just over a month of attending Shim's Martial Arts Training Center. I am learning these positive results are not always typical for other TKD training centers and I am convinced Shim's center is unique. Seriously, my niece went from being out of control and now thanks to her masters, myself and the rest of our family can enjoy having my niece around LOL. My 8 year old niece is now more confident, disciplined and focused. My sister is grateful for the gift I gave her to help control her energetic child and she even mentioned possibly taking adult classes even though the drive is a long one for all of us. We are thankful and appreciate this training center and are confident other students and their family will have the same benefits.
9 months ago Jeffrey Schmitz
Shim's Martial Arts Training Center is great! Grandmaster Shim, Master Philip and Master Cy are very knowledgeable, patient, and great mentors. We have been going to Shim's Martial Arts for a few years now. One of my kids has earner a black belt. The other is well on the way. My kids have learned a great deal. Leadership, teamwork, discipline, respect, self defense, and of course the obvious- Taekwondo. They offer a variety of programs throughout the year and their hours are very flexible. As my kids say "All the Masters at Shim's are the best in the universe".
7 months ago Banks Money
I've been doing taekwondo with Shims Martial Arts for 9 years. They have changed my life in a huge positive way. They are the best at teaching and explain how things should be done. They take there time to make you know what your doing. They make sure that you dont just know it they make sure you become the best at what they teach.
9 months ago Monica Seidenstock
Shim's martial arts training center is such a great place! I live in glenview but came across Shim's Martial Arts Training Center in Golf Mill and noticed there was a martial arts school so I decided to ask for some information and they were nice enough to let me try a free class! It was such a great experience, the Masters and Instructors are very knowledgable, and on top of that it's such a great workout!
1 month ago Thomas Erichsen
I grew up going to this school and I loved it. It taught me so much self-discipline, self-control, and built my confidence. I would recommend this school to anyone that wants to learn Tae Kwon Do. Grand Master Shim and his sons are the best!
11 months ago Tom DiGiacomo
Shim's Martial Arts is not only a school it is like a big family. My children not only are learning about Tae Kwon Do, also they are learning about discipline. Master Philip and Master Cy are great with the kids.
7 months ago Demetrius Monday
Purchased a Groupon and now extending to monthly fee. I love the adult classes taught by Instructor Patrik and Master Cy Shim! It's a family operated business with the flexible work-out environment.
9 months ago Boyd Coker
I have trained with Grandmaster Shim for nearly 30 years. If you want to develop a strong body and mind, I highly recommend you start your journey at Shim's Tae Kwon Do!
10 months ago Kate Hubbard
I love this school, it is a great TKD (Tae Kwon Do) school for adults and kids alike. They have set up a well thought out programs and are great with kids. A bonus is, it is located in Golf Mill Mall next to the movie theater and children's playground. I urge anyone to check it out if they are interesting in learning martial arts or losing weight.
6 months ago Karen Kestner
Great instructors and very convenient location. These guys really know their Tae Kwon Do and are awesome with the kids.
5 months ago Aayushi Jariwala
3 years ago a buddy of mine recommended me to Shim's Martial Arts Training Center after watching his kids do some Tae Kwon Do moves. My son wanted to do the same. So I enrolled him in and was blown away after the first class, so I had to join in myself. 3 years later I'm working on my black belt which my son beat me too lol. And besides him earning a black belt the most amazing thing it did for my son was turn him into a "A - B" student from a "C" average student. ALSO! He used to break stuff all over the house when he got mad, and now when he get's mad he just apologizes and that's it. I highly recommend this place, it's new, clean and the fact that it's in the mall it's very kid friendly and very VERY safe! I couldn't be happier with this place!
1 month ago Lindsay Buzzee
Shim's Taekwondo has been a really great place to practice Taekwondo. Not only have I personally gotten a great workout with every class, but I've also learned to have more self-discipline, endurance, and focus. Grandmaster Shim, Master Phil, Master Cy, and the rest of the black belt leadership team are truly invested in the success of their students. I highly recommend Shim's Taekwondo in Niles for people of all ages!
1 month ago paull obrien
My son started his Taekwondo Journey at Shim's. Alex is 2nd degree Black Belt now, member of the Peak Performance USA Team (Coach Juan Moreno - Miami) and 2014 member of the Junior USA National Team. This great achievement would not have been possible without the hard work and dedication of the Shim's, who discovered, grew and developed his skills. Taekwondo is a tough sport, the more you get in, the toughest it is. Thank you to the Shim's, I highly recommend this Tae Kwon Do school.
1 month ago Nuutti Luotonen
The training and discipline learned at Shim's Martial Arts are top notch.
1 month ago
Popular places from the category Martial arts school