Prism Health Care Services & Prism Retail Store
Medical supply store Prism Health Care Services & Prism Retail Store, 1337 Basswood Rd, Schaumburg, IL 60173, United States:
220 reviews
of users and employees, detailed information about the address, opening hours, location on the map, attendance, photos, menus, phone number and a huge amount of other detailed and useful information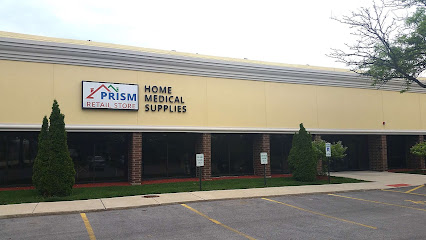 Address:
1337 Basswood Rd, Schaumburg, IL 60173, United States
GPS coordinates
Latitude:
42.0553274
Longitude:
-88.0644284
reviews Shantell Gentry
Miriam gave me clear and concise instructions along with having me do return demonstrations. She was excellent! I love my new machine. Thank you very much. I'm so happy Dr Herena recommended Prism. I will gladly recommend you!
9 months ago Ian Buchanan
Mariam did an excellent job explaining how the machine works and fitting me with a mask I would be comfortable with. Kudos to Mariam.
9 months ago Mohanraj M
These 5 stars are for Jim!! Jim came to my home to get me set up with my machine. He was amazing! He was respectful, kind, and knowledgeable, I knew immediately I was in great hands. The tutorial was smooth and easy to follow, he demonstrated care for the machine and had me repeat the demonstrations myself, so I'd know exactly how to make sure everything was connected correctly. I'm so grateful for his help! I cannot speak to PHCS as a company quite yet, as I'm only on day 1 of using their product.
10 months ago sadiq khan
My entire experience with Prism has been excellent. They are so helpful and understanding. Mariam is an excellent trainer and extremely supportive.
9 months ago Josh Keefer
From walking into the front door to meeting with Bob, the entire costumer service experience was great. Bob explained everything that I need to know about my new machine in detail and with confidence. Thank you to the entire team for making my experience welcoming. I can't wait to get a good nights sleep!! Anthony
9 months ago jesse anariba
Jim was very personable. His personal experience was reassuring and he was very straight to the point. The training on the cpap was very easy.
9 months ago Joseph Vines
Jim was nice and detailed. He made the whole process smooth. I recommend Jim
9 months ago Bridgette Drum
Jim was excellent in his set up and training on my new CPAP device. Great personality as well!
9 months ago Anna Rosofsky
Anthony is the "BEST"!! Very knowledgeable, polite, courteous, and a great conversationalist. Went over everything, asked questions, responded with grace and understanding of our needs. If we have any further questions, no problem contacting him. Thank you Prism for such an "Outstanding" field representative.
11 months ago Xani Bajrami
Prism is excellent and Mariam is great to work with, as always! I worked with her and her husband there initially years ago, and only recently had to stop back in for new equipment, etc. She was just as pleasant and helpful as she was then! It's great to see a company that takes care of the people, and people that really enjoy what they do helping others. Thanks guys, looking forward to working with you again!
11 months ago mark leclere
Ah! Haven't even left the parking lot because I had to review this place. The most knowledgeable and nicest staff ever. THANKS SO MUCH!
10 months ago Ken Forsythe
I was extremely satisfied with my first time visit today. From the time I walked in the door until I left, everyone was extremely polite, friendly and very helpful. I highly recommend Prism Healthcare :-)
9 months ago Selena Rewalt
Anthony L is a terrific Prism representative. His explanations were simple and clear, and his demeanor respectful. The intricacies of a new VPAP machine were made super clear by his excellent presentation and mien.
9 months ago Jomarie Kilian
Very knowledgeable and professional. Both my wife and I use them and have never had a bad experience
9 months ago Jennifer McGill
Miriam is a great person and therapist. She is very knowledgeable and professional. She will answer any questions that her patient has. She takes time with her patients. This company should be proud to have her as an employee and a representative of this company. Thank you Miriam
1 week ago Lilly BROWN
Mary was very thorough when explaining my husband's new machine, answered all our questions, twice if necessary ???? Never made us feel rushed, or that we were asking dumb questions. Also, she was very kind and positive, which we feel is very important. Thank you Mary!
10 months ago Christian Witt
Bob was super helpful and knowledgeable! Answered all of my silly questions with a smile! 10/10 would recommend!
10 months ago Tiffany Brinkley
Anthony explained everything I needed to know about my machine. Excellent job. And made sure I understood. Made me comfortable to ask questions if needed. Also, left instructions for me in writing if I couldn't remember. Would recommend him highly to anyone. Helped with app for those of us who aren't that good at it. 5 star!!
10 months ago Josh Bulger
Great service. He knows what he's talking about. Left very few questions, and answered the two that I had. Came on time and was in and out quickly without any rush.
11 months ago Moshe Schmidt
Anthony did a great job training me on the equipment. I'm feeling hopeful and positive my compliance with the equipment will improve my overall health and well-being.
10 months ago Adelaide Ray
Mary was wonderful! She is very knowledgeable and an detail oriented with a wonderful personality ????
9 months ago martin venegas
I would like to thank Prism Health Care and specifically Mariam Weber, my respiratory specialist, for the tremendous health care she continually provides to me. She is extremely competent and her advice is always helpful. Really, I cannot think of any deficiencies in the services either she or Prism have provided to me. It is my good fortune that they are helping me.
3 months ago Daria Lytvynenko
Marian was extremely knowledgeable and helpful in setting up my new CPAP machine. She made sure I knew what to expect, how to use the machine, and fitted the correct appliances. Everyone I encountered at Prism was extremely friendly and looked like they enjoyed helping people.
2 months ago Darrell Graham
Anthony was friendly and very helpful with any questions I had about my new CPAP machine.
10 months ago Marcus Cambells
Very personable and smart therapist. Explained everything to me and made sure that I understood how to use the equipment. I give this bright young man an A+!
1 month ago BB
Very thorough and helpful! All questions were answered. I felt comfortable with my machine and attachments when i left.
11 months ago Elinda Coetzee
I am a transfermoral amputee. After I was released from rehab on 09/30/2020, a Prism representative dropped off several needed supplies including a wheelchair & told me Prism would replace it if anything happened for ONE YEAR. I called today & was told "No, it's 10 months. As I tried to get further info, the Prism representative HUNG UP ON ME! Be ware…
10 months ago Bill Spencer
Anthony was excellent. Very professional. Explained machine use very well. I am very happy with prism health care
11 months ago Trisha Shankaran
I highly recommend Prism Health Care. Their staff, from sales rep to customer service, are very knowledgeable and friendly. Reordering my supplies is quick and easy. They definitely care about the patients needs.
3 weeks ago Richie Hayes
I was very excited to have this discussion today with Miriam. This is my first CPAP. Of course I would expect that although this is a new product she would know the product. There was no disappointment there and even though I had thoroughly read the manual she was able to answer questions without any hesitation. Fantastic job!
1 month ago Jason Beckerleg
Mary was very personable and knowledgeable. Her instructions were easy to follow at home.
10 months ago Roger Epperson
Met with Bob for CPAP orientation. Out of all the people I've met with to get to this point in therapy...my ENT, my sleep doctor, etc. Prism had the most caring and personable touch. The people over at Prism over the phone, and now Bob, have set the bar very high.
11 months ago Abner Barajas
My respiratory therapist Anthony was fantastic. He did a very thorough job explaining to me how to use the machine and reordering supplies. He was very patient and polite in answering all my questions. He is a great representative for Prizm. I think he deserves a raise. He didn't lobby me for that I just thought I would throw that in:-)
2 months ago Brittney Wilson
Mariam was very thorough with instructions taking me through step by step explains the CPAP machine and how it works. She was knowledgeable, patient with me and answered my questions. She is also very encouraging about the importance of using the machine daily. Thank you ????
1 month ago Dustin Colley
Miriam explained everything clearly. I felt comfortable with my new equipment. My husband has used them for years. They are dependable and helpful with questions!
2 weeks ago Adrian Chia
Mariam was very concise and informative. She wrote down all of the information I would need that wasn't in the brochures and made sure I understood everything before I left.
11 months ago Belinda Benedito
Mary Rogers was friendly, clear, thorough, unrushed, and very helpful in setting everything up for me.
10 months ago Hannah Baartz
Did a great job explaining and going over the equipment and answering any questions I had
10 months ago Alex
Anthony was very professional and helpful. He did a great job explaining how to use the CPAP machine.
1 week ago Meg Martz
Miriam was very friendly and thorough. She made the experience very smooth. Many thanks!
2 weeks ago Dennise Ramos
Jim came to the hospital to drop off and teach us how to use the Noninvasive ventilation equipment for my Dad. He was very patient and friendly. He put us all at ease despite us dealing with an extremely stressful situation. He helped us figure out the best mask for my Dad. Thank you Jim. We really appreciate your kindness.
5 months ago Julia Chandler
I really appreciate, his knowledge about the equipment. He is easy to work with.And it is nice tobe help with someone who knows what they are doing
2 months ago Ana Sarmiento
I have been a CPAP user for 20 years and have dealt with a number of CPAP providers. Prism was recommended by my doctor. Dealing with them to set up my account was fast and easy. Jim M came by this afternoon to set up my new machine. I enjoyed working with him a he has expert knowledge and was up beat and friendly.
3 months ago Winton Koh
Anthony was great. He was very friendly and very knowledgeable. He made the process go seamlessly
2 months ago Daniel Pilachowski
Jim was so nice and very knowledgeable, I felt very comfortable and knew once he left I would have everything I needed to use my machine successfully.
1 month ago Katherine Desjardins
Mary's help and concern were most welcome.
10 months ago Mindy Mohr
Anthony was direct in his explanations of using the CPap device correctly. He was open to my questions and concerns over even starting this experiment (as I call it). I feel I can call Anthony if any questions arise. Diane A
2 months ago Jazmin Reyes
Anthony is a WONDERFUL person , he walk my thought step by step on how to use my machine & clean it & also make sure I know how to order more supplies before he left . He is a great people person . I'm very happy to had Anthony today. Thank u Anthony very much I really APPRECIATE for being very helpful & nice.
10 months ago Crystal Morse
Anthony was on time and very professional. He was patient. Clearly explained my new mask and how I should take care of it. I was very satisfied with his service.
3 months ago brucewayne
Anthony was thorough, pleasant , answered all my questions and was an excellent representative of your company .
1 week ago
Popular places from the category Medical supply store