Companion Animal Hospital of Norridge
Veterinarian Companion Animal Hospital of Norridge, 4321 N Harlem Ave, Norridge, IL 60706, United States:
220 reviews
of users and employees, detailed information about the address, opening hours, location on the map, attendance, photos, menus, phone number and a huge amount of other detailed and useful information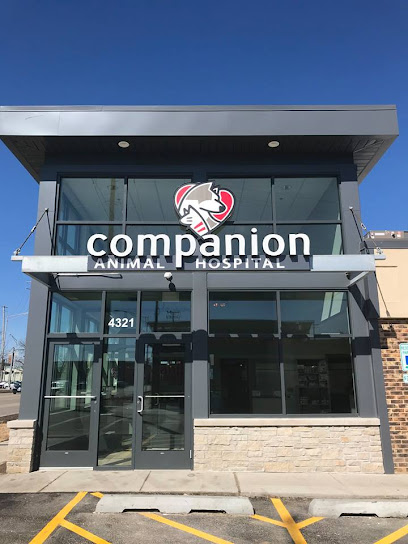 Address:
4321 N Harlem Ave, Norridge, IL 60706, United States
GPS coordinates
Latitude:
41.9593842
Longitude:
-87.8069866
reviews Mike Waltz
While you can find vets that offer lower prices for procedures or medicine; this office is so caring and professional. My dog is always happy and wagging her tail when we show up and when we leave. They took great care of her when we got her spayed here and the follow up was awesome as well. I'm willing to pay a little extra for the great care I know my pet will receive. I even had a minor emergency for a skin problem for my dog and they were able to see me same day! Highly recommend!
10 months ago Kim Hartzog
I brought my 10 year old dog here today as a new client for vaccinations and exam. The staff was friendly. The technicians were great with my large, nervous dog. The doctor took her time earning his trust before examining him. He has major anxiety issues and is being treated for that as well. The whole experience was positive for me and my dog. The office is a 10 minute walk from my home so I am very happy about that too.
2 weeks ago Sara Wood
My dog has happy tail and needed urgent treatment. My vet in Michigan couldn't take care of it for three weeks ( don't worry, I'm finding a new vet after this) so I called the office of best veterinarian I know. Dr. Hammer is no longer seeing patients, but is doing surgeries at Companion. They were able to get my pup scheduled within a few days from the day I called, and after the doctor took one look, he created a treatment plan and Dr. Hammer agreed to fit him in the schedule to remove the portion of my pups tail that had developed necrosis. Within several hours we were back on the road to Michigan and he woke up this morning with the voracious appetite he had previous to this tail problem. I highly recommend Companion AH of Norridge, most of all for the skilled surgeon they have in Dr. Hammer. Thank you everyone at Companion for taking such good care of me and my pup. You went above and beyond to help us in this desperate situation. You can't put a price on love. We rescued this pup from a kill-shelter and promised to give him the best life we can. You all helped us achieve this goal.
4 months ago amirali samimi
Dr. Anderson was very thorough and knowledgeable with our pug Lola today!
10 months ago Warren Davis
Dr. Anderson was great with my kitten made my pet feel at ease very professional and super friendly I would definitely recommend friends & family ! Elisabeth was very kind and super nice I was early to my appointment and they saw me quickly!
11 months ago Kim Fredenburg
My dogs love this place, and me too. ????
11 months ago Tiffany Webb
The staff noticed my need to see the vet and were terrific in finding room for my dog to get examined! The Vet I saw was super duper terrific in the exam and explaining things to me. They have a great staff and great doctors! You can't go wrong in taking your pets to see them.
11 months ago Sheng Huang
This was my second time there. The staff was very friendly and kind. The dr was awesome and super friendly to my self and my cat. Loved her enthusiasm.
10 months ago john john
Milo and myself always feel welcome when we come in. He loves how they take care of him. Of course he winks at them, plus talks to them with his approval. Thank you Dr. Anderson and everyone at Companion A.H. of Norridge.
11 months ago viviana marquez
The staff is very professional and efficient. April, the tech that handled my girls, Coco and Lexi, is very personable and welcoming. Lexi doesn't warm up easily to strangers but she was fine with April. Dr. Tymoszuk is very knowledgeable and explained things clearly to me. He was also very patient with my questions which I had lot and he really took time to address my concerns.
11 months ago Shandon Walton
I started coming to Companion Animal Hospital when my original AH could not schedule surgery during April 2020 due to the influx of surgeries they were dealing with. We have not gone back to our original vet since. They take such good care of our dogs and I appreciate the time and attention they give my pet. I originally schedule annual shots but I noticed a change on my dog's behavior. The appointment was originally with a technician but they were able to make arrangements for us to see a vet instead, which I appreciated. Dr. Anderson and her team at Companion AH in Norridge are the best!
2 months ago Mustafa Kula
I was able to get an appointment for my little cat the following day. Dr. Scott was wonderful, she answered all my questions and after talking to her I felt better about how I'd been caring for my cat. She explained what was going on with her and was very patient and attentive.
11 months ago Taco Cookie
Companion has taken care of all our pups for over 5 years. Their compassion, attention to detail, transparency, and honesty is like none I have ever seen. They really stepped it up recently. Our poor Husky was in bad shape, had to take her to the ER. When we called our doctor at Companion, even though booked for weeks, they understood the severity of our issue and made time and did an emergency surgery, which saved our dogs life. I love this hospital!
3 weeks ago ROBERT NORMAN
4 different friends recommended this practice. I brought my 6 mo German shepherd mix. I was so happy. They gave my dog treats instead of restraining him. The vet and assistants were so kind and helpful. My dog is in great hands and he is happy and looking forward to next time!
1 month ago frizzle frazzle
The best doctors and staff! Brought my dog that has severe anxiety and he was sick. The staff here goes above and beyond to make the whole experience comfortable for him! They are the absolute best and very thorough checking all blood work and doing xrays to figure out what is wrong. Thank you so much to all the staff at companion animal hospital!
2 weeks ago Chaneta Butler
My first visit with Dr Anderson with a 15 year old diabetic cat who is having issues. The appointment was thorough and I felt confident with the advice given. I am hoping they can help her regain her strength.
2 weeks ago Marissa Rodriguez
I feel as though they want to charge you for many services and testing but do not get to the bottom of the problem. You are out 500 bucks and no solution, your pet is still sick with no explanation. I feel swindled.
11 months ago James Bills
Have been going to this veterinarian for more than 12 years bringing my doggies and love how they're so professional but also empathetic. They will handle your pup with love.
11 months ago Arun Murugesan
Our appointment was our first appointment we had with Companion, and we could have not been happier. Everyone from the first phone call to make the appointment to the actual visit, was very knowledgeable and professional. I know that Astrid would be in great hands in our future with Companion Animal Hospital of Norridge. Thank you!
11 months ago Emani Martinez
Dr. Murray is wonderful. She is so responsive and helpful! Dr. Scott is great too! They have gotten my dog in on an emergency basis way more than once. They are so good about talking with you not only about what they are doing and spend a lot of time answering questions. I highly recommend both their veterinary services and their grooming services. My dog LOVES his groomer and she does a great job!
4 months ago John Hoelscher
I have nothing bad to say about CAH. Dr. Krystek basically saved my dog by knowing exactly what she needs. He saved me time and hassle. They also take in my dog on emergencies and find time in their busy schedule for her. I'm thankful for their kindness with my dog and their professionalism. Highly recommend with no hesitation
8 months ago Alec Foster
Dr. Hammer is the best veterinarian I ever had a chance to meet. He's been taking care of my dog's health since he was a 3 month old puppy, and I think he just saved his life this week through accurate diagnosis, and then quickly performed surgery. He also always been giving a reasonable prices for all of the services, along with the good advise, and understanding of the individual situation of the pet owner.
6 months ago Victor Alvarez
This was my first visit for my new puppy. The front staff were clear and checked us in right away. Dr Anderson was very welcoming and professional. She answered all my questions and throughly explained the next steps. I highly recommend this vet for any pet.
2 months ago Gwyneth Salesky
Very nice vet clinic. Staff is friendly and response quickly. Was able to request an appointment online which is great and got a quick response. Like this place a lot. Haven't taken advantage of all the services they provide but it's great to have a place like this in the neighborhood
2 months ago Ben Carton
I am so happy that I found this vet. I had called a different place that was much closer to home but they had appointments that were available in 3 weeks when I needed something available today basically. I was able to make an appointment for the very next day after I called. Their prices are not the best but acceptable. Just a little high, at least I think. High based on what I'd like to pay, maybe more comparable to other places, I don't know because I haven't done the research and I won't be because I will be staying with this animal Hospital based on my experience with them with my dog today. They were very helpful, very nice, very informative and explained everything, listen to many many questions from me and answered every last one of them, provided a lot of information, and we're friendly the whole time. The worst part of it was that it had to be a curbside appointment so that my dog had to go in without me. That's not their fault, that's covid's fault.
2 months ago Paul Jhin
They were able to suggest alternatives when they couldn't get my puppy in and he was able to get on a wait list.
11 months ago Joey Kamlley
I go to a different vet but they stopped selling the Chicago Dog Friendly Area tags. I came to Companion to purchase this tag and WOW all the staff were extremely kind, patient, and helpful. Even though I am only purchasing a small tag from them, they still had amazing customer service!
5 months ago Kelly Moon
I take all my dogs here and they have been wonderful with all of them. All I have to do is say my name and they know who I am. I don't trust anyone with my babies but CAH I do
1 week ago maanas manesh
I was referred here by a colleague of mine who raved about their puppy package. I recently got two doberman puppies and was looking for a close, experienced vet clinic. One of my dobermans woke up one morning and was constantly throwing up. I was able to secure an emergency appointment here where they evaluated him (X-rays and blood work). The vet who saw him stated that she did not see any obstruction in his intestines but warned me that he had a high enzyme that is directly related to digestion. She administered a shot which was suppose to stop him from throwing up and sent us home with an antibiotic and probiotic... the bill cost was $695. Immediately arriving home that day, my pup threw up. I called the vet, who related that she had the on site surgeon review his X-rays who also confirmed that there was no obstruction at this time. They informed me that the medication needs some time to work but if he throws up over night, I should take him to the ER. Unfortunately, my pup did throw up... a trip to the ER confirmed there was a clear obstruction in my pups small intestine. Urgent surgery was needed. It was later revealed that my pup had swallowed a whole rope toy. It's unclear to me how an experienced vet AND a surgeon at Companion Animal Hospital failed to see a whole rope toy in my pups intestine. It's also unclear to me how an obstruction can form within 24hrs of his last vet visit. Needless to say, these vets are not experienced and lack the basic knowledge for health care. I will not be taking my pups here moving forward. If you love your pet like family; and they don't seem to be acting their usual self, my advise is to cut out the middle man and take them somewhere else... you might actually save money. (Update - Since I can't reply to responses) Your practice is literally called "Companion Animal HOSPITAL". This practice clams to be a hospital but yet lacks the basic resources to have conducted an ultrasound. You might want to consider changing your name and branding to reflect the capabilities your practice is more in-line to providing to its patients. Furthermore, I could see if the obstruction was small but as stated in my previous comment, it was a whole rope toy (Knots and all). As I related to Dr Murray over the phone, it's not that I don't believe she (and the surgeon; from whom she got a second opinion from) did not see the obstruction... my concern is that BOTH supposedly "highly trained doctors" here failed to see the whole toy. Yet, when I provided copies of the x-rays to the doctor at the ER 24 hrs later, he related that he could make out what looked to be the obstruction. My point here is that your practice hires doctors that lack the basic knowledge to treat AND diagnose the patients that your customers highly entrust you to do. That's why I do not trust your practice with the life and well being of my pup.
4 months ago Drew Reffitt
Dr. Kung is an excellent Vet. She takes good care of my dog Snowball. She focuses on his overall health.
2 weeks ago Gabriel Castellano
I took my cat Daisy there because she was in failing health. Dr. Scott and the staff were so comforting and I had to make the unfortunate decision to let her go. They were great in making her transition as easy and as humane on her and on me. I will never forget them for this.
4 months ago Crystal Truman
I have been taking my cat to CAH for about a year and a half -since he was a kitten. They have been wonderful to us from the start. All of the staff is friendly and responsive. They have made our appointments easy, even during covid. Definitely recommend!
4 months ago Lily Hallock
Dr. Scott is my dog's primary vet and is incredibly friendly and helpful and every technician takes great care of him whenever we show up.
2 weeks ago mathew jadan
My dog gets very anxious at the vet. The staff were very kind and patient with him. I'm so glad to have found them.
1 week ago Nic Hamstra
I will never recommend Companion in Norridge to anyone. I think Dr. Hammer is a great vet so I stayed with the practice when it was taken over by Companion. I questioned why I kept having to bring my dog back every 3-4 months for almost a year when they could have tried the Apoquel which solved his allergy immediately. Each visit cost me $50 - $100. I have no experience when comparing their prices to other vets, but they are definitely not the cheapest. It seems like there's no question of the amount of money services cost when they recommend something. I understand prices go up, but since Companion is part of a corporation, there's a push to string out recheck appointments, refer to specialists. The last straw is the fact that on June 17th 2021, I can't accompany my dog into the office for blood draw, immunizations. All of Illinois, which is one of the strictest in the U.S. is in Phase 5. The technician bore the brunt of my frustration stating some corporate policy hasn't changed. This is completely ridiculous when I can accompany my human child to the pediatrician, but I can't stay with my elderly, anxiety ridden dog. Seems like it's just a grift to not have to deal with Pet owners. Take our money and see you at the door. I think you can find comparable vets with competitive pricing that can care for your dog or pet. If money is no issue, and you don't have a problem not staying with your pet during a visit, then I'm sure you'll enjoy the updated lobby and exam rooms from the outside .
4 months ago Tyler Dennett
Dr. Anderson has always taken great care of my dog. As a result, my pet willingly walks inside each time with no fear, or concern.
3 months ago Vanessa Rehmeyer
Brought my feline in for her annual. Very pleased with Companion Animal Hospital. Practicing Covid-19 Guidelines, upon arriving I telephoned and they informed me that they would call as soon as Doctor would be available. They came out to and got my pet. My Dr is Tomasz Krystek he telephoned me to give me an update and informed me of what was going on with my pet and instructions for follow-up. Everyone that is employed there seems to be wonderful and compassionate in their field. Meow Meow, Mattie concurs
4 months ago Candiz Smith
Had my cats in for a checkup. Dr. Anderson and staff are caring, professional and just good people.
11 months ago Matthew Walsh
Dr Anderson is amazing and all the staff is so wonderful with our animals. Our 2 year old dog kept gaining weight even after months of weight management food and limited feeding. Dr Anderson recommended blood tests that helped us discover her problem was not food but an under productive thyroid. Roxy is now on a lifetime prescription which has amazingly brought her weight down and given her back her puppy energy. They truly care about the animals and the animals have no problem being handed off to them.
7 months ago Trish Meyer
I come here for the lovely veterinarians. The vets are attentive and caring! However, the staff could improve their communication. Or maybe more staff support needs to be hired. They're always busy because they're the best!
2 months ago Charles Snowden
We love Companion! They take the best care of our senior girl, Sunny. We love all the docs but Dr. Hammer gets a special shout out for all the help he's given our family to let Sunny live a long, happy life with us.
6 months ago Emily Grenier
I have always had good experiences with my dog even though the little guy can be quite feisty to say the least.
1 month ago Isabella Zhu
Our 10 year old dog Lester blew out his knee in April and required TPLO surgery. Dr Hammer (who has taken great care of our dogs over the years) came through for us again by performing the procedure which appears to have been a remarkable success. There was a recovery period for several weeks, but Lester is now walking without the terrible pain he was experiencing immediately following his injury. He is sure footed and has regained that spring in his step which I haven't seen for a long time. I can't Thank Dr. Hammer and the entire hospital staff enough for taking care of our little buddy. The surgery has made all the difference is his quality of life.
1 month ago Arlinda Fasliu
Companion is the best animal hospital I have ever come across. My dog and I moved to Chicago from Virginia in March of 2020 we have been to plenty of vets in chicago as well as outside of this area and they are the best I have come across. All the employee are very nice , answer all questions to the best of their ability and if they don't know something they will point you into the direction of where you can get the answer. They communicate very well and make sure you understand everything. My dog recently received TPLO surgery here and so far it has been a successful recovery. I thought it would be hard because my dog is a tripod but this surgery has been very helpful and this animal hospital has been right here for us every step of the way. I strongly recommend this hospital for anyone looking for a consistent vet. The prices for this vet are also fairly low compared to others of quality in the area.
4 months ago Lorna Ottley
Love Companion and the entire staff. Everyone is very friendly and kind. Hope to meet them in person some day. I await the day I can accompany my dog in for his appointments and not just drop off at the door. With that being said until that happens I hope they get more staff manning the phones. I realize it's overwhelming at times and very busy but my hold time has been ridiculous then there has been times I have waited 10mins on hold to speak to someone then been disconnected... very frustrating.
4 months ago mahmoud helal
We just moved into the area and had to call in for a last minute appointment, and Companion was able to accommodate immediately. The staff was extremely friendly upon arrival and the doctor went in depth with the explanations for my dog's treatment. I am very pleased with the service, and we will likely make Companion my dog's main vet.
11 months ago Scott Mackenzie
The team here is amazing! They are so compassionate and truly love animals. Anytime I go in my pups are greeted by some amazing techs, namely Stacie, and I know that my pups are in good hands. Even when we moved out to the burns we continued to come here. Simply the best!!!
8 months ago Derek Wilson
We have been taking our dog to Companion for almost 10 years. The staff and vets genuinely care about our family member's health and we'll being.
1 week ago Untilthird
Do NOT take your pet here... They will not help you when you need it most. My dog who is a patient of Companion for 10 years was denied care... Called multiple days in a roll for an available appointment due to him throwing up and having diahrrea but they did not take him which led to severe dehydration and almost death. We took him to Premier ER and the stay ended up costing us over $6,000.. Thanks Companion for showing us that they don't even care about our pets... All 4 of our dogs are never going to your clinic again!!!!
4 months ago Blake Lukasik
They are so professional and kind to my pet. I appreciate their kindness and honesty. Thank you so much.
3 months ago
Popular places from the category Veterinarian