Kneads & Wants Artisan Bakery and Cafe
Bakery Kneads & Wants Artisan Bakery and Cafe, 8042 Lincoln Ave, Skokie, IL 60077, United States:
32 reviews
of users and employees, detailed information about the address, opening hours, location on the map, attendance, photos, menus, phone number and a huge amount of other detailed and useful information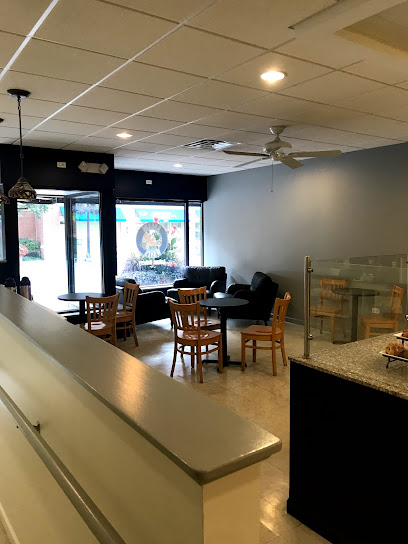 Address:
8042 Lincoln Ave, Skokie, IL 60077, United States
GPS coordinates
Latitude:
42.0275709
Longitude:
-87.7547302
Location on the map
Reviews Mary Murray
Shot out to Dylan ,Maria, Madeleine. The last scone I had was in Seattle's Pike Place Market forty years ago. So kneadless to say, I kneaded another. One of the best scones I've had besides those I imagine I would eat in my castle in Scotland. Tallyho! Yoiks! To the hounds! Those damnable foxes are escaping!
6 months ago Jacob Priest
They have fantastic focaccia. Soft on the inside, a little crunchy on the outside, and perfectly seasoned. I tried the spinach and feta quiche as well. I'm not a fan of onions else I would have really enjoyed it. Convenient local cafe and bakery.
3 months ago Rachel Ratcliffe
Great cup of coffee to go with my butter pecan scone. But the sandwiches are great too, not just a bakery! Really unique creations here.
4 months ago Jose Jaime
What a gem! I have missed walking into a family-owned small business serving up stellar pastries that feel and taste homemade! Combined with this whole crazy coffee on tap?! The mixture is perfection. Try EVERYTHING, but I'm partial to croissants because I just don't make them at home. The brownies are unlike any I've tasted and the hospitality is excellent.
4 months ago Elizabeth Garcia
Oh my! I have been waiting for a place like this in Skokie for years. They have a really nice variety of baked goods to choose from. Today, I thoroughly enjoyed the Bacon Cheddar Chive Scone and a latte. It was one of the best lattes I've had in a long time. It's clear this place takes their coffee seriously. They are using La Colombe coffee and offer a draft latte. They gave me a sample taste and it was so smooth and gave me the feeling of drinking an adult milkshake. My next cold coffee drink will be on tap! They also had freshly made ham and cheese croissants. The smell was to die for. I chatted with the pasty chef for a minute (she was lovely!) and she told me all about her menu and her specialities (rustic breads and French pastries!). In the future we should expect baguette and crust multigrain bread! Yay. Amazing coffee. Amazing pastries.
11 months ago Design Hub
Wow! I stumbled across this place thanks to Google Maps. I'm so glad I did. Outstanding coffee cake! Nice selection, reasonably priced and incredibly delicious. The owner was so kind and excited to talk about the new business (they opened about three weeks ago). They're the only bakery/cafe serving La Colombe Nitro Cold Brew Lattes seven days a week. You scored big points for that! Looking forward to when they start making bread (expected in January '20). Definitely worth stopping there!
5 months ago James Lynch
The cookie is very goood! It has many chocolate chips and is nice and soft. The brownie was just ok. I feel like it needed more chocolate somehow. I would definitely go back here again. I overheard that they have breakfast items in the morning(like the croissants) and these sell out before noon. I will def come back to try those! They also have water available to drink on a table by the milks for the coffee which is nice. I have gone back 2 more times. They always have really delicious baked goods. The chocolate croissant is really yummy!T JB sandwhich is also really good and comes with some nice crispy chips! Only thing that needs improvement is the hot chocolate which needs a bit more chocolate.
4 months ago Renee Jones
Empty displays. Won't aknowledge you when you walk in this place. Nothing to see here...
5 months ago Kristin Gentry
Wow.... amazing sandwiches and phenomenal pastries. My boss brought in 2 sandwiches and I was blown away. You are able to tell the bread is fresh. Followed up by fresh vegetables and a hearty portion of meat. I was also able to try the chips which were the perfect amount of crispy and crunchy. The brownies and them lemon squares are "smack your mama good". Seriously they are very addictive. I highly recommend giving this place a try you won't be disappointed.
4 months ago tasha lewis
We ordered a couple sandwiches which were tasty, but underwhelming. I felt like there could've been more ... something. Condiments? Seasoning? Not sure, but both were a bit dry overall. Chocolate chip cookie and a brownie for desserts, the color was the better of the two.
4 months ago Allie Barbeau
Great food and coffee from great people. Try the scones!
9 months ago CRUYFF WORLD
Highly recommend for excellent pastries and other delectables. Mmmmmmmm.
10 months ago Benjamin Andreasen
Their coffee is so good, and they have more and more delicious treats all the time. We had a loaf of their bread with Sunday dinner, and it was just perfect.
5 months ago Ben Fisher
I just got a latte there. It's really good! Most of places burn their coffee, Kneads & wants made a perfect Latte for me! I recommend this place
7 months ago adem karakum
Walk up window open, inside closed like a lot of places. Reasonable prices, $6 or $7 for medium cuppa and a slice of quiche. Yeah, I like quiche - so what? Will be back next time I'm in the area.
3 months ago Dan A
Nanaimo bars - strange name, super good. Also, sticky buns. What more can you ask for?
2 months ago Timothy Forbush
Really nice people and pastries are really good!! very affordable prices and for sure will be going again.
4 months ago Ryan Philipose
Wonderful service and the MOST DELICIOUS tart cherry scone I have ever tasted! This will be my place in the neighborhood for a great cup of coffee and exceptional baked goods!!!
6 months ago Emily Milam
I recently had the delish tart cherry scone and spinach feta croissant at their car show on Saturday, and tried this week twice to get the same thing at 7 am before work and they weren't open. Disappointed ????
9 months ago Peter Sheldon
Latte was perfect, exactly how is like. Amazing place highly recommend!
7 months ago Erik
Met the owner, gave us free cookies. Loved it ????
3 months ago Taha Alrahmani
Friendly staff and patient with your questions. All made from scratch the very same day you visit. Stop reading this and go there now!
4 months ago Kylie Alves
Wowie! So delicious. So friendly. So badly needed in the area! I can't wait to develop a Kneads and Wants habit. The coffee cake is moist and incredibly flavorful, the nitro lattes are like if coffee was magically a milkshake. Definitely go and you will be thrilled!
11 months ago NESHA GANG
Great Sticky Buns Maria and time to breed Turkeys . The Best Turkey Cooker in the Galaxy.
7 months ago Otis Hoof
I have the pleasure of working near downtown Skokie and not that far from Kneads & Wants Artisan Bakery. Kneads & Wants as well as Pressed Latino Sandwich Shop, and Euro Echo Cafe are cafes that have captured my interest this past month and I vowed to visit all three. After visiting Pressed nearly a month ago my next choice ended up being Kneads & Wants. The night prior to visiting I tried to find an online menu, but could not! A pre-check on a menu often gives me the chance to see what my taste buds would take a liking to. Its interior has a different vibe in comparison to other cafes I have visited which prompted me to ask the employee about its past. He confirmed that it used to be a bakery which I can definitely see, but outside of that its set up does not match what you would typically encounter in a cafe. What you see is what you get! I say this because on display is pretty much what sandwiches and baked goodies are offered which the sandwich choices are slim. Now, the drink menu is posted up on the wall consisting of your typical coffee, tea, and espresso options. Along with a sweet tea, I ordered the 'trojan war' based off of its displayed appearance which the trojan war is a greek inspired turkey sandwich consisting of sliced turkey breast with feta-dill spread, onion, cucumber, and Agamemnon's anger on a baguette. To give you an idea of its taste I compare its taste to a chicken salad sandwich with baguette bread, yet with turkey instead of chicken. I ended up purchasing a tart cherry scone to go which I ate later in the day and loved! After its taste I wished I had purchased two instead of one, but luckily I work nearby, so the possibility of returning the following day to get another one was there. This place rocks when it comes to baked goodies, but sandwich choices not so much which I believe is because it has not been around long enough. Doing my research I found that its predecessor was known as Sweety Pies which excelled as a bakery; listed as a 4-star one at that with over two-hundred Yelp reviews. In closing, I am glad that I visited Kneads & Wants Artisan Bakery; the service I received was nothing less than great and I would gladly return. Now that I have visited Pressed, and now Kneads & Wants it leaves me with Euro Echo Cafe, which is the last cafe I identified in the area. ~Blessings~ Thomas G
6 months ago Jasper Reis
Wonderful new addition to downtown Skokie. Don't miss the supercharged nitro latte. Delicious sweets, too.
9 months ago eli Copeland
I love love pastry
11 months ago Eddie Boese
One of the best bakeries in the Chicagoland area. This is a hidden gem that everyone needs to find.
3 months ago Eliza G
Absolutely delicious! Finally really good coffee in Skokie! They have Le Colombe Draft Lattes!! I have tried nearly everything and the flavors are just outstanding. These people have good taste. Try the Nanaimo Bar, it's like an adult oreo. ????
6 months ago Anna Geneseo
Awesome place, friendly staff.
4 months ago David Schulze
Exiting coffees on tap, nitro cold brews with milk!
5 months ago Ken Ennis
Good breakfast
5 months ago
Popular places from the category Bakery