GES - Chicago
Event management company GES - Chicago, 6800 Santa Fe Dr Suite B, Hodgkins, IL 60525, United States:
53 reviews
of users and employees, detailed information about the address, opening hours, location on the map, attendance, photos, menus, phone number and a huge amount of other detailed and useful information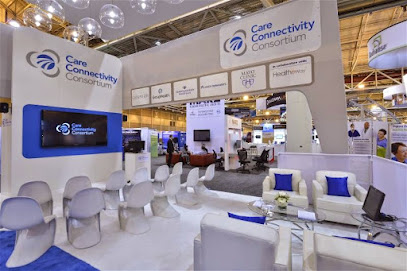 Address:
6800 Santa Fe Dr Suite B, Hodgkins, IL 60525, United States
GPS coordinates
Latitude:
41.7684130
Longitude:
-87.8585708
reviews Benjamin Glick
Semi quick delivery.
2 months ago Blair Clark
They're fun loving people, at least those whom I met -- not on the rocks -- would love to go back again
7 months ago Bob Alexander
GES epitomizes the term well-oiled machine. They take the chaotic world of the tradeshow industry and make it work. It's a great company to do business with. Efficiency without cutting corners is a very difficult achievement and yet they are able to manage it. I highly recommend GES for any exhibit and or tradeshow related work.
5 months ago Chelsey
This place is really cool loaded me quickly even let me use the break room restroom real friendly staff
7 months ago Cheryl Slattery
Exterior of bldg is poorly marked/labeled; difficult to find proper place to check in. Busy place, so anticipate wait time to be unloaded (on time for appt. @ 6am, and still had to wait over an hour before able to dock).
4 months ago Pvt Cheesecake
Professional, courteous and ok. My biggest issue is our crews know what we're doing, just let us do the work and your back is covered. :)
6 months ago Xtremespeed
4 hrs to get loaded. Very unorganized, many employees playing on their cell phones or just aimlessly walking around to look busy. Went to the office to sign the bill of lading and there was a guy with his feet kicked up on the desk taking a nap. No wonder it took 4 hours to get loaded! Limp wristed management
3 months ago Katherine Perry
I had a great experience delivering to this place they unload me super fast and the seems to be very professional
10 months ago Austin D
Delivery is super fast just sit in a truck guy brings you a ppw after 30 min
1 month ago Randy Rowe
Union shop Shipping and receiving quick to load and unload .....Unless you're there a break or lunch time in that case you will wait lol ....
10 months ago Eric Sigfrinius
Good Mexican restaurant lots of food little pricey
5 months ago Abner Barajas
GES has improved some over the years that I've worked the tradeshow in McCormick Place, but honestly they've got a long way to go. Some of their personnel who wear the GES logo really shouldn't be doing customer service. Some of them lie to give you the answers they know you want to hear. Then they turn around and tell you they never said that. If something is going to be delayed I'd rather know about it than be fed incorrect information. It affects the decisions I make for my company and the workflow for the rest of the day. There's no sense of urgency to help people. Not talking about everyone, there has been good GES customer reps but man, there are some really bad ones.
9 months ago Jim Hill
Great place to get unloaded....fast and efficient
5 months ago LK
They got alot of good games
7 months ago Marilyn Markel
the people wore forklift nice people
3 months ago Jim McNeal
You have to know this guy frank, or you won't get a job. This place is a who you know job.
7 months ago Ronald Jackson
Quick liveload and friendly staff
9 months ago Donovan Lorde
Overnight parking is ok No lunch room No bathroom
5 months ago Rushil Pannu
I have to go back we can be coming c seaway g hi the address is
7 months ago Yumac L
Fast unloading friendly people
5 months ago Madeline Gilau
Nice place to deliver
9 months ago Andrew Snyder
Persons who check you in a very very rude very obnoxious and very prejudiced
7 months ago Sensui
slow loading
2 months ago Vera Pool
Best wings in Chicago
2 months ago Greg Kerr
Very professional atmosphere
4 months ago Mai Sala
Just spoke to receiver, they opened at 7 am
8 months ago Raphael Hidou
Awesome place
4 months ago Jerry Nielson
Well managed
5 months ago Jennifer Hickmon
Quick unload
7 months ago Amanda
Long wait time
3 months ago Sheena Noel
Good place
4 months ago Everlast Contracting
Very fast
1 month ago Ana Krasnova
Work near
10 months ago shannon gore
They have lots of supplies
10 months ago Sergey Lazarev
Fast place
6 months ago Regret
Love it :
5 months ago Larry Nobilucci
Great
1 month ago Xtremespeed
Ok place
4 months ago Wayne Dossin
Ok
7 months ago michael barry
Hate it
1 month ago Tony M
Fast unload
1 month ago Paula Seavey
Slow
3 months ago Maggie E
Cheap..
9 months ago joseph cox
professional employees
6 months ago Rebekah Parsons
Drop a load
1 month ago Leeann Kelly
Fast unloading!!!!!
7 months ago Valentina Ponti
Friendly staff
1 month ago Emily E
Sucks
10 months ago Bill Mechnick
4 gwiazdki dlatego , ze długo czekałem . Najpierw było przygotowanie do przerwy , przerwa !! I tak zajęło 2,5 h . Samo lądowanie było szybkie . No cóż niektórzy mogą tak pracować . Ładują tutaj sprzęt , meble na różne wystawy w USA
5 months ago Pink Zebras
Buenisima la barbacoa de res
7 months ago
Popular places from the category Event management company