Tiki bowls
Restaurant Tiki bowls, 206 Franklin Ave, Nutley, NJ 07110, United States:
90 reviews
of users and employees, detailed information about the address, opening hours, location on the map, attendance, photos, menus, phone number and a huge amount of other detailed and useful information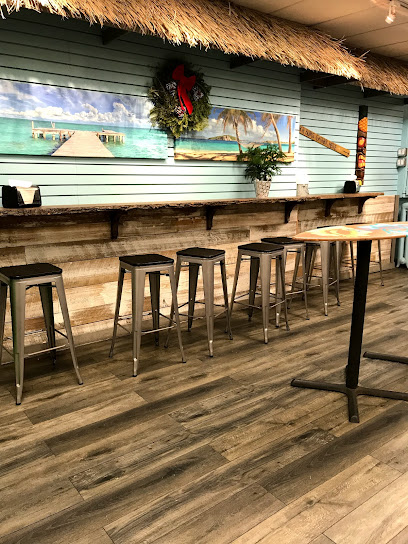 Address:
206 Franklin Ave, Nutley, NJ 07110, United States
GPS coordinates
Latitude:
40.8148482
Longitude:
-74.1625451
Location on the map
Reviews Darrell Graham
Staff is always the nicest. Bowls are made quickly even when packed, never have to wait. Fruit is always so fresh and never a let down. Come here at least one a week and love it. LIVE LOVE TIKI
1 month ago Trini L
Come here for lunch and it's always fresh. Watching them make the smoothies and bowls is something that's great to see. Never bad service ever!! Live love tiki ❤️
1 month ago Geoffrey Foulger
Had an issue but it was resolved. I appreciate the owner addressing my concerns because I have been a loyal customer and go there literally on a daily basis.
1 month ago Luis Lopez
My friends recommended the place, and I was not disappointed. Build your own bowl with whatever fruit you like. Healthy and affordable.
3 months ago Philip Cornine
love this place, service is great and so are the bowls. never had a bad experience
1 month ago Ryan Balanza
I've ordered several times at this place and loved it every time. I order the same Muscle Beach açaí bowl w chocolate protein and everything. I'm posting bc the last time I got it I was very disappointed and rethinking about the bowls. The bowl was filled less than halfway w açaí w most of it being sliced bananas, granola topped w too much coconut and peanut butter. It was anything but an açaí bowl! Not worth paying $10 a bowl. I literally couldn't finish it bc I was getting sick of the overload of peanut butter and banana. Do better or lose business.
2 months ago Michael Viselli
i ordered from here three times in a row and they didn't fill up the bowl, literally was halfway empty. the quality is not good
2 months ago Michael Walz
Visited this place on numerous occasions their bowls and smoothies are absolutely awesome. Great alternative to ice cream. If you're craving something sweet and different this is the place to go.
1 month ago Teresa Cerutti
We've been going to this place for a little over a year and they are top notch. The customer service is EXCELLENT and the ingredients are always fresh and delicious. I mistakenly placed an order very late, at 8:40PM when they close at 9:00PM, but they still prepared my food and called me to make sure that I was on my way to pick it up. They stayed open past their closing hours just to allow me to get my order, no questions asked nor complaints! Also, I've been to numerous acai bowl places and this is the ONLY place that has NEVER messed up an order, NOT ONCE!!! If you want great-tasting food, superb customer service, and confidence that your order will be prepared with accuracy and care, Tiki Bowls is your spot!
8 months ago Spencer Dawson
Love their food so much! I've had half the menu at this point. Everything is good.
5 months ago Paul Laporte
First time here. Same thing as playa bowls. Loved it.
4 months ago Autumn Dreams
Awesome and delicious
7 months ago D Lambert
It's just the best ????????. The service totally deserves a 5 starts.
6 months ago Sue L
The acai isn't freshly made (she took a frozen pre-made container from the freezer) and put fruits on top. The coconut flakes and granola was hard/dry.
1 month ago Mo S
Fresh fruits and very sweet. Best açaí bowl spot.
7 months ago Tuomas Koivukangas
The pitaya tasted freezer burned. A little disappointed because I've only heard great things and was so excited to have a location nearby. It wasn't even busy because it was during the day on a weekday. The fruit on top was still frozen as well. The lady who made my bowl was very nice though!
5 months ago Bill Roggenkamp
Very delicious bowls, this has been the best place that serves fruit bowls that i have been to. I deffinately recommend it, specially for someone who is trying to eat healthy, they have very healthy options and lots of variety.
1 month ago Danielle Locks
I like Tiki bowl fresh bowls and not a long wait for your order
8 months ago Michael Hardy
I cannot say enough good things about Tiki Bowls in Nutley. The facility is clean and the staff is always very welcoming. I love how they give you generous portions with each bowl made! The beach vibe makes it feel like summer all year round! I highly recommend them!
7 months ago Lochlan Laughter
Bora Bora, It was Amazing refreshing and FRESH Loved it????????Loved the Dragonfruit. Friendly staff very cute inside good atmosphere
3 months ago Kellie cunningham
I have been going to Playa bowl on a weekly basis and my girlfriend was like let's try this place. We now have our new spot! Customer service by Jackie and Carmine was truly exceptional! My favorite part is when I asked them to surprise me and they did it which Playa bowl refuses to do.
4 months ago Carla Betts
Great new place. Friendly staff and tasty treats. (Sunset bowl and banana blender shake are a must try) ????????????
9 months ago Mario G
I ordered a glizzy bowl and they gave me FRUIT!!
4 months ago Ivette Palacin
They were pretty busy when I arrived.3 staff on, all working well together and not frazzled. They were friendly....She handed me my order and I was missing an item, I just walked to my car, and get my phone to show receipt and Item was made and given to me with no issues. The smoothies and bowls were delicious, will be back again.
5 months ago William Miller
Been coming here few times and the bowls have been great. They are quick and nice. I do wish they had more options in their menu since I've tried different ones they just seem the same.
1 month ago Lauren Spanks
Really great place to get a healthy snack. Everytime I come and visit NJ I try and stop in to get one because I like them so much. The inside also gives a really cool beach island vibe and during the winter that's a nice change of scenery.
7 months ago Hillary Bolter
My family and I love their bowls. We drive 40 minutes just for them. Also, the staff is always so friendly and nice. I highly recommend it.
2 months ago Katie Vallance
I ordered a coconut bowl and they gave me more granola than coconut. I paid extra for peanut butter and the bowl didn't have it! I go back inside and when adding the peanut butter she added extra stuff on purpose and I had to tell her that the bowl had enough granola. The entire time the young lady was busy flirting with the other employee! Very unprofessional and I'm very upset! I rather pay $15 bucks at playa bowl.
2 months ago Jeffrey Depaoli
The staff is friendly and welcoming. The bowls are delicious. Prices are affordable. I recommend people stop in to support local business and select from an array of health conscious options. I love this place so much, we collaborated and created Toledo fit bowl-try it out.
1 month ago Asli Bsgc
Not enough options. The bowls are way too sweet. They advertise to mix your bowl base,but they don't advertise that they want to charge you an extra $1.50 for that. I keep going because I love acai bowls, but they could be much better.
2 months ago Heather Bonarirgo
I really enjoyed the flavor of these bowls - even better than playa bowl. Lots of vegan options. They have vegan and gluten free granola. The portions are large. The staff is friendly and good at giving suggestions. The store is clean and welcoming. They have bowls, juices, smoothies. The ingredients seem fresh. The service is also quick. Only took 2 minutes to make. The only thing I recommend is to play some music because I feel like everyone hears your conversation if u sit inside the shop and eat. Also maybe some seating outside for the warmer days.
3 months ago Pete Schafer
Nice place
1 month ago Gean Cannady
I had a Sunrise Acai bowl and it was fantastic. Really fresh and flavorful and tasted more natural than ones I've gotten at other places. Pretty big portion for the price as well. I will be returning
9 months ago Bruce Taylor
Why aren't they opened earlier ???????????‍♀️
9 months ago Thomas Bronson
It hurts me to right a review like this because I support small businesses and smaller franchises but this needs to be said. This is the 2nd time I come to this place and leave disappointed. The first time I ordered a smoothie from here it was 1)watered down, it didn't even have the consistency of what a smoothie should have and 2) flavorless. I ordered one of the tiki bowls and the "fresh" coconut tasted like freezer burn and it was pretty bland-the only good thing from that bowl was the franola and honey. I left out of there thinking I'd come back and it would be better-sadly it wasn't. I once again place an order online for a smoothie and order a fruit bowl. I wait 20 minutes before I make my way to get my order, when I get there they tell me they just received my order and that they needed 5 more minutes. I wait in my car for another 10 minutes (figure I'd give them an extra 5 just incase)-I finally get my order and I immediately go for my smoothie and on my first sip i literally put it down because it was once again disappointing. It did not taste like pineapple or the mango but it did have a million pieces of coconut flakes and it was filled to the top in coconut milk and that is literally all I tasted. Just coconut milk. No fruit and it had the consistency of water. When I get my fruit bowl that i ordered (which mind you it said online a choice of 2 fruits but only allowed me pick one-i picked mango) i get this big bowl filled 1/4 of the way with literally 1/3 inch small mango pieces that cost me 5 dollars and tasted stale and hard as if they were in a freezer all day (freezer burn). Clearly there is nothing fresh sold here. Don't waste your money here. I rather go to Rita's across the street and get a smoothie there that is 100 times better. Shameful.
3 months ago Dottie Roland
Delicious bowls and smoothies, I had a pitaya bowl and it was very good! The owners are wonderful people, they respond to any problem quickly and know how to run a business. I will be coming back!
4 months ago Marc Gregoire
I'm shocked to see reviews mentioning the staff in an unfriendly manner. I have purchased bowls and juices from there all at different times/days w/ different staff members, always extremely helpful in providing recommendations. Each visit, I tend to try something new. Last week they were featuring a new bowl, called the Toledo fit bowl it was very tasty. Jailene and Sam are always very accommodating and I appreciate their suggestions and professionalism. Thank you ladies
1 month ago Naushin kiran
This place is AMAZING!!! I was passing through town and wanted a healthy treat so I decided to stop in and give Tiki bowls a try and I am glad I did! This was my first time trying the Coconut Berry Bowl and wow. It was the perfect combination of sweet and flavorful. The bowl wasn't chunky or too watery, it was perfect smooth texture! The fruit on top was super fresh and the coconut shavings were the perfect touch! The staff that works there are so nice! I was helped by Sam and she was very bubbly and knowledgeable about the menu and helped me make the perfect choice for a bowl. The manager, Brianna, is the best manager I have ever dealt with. She is professional, friendly, and really cares about her customers satisfaction. I would HIGHLY reccommend this place to everyone and I will 1000% be back!!
7 months ago Tasharra Pinkard
Last night we ordered Tiki Bowls for the first time and we are now hooked!! Fruit was super fresh and the Açaí was amazing! Best I have had!!! My hubby had the pirate and said it was delicious and he's a pain in the butt with this stuff! So good and a must try!
1 month ago charlie hause
This place is so good! They really fill your bowl all the way to the top. The coconut base is blended so well and it's so tasty. They are also really nice and let you substitute things if you don't want a certain fruit or topping. Love coming here for breakfast, would highly recommend!
4 months ago julan mcDonough
Sunrise Bowl is my fave. Love this place. Out of all these fruit places popping up this is by far the best and not overpriced.
6 months ago IBR Technologies
The bowls are delicious! Don't get me wrong, but the staff lately has been messing up orders. The girls have been EXTREMELY RUDE and unprofessional. Customer service needs to improve. It used to be better before.
7 months ago Vernon Martin
Love bowls,but the bases are way too sweet They need an option for unsweetened or less sweet.
1 month ago Natacia McKay
Love that place. Mostly organic. Wish they could add simple soup and salad to their offerings.
5 months ago bee gee
Sarah T is the best smoothie maker of all time! Love her so sweet
3 months ago Service Department
Best Acai! Sunrise bowl is so good.. pineapple banana strawberry topped with the best honey I have ever tasted! Love! The oatmeal bowls are amazing as well ❤
5 months ago Nirupama parmar
Thank you Tiki Bowls for existing in Nutley. It's convenient having delicious and healthy choices just walking distance away from me when I'm working at Sun of a Beach Tanning. Nick and his dad are wonderful people. I wish you guys prosperity and continued success. I love the Acai Bowls! ????????
6 months ago Dryce Roe
First time at tiki bowls in nutley, the girls were so helpful in helping me figure out what i wanted! I got a coconut base mixed with a kale base along with fresh fruit! All together it was a delicious bowl! The prices are cheaper compared to other places I've been too!
4 months ago luca corucci
Absolutely love the acai bowls here. They taste great. They also offer acai bowls with different toppings, coconut bowls, pita bowls, and kale bowls. This is a very healthy snack choice and the bowls are pretty big. Highly recommend this place.
5 months ago MADHAVA REDDY
The bowls tasted good, nothing spectacular. Very expensive for what you get .. we made our own bowls the next time at home for 1/4 the price and didn't have to deal with Franklin Ave traffic and parking. Trader Joe's frozen açaí actually tastes better than whatever they use. Won't be back.
4 months ago
Popular places from the category Restaurant