Car battery store Yorkville Battery
Car battery store Yorkville Battery, 5152 Commercial Dr, Yorkville, NY 13495, United States:
153 reviews
of users and employees, detailed information about the address, opening hours, location on the map, attendance, photos, menus, phone number and a huge amount of other detailed and useful information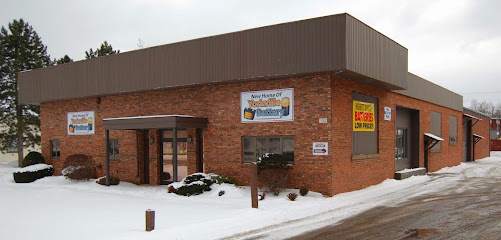 Address:
5152 Commercial Dr, Yorkville, NY 13495, United States
Website:
yorkvillebattery.com
GPS coordinates
Latitude:
43.1136790
Longitude:
-75.2894529
Location on the map
Reviews Meg Wert
Fast friendly service
9 months ago Brad Smith
Great place, very knowledgeable staff. Great engagement and interaction with the customer when testing the battery by being informative about the components. I never once saw a sales person, the employees take pride in their work.
1 month ago Robert Park
Very helpful, after purchasing a motorcycle battery elsewhere,for a 2005 Harley, getting it home to find it didn't fit(100 mi round trip) these folks found the correct one, and completed the sale in a few minutes (for fewer $)good folk, good service! !
3 months ago Nathaniel Epstein
Service and smarts second to none! Gave great advice and told me that bigger and $$$ isn't always better. Nobody does that.
4 months ago Anthony Castagna
I like these guys. They solve problems for me. Everything from a cell phone battery to a solar collector repair. They are fast, knowledgeable, helpful, and reasonably priced. And the inventory is just fun. If you want to light up, this is the place to go.
10 months ago Ulmasjon Islamov
Great place great prices on batteries everyone should check it out. They have batteries for almost everything
2 months ago Ghost Rider
This is where I always go for batteries and other assistance. Great bunch of people there and they are very knowledgeable. Other electronics are available there too. Doesn't matter if I'm going there for personal or business reasons, it's the best place in the area for batteries.
1 month ago matthew howell
Always going out of their way to give amazing service!
2 months ago Susan Hevey
They offer everything you could need for batteries. The owner is there and will help you figure out what it is you're looking for. Definitely the best in the area
1 month ago Mateo Bonilla
You need a battery? They have it or can get it, usually by the next day. People are always friendly and helpful. Will test your old batteries.
1 month ago gloria n
Great.
7 months ago Edward Hamilton
Excellent fast friendly help there they know absolutely everything when it comes to batteries.. and they have plenty of other type electronic stuff there also to purchase
1 month ago rosa santamaria
These guys are the best! They charged and tested my AGM batteries and helped me find a bad switch that should never really go bad; the cause of my troubles. Thanks guys! I highly recommend this business, stop here next time you have battery issues, you won't be disappointed!
6 months ago Noah Cawley
So helpful & nice, they saved me $40 on the new battery I was buying by recommending a different brand!!! They even offered to carry it out for me, though I decided! Definitely recommend them!!!!
7 months ago Hafed Algahaim
Best, and only place to get a car battery. Excellent service, great prices, I wouldn't even consider going anywhere else.
4 months ago kr shf
Superb service. Tested one of my batteries and explained how to handle my problem costing me nothing. A second needed replacement and they had exactly what I needed. Very knowlegeable folks and just plain nice.
5 months ago Koffivi Koumako
very helpful people and every battery available. wish they have extended after work hours.
2 months ago Natasha Pajak
Very knowledgeable and courteous people. Low prices with military dicount. Highly recommend this place for all your battery needs.
10 months ago Eunyoung Lee
Great service, always very helpful and friendly. Best of all they are patient, they always try to get you the best battery for your needs
1 month ago Chad Cossin
What a hidden gem! Besides every battery you could hope for, and actual service on your batteries...they have a lot of outdoor gear including knives, flashlights, and others. Great place!
6 months ago Michael Patrick
Just found out about this place and will continue to be a customer. Prices at great and sales/service people are friendly.
5 months ago David Thompson
Refused to honor the warranty on a battery, even when a receipt clearly stating it was covered was presented. If you do not wish to honor warranties don't carry the product, it's fairly simple.
4 months ago josh kearfott
Great deal and fast installation!
4 months ago Vuslat Ulusoy
Very good service. Knowledgeable staff. Good prices.
6 months ago Regina Brown
Best place in 100 mile radius to get your battery from! Best Service and Ppl Too!
9 months ago Joseph Payumo
Great place. They have all of your battery answers.
1 month ago Jacob Harrahill
Outstanding customer service . Jordan and the team are great folks . Very knowledgeable and helpful.
6 months ago Rachel Ponder
I walked into this store 10 minutes before they closed hoping that this store would have batteries for my Panasonic ice cream maker. The two salespeople I interacted with were helpful, friendly, courteous and curious (I would guess they don't get many ladies stopping in to buy batteries for ice cream makers)! They answered all my questions. Best of all, the batteries which I needed, which sell for $9.99 each at Walgreens', were only $5.38 for a two-pack at Yorkville Battery. I see more ice cream in my future. The store itself is clean and well-organized; I hope that they will have an online store so in the future I will be able to order from them wherever I am. They have a happy and satisfied customer!
1 month ago Peggy Allen
If you need any kind of battery they have it at a fair price.
7 months ago Stephen Nixon
Great store all kinds of batteries under the sun. Good prices great service.Very good prices more than likely best in area.
4 months ago Ginny Nelson
Large selection of batteries and other electronics. Staff is helpful and will take care of your used batteries.
5 months ago Darren Hall
Knowledgeable, polite and friendly. If you need a battery, these guys are the best of the best.
8 months ago Brittany Frisoli
Best place for a variety of flash lights. As well as any battery you might need.
1 month ago Novella Sellers
Warranty repair. Quick and easy in and out. Great service
10 months ago Enny Suarez
Best battery service and prices around
4 months ago Rachelleen Rodriguez
Yorkville battery is awesome and they carry all the supplies you ever need for batteries
8 months ago DM
These guys are great! Knowledgeable, helpful, friendly, and efficient.
1 month ago Lindsay Swett
Great service and great price
3 months ago Chanda Sreeraj
Great people to work with and know what they are talking about. Amazing prices and batteries for just about anything you need.
1 month ago Mohamad Zein
Jordan and his crew are the best, they have almost every kind battery you can imagine, they also install battery quickly for free, awesome place and kind, knolegable patent staff
7 months ago Jermaine Sorrell
Great local small business. Knowledgeable people.
1 month ago Randy B
Very awesome place they have every kind of battery you ever need or want and they have lights the parking is tuff the people that work there are very knowledgeable and now there products very well the prices are great well worth the trip to the store keep the good work up
3 months ago Yihan Liu
Excellent service, great price! I got there at 8 when they opened, by 8:20 I was already on the road, can't beat that!
8 months ago Michael Bates
Very helpful company, in and out in no time Battery fit fine in my golf cart. Back to golf.
7 months ago Shelia Robbins
Great place. They have all types of batteries and will even change bad batteries out of vehicles
10 months ago Danneva Motte
Came to get blem battery( used )for $50 after 5 min I got there they selling for $55 ... I hate this..be honest at what u do...the only star they got is because they put it in for free... hopefully it will last 5 years like they say
10 months ago Runic Vibes
Nice people! Fixed my battery terminal for free!
5 months ago Mahmoud Elabed
Yorkville Battery always has what we need, or can get it!
2 months ago Eugene Cater
Great customer service and prices!
7 months ago Andy Waller
Great service! Always helpful and knowledgeable
5 months ago
Popular places from the category Car battery store